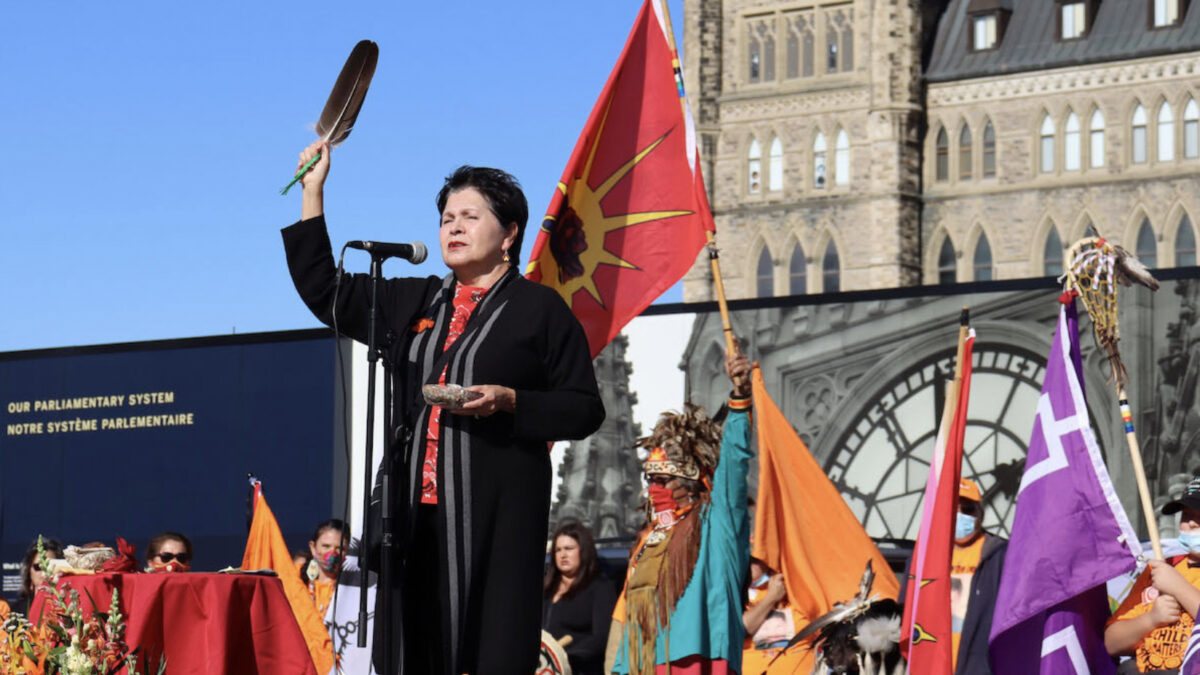 Algonquin Elder Claudette Commanda says her recent address to members of the Ottawa Muslim Women's Organization is part of a mission to create friendships and build bridges with other communities.
"We have similarities in our experiences of racism and dispossession. We share those similarities," said Commanda, a lawyer, University of Ottawa instructor and special advisor from the Kitigan Zibi Anishinabeg community near Maniwaki, Que., about 100 kilometres north of Ottawa.
Commanda's online talk, titled "Understanding First Nations Culture," also served as an OMWO fundraiser for The First Nations Child and Family Caring Society, an Ottawa-based advocacy group that works to ensure the safety and well-being of First Nations youth and their families.
Commanda has spoken at various cultural events in Ottawa, such as telling her people's story at a gathering of the African Canadian Association of Ottawa in 2020. And she has given opening remarks at various events over the years for the OMWO.
The OMWO's March event was intended to deepen members' understanding of Indigenous culture.
According to OMWO founder Nazira Naz Tareen, events like this are meant to build ties of friendship between communities and educate each other on their respective cultures.
"After we found out about reconciliation and the horrors of residential schooling, we knew we had to do something," said Naz Tareen.
Commanda, who is also the executive director of the First Nations Confederacy of Cultural Education Centres, said a history of cultural genocide and assimilation has marginalized Indigenous people Canada. But with this marginalization has come a feeling of community and alliance with other groups facing discrimination and racism.
"After we found out about reconciliation and the horrors of residential schooling, we knew we had to do something."

— Nazira Naz Tareen, founder, Ottawa Muslim Women's Organization
Commanda said she has always felt very welcome at events held by the Ottawa Muslim Women's Organization.
"I feel safe standing here speaking with you," Commanda said at the gathering. "You have provided me an opportunity to speak my truth and feel safe."
Commanda said that when she has spoken at events for the OMWO, she has had the chance to teach attendees about her background and her people. Then, afterwards, members of the organization have come up to her and explain to her how they refer to elders in their community and to teach her different aspects of their own culture.
"You can see the similarities, but at the end of the day it is called respect — it's respecting each other, and it's through that respect and the sharing of our stories that helps to build those friendships," she said.
Naz Tareen said it's important to learn from First Nations people. And when they are in need, help must be given to them because Canada's Muslim community — like all non-Indigenous people in the country — live on Indigenous land.
Naz Tarren expressed her gratitude to the Indigenous community for welcoming the Islamic community with such open arms.
Commanda said that, last year, after the discovery of hundreds of unmarked children's graves at former residential schools across Canada, she did not have to ask the Ottawa Muslim Women's Organization for help.
"They stood up and they said, "We are here, you tell us what you need us to do.' … They started to write letters to the government and to the churches."
Commanda said there is strength in the unity of people. Commanda says that because of racism and marginalization, there is a common bond among many groups.
She noted that when she is invited to speak to people of colour, no matter where they come from, they understand what she says.
"They get it, they understand. And if they don't truly understand, they ask, and they respect and then you teach them. And they can fully understand from a place of respect."
Commanda said that during events that seek to educate people of colour on indigenous issues, she feels that her audience can stand with First Nations in solidarity and are appreciative of what they can learn from her story and her people.
---
More Stories