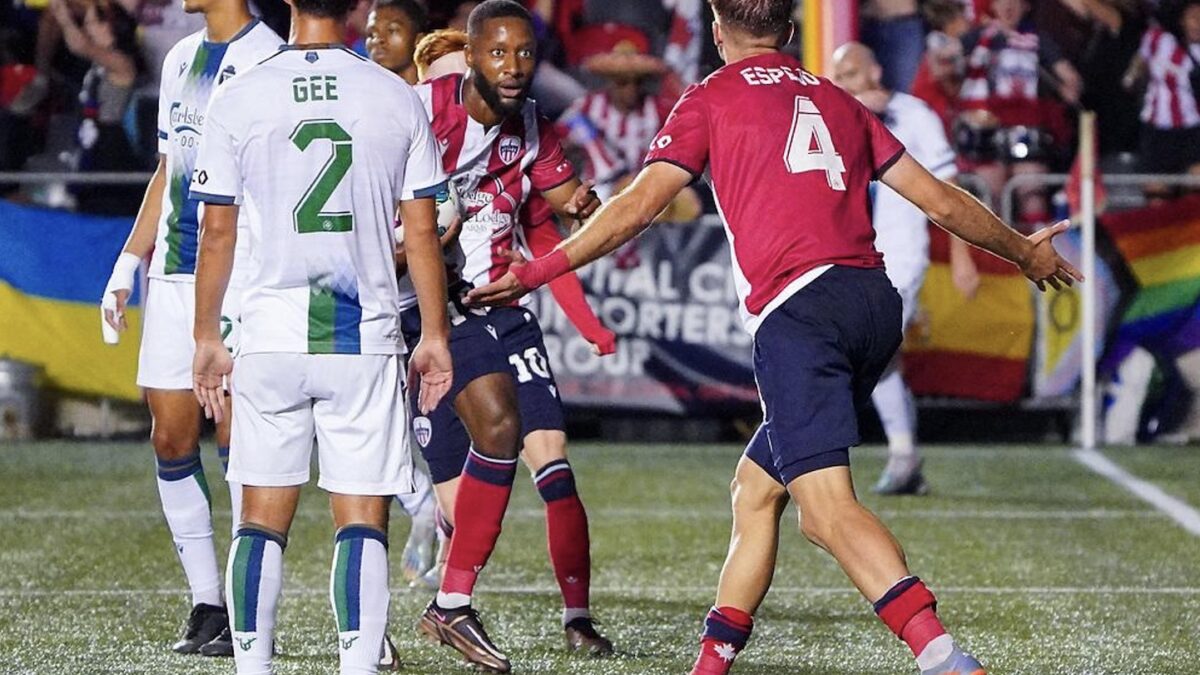 Atlético Ottawa secured a 3-3 draw against York United at TD Place on Saturday, Aug. 5, extending the team's unbeaten run at home to six games.
It was no easy feat, as Atlético had to erase a deficit twice to secure a draw in a wildly entertaining, high-scoring affair.
As a reward for Ottawa's determination in replying to each of York's three goals, the team improved its record to 7-4-7 (25 points) and remained in sole possession of fourth place in the Canadian Premier League heading into this week's matches.
Ottawa is just ahead of York (7-4-8, 25 points) on goal differential.
York was the better team for the majority of the match, particularly in the first 30 minutes. They dominated possession, created plenty of scoring chances, and made two of them count.
On both occasions, Atlético left back Macdonald Niba was beaten down the flank by York winger Clément Bayiha, who sent perfect crosses into Ottawa's 18-yard box. Both passes turned into assists, thanks to a wide-open York attacker in front of Ottawa's goal for an easy tap-in. Brian Wright and Kevin dos Santos' goals in the 24th and 26th minutes were almost identical.
York United head coach Martin Nash was thrilled about Bahiya's performance.
"He was fantastic," Nash said after the game. "I didn't start him the last two games. I challenged him today, and he showed me that maybe I was wrong the last two games. That's the type of performance we need out of him. I think that's his first two assists all year — not that that should be the case, because some chances have been missed from his creation."
Nash added: "Hopefully he can go on a run of getting assists. He's a talented attacking player, he just needs to get on a run. I thought he was tremendous tonight and I thought that — especially the first 45 minutes — might have been his best performance" of the season.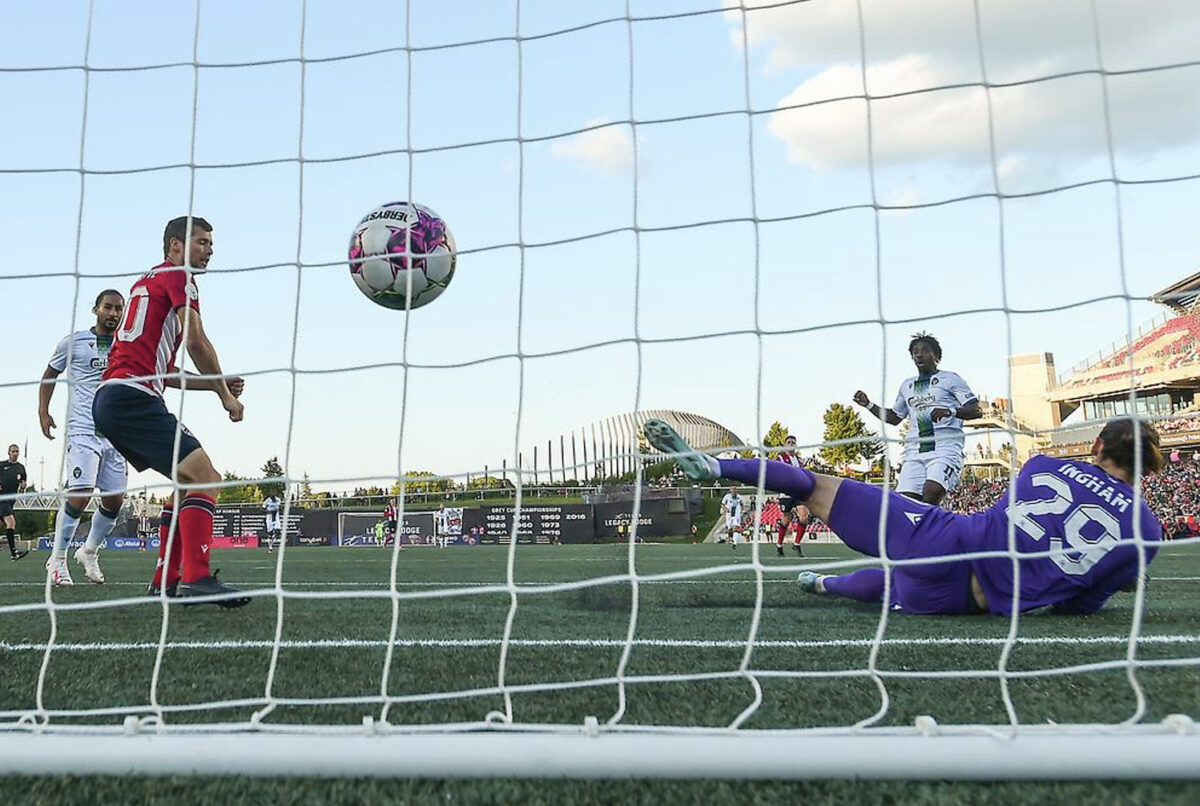 Being down 2-0 in under 30 minutes didn't faze Atlético, though. And Ottawa captain Carl Haworth was a critical factor in the team's comeback. He scored a brace — his second and third goals of the season — to pull Atlético even with York United, and made plays all over the pitch both on defence and offence, including setting his teammates up for numerous scoring chances, winning tackles, intercepting passes and winning duels.
In the 35th minute, Ottawa's intensified pressure paid off. With less than 10 minutes left in the first half, down 2-0, Haworth intercepted a pass from York's Elijah Adekugbe, dribbled the ball between Tass Mourdoukoutas' legs and calmly slotted it into the bottom corner past York goalkeeper Niko Giantsopoulos.
In spite of that great solo effort, Atlético remained a goal behind going into the second half. Fortunately for Ottawa, Haworth was just getting started.
Atlético started the second half defending well, with goalkeeper Nathan Ingham making a handful of saves to keep it a one-goal game. Ottawa was also creative when attacking in transition, using their speed and pinpoint passing to open space down the flank and create numerous quality scoring chances. York's high-line allowed Ottawa to expose them in transition.
A little less than 15 minutes into the second half, Ottawa's efforts again paid off. From 22 yards out, Haworth skillfully placed a well-taken free-kick into the top right corner, which deflected off the York goalkeeper's hands before crossing the line.
With the crowd on their feet, Ottawa had all the momentum they needed to secure a win. But that's not how things played out.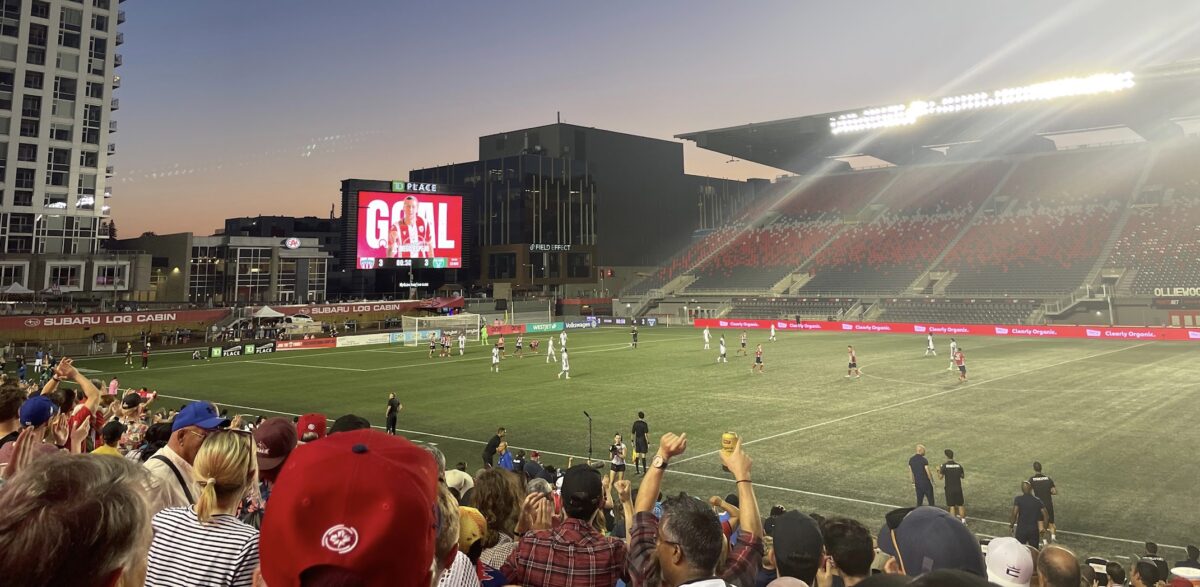 Less than three minutes later, a long shot by York's Brem Soumaoro hit the post, deflected back out, hit Ingham's back, and rolled over the goal line.
It was an unlucky own goal and another lead for York. But it was also another test of Atlético's perseverance — and Ottawa rose to the challenge.
Before Ottawa could worry about generating offense to tie the match, they had to fend off York's aggressive effort to press for an insurance marker that would seal the victory. Ottawa needed to remain sharp to keep the game alive. They played near-perfect defense and Ingham made a handful of huge saves to keep the score 3-2.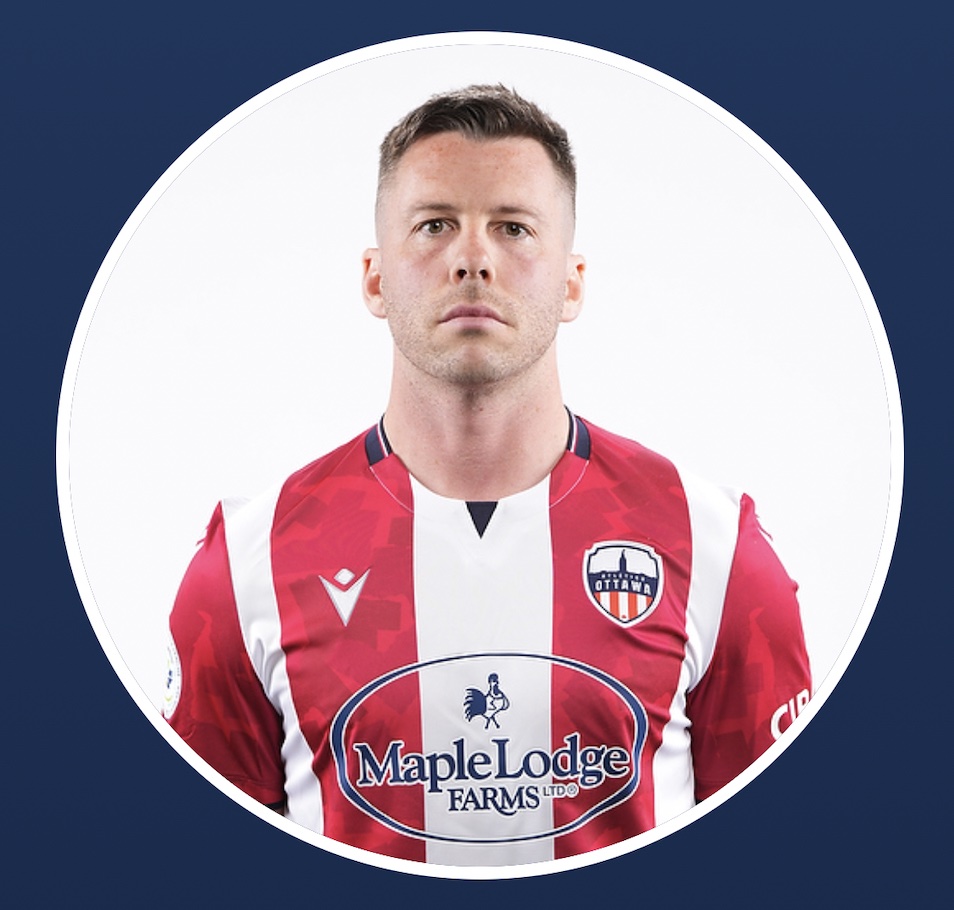 At that point, with the sun down and time running out, hope was ebbing for Atlético. But it wasn't completely gone.
On an Atlético counterattack, Alberto Zapater advanced the ball over the halfway line and found an open Ollie Bassett, who flicked it forward to Swiss international Ruben Del Campo. Del Campo controlled the ball while beating his defender to the outside.
Right before he reached the byline, he sent a brilliant cross into the six-yard box that was met confidently by Diego Espejo, who headed the ball into the back of the net to tie the game 3-3 with just nine minutes to play.
The game ended in a draw, giving each team a single, but well-deserved point for their efforts.
In a perfect world, Ottawa doesn't concede three times in a game. And Atlético head coach Carlos Gonzalez said the team has to be sharp defensively from start to finish to avoid conceding goals in bunches but was impressed by his team's resilience to earn a draw.
Ottawa Captain Carl Haworth agreed, adding that securing a point after trailing on two occasions in the game amounted to a huge moral victory.
"I think this is a big character result for us," added hero Haworth after the game. "We started really well, and after about 15-20 minutes or so, (there was) that 10-minute spell where we just didn't seem to win our challenges, we were in poor positions at times, and the game was pretty much won for them at that point."
He added: "This team in the past, in certain moments, might have caved a little bit. But you could see the determination from the guys to get back into the game (and) make a couple of subs at halftime that brought new energy.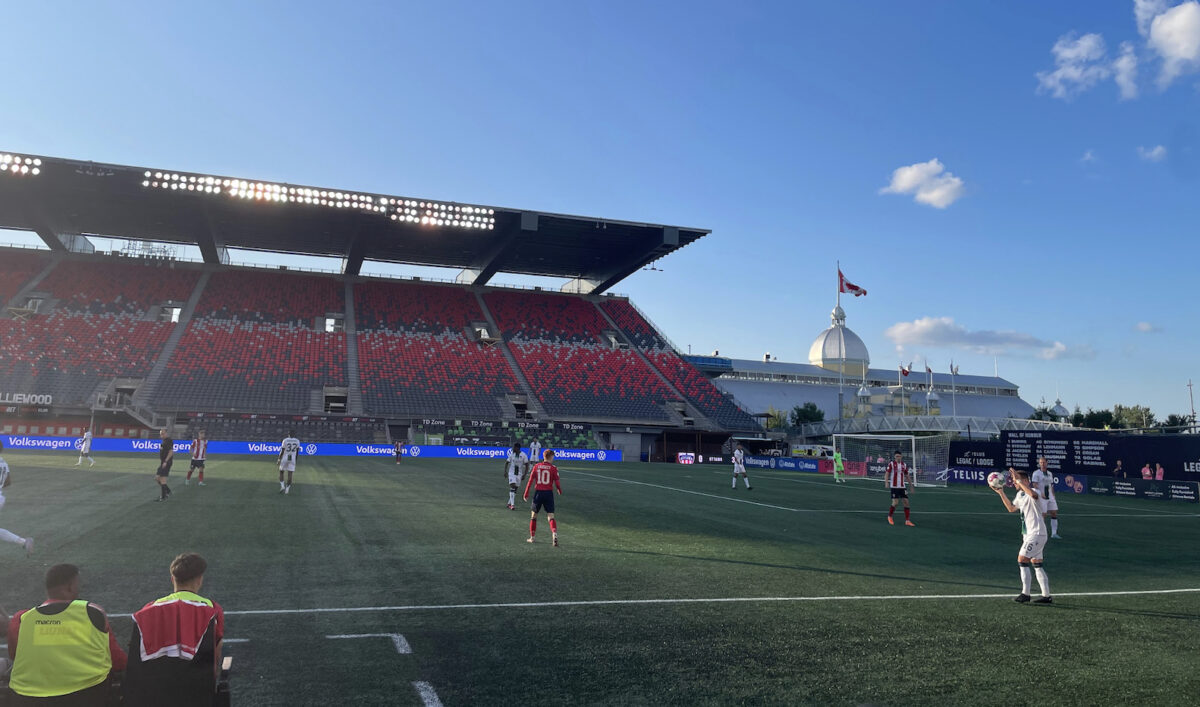 "I think everyone that came on gave us something, a little bit of spark to go and get something from that game," Haworth continued. "To claw back into it, then concede probably the weirdest goal I have ever seen on the field, then to go again and claw back in and get the point in the end — it just showed that the guys are willing to fight and that they've got a strong character."
York, who've struggled to score goals recently — only recording five in their last five games before Ottawa, while conceding 10 — were happy to have notched three and regained their mojo offensively.
'To claw back into it, then concede probably the weirdest goal I have ever seen on the field, then to go again and claw back in and get the point in the end — it just showed that the guys are willing to fight and that they've got strong character.'

— Carl Haworth, captain, Atlético Ottawa
Still, they were disappointed to not come away with the full three points after dominating most of the game and going ahead twice.
"It's a tough blow against a good side, who's had a really good run of form at home as of late," York defender Tass Mourdoukoutas said after the match. "But we're happy that we scored three goals in the game — that's an important milestone for us because we've struggled to score three goals in games this season."
He added: "There's definitely a lot of positives to take, but we'll be disappointed inside to know that we could've got three points out of that one for sure."
York took advantage of Atlético's disorganized defense to score those back-to-back goals in the first half, both of which exposed the left side of Ottawa's backline.
Defensive structure and organization will be a key issue in training this week with a road match against Pacific FC, the CPL's best offense with 30 goals scored, coming up on August 13 at 4:30.
With a win there, the team would leap to just two points behind second-place Cavalry and only four behind league leaders Pacific.
---
More Stories