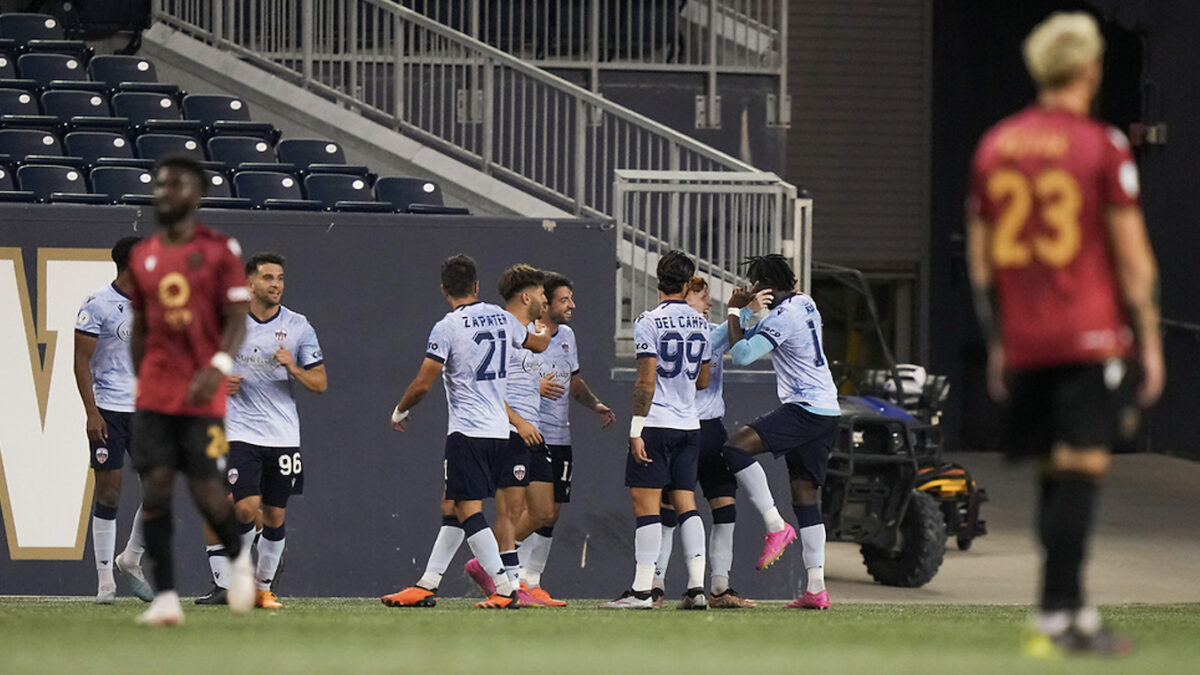 Atlético Ottawa's climb towards the top of the CPL table continues.
In an emphatic 3-1 win on Aug. 18 in Winnipeg, Atlético dominated Valour FC on both sides of the ball. Their win moved them briefly into second place in the Canadian Premier League standings — just one point behind Pacific FC — before Calgary's Cavalry FC leapfrogged both Ottawa and Pacific into first with a win over York United on Aug. 20.
No team has been hotter in the past month than Atlético, undefeated in its last four and surging at the right time with October's playoffs on the horizon. The league's top five teams will vie for postseason honours in a new, five-game playoff structure, leaving the bottom three clubs — currently York United (26 points), Valour FC (20) and Vancouver FC (17) — out of the running.
Ottawa has been on a roll, boosting their win-draw-loss record to 9-4-7 for 31 points. They've won six of their last nine games, drawing two and only losing one in that stretch. In both their draws, Ottawa found themselves trailing at one point of the match but displaying an ability to stay focused, to bend — but not break — defensively, and to continue generating quality scoring chances in transition.
Ottawa head coach Carlos Gonzalez said he was thrilled with his team's energy and near-perfect performance against Winnipeg.
"I'm very proud of the win, it's a very big one after a very short week," Gonzalez said in the postgame press conference, referencing his side returning to Ottawa from Vancouver on Monday only to fly out to Winnipeg on Wednesday ahead of the Friday match.
Despite the busy week, Ottawa showed no signs of fatigue. They were the better team from kickoff, dominating possession and creating numerous quality chances.
They were rewarded quickly.
Less than 10 minutes into the match, Jean-Aniel Assi sprinted down the right flank, taking on and dribbling past three Valour defenders. Using his spectacular vision and control, he sent a cross into the six-yard box toward Samuel Salter who showed his skill with a brilliant back-heel flick into the bottom right corner of the net. It was Salter's fifth goal of the season.
Valour's Walter Ponce had a brilliant chance to equalize less than three minutes later, but his attempt couldn't beat the woodwork.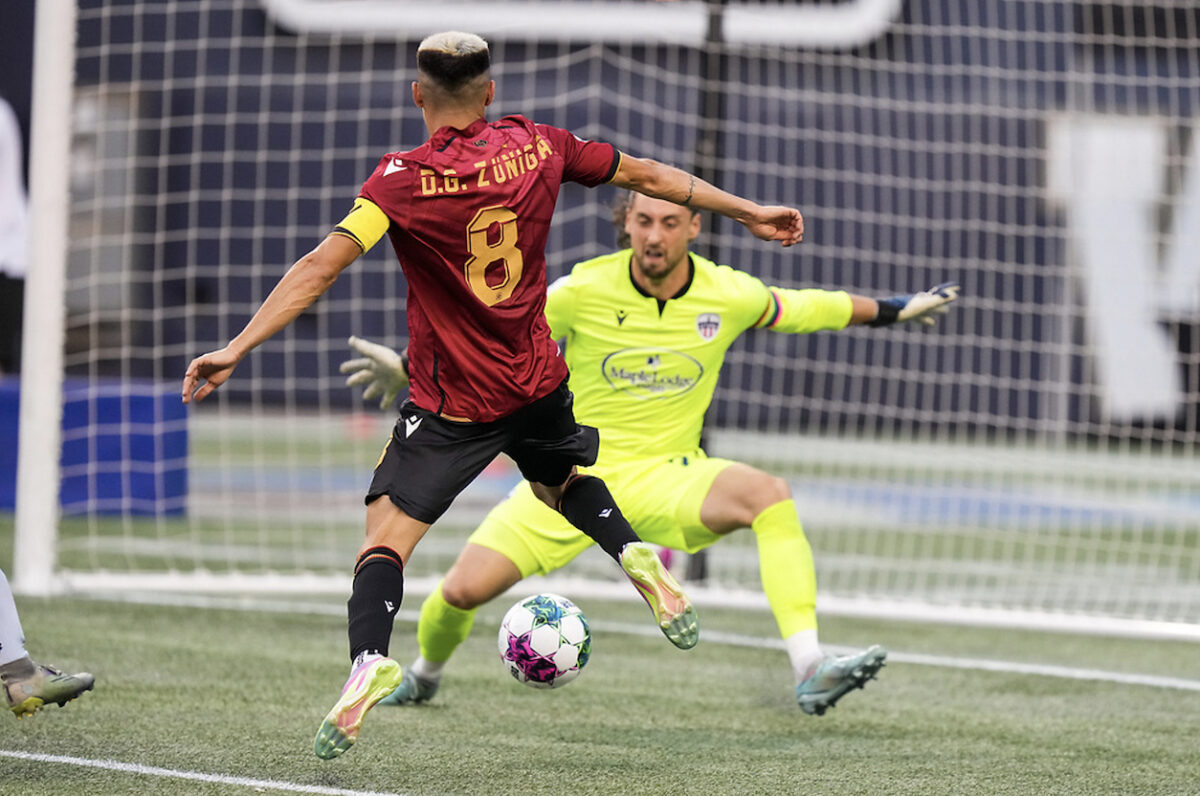 Valour also increased the pressure after conceding the first goal, but Atlético keeper Nathan Ingham, reliable as ever, stepped up and made several clutch, game-defining saves to maintain his team's 1-0 lead.
Atlético Ottawa goalkeeper Nathan Ingham makes a huge save to maintain Ottawa's 1-0 lead early in the match. [Photo courtesy of Valour FC media team]
Salter nearly recorded his second in under 25 minutes after controlling a perfect through-ball — splitting Valour's backline open — from midfielder Ollie Bassett. But Valour's keeper Rayane Yesli was up to the challenge. Salter shot it low, right at Yesli's right leg, and Yesli made a kick save to keep his team from going down by two.
Meanwhile, Valour attacker Walter Ponce had a great chance a mere three feet away from the Ottawa goal after some brilliant passing led to an opening down the right flank. But he couldn't keep the ball down and his shot deflected up and onto the roof of the net.
Overall, Ponce had four clear-cut chances, but couldn't find the back of the net, forcing two Ingham saves, hitting the post and putting it on top of the goal.
On the ensuing counterattack, Ottawa would blow the game wide open.
With less than five minutes left in the first half, Atlético forward Gianni Dos Santos received a pass and sprinted down the left flank completely unmarked. He charged into the box before hesitating, cutting back around a defender and sending a cross into the box, which found Bassett. Bassett calmly volleyed a low-driven shot directly at the center of the net, which hit Yesli's hands before trickling in.
It was Bassett's team-leading ninth goal of the campaign. He wasn't done there.
Valour were resilient coming out of halftime and played like they had nothing to lose. They had the lion's share of possession and created numerous chances.
Yet, once again, Ottawa displayed their cohesiveness at the back, their strong, solid defensive structure and their bend-without-breaking mentality.
'Ollie has given us so much. He's an X factor in our team, and doesn't need much to create or make chances to score goals, which is very important for a midfielder.'

— Carlos Gonzalez, head coach, Atlético Ottawa
Ottawa closed down passing lanes and pressed the ball carrier. Ingham also made some stellar saves to prevent Valour from cashing in on the chances they created.
With just north of 20 minutes to play, Bassett put the game to bed with a brilliant free kick goal.
Nearly parallel to the side of the net, Bassest curled his shot toward the nearside post. Yesli got a hand on it but it wasn't enough as the ball deflected past the goaline. Atlético led 3-0 and Bassett's tenth goal of the season tied him with Forge FC forward Terran Campbell for the lead in the CPL Golden Boot race.
When asked about his recent form, Bassett said there was a lot to like, especially scoring the winning goal against his former club, Pacific FC, last weekend.
"I'm enjoying it," Bassett said after the match. "I enjoyed last year, as well, and I feel like that has carried on into this year. I'm enjoying playing with this group of players, and I think when you're enjoying it, that's when you're at your best … That's certainly how I've felt for the last 18 months."
Gonzalez has nothing but praise for the impact Basset has had on the team.
"Ollie has given us so much," Gonzalez said post-match. "He's an X factor in our team, and doesn't need much to create or make chances to score goals, which is very important for a midfielder."
Gonzalez added the positions they're deploying Bassett in and their offensive tactics contribute to his success.
"I think we are putting him in correct spots, and playing a bit more offensive in higher areas, which can be better for the team, and he can make more of a difference."
Bassett, who is also the reigning CPL player of the year, has vaulted himself back into that conversation again and is surely one of the favorites to win, especially given Ottawa's recent success.
Valour's Marcello Polisi scored an absolute screamer that found the top left corner from more than 35 yards out to cut Ottawa's lead to 3-1, but that was as close to a comeback as Winnipeg would get.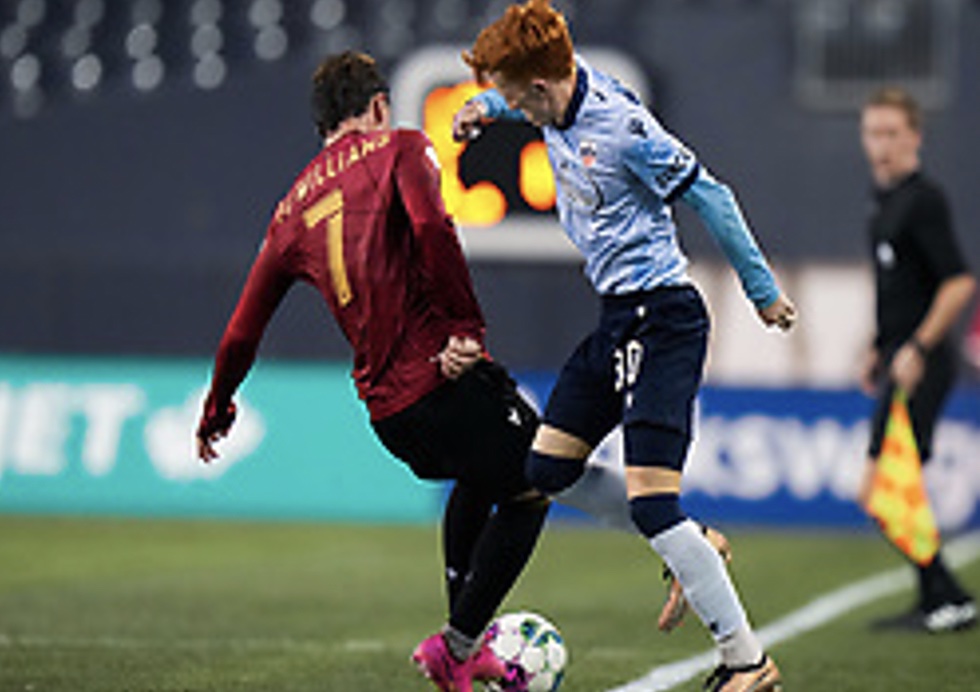 Ottawa shut things down defensively after that. Ingham — who made six saves, several on acrobatic dives — made a handful of big stops down the stretch to seal the win.
This result sees both teams heading in two very different directions. Atlético are trending upwards and appear to be cemented in the fight for the league title. Meanwhile, Valour are on the decline, having lost four of their last seven games, with only one win during this streak. The team sits only three points above last-place Vancouver FC.
Valour, who finished fifth place in both 2021 and 2022, barely missing the playoffs both years, aspired to be a playoff team this season, with the new, expanded postseason format. However, they're now nine points back of fifth-place Halifax Wanderers, who hold the final playoff spot — and time is running out.
Valour FC's next three matches are all season defining and are not easy ones — away to Halifax, Pacific and York.
But Polisi said his team will not throw in the towel.
"We're never going to give up, we're going to fight until the final day," he said after the match. "We're not going to stop, it's part of our DNA. We owe that to the fans, to the staff, and most importantly to ourselves."
Pacific's stunning 3-2 loss to last-place Vancouver FC on Saturday finally knocked that team out of first in the CPL ranks thanks to Calgary's win. Atlético are now just two points back of Calvary and one behind Pacific, tied with Hamilton's Forge FC on 31 points. But Ottawa has a game in hand — and plays next at home against Forge on Saturday, Aug. 26.
---
More Stories