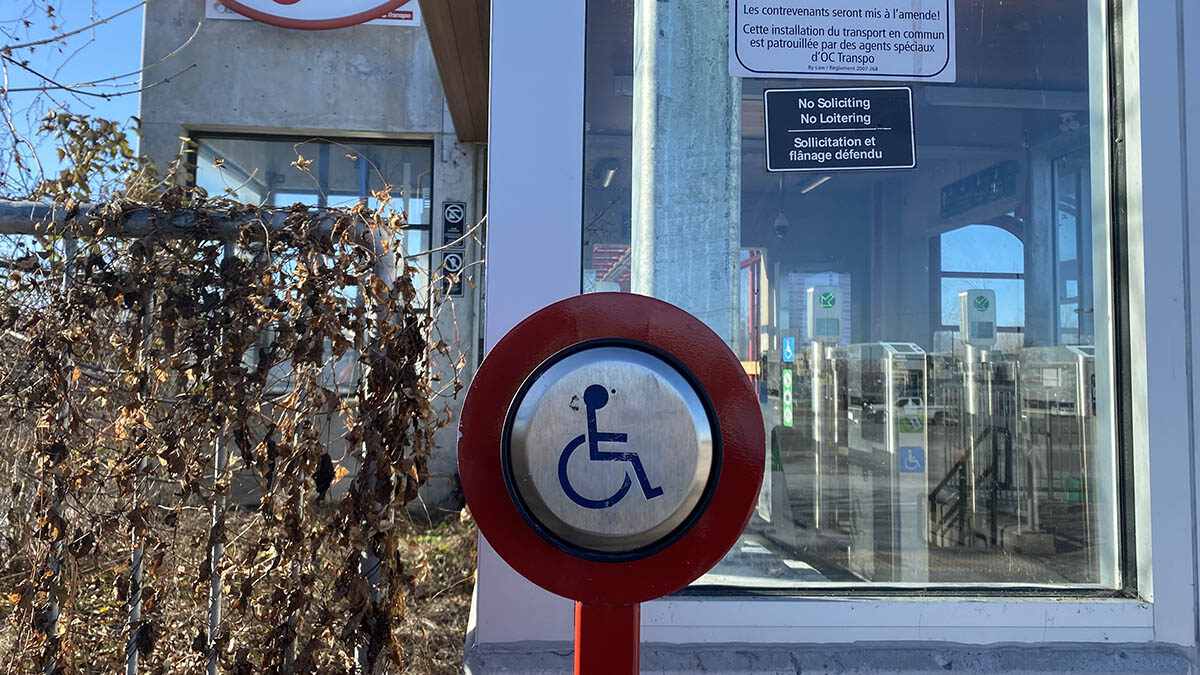 The pandemic has changed people's daily lives. For those with disabilities who faced many different barriers before the onslaught of COVID-19, life is full of new risks and some surprising rewards. 
"Our society doesn't make accessibility the priority that it would need to be for wheelchair users to be fully included," said Louise Dean, a Carleton student with muscular dystrophy.
"Accessibility has always been a challenge that has affected my daily life."
According to the 2017 survey on Canadians with disabilities, 22 per cent of the population aged 15 and over, identified as having a disability.
Dean has been in a wheelchair since she was 11 years old, making it difficult for her to go to any new place. Dean says she has to do a lot of research in advance to ensure that where she was going was accessible.
"Even if the place claims to be wheelchair accessible, not everyone has the same understanding of what accessibility is," she said. "Just because it doesn't have stairs, maybe the doorways aren't wide enough, or they don't have an accessible washroom."
But now during the pandemic, there is more to cope with.
During a recent online event, Jeff Poirier, Acting Director of the Ontario Human Rights Commission's Policy, Education, Monitoring and Outreach Branch, said COVID-19 is having an added severe impact on persons with disabilities.
"[They are] just experiencing barriers along the way: booking, getting to testing appointments, getting to vaccination appointments, restrictions on visiting, particularly early on in the pandemic, when people could not visit their loved ones — people with disabilities — living in care settings," Poirier said.
Some persons with disabilities are also facing a more direct and dangerous challenge.
"They are more susceptible to the effects of the virus, especially if they are immunocompromised," said Paul Hamm, the Acting Director of Carleton University's Paul Menton Centre (PMC). "Additionally many people, with or without disabilities, are experiencing mental health problems due to the amount of time spent in the virtual world, social distancing, and more."
"COVID presents a higher risk for a severe impact on me because of my health. My family has had to be extremely careful about avoiding social situations, and it's definitely taken a toll on my mental health," Dean said.
Ironically, the pandemic may also have helped remove some barriers for people with disabilities.
"It has made accessibility so much better," said Dean. She was now able to do most of her medical appointments virtually and buy more things with a lot of restaurants and stores that began to offer online options.
"I don't have to leave my house to attend school, which has been an amazing benefit," said Dean. "Now I can do my interviews over Zoom and attend classes from bed or my couch if I'm having a bad health day."
Though Dean was happy to see these improvements in accessibility, she admitted that it also felt like "a slap in the face".
"The sad thing about all of this is that many people with disabilities have needed and been fighting for this kind of accessibility for years, but it was only when other people needed these changes that they were made," she said.
The government acknowledged that there is still much work to be done. At the same meeting, the government announced that there would be an update on the Accessible Canada Act. In the future, things would be designed inclusively and Ottawa aimed to be an "accessible city for everyone".