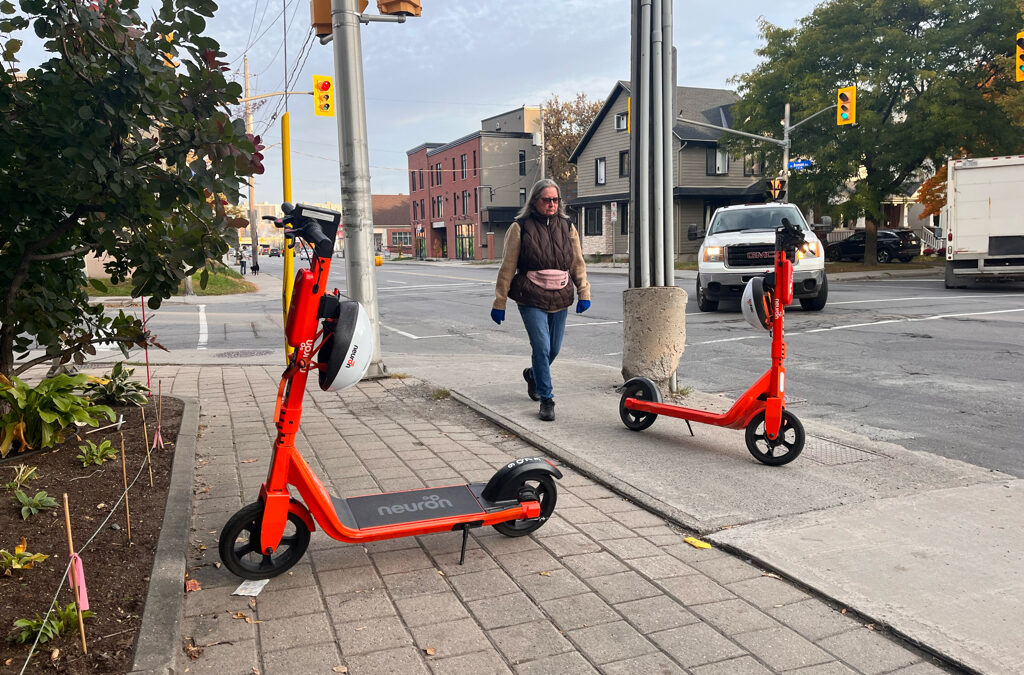 The City of Ottawa's third e-scooter pilot program took place this summer and fall — and it's still not known when or even if the rentals will become a permanent part of commuting in the capital.
The latest trial wraps up Nov. 14 and will be assessed by the new city council amid mixed reviews about whether, after three years of experience, complaints about the rentals have been resolved. Advocates for people with disabilities say the scooters present more hazards than benefits. They want to pump the brakes on the program.
This year, 900 rental scooters have been rolling around streets and sidewalks. Two companies are participating — Neuron Mobility and Bird.
David Lepofsky, chair of Accessibility for Ontarians with Disabilities Act Alliance, says e-scooters are a hazard to public safety. "Our position is that these should be illegal in public spaces and as for anybody who rides them in public spaces, they should be confiscated," he said.
E-scooters, while a fun, convenient and emissions-free form of transit, do not require insurance or a licence to rent and drive.
"The danger is increased when they are ridden on sidewalks, repeatedly going 20 mph," Lepofsky said. "Even in cities like Ottawa where riding on sidewalks is prohibited, they have proven themselves, unsurprisingly, to be ridden regularly on sidewalks."
Lepofsky said that for blind pedestrians, the scooters are tripping hazards and are a barrier for wheelchair users. "Now they can't access sidewalks or go around them. Are they expected to wheel onto the road?"
Defeated mayoral candidate Catherine McKenney told the Ottawa Citizen's editorial board earlier this fall that the rental program could become permanent, given the companies' technical ability to limit where they travel.
"Based on what we saw this year, absolutely. I could see making it more permanent," said McKenney, the former councillor for Somerset Ward.
"This summer … the launch was pushed back until they really were able to geofence the sidewalks and it's worked. I haven't had many complaints about them." McKenney also noted at the time that the requirement this year that the rental scooters be parked in specific areas and said they are not seeing people riding them on sidewalks.
E-scooters have designated parking ares where riders must drop off their vehicles. If the scooters are incorrectly parked, the driver continues to be charged until the scooter is properly parked. Some officially designated parking areas are on sidewalks that are at least two metres wide. City rules for e-scooters explain the vehicles must be in areas "out of the path of travel, in line with bike racks and benches."
"You can park it on the sidewalks, if anything you are supposed to park on the sidewalks because there are [very little] parking areas on the actual road," said Gillian Carey, a uOttawa student who uses e-scooters.
Map shows e-scooter parking spaces. Those in pink show sidewalk parking; orange are on-street parking. Data provided by the City of Ottawa.
Candidate Brandon Russell, who ran unsuccessfully to replace McKenney in Somerset Ward, says that he believes changes must be made before e-scooters become a permanent fixture in Ottawa.
"If the city is going to go ahead and make them permanent we have to make sure we have the infrastructure to make them permanent, whether that is putting in more designated parking areas or geo-blocking them so they can't be parked in certain areas," said Russell. "If we are going to move forward with the program we have to make sure we are doing so responsibly."
Since the introduction of the program in 2020, changes to enforcement, geofencing, and technological updates to the scooters have been made, according to one of the provider companies, Neuron Mobility.
"Neuron e-scooters offer geofencing control capabilities in Ottawa, which allows the city to implement slow zones, no-go zones, no-parking zones among other rules," said Ankush Karwal, Head of Market for Canada, Neuron Mobility, in an emailed statement. "These technologies enable the city to work alongside Neuron to ensure rider and pedestrian safety.
"Neuron works closely with disability and accessibility communities, cities, councils, riders and all citizens, associations and governments to create a micromobility ecosystem that meets the needs of all," Karwal said.
An Acoustic Vehicle Alerting System was added to each scooter last year by Neuron mobility that emits a consistent noise, alerting pedestrians of incoming e-scooters. Lepofsky said this is not enough.
"Ottawa city staff recommended adding a beeping sound to the silent scooters," said Lepofsky. "Only, the beeping sound they tried out, they held a disability consulting group who said 'not loud enough.' They still went ahead and did it."
Improvements made by the city and the e-scooter providers have been insufficient, Lepofsky says. He said the concerns of disabled people are still seen as an afterthought, even after three years.
"The problems that we warned the mayor of in 2022 have all materialized," said Lepofsky. "It is treating people with disabilities as second-class citizens."
---
More Stories