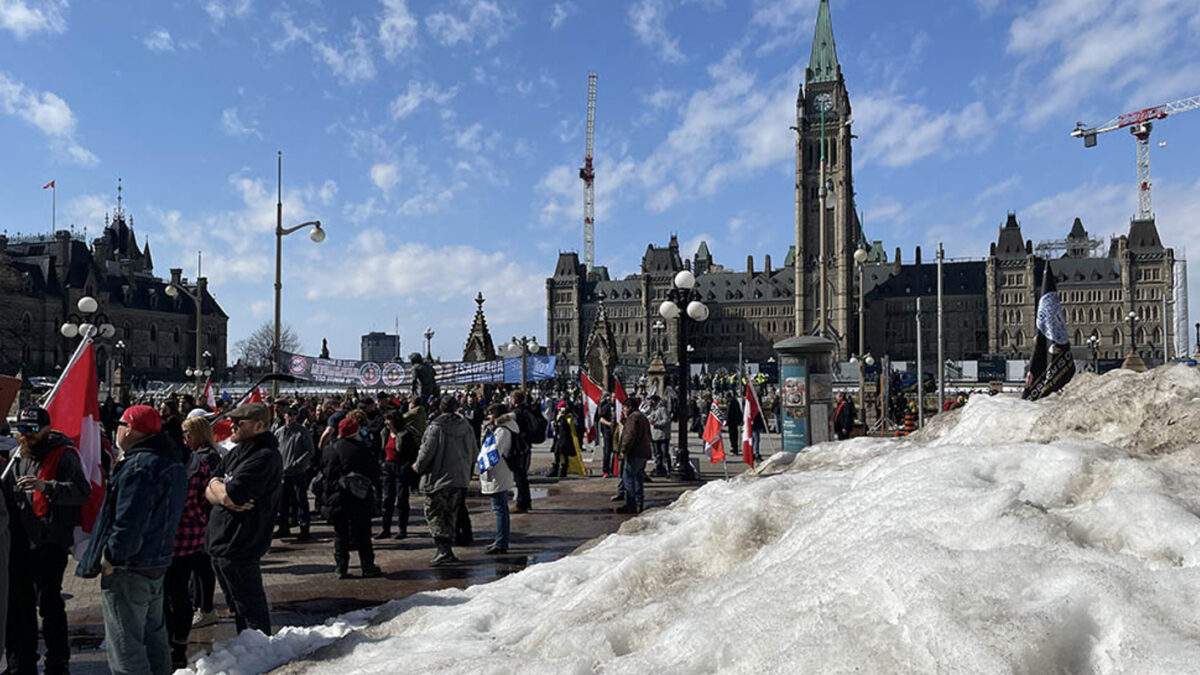 More than a year after the controversial Freedom Convoy protests were driven out of Ottawa, anti-vaccine protesters returned recently to Parliament Hill to voice their opposition to what public health agencies around the world continue to insist is the best way to blunt the impact of the pandemic.
On April 1, about 50 demonstrators gathered at the corner of Wellington and Metcalfe streets, just opposite the Centennial Flame. But it was no April Fool's joke.
"We have come here, and we are digging in," declared the yellow-vested protester, who would only identify himself as 'Brian'. "This is only the beginning."
He encouraged the crowd to bring others to the protest: "We will be here, you will be here, your friends will be here, and if you're not here physically, you will be here in your spirit."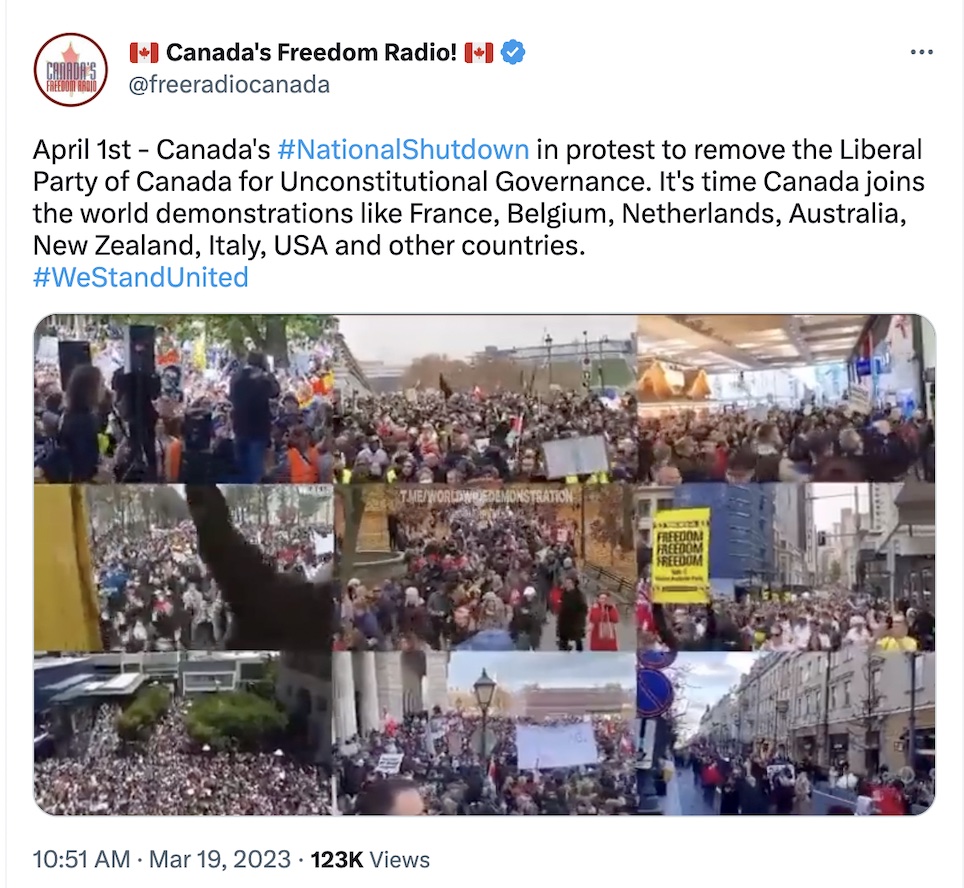 A police officer watching the protest said that there had been similar rallies on several previous occasions, but no permanent presence.
A large section of Wellington Street was blocked off by police vans and protesters mingled freely, many carrying large signs or flags. Their causes extended beyond just anti-vaccination, with signs expressing views ranging from anti-taxation to support for Every Child Matters to warnings inspired by the One World Government conspiracy theory.
An elderly Asian man stood with a board reading: "People from communist countries recognize tyranny when they see it." Some people wore shirts emblazoned with "Freedom Convoy Veteran 2022" and similar messages.
Throughout the afternoon, people gave short speeches. One of the most popular speakers was Mary O'Connor, an Ottawa doctor stripped of her licence in 2022 for refusing to comply with a College of Physicians and Surgeons of Ontario investigation into her frequent granting of medical exemptions for COVID-19 vaccines.
Standing in the shade, O'Connor openly declared that she gave an exemption to anyone who asked, earning huge cheers from the crowd.
'To all those who are in the darkness, I pray that you will come join us in the light and freedom.'

Mary O'Connor, Ottawa doctor and anti-vaccination protester
"To all those who are in the darkness," O'Connor said near the end of her speech, "I pray that you will come join us in the light and freedom."
The federal government was a frequent target at the protest. A poster stuck to a street sign depicted several politicians, including Prime Minister Justin Trudeau and Canada's chief public health officer Dr. Theresa Tam, with the caption "Your enemy is not in Russia!"
A sticker on a truck parked nearby declared: "Hey Justin, go f*ck yourself. Sincerely, Canada." During his speech, Brian claimed that 10 million people are unhappy with the current Canadian government, and stated: "We will have regime change. Guaranteed. Because we've got the numbers."
He did not specify what he meant by the term "regime change." However, he also said that the Trudeau government aims to "divide and conquer" Canadians and that he wants protests like the one on Parliament Hill to bring people together.
Despite the heated rhetoric, the protest was peaceful. A nearby souvenir shop worker stated: "They've been here a couple times before. They haven't given me any trouble. I haven't heard of any problems. Sometimes they come in and buy things."
The Ottawa Police Service did not respond to a request for comment on the protest, but said in a previous statement that they "expect lawful behaviour" from those who demonstrate in the city and are ready to act if necessary.
The protesters were upbeat on the warm spring afternoon, and chanting was limited to the occasional outburst of "Freedom! FREEDOM! Freedom! FREEDOM!" Most passersby didn't seem disturbed by the scene, and the police monitoring the event seemed fairly relaxed, as well, as the demonstrators exercised their freedom to protest.
---
More Stories