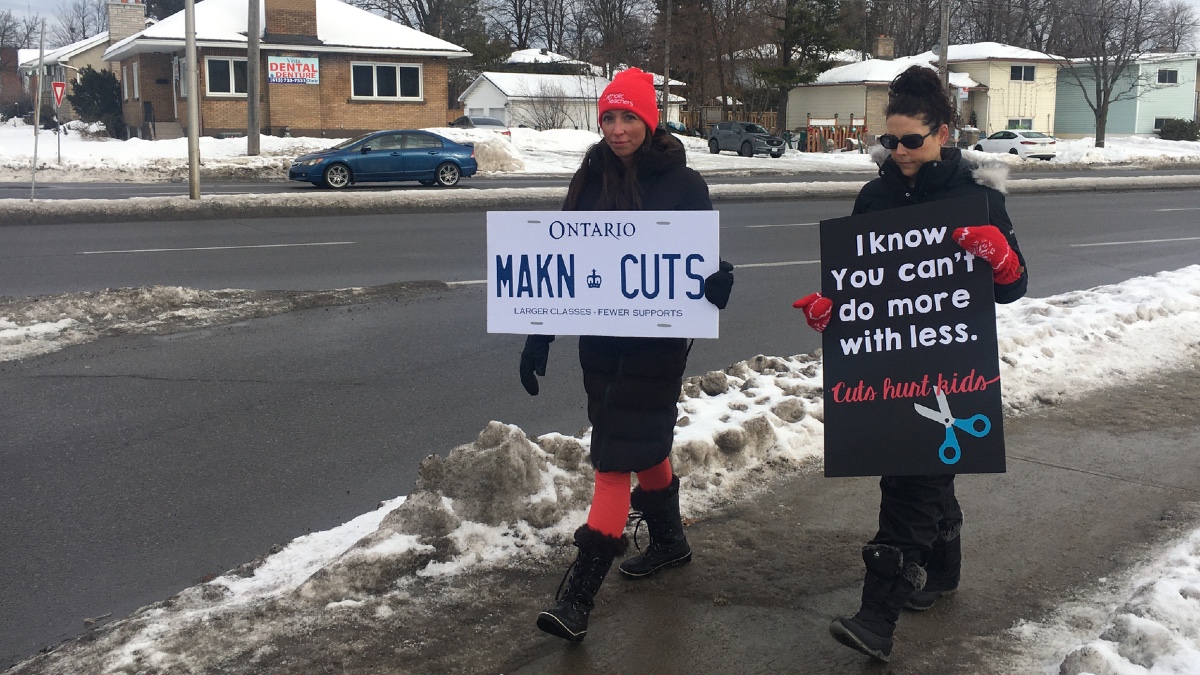 Thousands of high school and elementary students missed class Tuesday as Ontario's English Catholic Teachers' Association and its 45,000 members walked off the job in Ottawa and across the province.
The second provincewide one-day strike kicked off after the union announced no agreement was reached in negotiations with the provincial government on Monday.
"We definitely see the impact the cuts are having on kids. Less support in the classrooms and bigger numbers," said Leanne Baril, an elementary school teacher in Ottawa. "It becomes more difficult for kids with special needs because there's less support for them. It's hard to feel like you're doing a good job for those kids especially."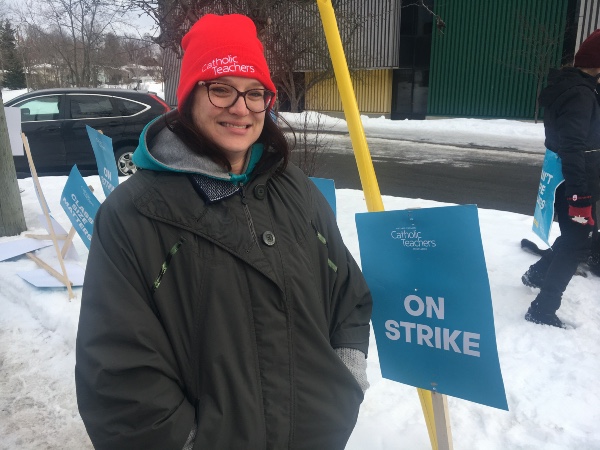 Baril said she has three children enrolled at English and French Catholic schools. Baril said she and her colleagues, as parents and teachers, will do what they need to do to maintain the status of good education.
The province is engaged in labour disputes with unions in the public and the Catholic education systems. Negotiations aren't being made public but the two sides are at loggerheads over wages, class sizes, e-learning and more.
Stephen Sweeney, a representative for the Ottawa English Catholic Teachers Association (OECTA), said, "that the provincial government would have the public believe that it's all about wage increases," Sweeney said. "It's not. It's about class sizes. It's about job losses and it's about support in the classroom."
Ontario's Education Minister Stephen Lecce, said in a statement that the government will focus on continuing the talks, but accused the union of pushing for better pay and benefits.
"Repeated escalation at the expense of our students, to advance higher compensation, higher wages, and even more generous benefits, is unacceptable for parents and students in our province," Lecce said.
Teachers picketed 10 different locations across the city Tuesday including the offices of Conservative MPPs.
Sweeney accused the Ford government negotiating in bad faith and of telling a one-sided story about their proposed cuts to education.
Teachers' unions are particularly opposed to the increase of class sizes and the government's desire to make completion of two e-learning courses mandatory.
Leah O'Donnell, a teacher at St. Francis Xavier Catholic high school, said the increase in student numbers in a single classroom will not allow teachers to give students the extra support they need.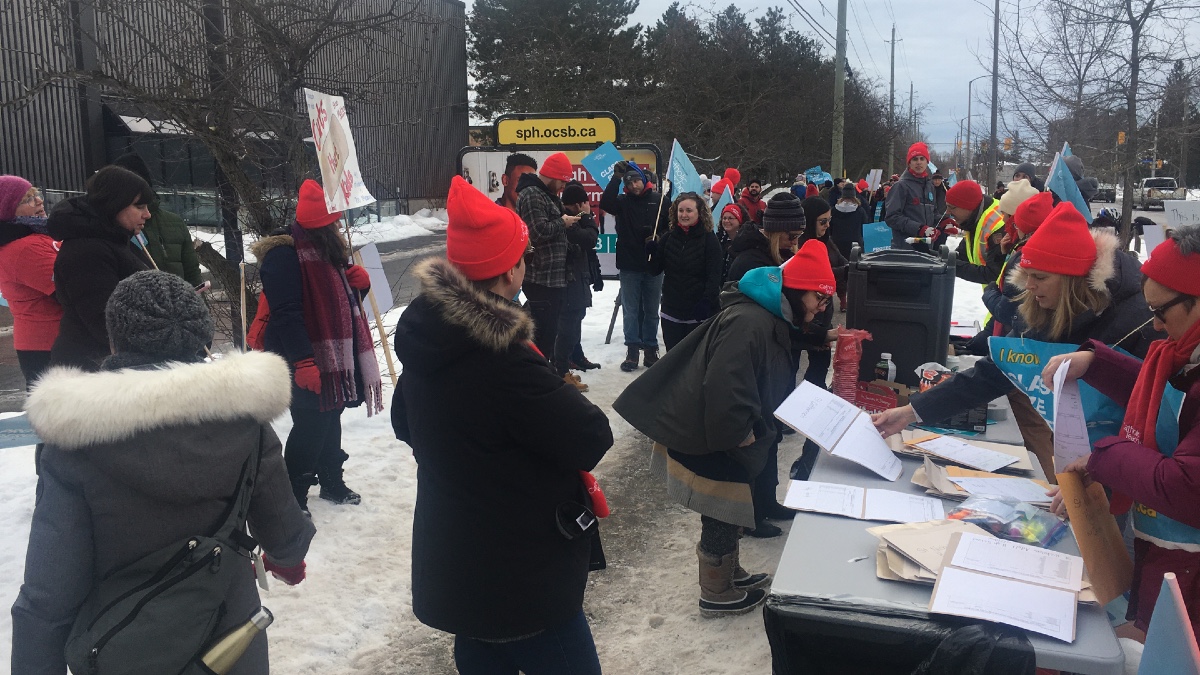 "They're also looking to put two extra classes of online learning into the high school schedule. That will be a big problem because a lot of students need that one-on-one attention from the teacher," O'Donnell said. "And we are essentially getting rid of a teacher, so they don't have that extra support."
Right now, there are no talks of further negotiations. Until an agreement is reached, the board will stick to their strike schedule.
Parents and students can brace for more walkouts this week:
Wed., Feb. 5 – Ottawa-Carleton District School Board, Ottawa Children's Treatment Centre, Upper Canada District School Board. (ETFO)
Thurs., Feb. 6 – Provincewide walkout by ETFO members, affecting all public boards.
Fri., Feb. 7 – Limestone District School Board in the Kingston, ON area. (ETFO)
---
More Stories