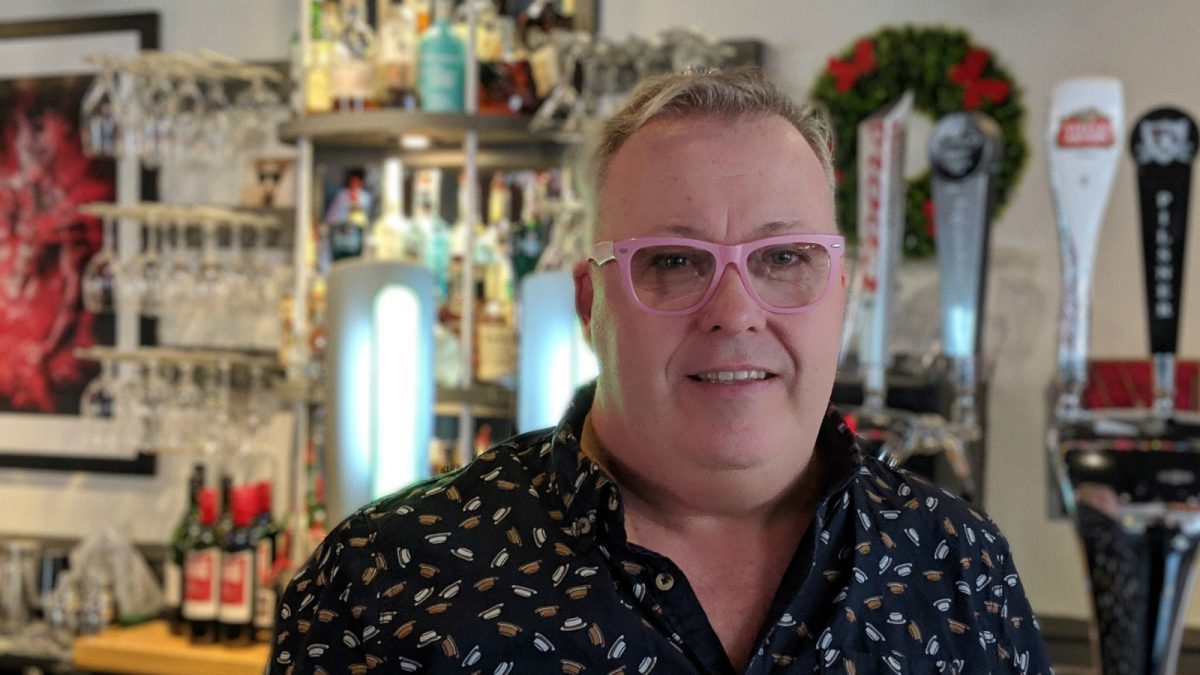 Picture this: It's a cold winter night. A man in a wheelchair joins a long line of partygoers waiting to enter a gay bar. When he finally reaches the entrance, he's asked to crawl up the stairway, while the crowd looks on.

Stanton Lowe witnessed something like this many times in early 2000s.

"There was no incentive for (the disabled) to try to get up the stairs because once people got up the stairs no one would make way for them," said Lowe, the co-owner of T's Pub, an all-welcoming bar in Ottawa's LGBTQ+ Village on Somerset Street.

Since then, Ottawa bars have become more accessible for some, but not all, members of the LGBTQ+ community.
For LGBTQ+ people with disabilities, a space that may look accessible could be the exact opposite, because of inaccessible washrooms, harsh lighting and noise and menus full of allergens.
Meanwhile the bar owners and event organizers continue to face limitations to making their spaces more accessible.

A 2017 study published by Statistics Canada found that "one in five (22 per cent) of the Canadian population aged 15 years and over – or about 6.2 million individuals – had one or more disabilities," and, "disabilities related to pain, flexibility, mobility, and mental health were the most common disability types." Many disabled people might appear able-bodied, but they can still have specific requirements when entering a space.
With a number of Ottawa's all-inclusive spaces in inaccessible buildings, connecting to the community can be even more difficult for people with disabilities.

"There are a lot of spaces in Ottawa for events, but they're not usually on ground level," says Clary Chambers, a motivational speaker and the founder of Spark Clarity, an organization that provides self-help workshops to women. Chambers frequently attends LGBTQ+ events, and also has fibromyalgia.

"Eventually someone has to say that we're just not going to do it unless we can find a space that's for everyone" says Chambers. She also observes that although more accessible spaces do exist, they are often too expensive to rent.

Because of several food allergies, Chambers frequently has to bring her own meals to events, which can be difficult socially.
However, she says that people with disabilities should be more comfortable with asking for more, "in every aspect of your life if you're able to be brave enough to ask for what you need, in doing that you're giving others permission to do the same."

The Accessibility for Ontarians with Disabilities Act, established in 2005, requires that any organization that "provides goods, services or facilities" must uphold any accessibility standards that apply to them. Yet, the standards that apply to private organizations do not include physical access to spaces. So, the responsibility falls to the business and the property owners to decide whether they should make their space accessible.

When he isn't working towards his degree in sociology at the University of Ottawa, Tyler Wisner is a bartender and manager at The Lookout, a gay bar in Ottawa. Wisner understands how important night life can be to the community, "to come here and to be exposed to all of queer Ottawa a couple of times per week, it's changed my life," he said.

The Lookout has an elevator available to anyone who needs it, and it was Wisner's responsibility to operate it when he was first hired in 2017. According to Wisner, the elevator was used a few times each month during his shift, but patrons with mobility aids can face more problems once they get into the bar. "It can be so full that it's elbow to elbow, but that's just night clubs in general," he says.

As a bartender, Wisner has also experienced first-hand that it can be awkward to pass a drink to someone in a wheelchair from a high bar.
After Stanton Lowe spent two months in a wheelchair in 2001 because of an injury, he became familiar with issues like this. So, when he and his business partner purchased T's Pub a year and a half ago, they decided to start with a blank canvas.

The pub now has a custom-built lowered bar and extra seating, as well as an aluminum ramp that can be used to help people with mobility aids enter the bar. According to Lowe, the ramp can be put into place by one person, and those who require it to enter the bar only need to wait for around three minutes.

For some members of the LGBTQ+ community who use mobility aids, it can be discouraging to have to ask for help just to enter a building. "If I can do it myself, I want to," says Karuna Vellino, who has an undiagnosed chronic pain and fatigue condition and uses a wheelchair for trips out of the house to manage discomfort.

What makes a community space welcoming is not only its physical environment, but also the attitudes of those who frequent it. As someone who regularly uses a wheelchair, Vellino has not experienced any harassment from members of the LGBTQ+ community. "Most people have been really lovely" says Vellino, who is a member of Capital Pride's youth committee.

Lowe however, says that he has regularly witnessed harassment against patrons in his bar. On one occasion, he says he asked a customer to leave the bar after hearing him say "cripples should just know their place," in front of a regular who uses a wheelchair. Lowe was brought to tears while recounting this story. "The look on his face is what broke my heart," he says.

While members of the community continue to face challenges, Lowe says he is motivated to make spaces more welcoming because of what he has witnessed in the past.

"I never want to see somebody have to crawl up the stairs again, because that's degrading."

---
More Stories