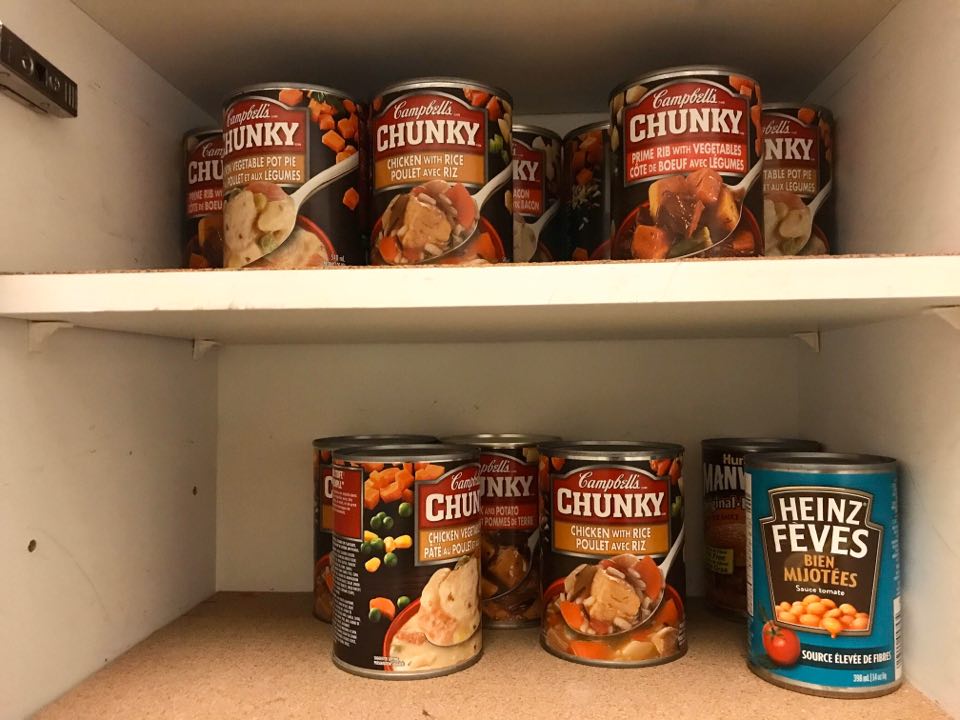 As people in Ottawa began to stockpile non-perishable food items in preparation for an indefinitely long quarantine period, one community resource has become more important than ever — food banks.
Despite the immeasurable difficulty that comes with running a food program under strict physical distancing measures, food banks across Ottawa have been rallying to meet increased demand.
For example, the Ottawa Food Bank has been boosted by a fundraising drive that raised $170,000 in 24 hours.
It was started by Shopify COO Harley Finkelstein Wednesday afternoon, who agreed to donate $1, up to $10,000, to the Ottawa Food Bank for every retweet of his tweet. The move caught fire and even prompted hip hop legends Wu Tang Clan to kick in some cash.
Other food banks are working hard to reorder their operations.
Karen Secord is the executive director of the Parkdale Food Centre in Ottawa. She says the community she serves is facing a food emergency. In response, the centre stopped all their other programs. From Monday to Friday since mid-March, the centre has been in overdrive, working to deliver food to people in the community.

"Many people have lost their jobs, so there's more and more anxiety, and fear. We're hearing it in people's voices," said Secord.
Secord says some of the people who frequented Parkdale were worried that the COVID-19 crisis would mean they would be unable to access food.
"There was a guy who came in flailing his arms saying 'This is my home, this is where I eat all my meals, I drink my coffee here, you can't close, what am I gonna do?' So we had pamphlets made up saying not their meals would still be available," she said.
To maintain health and safety standards for their staff and their community, they have changed the way they distribute food. People fill out an online form or place a call to the centre to request food. The centre then delivers up to 10 days worth of food.
They have also stopped accepting volunteers, only allowing staff to run the centre.
However, despite their best efforts, the centre was forced to close for a week after one of the staff members fell ill. Although it was unconfirmed whether or not it was a case of COVID-19, the centre wanted to take all precautions necessary. The 100 families they serve weekly were referred to the Ottawa Food Bank for temporary support. On Wednesday, April 1st, the Parkdale food centre was able to reopen successfully.
Marilyn Matheson is the executive director of the Caldwell Family Centre, which relies on many senior volunteers to keep the shelter going. The centre also runs a food bank. Since seniors are particularly vulnerable to COVID-19, they've been asked to stay home, leaving the centre short-staffed. Luckily, the community has been uniting in support of the centre.
"We have seen new volunteers who have shown up to help because they heard that our regular senior volunteers can't come in," said Matheson.
The centre has made significant changes in order to stay open.
"In keeping with the procedures from Ottawa Public Health, we allow only one person at a time to come through to pick up food, and the weather some days hasn't been great. It was difficult for us to see people waiting outside in the rain and not being able to invite them in," said Matheson.
Matheson said she has seen kindness shine through her community in the face of this crisis.
"The community where the Caldwell Family Centre is located is a very caring community that looks out for each other during the best of times. If they know their elderly or ill neighbour can't get out, they have taken either a meal or food box back to them, and we are grateful they are willing to help out that way," she said.
Communities that have been affected by heightened food insecurity during the COVID-19 crisis include university students. The Carleton Food Centre, which offers free groceries for Carleton University students in need, is no longer in service.
"There were a lot of people who used the food bank," said former volunteer Jessica Bond. "It was open to anyone but often it was people who really needed it," she said.
Food banks in Ottawa face different challenges during this uncertain time, but many continue the fight to keep doors open and continue to provide healthy food for those in need.
---
More Stories