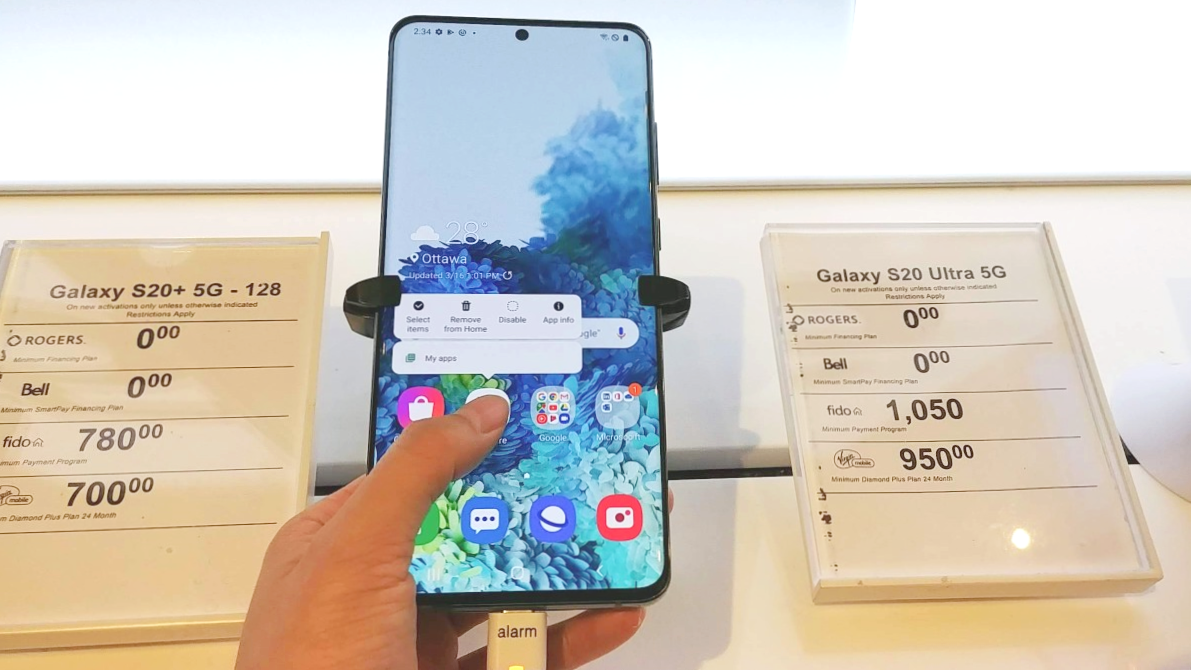 Advances in wireless technology have brought the tech world to the the fifth generation of wireless communications, and Ottawa stands to reap many benefits.
The city will be one of the first in Canada to see what is more commonly known as 5G. Rogers says it will roll out the service first in Vancouver, Toronto, Ottawa and Montreal, with plans to expand coverage to 20 more cities by the end of the year. Other mobile carriers such as Bell and Telus are also preparing to launch 5G networks later this year. 
"5G will not only power businesses, it will fuel entire industries and drive Canada's digital future," said Joe Natale, President and CEO of Rogers, in a press release.
Ottawa is also actively taking part in 5G research and development. It's one of five cities in Ontario and Quebec taking part in ENCQOR, a public-private partnership for 5G research and innovation. Funded by Invest Ottawa, Bayview Yards is home to a 5G testbed that helps businesses do pre-commercial testing of their products.
"We're really looking at scaling, Ottawa [and] Ontario companies and helping them to go to market, which will effectively then just create jobs and build strong Ontario companies," said Philippa King, director of digital economy technologies at the Ontario Centres of Excellence, one of the organizations involved in ENCQOR.
City Hall hosts another 5G test site, where researchers from the Communications Research Centre of Canada are working to improve 5G coverage. Carleton University and Ericsson, an Information and Communication Technology service provider, also announced a partnership in late February to advance 5G research and provide skills-training programs.
King said this partnership will help address the current lack of industry professionals with 5G expertise by "develop[ing] that next generation of talents."
"This collaboration will drive innovation, train skilled workers and, over the long term, build more reliable, secure technology for the future of 5G wireless communications," said Marcos Cavaletti, head of the Ottawa site for Ericsson, in a press release.
5G technologies will enhance industries including manufacturing, information technology, mining and agriculture, said King. ENCQOR also works on Ottawa's autonomous vehicle testing projects since the speed and low-latency of 5G is also crucial for the industry, she added. King also says 5G will help transform Ottawa into a smart city through smart lighting systems and energy management applications.
A 2018 report from Accenture Strategy, wrote that the estimated economic impact of 5G deployment in Canada will bring an incremental increase in the gross domestic product to $40 billion by 2026. It is estimated the industry will add around 250,000 new jobs to the economy.
"It is a step towards improving quality of life for citizens and achieving significant collective productivity gains for businesses," read the report.
"5G is going to be transformational," said King. "You're going to have more devices, more different connection modes than anyone ever thought was possible."
Breaking down 5G
In particular, research from the Communications Research Centre (CRC) of Canada, says "with 5G, devices and machines will increasingly talk directly to each other" and will address issues in the areas of connectivity, latency and bandwidth.
Latency refers to the time it takes from "when a request is made by the user to the time it takes for the response to get back to that user," according to Mozilla. The latency of 4G is about 50 milliseconds, up to eight times faster than the average blink of an eye. With 5G, the response time will be reduced to about one millisecond.
Additionally, the new bandwidth will see an increase in network quality and speed, which is measured in bits per second. 5G speeds could reach up to 20 gigabits per second — 10 to 100 times faster than 4G — making it possible to download a full-length movie in seconds. The low latency and high speed are among the factors that make 5G well suited to autonomous driving, for example, where rapid response times are critical.

Today's wireless networks also run into capacity problems as multiple devices on the same frequencies for mobile connection causes slower service and dropped connections. To increase capacity, CRC researchers at the 5G test site outside the Ottawa City Hall have been experimenting with broadcasting on higher frequencies than what's typically used for phones.
The drawback is that these waves can't easily travel through obstacles and can't travel far. To combat this, researchers are developing specialized reflectors to redirect radio waves to extend coverage.
Phones using the current 4G network won't be compatible with 5G, though 5G phones will be able to use 4G. So far, Samsung, LG, OnePlus, Motorola and Huawei have released 5G-compatible phones, with more on the way.
The major complicating factor is a decision Canada faces on whether to allow equipment from the Chinese firm Huawei in the country's 5G network. The U.S. is pushing Canada (among other nations) to lock Huawei out, citing concerns about national security. Rogers uses Ericsson equipment, while other telecommunications companies in Canada have said they want to use gear from Huawei, which is typically much less expensive.
A recent poll done by the Angus Reid Institute saw 56 per cent of Canadians want to ban Huawei from establishing its 5G networks in Canada, which would follow in the footsteps of the United States, Australia and New Zealand; three of Canada's partners in the Five Eyes intelligence-sharing alliance.
The United Kingdom who is also a member of the alliance, has recently allowed Huawei to implement its equipment but to have limited involvement, something 34 per cent of Canadians said they would support according to the Angus Reid Institute.
---
More Stories