With no vehicle and a 10-week-old baby at home, Ottawa resident Amber Gasparini is among many families concerned about getting food during the COVID-19 pandemic.
Her family only uses food bank services when it's most needed but Gasparini says she has felt anxious about lacking essential items and hearing of shortages.
"It is sometimes admitting you can't do something that most families do easily," she said.
As the crisis continues, Ottawa residents are stepping up with donations to food banks and other good Samaritans are delivering groceries to help residents like Gasparini find some relief.
Recently, a social media fundraiser produced $170,000 for the Ottawa Food Bank with the help of Shopify CEO Harley Finkelstein, Ottawa Mayor Jim Watson and the famous American hip hop group Wu-Tang Clan. The amount is enough to feed 31,788 people for a week, said Samantha Ingram, the Ottawa Food Bank communications manager. Prime Minister Justin Trudeau also announced that $100 million will be invested to improve access to food through food banks and other organizations helping vulnerable families.
Efforts like these are helping an increasing number of families who depend on the food bank.
"There has been nearly a 30 per cent increase in the number of families that are turning to the food bank during the pandemic and the demand is projected to increase," said Michael Maidment, CEO of the Ottawa Food Bank.
Maidment says not everyone can easily prepare for weeks of isolation. "There are tens of thousands of people in this city who don't have the money to have extra food. They don't know where their next meal is coming from," he said. Continued financial support fills in the gaps for the Ottawa Food Bank.
"One week we might need more tuna; another week we may need something else," said Maidment.
"We typically do emergency assistance, which represents three to five days (worth of food) and we are trying to increase that," he said. This effort is to abide by social distancing and help more families get a longer support of food while they are home.
Many families who decide not to turn to the food bank, go on social media for help from the community. Christina Ranieri, the executive director of Ability First Ottawa, says she feels a lot of people have lost access to the food bank because of increased demands and longer waits for deliveries. She says she and her friend Janet Seto have been delivering food and supplies using their own funds to help vulnerable residents, especially those with disabilities.
Ranieri says she has been waking up to checklists of what people need via social media. She has been packaging supplies and has a team of volunteers who deliver food and essential supplies.
"I make the volunteers a little kit with snacks and hand wipes, mask and gloves. And I tell them if you're driving around and you see someone in need, pass it to them from your car."
Ranieri says she continues to get referrals by people in the community who know others that need help.
For families who are unable to go out to get their supplies and wish to avoid an over-burdened food bank, good Samaritans have helped make lives significantly easier. Gasparini also reached out to a Facebook community group.
"I believe that it is very generous of people to provide aid with drives," she said "Otherwise many like myself would be stuck unable to get any food until a food bank was able to supply their one-time amount if they have the volunteer to deliver." Gasparini says she feels very grateful to the community members who continue to give a helping hand when the food bank can be used for others in need.
The Ottawa Food Bank is continuing to fundraise and recruit volunteers as more people get laid off and demands increase.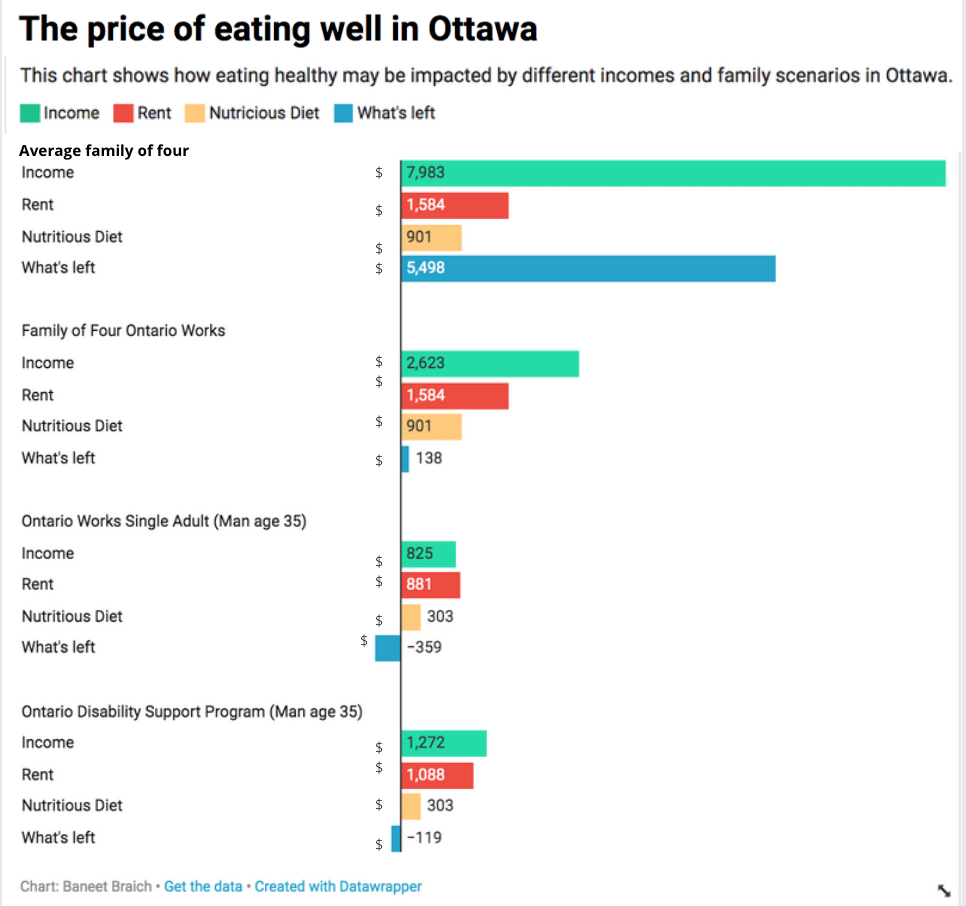 ---
More Stories