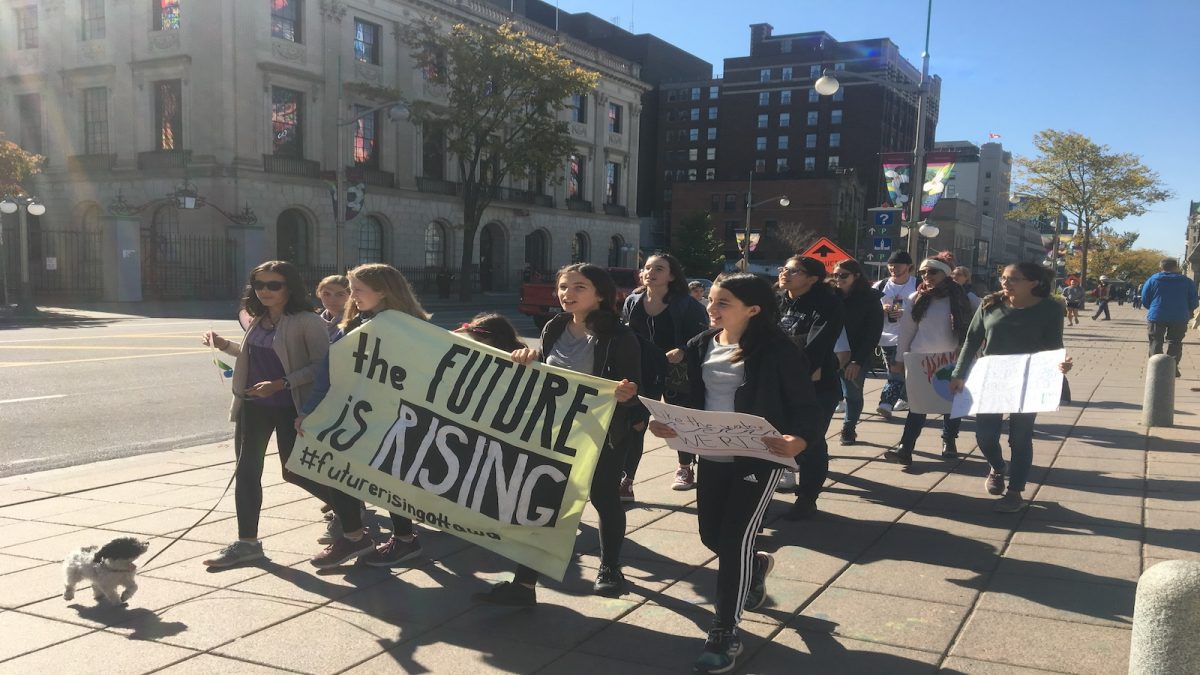 As climate change protests intensify around the world, youth activists in Ottawa are keeping their protests peaceful on Parliament Hill every Friday.
Mia Beijer, 16, is the co-founder of Future Rising Ottawa, a youth initiative that focuses on bringing young voices into the climate change conversation.
Beijer said it can be hard to get youth involved, which is why she started the initiative after noticing that relatively few young people were involved in the climate change protests.
"I wanted to create a safe space for youth to come protest," Beijer said.
Creating that safe space is important because not all protests are peaceful. On Oct. 18, for example, Extinction Rebellion activists blocked the Laurier Bridge in downtown Ottawa to protest the lack of action in the climate change crisis. The bridge was only closed to car traffic, not including emergency vehicles, but remained open to pedestrians and cyclists.
More than 100 Extinction Rebellion activists have been arrested in Canada since the recent launch of that group's "International Rebellion". Other major bridge shutdowns have occurred in Vancouver, Edmonton, Toronto, Montreal and Halifax.
Extinction Rebellion activists have also clashed with authorities in Britain and other countries.
That's not the outcome Beijer wants for the Future Rising protests. She said she was looking to find a way to create peaceful protests in which youth feel comfortable participating.
That's also why she launched "Rise Up And Chalk About It!".
It's another way for young people to express their environmental concerns in a peaceful way and without drawing too much attention to themselves.
"To ask youth to go against everything in their brain … everything in their being and go and take to the streets is really scary sometimes," Beijer said.
"One thing that's very difficult about Ottawa is it's not in our culture, and it's not really in our behaviour, to come and strike and take to the streets like it is in other cities — like Montreal."
Beijer said she started using chalk to write on the ground during her protests because she was looking for a way to leave messages for people to see after a demonstration is over.
"One thing that's kind of annoying is once you leave, you know, that's it. You're gone. There's nothing left for people who will come walking by afterwards," Beijer said.
"And so I wanted to make sure our message was going to be heard even after we left."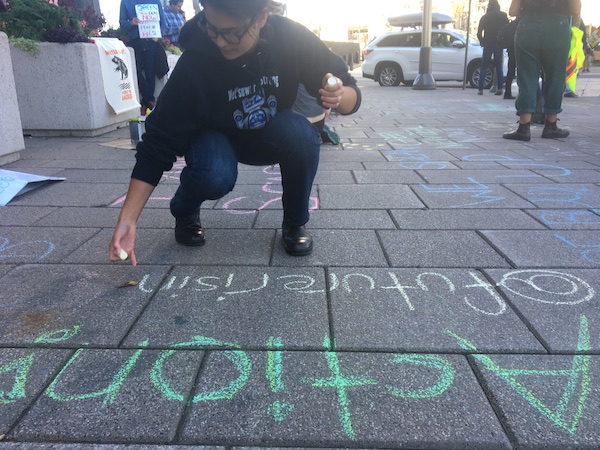 Beijer said she recognizes many students can't miss school every Friday, so she organizes the protests around the school schedule.
The protest starts at noon and goes until 1 p.m. every Friday, which is during most students' lunch hour. Beijer said because the protests only last one hour people can stay for the whole thing, or just stop by for as long as they would like.
Mee-Kyung Legault, 17, has attended three Future Rising protests. Legault said she is at the protest to bring certainty back to her future by making the government take action against this crisis.
"I'm here because our futures are uncertain due to . . . laws that the government has put into place," Legault said.
"A lot of our natural resources, just in general like in Canada, (are) under attack, you know?"
Legault said there are many things the government could be doing to help prevent climate change.
"I think the government needs to make some changes within the different corporations because the carbon tax is great but that's just to individuals, right? That's not necessarily to the larger scheme of things," Legault said.
Legault also participated in the recent global climate strike where thousands of people joined the protest in Ottawa. Legault said that protest was the biggest one for Future Rising Ottawa, and that the groups have been smaller in the recent Friday protests.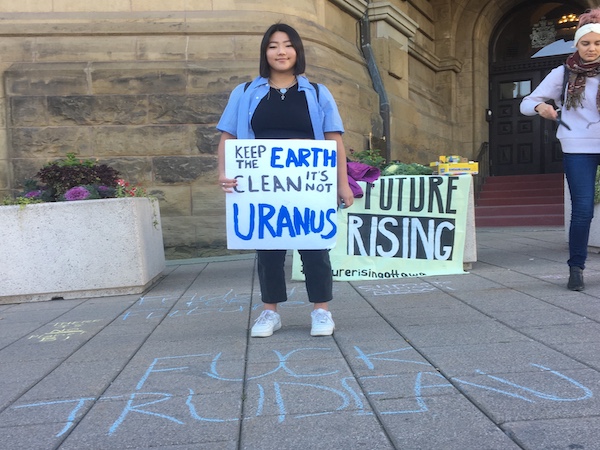 Legault said she keeps coming back to the Friday protests because she is "here to see if our voice – if more people come and stuff – can possibly get some change."
Tourist Lisa Dietl, from Germany, said she came to Parliament Hill because she just wanted to participate in what the city had to offer.
After the march, Dietl said she now wants to learn more about climate change so that she will be able to help raise alarms. She said she believes more people should get involved with the fight, and that more people need to do things such as sending chalk messages.
As for Dietl, she says she wants to try to help bring awareness to the issue in her own way. She said she was "thinking about just standing up in a train and saying something."
---
More Stories