An Ottawa Hospital is trying to lead the way forward in the fight to end the climate crisis.
The Children's Hospital of Eastern Ontario (CHEO) has outlined a strategy to reduce its greenhouse gas emissions. The Kick the Carbon strategy intends to reduce the hospital's emissions 30 per cent by 2025.
"Our goal is to move towards net-zero for the hospital," said Dr. Curtis Lavoie, an emergency department physician and chair of CHEO's green committee. "Health care has a huge impact on climate through greenhouse gas emissions. Kick the Carbon is really about getting rid of carbon emissions. Wherever and however we can, as fast as we can."
The World Health Organization (WHO) outlined priority actions for policy makers, calling on them to address the current climate and health crises with urgency at the recent COP26 conference.
On the ground in Ottawa, CHEO is installing energy-efficient lights, optimizing heating and cooling and using space planning strategies to reduce energy waste. Another project includes plans to grow food items for the cafeteria on-site.
Climate Changes Health in Canada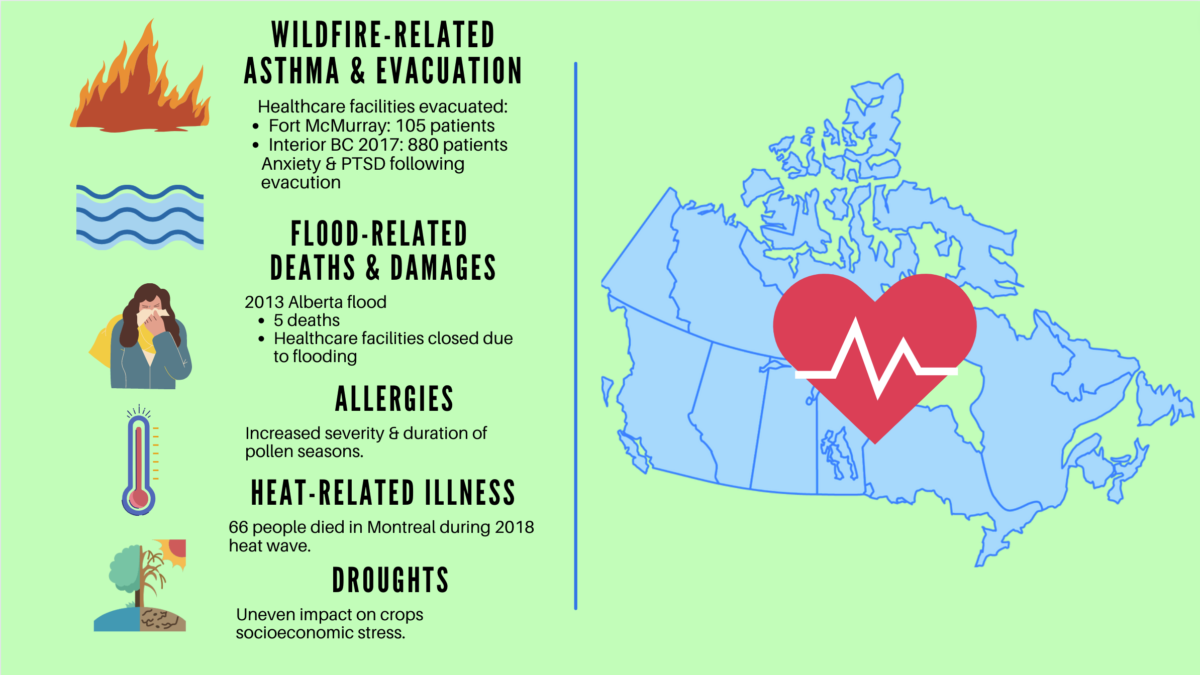 The move by CHEO to stop creating some 2,000 tonnes of emissions came days before officials from WHO announced that 50 countries, including Canada, had signed a health-care effort to conduct health vulnerability assessments and commit to a roadmap to transform their health systems to be more sustainable and low-carbon.
The health-care system is a significant source of pollution. Canada has the third-highest per capita greenhouse gas emissions from health care in the world, accounting for 4.6 per cent of the country's emissions, according to the Lancet Countdown.
This is alarming, said Lavoie, who sees the impacts of climate change in CHEO's emergency room.
"Kids with asthma especially have inflammation all the time just because of the concentration of greenhouse particulates in the atmosphere," Dr. Lavoie said.
"If CHEO meets that 30 per cent by 2025, then who is to say they can't get to 60 per cent by 2030? I think some people constantly have the mindset that it's not enough, but sometimes it's important to at least meet a target," said Sana Badruddin, the project co-ordinator of Ecology Ottawa. "Setting a target is a strong step towards signalling to other organizations to do the same." 
Solutions addressing climate change must begin at an international and community level because they feed into each other, she said.
It's imperative climate change is understood as a human health crisis that presents immediate risks to communities, says Kim Perrotta, the executive director for the Canadian Association of Physicians for the Environment.
"In Canada, it's been estimated by healthcare that we have 15,000 premature deaths each year from air pollution and generally speaking, those are all premature deaths. Many of those could be avoided if we eliminated the burning and extraction of fossil fuels in Canada," Perrotta said.
"We have become arrogant, and I don't believe we realize just what a significant impact we've had on the global ecosystems that we depend on."
The consequences of climate change are happening before our eyes, Perrotta said. She pointed to the B.C. heat dome that claimed nearly 600 lives over the summer and recent catastrophic flooding in the province that have displaced thousands, killed hundreds of thousands of animals and caused billions of dollars in damage.
The effects of increased natural disasters globally have also affected the supply chains of Canadian hospitals, including CHEO. For example, following the devastation Hurricane Maria brought to Puerto Rico in 2017, there was a shortage of some types of IV bags in hospitals.
Canadians often picture the country a beautiful green space while in reality they are huge carbon producers, Badruddin said. She added that if Canada is going to lower its per capita emissions, there needs to be these community-level initiatives, such as the one started by CHEO.
"We're such a small player in the whole thing, but we got to do our part," Dr. Lavoie said. "How this is going to affect kids in Ottawa is not so much as the kids around the world, right? Kids everywhere are going to benefit from this."
---
More Stories