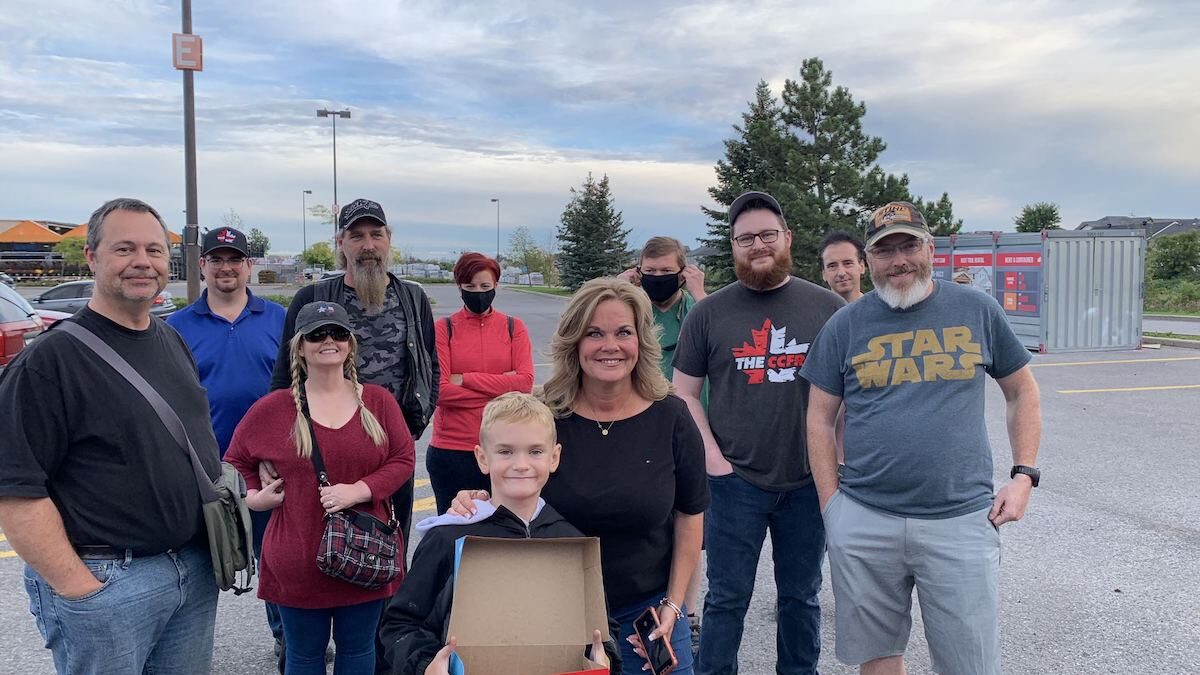 When gun control became a central topic of conversation in the second half of the federal election campaign, the Canadian Coalition for Firearm Rights sent its best defender — a suburban grandmother wielding a wagon full of pamphlets — across the province to plead its case.
Tracey Wilson, the CCFR's vice-president, drove into Ontario's most hotly contested federal ridings in the name of the CCFR-dubbed "truth tour." Meeting in parks, community centres and parking lots, Wilson gathered CCFR volunteers and allies through announcements via Twitter and went door-to-door to convince voters not to support Liberals.
"Dress casual, comfy shoes," the CCFR website advised its truth-tour volunteers.
At the heart of the tour was a booklet — multiplied 260,000 times — designed to dissuade constituents in swing ridings from voting for Justin Trudeau.
The cover of the document featured a "nice photo of Justin Trudeau," as Wilson described it, but inside was a 15-page litany of the Trudeau government's "failures and corruption."
"The purpose of this booklet is to appeal to Canadians to stop listening to government messaging and look into the performance of the Trudeau Liberals for themselves," the back of the pamphlet states. "Accurate information is available, but you've got to take the time to read it."
The CCFR's prime motivation was the Liberal government's May 2020 order-in-council banning the use, sale or import of "assault-style" weapons often used in mass shootings, and the government's planned implementation of a buyback program for owners.
Additionally, the new Liberal gun plan, was proposing to toughen laws on banned assault weapons, crack down on high-capacity magazines, ban the sale or transfer of magazines that could hold more than a legal number of bullets and set aside a minimum of $1 billion to support provinces or territories to implement a ban on handguns.
The CCFR "truth tour" grew out of the organization's rejection of Liberal arguments for stricter gun control measures.
The ridings "don't necessarily have to be vulnerable to the Conservatives, just vulnerable to anybody but a Liberal," Wilson said on Sept. 15 as she prepared a dozen canvassers in a Home Depot parking lot to blitz homes in Liberal MP Chandra Arya's Nepean riding. Conservative candidate Matt Triemstra was widely considered a strong contender to unseat Arya in the Sept. 20 election, but he fell short in a fairly close race.
Wilson pulled three large boxes out of a rental van and placed them in her wagon. When she opened them, volunteers quickly grabbed as many booklets as they could and stuffed their various backpacks, grocery bags, and purses; more than 1,000 of the anti-Liberal documents were ready to be distributed in seconds.
Among the group were veterans, nurses, parents, children and grandchildren.
Despite its creation by the firearms lobbyist group, the election literature features only one small section about the Trudeau Liberals' restrictive actions on guns. This is by design, Wilson said.
"It's not about gun control, because that's not an issue at the top of mind for most Canadians. It's targeting all of (Trudeau's) failure and corruption," Wilson said. "Canada has a very robust, complex, system of gun control right now; we don't necessarily need more and Canadians aren't asking for more."
The citation-rich pamphlet resonated with those who want firearms issues to become easily digestible to the public.
"This pamphlet seems very much true to the character of the Canadian Coalition for Firearm Rights… my first impression of this booklet was 'oh its another smear campaign'… I'm personally not a fan of this tactic" said Antonio Rivera, a licensed gun owner.
"I think they would benefit from taking a less combative stance and focus more on educating the population to the realities of safe and lawful gun ownership."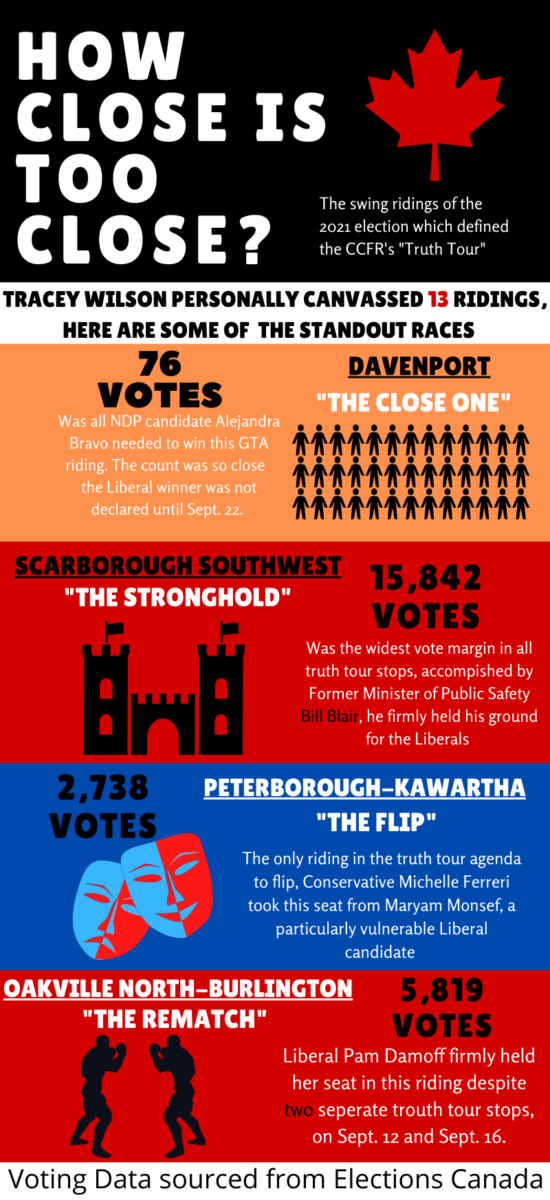 As Canadians voted on Sept. 20, gun control was widely viewed as one of the issues influencing decisions on the next government.
Throughout the campaign, Trudeau sought to convince Canadians that Conservative leader Erin O'Toole had a "hidden agenda" to privatize healthcare services, to curb women's abortion rights and loosen Canada's gun laws.
One opening emerged in the campaign to help the Liberals make the hidden-agenda argument stick.
In the party's campaign platform, the Conservatives vowed to repeal the Liberals' May 2020 gun ban with the support of the CCFR. But then O'Toole "flip-flopped" and stated that he had no plans to repeal the ban until his government had completed a thorough review of the bill.
The contradictory nature of the leader's messaging on the gun issue generated suspicion and cultivated talk of a Conservative "hidden agenda" to ultimately overturn the Liberal ban.
Wilson said she sympathized with the political snare O'Toole found himself in and remained confident that the Liberals could be defeated.
Support strong for gun control
"I can understand why O'Toole removed that from his policy," said Wilson, acknowledging that the ban on what Liberals' called "assault-style" weapons is popular with most urban Canadians. "At the same time, he's also committed to a full and public review on firearms classification, by experts, in full view of the public. We welcome that."
Leger and the Association for Canadian Studies conducted a poll in March 2021 amid the controversy over the initial proposal from the Liberal government. Sixty-six per cent of survey respondents said there should be stricter gun-control regulations in general. Just 10 per cent said gun-control measures should be relaxed, while 19 per cent said they should remain as they were.
Adam Pound, a CCFR staffer who joined Wilson in Nepean, said he does not believe those who call for stronger gun control understand what they are calling for.
"Nobody takes the time to look into what the current rules and legislation are," said Pound. "I don't have time for anyone who is unwilling to do that and bases an opinion on emotion."
The CCFR-backed booklet says Trudeau and Bill Blair, the public security minister, continuously argue that their actions and priorities are to keep Canadians safe, but that results show Canada has become increasingly violent.
According to the Toronto Police Service, however, there have been a total of 302 shootings and firearm discharges in 2021 alone — 16.3 per cent fewer than the previous year.
Gun-owner Rivera said he doesn't believe that stricter laws are the simple solution for which Canada is looking. "More nuanced gun laws made by people who actually have an adept understanding of gun ownership and crime statistics as well as the real and unique 'on the ground' situation regarding gang violence and gun smuggling would benefit everyone in Canada," said Rivera.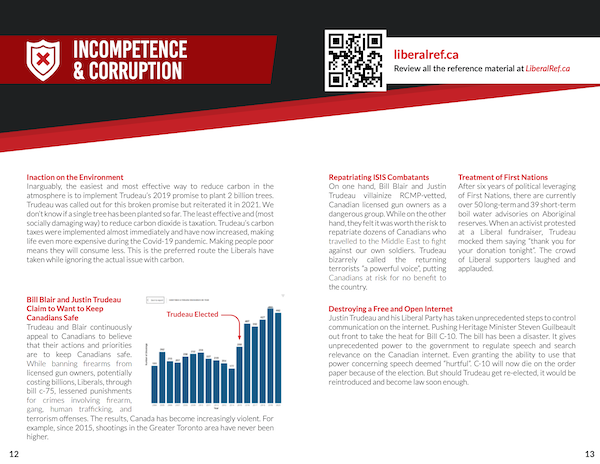 Wilson agreed and said experts who know about the mechanics and operations of firearms can make the best decisions rather than politicians "with an 'Ottawa-knows-best attitude.' "
While Pound was stuffing mailboxes on suburban Barrhaven streets, he said he had no say in what went into the pamphlet, but what he liked most about it was everything inside was backed up by footnoted references.
"I am happy that it comes across as non-partisan. It doesn't favour any particular party. It just says: here are the current issues with the government today."
Rivera disagrees with that statement. "Taking out of context and off-handed statements as someone's set-in-stone beliefs is disingenuous at best, if not downright spiteful. It is also incredibly easy to highlight the missteps and shortcomings of others. There's no merit in doing so."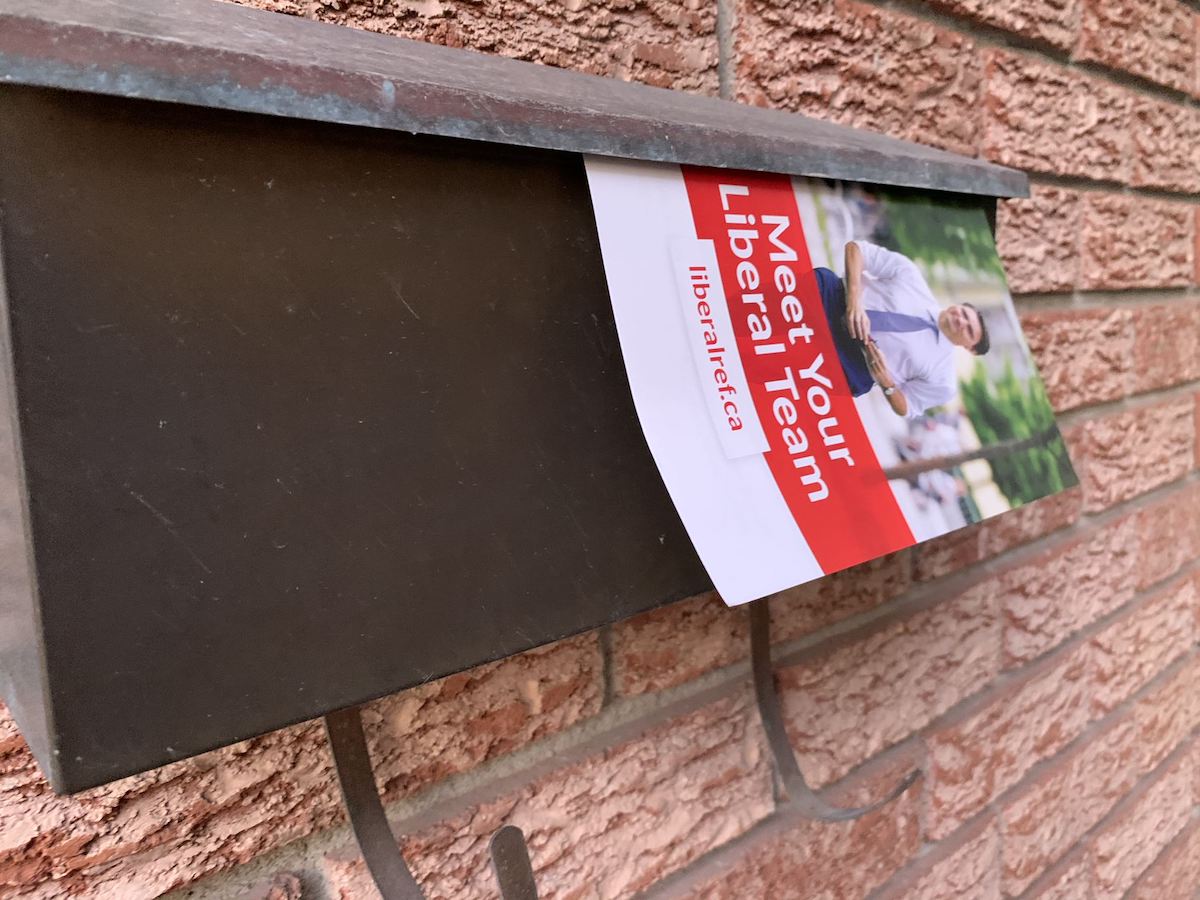 Wilson said the CCFR had 260,000 copies of the pamphlet printed for the tour. Along with her canvassing, Wilson sent boxes of pamphlets to gun stores nationwide, where CCFR volunteers and followers could pick some up and do their own canvassing.
"In the limited time in this short writ period, we had to focus our efforts where we could make the most impact which, of course, has been the GTA; the 'political playground' as I call it," Wilson said ahead of the election.
But as in 2019, the Liberals swept much of the seat-rich Greater Toronto Area on Sept. 20. And in Nepean, Chandra Arya was re-elected.
The Nepean stretch of the CCFR's persuasion tour consisted of parents, children and grandchildren separating into groups of two to go down crescents and avenues together, then group back together at the end of each street. Occasional name-shouting could be heard when someone was not seen in a while. Those passing by could easily mistake to group to be in the middle of a family activity.
"I could've done this through Canada Post, but this brings us together — it's unifying for gun owners," Wilson noted. "We bring our kids, our grandkids, and go for a nice walk. It's a great time to get together and at least we know, at the end of the day, we've done something."
While the results of the 2021 election relatively unchanged from 2019 — and the ultimate goal of unseating the Liberal government not achieved — those who canvassed for the CCFR don't see that as their only objective.
"It might not be able to change people's minds," said Pound, "but at least it will now allow them to think."
---
More Stories