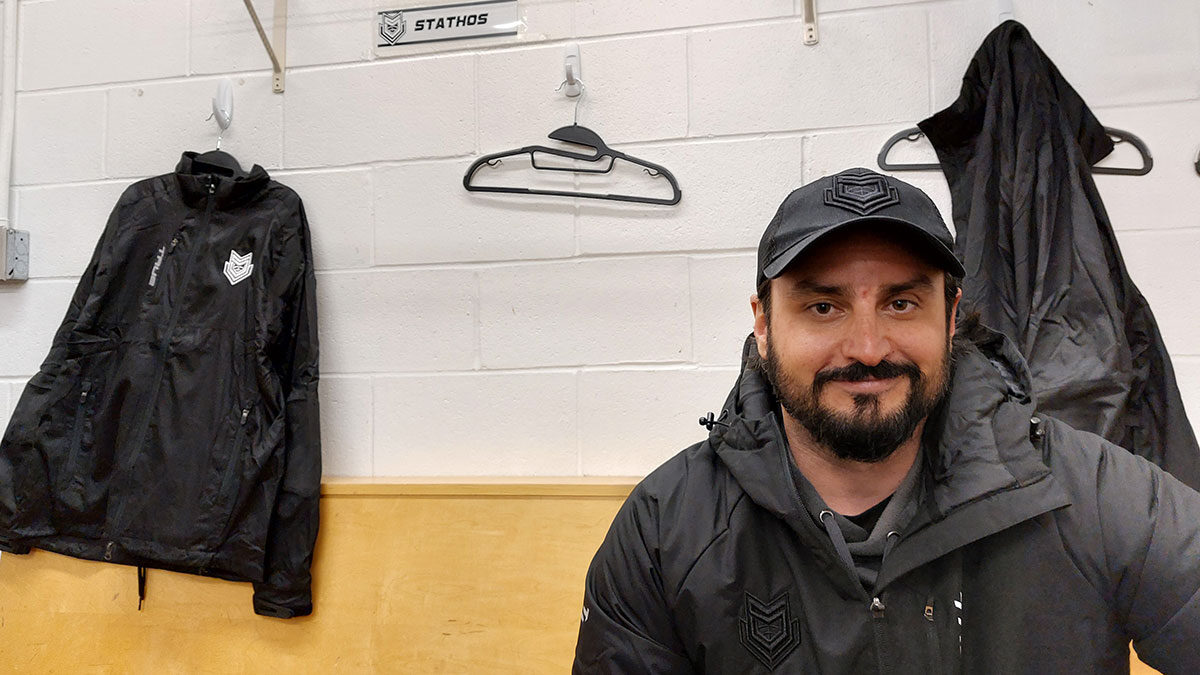 Dave Stathos knows what it's like to experience the sunset of a hockey career and the rise of something new.
And as the sun set on a recent evening in Kanata, Stathos hopped onto the ice under the bright lights of the Bell Sensplex arena to run his hockey goaltending school — working to inspire the same dedication to puck-stopping he once had in a new generation of netminders.
Two-thirds of a Sensplex ice pad was dedicated to an Ottawa Senators skills clinic for minor hockey players. For the next 50 minutes, the far end of the ice became the Dave Stathos Goalie Performance Center.
Stathos and his three fellow coaches wore the same black uniform: a baseball cap, tracksuit and pants featuring the school logo. Most of the goalies wore a black Performance Center jersey as well.
One coach sent seven goalies to the boards to begin a U18 session. Skates ground into the ice as the goalies moved from boards to boards. The young athletes then felt the burn in their quads as they shuffled sideways — shaving the top layer of the ice with each stride.
The remaining drills focused on spatial awareness, crease movement and puck control. Coaches clapped their sticks on the ice to start each repetition. The boom of pucks smacking goalie pads echoed throughout the arena as players try to score.
They also weren't afraid to go for a rebound when the goaltenders looked down and out. But occasionally, a goalie sprawled and blocked the puck from a wide-open net; the coaches shouting in surprise at the highlight-reel save.
It takes skill, anticipation and athleticism to make these difficult stops. But Stathos is looking for something extra.
"I want to see work ethic before anything else," Stathos said. "Talent will only take you so far."
Stathos, who became a top U.S. college goalie and then played pro hockey in Europe, knows something about achieving success between the pipes.
Then, after stepping back from the game, there were three years when Stathos thought about the sport that shaped much of his early life as if it was an ex-girlfriend he wanted to avoid. He'd passed his peak as a goalie and left the professional hockey at 31 to settle down with his wife, Johanna, and their two-year-old son, Niklas.
Now, Stathos teaches science, phys-ed and French to Grades 7 and 8 students with the Ottawa-Carleton District School Board. School runs until 3:45 p.m. and Stathos is often on the ice at 4:15. For him, the teaching doesn't stop.
He leads training stations and chats with the goalies about their hockey seasons. He helps them focus on what they can control, on tuning out the noise, on playing the game they live around and love. Stathos is riding a resurgence of his goaltending passion so he can inspire others to pounce on opportunities and improve themselves.
"My job as a goalie coach, I want them to learn life skills – I want them to enjoy the game," Stathos says.
He speaks from experiences that dominated his life for 15 years after moving away from his family at the age of 16.
Up until Midget hockey, now known as U18, Stathos played at the AA level in his hometown of Longueuil, Que., on Montreal's south shore.
At the time, he wanted to take the next step and play in the Quebec Midget AAA League, the top provincial league for U18 players before the best of them make the jump to junior hockey.
He tried out for his local AAA team and had a good training camp, but was the last goalie released from the team on the last day of tryouts. Then the AA team cut him as well, leaving him on the BB team.
"It was one of the low, low, low times of my career," he recalls. "My goal was to play Midget AAA that year and it was an epic failure."
Although he lost the opportunity to play AAA in Longueuil, he found more chances elsewhere. He browsed the league standings a couple months into the season.
"I wanted to see which team basically sucked, or which goalies sucked in the league," Stathos says.
The team that seemed to be struggling most was the the Amos Forestiers, eight hours north of Montreal. Stathos waited until they played in Montreal and pitched a tryout to the coach.
He got his chance. His parents dropped him off in Amos a few days later to live at "some grandma's house" for a week of practice with the Forestiers.
"All the guys want to take my head off at practice," Stathos remembers. "They're all shooting at my face because I'm about to try and steal one of their buddies' spots."
The tryout went well. By the end of the week, the coach chose Stathos to be the starting goalie against the best team in the league — the Montreal Canadiens AAA. Montreal's netminder at the time was a kid named Roberto Luongo — who went on to play 1,044 NHL games, become a three-time Vezina Trophy finalist and win two Olympic gold medals for Team Canada.
But on that night against Amos, Luongo's team fired more than 40 shots on the Forestiers' goalie and lost 2-1. It's a memory Stathos cherishes.
He made the team. By January, he was facing Luongo again in the QMAAA all-star game.
Stathos went on to play Junior A hockey in Cornwall before Princeton University recruited the 20-year-old for the 1998-99 NCAA season. He was the starting goalie for four years at Princeton, where he graduated with a degree in psychology. He wrote his senior thesis on the mental side of hockey goaltending and the impact of anxiety on the cognitive system.
NHL goaltending great Ron Hextall was the former general manager of the Philadelphia Flyers when he scouted some games at Princeton. Hextall invited Stathos to the NHL club's training camp after trading one of the Flyers' goalies.
Stathos trained with NHL goaltenders Roman Cechmanek and Bob Esche for more than a month because the Flyers' American Hockey League team, the Phantoms, played in the same arena in Philadelphia.
"When I would show up at a camp and try to take somebody's spot, I kind of try to notice all the stupid stuff that they do or stupid things they say so that in my mind, I don't put them on a pedestal," Stathos says.
"I remember Cechmanek doing all kinds of stupid dives and poke checks in practice and I was laughing at him," he says. "I was telling (Flyers goalie coach Rejean Lemelin), 'Did you teach him that?' And then he was shaking his head."
The tryout led to an offer to stay in the Flyers organization, making just $10,000 a year with one of the club's minor league affiliates, the ECHL's Trenton Titans. Instead, Stathos signed a rare three-year contract to play for HIFK Helsinki in the Finnish Elite League.
Stathos earned team MVP honours in one of his two years as the starting goalie in Helsinki. The team then replaced him with NHL goalie Tomas Vokoun during the 2004-05 NHL lockout.
Stathos bounced between the Finnish league, the Swedish Elite League, and the Ligue Nord-Américaine de Hockey in Quebec between 2005 and 2009. By that point, he'd met his wife and they'd had their son in Sweden in 2007.
"There was a lot of uncertainty and travelling around," Stathos says. "After Niklas was born, it became more difficult to fly to Europe and go play over there, and I kind of wanted to be able to stay back."
The family decided to settle in Montreal. Throughout his career, Stathos had been coaching younger goalies to help him understand the techniques he was practising himself. That made it a natural transition when he began teaching elementary school students in Montreal and later in Ottawa.
Stathos says it was a nice shift to being with family and watching his son grow up. But the competition and camaraderie of professional hockey were missing from this new chapter in his life.
"After I retired, I didn't even want anything to do with hockey," he says. "I didn't wear the pads for three or four years and I didn't want to watch hockey."
That's when Stathos saw a reality hockey show in which non-NHL players tried out for a team in Montreal and Quebec City and played each other twice a week. About 200 goalies tried out.
Stathos made the team.
"That was the first time I saw some competitive aspect after retiring, so that made me tick a little bit," he says. "Obviously you kind of get back into it and then your competitive nature kicks back in and next thing you know, you're kind of enjoying it again."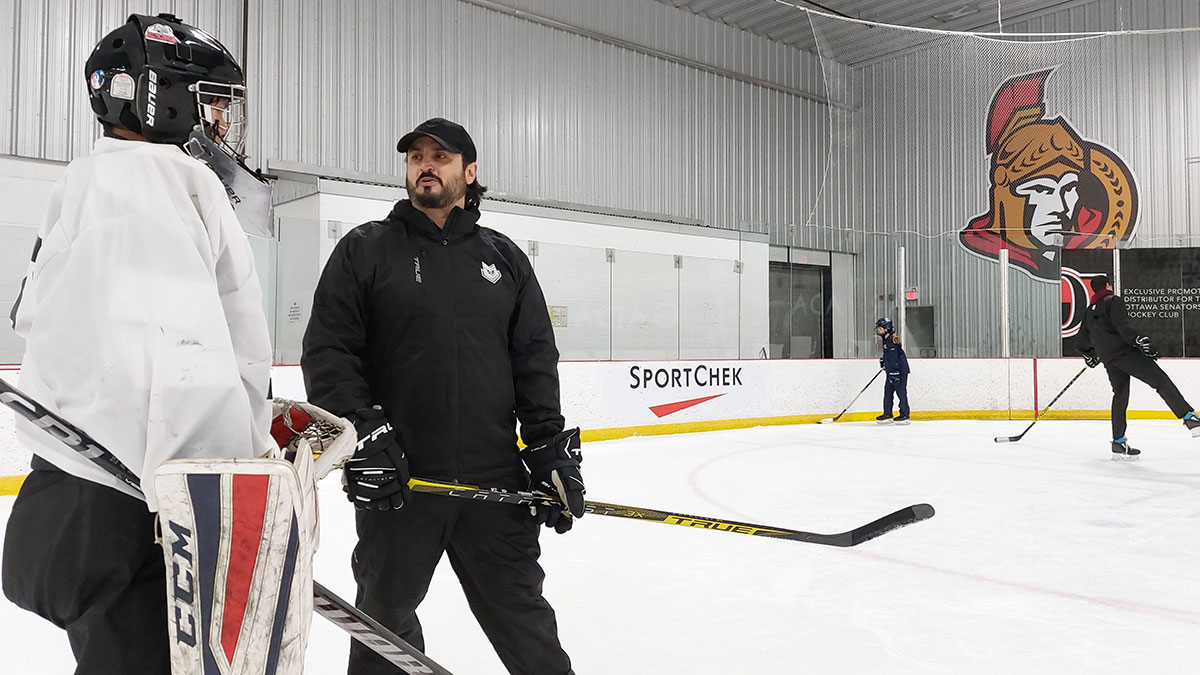 Stathos coached in some goalie academies with the Senators hockey camps before deciding to open his own Goalie Performance Center in September 2015. He says more than 800 goalies sign up for his coaching every year.
Stathos says he always wanted to play at as high a level as he could, even if that did not involve making the NHL. He brings the same mentality to his students.
"I don't judge a career based on what level you played," he says. "That's not my goal when I coach goalies."
His psychology degree and his awareness of the importance of mental and physical health are part of his coaching.
He brought the October Saves challenge to Canada, a charitable cause in which goalies raise money for breast cancer research based on every save they make during the month.
He's also a mental health ambassador for the Lift the Mask Foundation, a group dedicated to providing mental health support and resources to the goalie community.
He wants athletes to forget about the scouts and the standings. He helps goalies develop their maturity and focus on their individual performance. Stathos says that not only helps with goaltending but with any aspect of life — instilling confidence and a strong work ethic.
As Stathos and Niklas, now 14, prepare for a U15 AA tournament in Mississauga, the father reflects on what he wants from his student goalies as they aim to play as high as they can.
"At the end of the day, it's like, 'Have you done your best? Did you leave anything on the table?' These are the questions," says Stathos.
"I know tons of guys that played like Junior C and you know what? They did their best and they had a blast," he says. "Every game they played, they were like balls to the wall. So it's all relative."
He adds: "If there's guys that I coach that make the NHL, I want my impact to be like, maybe they enjoy the game a bit more because of me."
---
More Stories