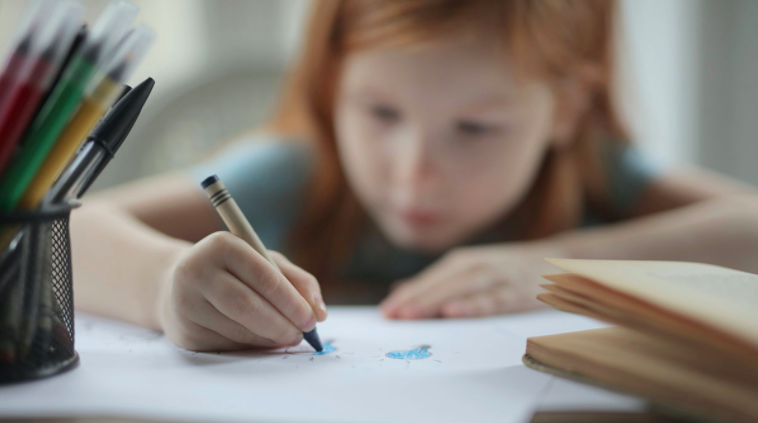 Kaitlin Watson, a registered early childhood educator, has focused on being hands-on with her virtual kindergarten class. Keeping young students motivated has been a constant struggle for kindergarten educators, something to battle in person and in virtual school settings.
Watson keeps her students motivated through a series of different activities through the week to establish a routine and so her students have activities to anticipate.
"Every Friday is Fun Friday Science. We do a science experiment, and the majority of the kids get to join along from their own homes," she said. "It wasn't just me showing them a science experiment and saying, 'This is what it looks like, this is what you would experience if you were here with me.' It was me making something simple enough that they can recreate it at home and share in that experience."
The key material used in one of Watson's experiments? Water bottles.
"So, they needed a two-litre pop bottle and some beads, and we learned about cyclones. So, they had to shake up an empty pop bottle with the beads in it, and I did it here myself."
Watson has used these enjoyable experiments, along with yoga and other activities, to keep the children engaged in virtual school.
Motivation is critical in the development of young children. However, the tendency to lose interest in a repeated activity is a fundamental human reflex, developmental and cognitive psychologist Wendy L. Ostroff explains in her book, Understanding How Young Children Learn: Bringing the Science of Child Development to the Classroom.
Kindergarten introduces children to the school system. Educators help develop young minds through play-based learning. The purpose of kindergarten is to promote children's physical, social, emotional, and cognitive development.
According to the Ontario Ministry of Education, kindergarten also provides experiences that can improve children's overall health, well-being and interest in learning for a lifetime.
School shutdowns, sending students online, have become an unwanted aspect of the pandemic for more than a year.
The consequences of the pandemic have raised questions on the roles of the educator, children and families in kindergarten education, whether in the in-person or online school setting.
In Ontario, the educators, families, and students form a three-way partnership that is crucial in the education of children, said Valerie Susak, an in-person kindergarten teacher at Bayshore Public School in west-end Ottawa.
Building motivation early
"Early childhood is where it all starts," said Ann Robichaud-Gagné, an education professor at the University of Ottawa and a publicly appointed member of the Council of the College of Early Childhood Educators. "First of all, it's where you motivate the children, where you want them to develop the skill of wanting to learn. You want them to be able to get up in the morning and want to go to school. It's where the child learns their interests."
With in-person school, the educator's role has shifted as teachers have to be more of a director in the classroom. Kindergarten students do not have the liberties they once had for safety reasons, and Susak has noticed the impact on students in their second year of kindergarten.
"They had a bigger learning curve, because they were used to and they were taught a lot of in-class independence. They were taught to find materials, they were taught to get things for themselves, to organize things for themselves. So now, the new reality is everything has to go through an educator," said Susak.
Virtual schooling is new for the educators, too. Lila Hammouda, a virtual kindergarten teacher, has focused on being highly organized with her class plans, ensuring room to keep her classes fun and spontaneous.
"As an educator from behind the screen, every little detail I do in my job on a daily basis in terms of planning my lessons… is for them to come every day to class to the screen and want to come again and again. So we are doing everything we can, so we don't lose that motivation from them."
Parents are teachers, too
With both schooling options available for kindergarten students during the past year, families have had to choose what works best for their child and family.
For Jennifer Nicholson, in-person was the only option for her son who is heading into Grade 1 in September. She says virtual kindergarten did not work for her son during shutdowns in 2020, and she wanted to give him a sense of normalcy with the in-person learning that he missed in his last year of kindergarten.
"My son has autism and routine is very important to him. Being back in class, and with his peers, and with the school and the teachers is way more beneficial for him," said Nicholson.
"The extra rules and having a specific schedule and routine that they all have to follow that has absolutely worked wonderfully for him. I find he's much better that way — with a very strict routine and rules … that's definitely helped."
Sara Parent, a mother who also decided her son should attend kindergarten in person, spoke about her choice.
"He gets distracted very easily, and with him being home, it was very hard to get him to focus on school," she said. "So I think having him in a learning environment is better for his concentration, and he will focus easier in a school environment."
Keeping their children safe was why many parents enrolled their children in virtual schooling. According to data from the Ontario Ministry of Education, near the end of April, there had been almost 15,000 school-related COVID-19 cases in Ontario. Of these cases, 11, 261 involved students, and roughly 27 per cent of schools in Ontario reported at least one coronavirus infection.
"When parents apply to virtual school, they do it because they want to give their child that opportunity to not be at risk every day, to be in a safe space, to get to stay home with them, to get to have more time with their family," said Watson.
"So, the fact that all of these families have chosen for their children to be a virtual student, that's been a positive thing the whole way through because these parents are so involved and so passionate about their kids' education now and I really think it's the coolest thing ever."
With virtual schooling, the parents' role is more important and requires them to be even more present. But it's an approach that may not work for everyone.
"So, not only did I have to try to get him to focus on his call, I still had to be able to focus on my calls to perform my work duties," said Parent.
These difficulties can be seen in the results of a national survey conducted by Pollara Strategic Insights in partnership with The Prosperity Project. It found that a third of Canadian women have considered quitting their jobs to take care of home responsibilities amidst the pandemic.
The survey of 1,000 adults found that about two-thirds of respondents – working men and women – agreed "that it has been stressful managing children, family and work during the lockdown. However, a third of women have considered quitting their jobs, compared to less than 20 per cent of men."
Children taking charge
Ostroff's book also highlights the fact that children need to allow themselves to play and to freely do things the way they want to do. She says children should take the lead in their play and that this helps them in their learning and development.
Hammouda said she has made sure to allocate time for the children to be able to talk to each other, to request to watch videos and allow them to lead their own play — despite the difficulties doing this virtually.
She explained that to allow her students to build relationships, she tries to take a backseat and let the children chat with each other directly and build social skills.
Play-based learning is seen by experts as critical to kindergarten-aged kids and virtual schooling could hamper the experience for children.
"When children are young, play is their work," said Susan Prentice, a sociology professor at the University of Manitoba. "They learn by playing. They're like puppies and kittens — they need to be tumbling and touching and feeling and experiencing. And the idea of interacting with a flat screen is not considered developmentally appropriate for young children — and yet it seems for many of them the best we've got at this moment."
Home support crucial
Hammouda said teaching virtually has highlighted the inequalities in a child's home environment more than in-person learning does.
"Teaching virtually from an equitable lens, I've seen that we're better able to deliver our programs at school with equity — where in virtual school it is very dependent on the support system the child has," she said. "It's dependent on the socio-economic status of the family, if the parents are working or not working. It's dependent on technology capabilities at home."
Hammouda added: "We felt like we were responsible, and we had everything at our fingertips to deal with problems (with in-person schooling). And we didn't have to ask parents for support or it didn't matter if a child was from a poor family or a rich family, or a parent was working or not working. It didn't matter before, but now everything matters, like access to materials. It all matters."
---
More Stories