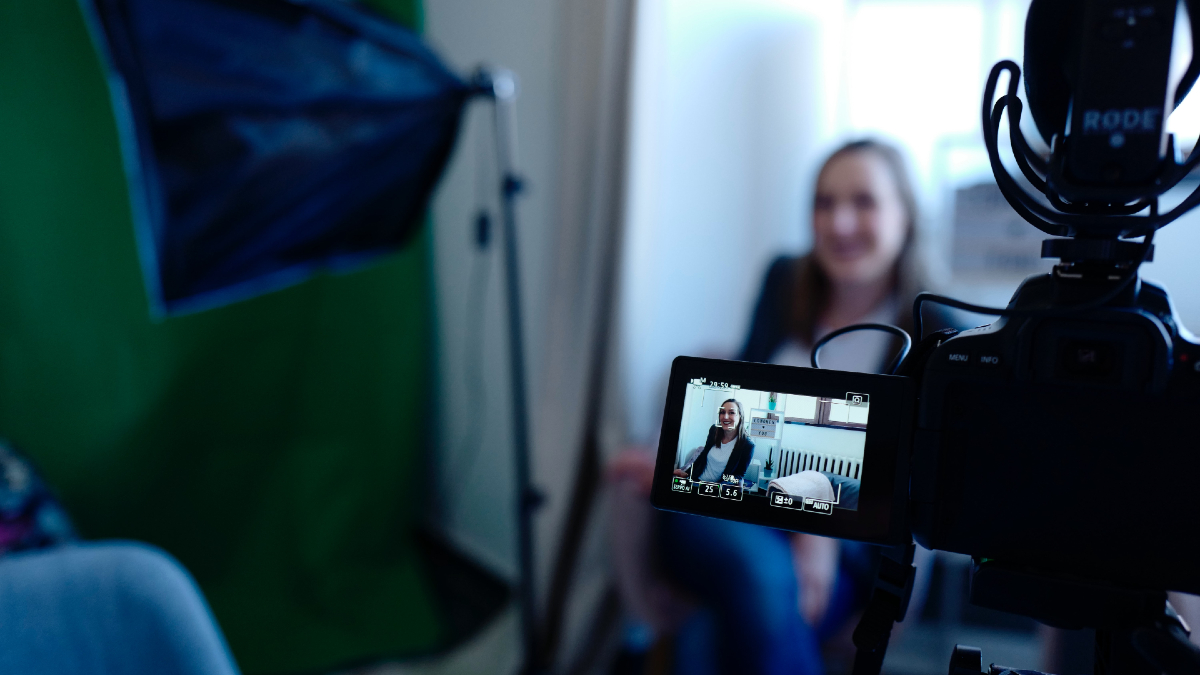 The video starts abruptly. A woman appears with no makeup, her hair pulled back, clad in a cozy lilac sweater. She makes an attempt at introducing herself, but cringes after the first sentence. The scene cuts away.
Take two. She's giggling from embarrassment this time, hiding her face behind both hands. Still shy, she nails the introduction anyway. "Hi, I'm Brie Larson. I'm an actor," she says, a note of hesitancy in her voice. "I'm starting a YouTube channel!"
Academy Award winner Brie Larson, best known for her starring role in the 2019 superhero film Captain Marvel, isn't the only celebrity on the platform these days. She has joined other high-profile figures starting a YouTube channel, creating her own videos for her audience, and living the life of a social media influencer.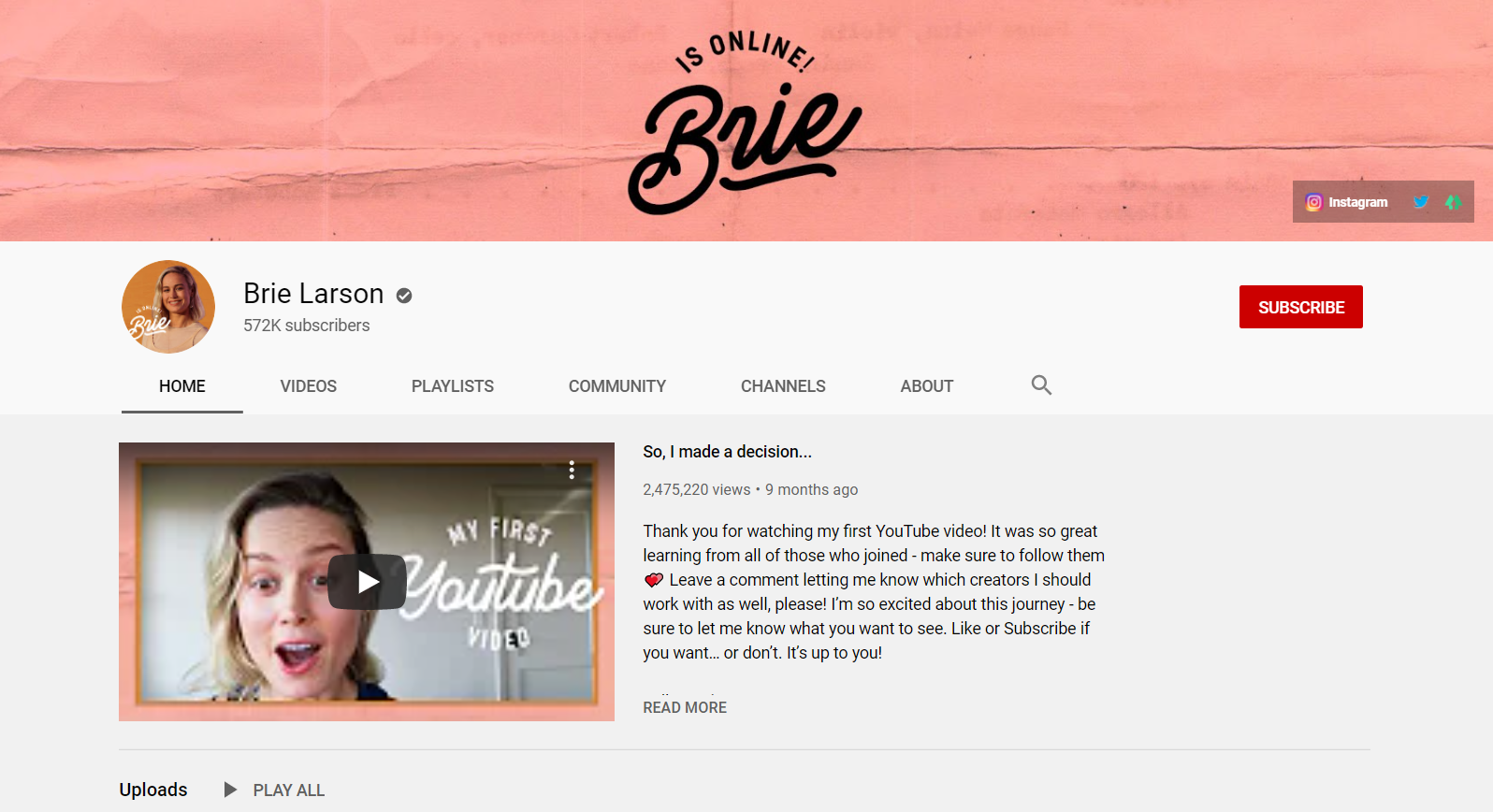 YouTube has come a long way since 2005, when it started as a quirky platform where ordinary people, from soccer Moms to history buffs to oddballs of all kinds, could emerge from obscurity and achieve virtual fame — and more; Canadian singer and eventual global superstar Justin Bieber was an early adopter.
Now, YouTube is a social-media powerhouse with enormous influence on popular culture — and celebrities who gained their fame in more traditional ways want a bigger piece of the action. Will Smith. Naomi Campbell. Noah Schnapp. Kylie Jenner — there's an ever-growing list of celebrities who have migrated to YouTube.
And no wonder: Two billion users log in to the platform every month worldwide, and in the U.S., 62 per cent of its users access the platform every day, with the rate jumping to 92 per cent for weekly use, according to a 2020 report by Statista. YouTube is an especially useful way to reach the next generation of fans: 53 per cent of Gen Z men and 42 per cent of Gen Z women say YouTube is their favourite platform to follow influencers, Statista showed in a 2019 study.
As they flock to the platform, celebrities have adopted the same strategies used by other YouTube content creators also called YouTubers. They are, in the main, ordinary people who have found fame on the platform. They gaze directly at their audience and speak in a casual style that appears to sweep away any barriers between them and their fans.
However, celebrities shine brighter than the average YouTuber, and they bring their fan base with them, becoming instant heavyweights on the platform. The stakes are high, because YouTube viewers overwhelmingly flock to a small number of popular channels, leaving the vast majority in relative obscurity. About 80 per cent of all views for new content in an average week goes to videos carried by the top 10 per cent of the most popular channels (those with more than 250,000 subscribers), according to a 2019 report by the Pew Research Center.
With their star power and ready-made fan base, will celebrities muscle out the ordinary content-creators who made YouTube what it is today? And how will their arrival affect the sense of authenticity and spontaneity that has become the hallmark of YouTube videos?
The celebrities landing on the welcoming shores of YouTube insist they are eager to finally share their authentic selves. Ironically, although one of the cardinal rules of the Internet is never to reveal your true identity online, authenticity is the key to Internet fame for celebrities. They strive to convince the audience that, despite having a net worth in the millions, they are ordinary people too.
"There's a perception that you're somehow taking down some of the barriers, and that you're reaching forward to your fandom and trying to establish the idea that you're like anyone else," said Lorraine York, a McMaster University professor who specializes in Canadian literature and celebrity culture.
Celebrities determined to have a slice of YouTube fame leave behind the glitz and glam of stardom when on the platform, where they use various techniques to try to look authentic. Actor/producer/rapper Will Smith uses a filming style common to vlogs. He holds the camera himself rather than having a crew film the scene. Model/actor/businesswoman Naomi Campbell speaks directly to the camera, as if her fans were sitting in her own house. It's a far cry from the professional, disconnected approach celebrities often take. This new format, personalized for YouTube, is casual and inviting.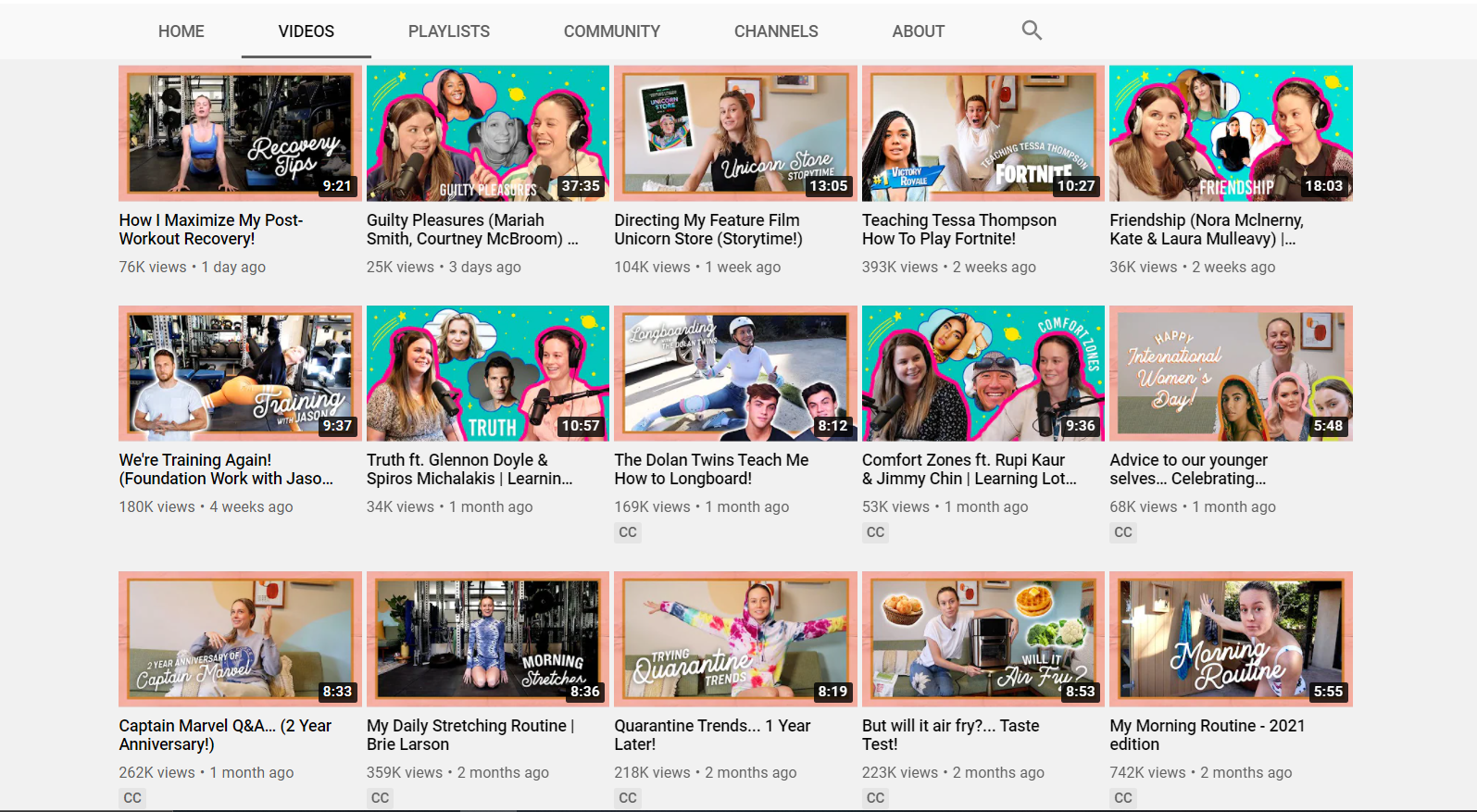 "The rough-edged nature can have the effect of convincing fans that there is a kind of authenticity there," said York. The results are unpolished, but the imperfections are a strength. An intimate glimpse into their life drops directly into the subscription feed of the audience — no barriers.
"There is an element of intimacy, the sense that you are bypassing traditional media structures like print. … Your fans, in theory, have this potential to 'like' your image, to comment on your image, in ways that they just don't have with broadcast media," said Katja Lee, a communications and media studies professor at the University of Western Australia, in a Zoom interview.
But for all their insistence that 'This is the real me!', celebrities are still curating, constructing, polishing their public image on YouTube.
"It seems like you have access, but you don't, and that dynamic drives the consumption of celebrity," said Julie Rak, an English and film studies professor at the University of Alberta. "These 'people' are not people, really. They're symbols."
In fact, by shifting to a social-media platform such as YouTube, celebrities can exercise more control over their image than ever, observers say.
With traditional media, "a lot of representation is out of their control. But when you use social media, you have that control, (and) you can carefully curate your image the way you want to," said Lee.
At the same time, YouTube offers fans the illusion of having direct contact with a celebrity: they can 'like' and comment on the star's videos, and feel they are communicating directly with the star.  "What audiences are looking for is a more personal relationship, a more personal conversation, as if it's between them and that person, as opposed to that person talking to everybody through a magazine," said Ramona Pringle, a professor at Ryerson University's RTA School of Media.
This illusion nurtures what psychologists call a "parasocial relationship," in which the audience sees celebrities as friends, gaining emotional and social gratification in a cycle that leads them to seek out more interaction. Rinse and repeat, and you've got yourself a devoted fan.
Unsurprisingly, celebrities have also been drawn to YouTube to make money, and to keep pace with the shift from making movies for the big screen to making shows for TV and streaming services such as Netflix: "The macro trend with celebs is: they want to benefit from the shifting consumer attention from the 'big screen' to the small screen, (and) the more you control access to your own audience, the more you can monetize," Josh Krakauer, CEO of Iowa-based social media marketing agency Sculpt, said in an email. This trend is also consistent in branding, "with personal and lower production value content often performing well," he said.
But many YouTube fans are not fooled and are pushing back against the trend — and against YouTube for promoting it.
"Consumers are, in some instances, really canny about the things that they notice about these performances. … Because so many people have access to these platforms, they kind of know how the sausage is made. … They know how you can create these effects," said York.
The platform has taken flak from fans for appearing to give celebrities the red-carpet treatment, while sidelining popular content creators.
In 2018, YouTube got a rude awakening when it uploaded "YouTube Rewind 2018: Everyone Controls Rewind," a recap of the online trends and events that had gone viral over that year. The video included mainstream figures, such as John Oliver and Trevor Noah, while excluding prominent YouTubers such as PewDiePie, KSI, and Logan Paul, even though they had been involved in notable online feuds that year. Beginning in August 2018, PewDiePie was locked in a nine-month battle with Indian record label T-Series for the title of most-subscribed YouTube channel, and the feud had divided the online realm in two. The KSI vs. Logan Paul boxing match between the two YouTubers was yet another highlight of 2018, drawing over two million live viewers over YouTube and the streaming platform, Twitch, according to Polygon.
Despite the buzz around these YouTube heavyweights, "YouTube Rewind 2018" made no mention of them. The audience backlash was swift: just seven days after its premiere, the video became the most disliked video in YouTube history. As of November 2020, it sits at over 18.5 million 'dislikes,' resulting in a 'dislike' percentage of 86 per cent.
"It's clear that YouTube prioritizing celebrities over creators from the platform really aggravated a lot of people, and rightly so," said Casey Aonso, a Canadian YouTuber with more than 350,000 subscribers who specializes in commentary on Internet trends.
But celebrities themselves are not a threat to ordinary content creators, Aonso said in an email interview. The problem is YouTube, Aonso said, arguing that it has shifted its priorities to favour celebrities, rather than supporting the very people who boosted the platform to become "a lot more to offer than just random funny 320p videos."
Rak said this is not surprising: YouTube is "a part of capitalism, so they have to make money. In order to do that, there has to be as much circulation on the system as possible."
Who better to boost circulation than established celebrities with the star power to attract a massive audience?
YouTube cultivates celebrities
YouTube freely spends the resources to help their celebrity content creators become the "next big thing," including producing original programming called YouTube Originals. Will Smith's 2018 YouTube Originals series, Will Smith: The Jump, chronicles the actor's bungee-jumping stunt out of a helicopter. The video of the jump itself has more than 20 million views, and every video in the eight-part series has amassed at least a million views.
Not content with the online success, YouTube decided to go one step further, submitting it for an Emmy nomination in the Outstanding Short Form Nonfiction or Reality Series category, as Variety reported. The series did not get a nomination, but YouTube's attempt to give Smith his first-ever Emmy nomination would have been a win for both sides if it had.
"It is clear that YouTube does favour celebrities when it comes to their YouTube Originals content," said Aonso. Although the platform grants creators of all backgrounds the opportunity to headline a YouTube Originals series, Aonso has noticed a preference for stars. "They're centring series around celebrities that are well known by the general public to draw them in. It's definitely a smart tactic, but of course that means prioritizing celebrities for that sort of content."
She also noticed another quirk with celebrities on their channels, one that suggested they weren't completely integrated into YouTube culture yet. "The celebrities I looked at almost never responded to comments," said Aonso. "I think because celebrities have entered the platform as celebrities, the viewer relationship is naturally going to be different than it is with a creator who started out as completely unknown and slowly built an audience."
But some celebrities are catching on to the unique dynamic between content creators and fans on YouTube. Three months after Brie Larson's introductory YouTube video, an upload titled, "I turned your Instagram comments into a song!" appeared on her channel. Noticeably more comfortable than in her debut, the pajama-clad Larson lounges on her sofa, strumming a metallic blue electric guitar. She croons in a melancholic tone—most of the time—with lyrics derived from the replies she got from her audience after issuing a question prompt.
It's an unusual move to include audience participation in her work, unlike her high-profile peers who rarely even reply to comments. Despite hailing from the celebrity world, Larson now seems to be embracing the stripped-down conventions that have made YouTube the runaway success that it is. What do her followers think?
"Captain Marvel playing the guitar," YouTube user and fan B. Rye. N. posted in the comment section. "I'm so there."
---
More Stories