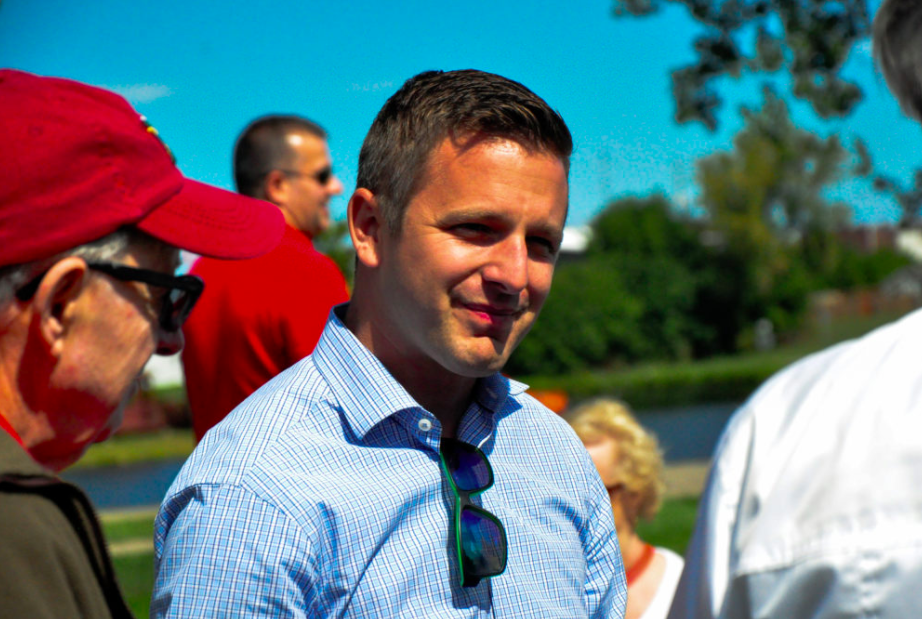 Liberal MP Francis Drouin, who represents the Ottawa-area constituency of Glengarry-Prescott-Russell, says he's open to renaming his riding to erase its association with 19th-century slave owner Peter Russell.
Russell, a top-level administrator in Upper Canada in the late 1700s and early 1800s, fought for special exemptions for slave owners, including himself, when the British colony passed the Anti-Slavery Act in 1793.
As anti-racism protests have swept across North America and beyond, the commemoration of Peter Russell in the names of several Toronto landmarks, the Township of Russell and Russell village east of Ottawa, and Russell Road in Ottawa have generated controversy and calls for change.
In response to questions from Capital Current, Drouin said in an emailed statement: "A discussion could take place regarding the name of the riding. The decision to change the name of the riding rests with its residents. But this must be done in a manner of respectful dialogue."
Glengarry-Prescott-Russell is the name of the federal riding represented by Drouin since 2015 and the provincial riding represented since 2018 by Liberal MPP Amanda Simard. Simard was initially elected as a Progressive Conservative MPP but left that party after a dispute over French-language issues in Ontario.
Drouin and Simard live in Russell Township. Simard is also a former Russell Township councillor, having served the municipality in that capacity from 2014 to 2018.
The federal and provincial ridings, which have identical boundaries, encompass Russell Township and Russell village, the United Counties of Prescott and Russell, as well Cumberland municipal ward in the City of Ottawa — including a long stretch of Russell Road that runs through rural Cumberland and then east of the boundary between Ottawa and the United Counties of Prescott and Russell.
Many public buildings — including Russell Public School and Russell High School (the latter located on North Russell Road) — bear the name of the slave owner.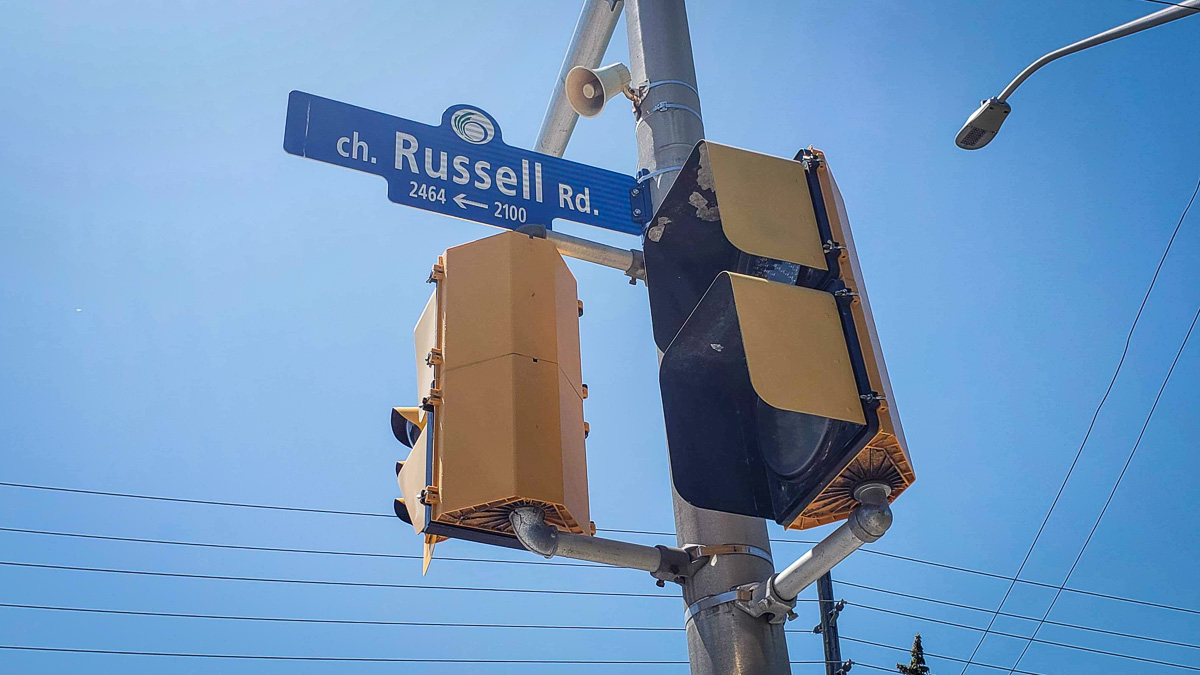 In June, a petition circulated amongst residents of Russell township urged the council to consider renaming the municipality because of its historical association with Peter Russell. The organizer of the petition has since expressed support for the township's plan to instead rededicate the township to someone else named Russell.
On July 6, at a meeting of Russell Township council, a vote is expected on Mayor Pierre Leroux's motion to "rectify this situation by confirming we will rededicate Russell in someone else's honour."
If the motion is passed, a "vetting committee" will generate a list of "worthy individuals" who have "either the first, last or middle name RUSSELL" and from which the township will choose its new namesake, according to Leroux's motion.
"I support the Mayor of Russell's initiative to establish a citizens' committee to honour another Russell in our community," Drouin said about Russell Township's proposed rededication process, which would retain the name Russell on all community landmarks.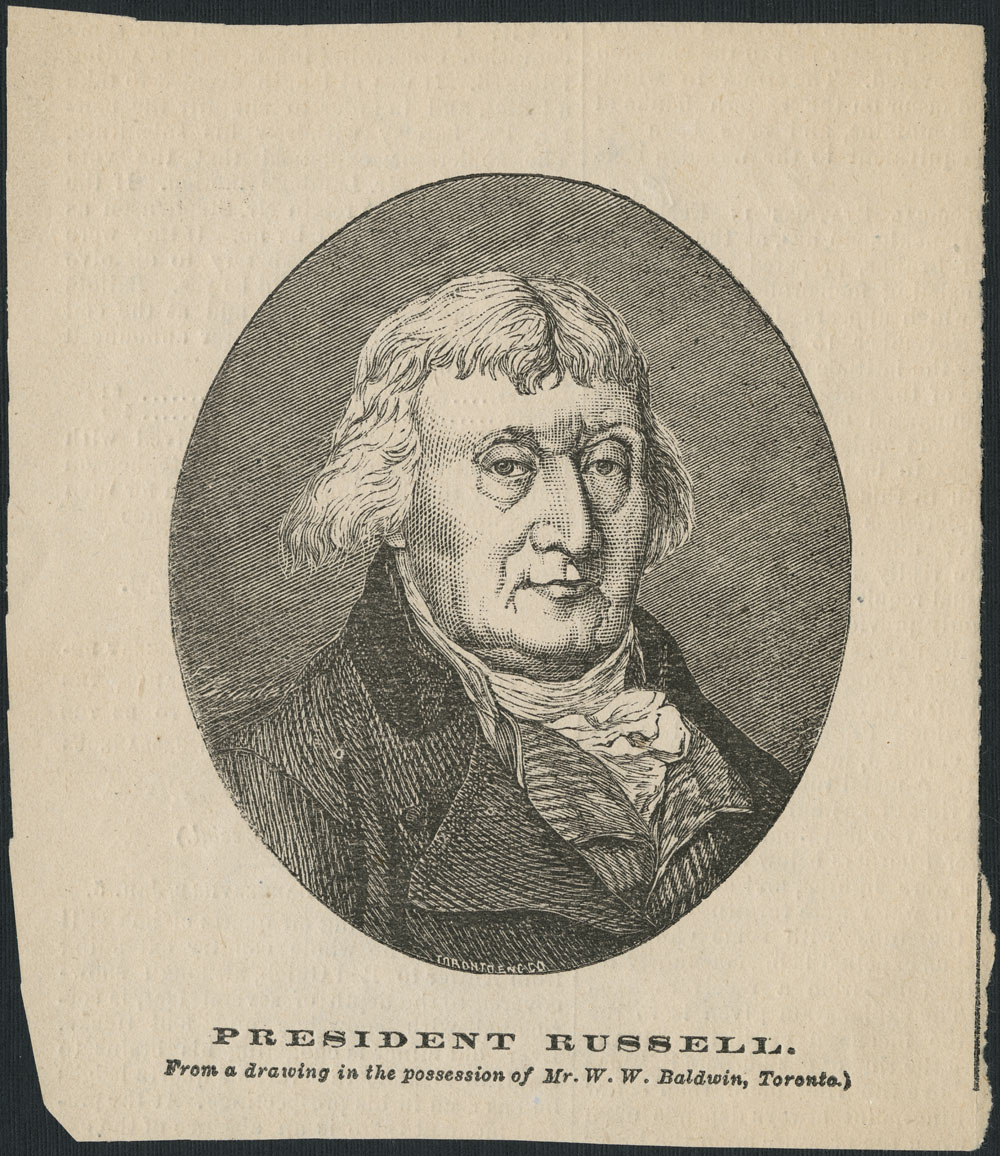 "I support the Mayor of Russell's initiative to establish a citizens' committee to honour another Russell in our community," Drouin said about the township's proposed rededication process, which would retain the name Russell — while referring to a new person — for the village, the township and on all community landmarks.
"The history of the township of Russell is complex, we need to celebrate what should be celebrated and reflect on what needs to be changed," Drouin told Capital Current. "We must understand that to enable our society to advance, we must be aware of our history and I believe it's important to tell the entire story. It is important to have a discussion about systemic racism in our community."
Drouin said the rededication idea "will create a place for dialogue and discussion. This will be an opportunity for us to explain to the future generations and serve as a reminder for the current generation as to why we want to honour another member of the community named Russell."
Soon after the original petition circulated in June, Godlove Ngwafusi — a spokesperson for the African Canadian Association of Ottawa — called for Ottawa's Russell Road to be renamed.
"It's crucial to rename all of these things," Ngwafusi said at the time. "If we want to preserve history, let's preserve all history," he added. "To preserve Black history, in Canada, we need to re-write it."
Reacting this week to Leroux's plan and Drouin's comments about the "rededication" of Russell Township to commemorate anther person named Russell, Ngwafusi said that's not enough.
"It's kind of interesting how certain community members will do just about anything to retain the status quo," said Ngwafusi. He said that status quo is being protected "knowing that it was achieved on the backs of unsung heroes who were 'owned' and forced into service for which they were never compensated."
In reference to a much-debated idea in the U.S. to legislate compensation for descendants of slaves, Ngwafusi added: "Maybe we could also engage in that part of the whole (issue) involving reparations for wages unpaid to centuries of African slaves."
As far back as 2004, Ottawa council has considered renaming dozens of streets and roads in the city to avoid overlap and confusion among emergency responders following the 2000 amalgamation of 11 former municipalities in the new, expanded City of Ottawa.
Among those identified as potentially confusing were Russell Road, Russell Avenue in Sandy Hill and Russell Street in the village of Metcalfe.
Mayor Jim Watson's office has not responded to requests for comment on Ngwafusi's calls for action.
Alta Vista Coun. Jean Cloutier, whose ward encompasses several kilometres of Russell Road from its origin near the Train Yards shopping district to Walkley Road, sent the following response to Capital Current's question about Russell Road's association with slave owner Peter Russell: "I did receive the email. I will not be commenting at this time."
Other elected representatives with stretches of Russell Road in their political domains include Gloucester-Southgate Coun. Diane Deans (between Walkley and Anderson roads), Liberal MPP Stephen Blais (who represents the Orleans riding at Queen's Park and is the former city councillor for Cumberland, a ward that's currently vacant), Liberal MP Marie-France Lalonde (Orleans), Liberal MPP John Fraser (Ottawa South), Liberal MP David McGuinty (Ottawa South), Conservative MP Pierre Poilievre (Carleton) and Progressive Conservative MPP Goldie Ghamari (Carleton).
Ottawa-Carleton District School Board trustees Mark Fisher (River/Gloucester-Southgate), Keith Penny (Orleans-Cumberland) and Chris Ellis (Rideau-Rockcliffe/Alta Vista), as well as Ottawa Catholic School Board trustees Brian Coburn (Orleans-Cumberland), and OCSB chair Mark Mullan (Gloucester-Southgate/Alta Vista) also represent zones through which Russell Road runs.
---
More Stories