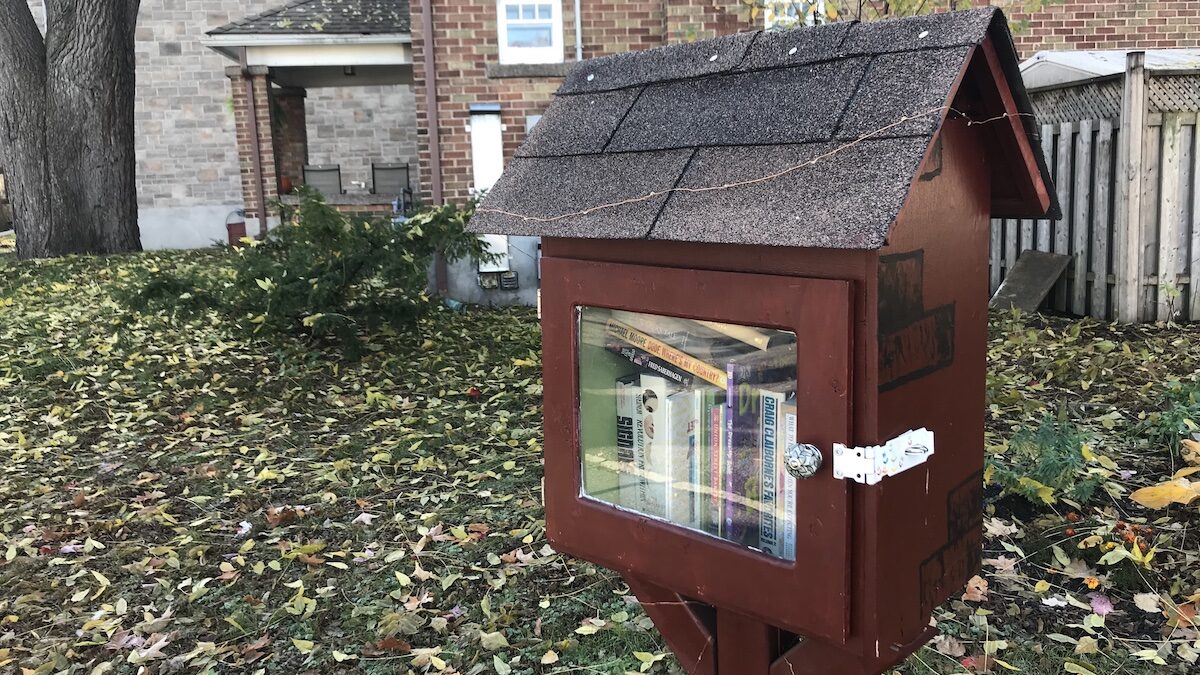 Old Ottawa East residents are booking it to small outdoor sharing libraries known as little free libraries.
The book boxes, which sit outside on front lawns, are a community hub for sharing books, DVDs, magazines, seed packets and sometimes small toys or artworks. Visitors can take or leave however many books they wish.
The libraries have gained popularity in Canada in recent years. The number of these book boxes has grown so much in Old Ottawa East that neighbourhood resident Paul Weber has created a map of their locations.
"What's been interesting is during the pandemic I'd say the number of book boxes has doubled," Weber said. "So I'm constantly getting messages from people saying, 'Well, I just put one up.'"
Weber's map, which features 16 libraries so far, has served as a neighbourhood walking tour and an outlet for families looking to find COVID-safe activities.
"My mother-in-law has printed the map and she walks around with the map and does all the boxes. She likes free books, I guess," Weber added. "Hopefully she's dropping books off too."
Janice Cameron, a resident of Old Ottawa East, said she uses little libraries as a destination when going on walks.
"You know, it's a goal," she said. "So if [I] go out for a walk now … either I'm taking a couple of books with me, or, you know, I want to spin by one I haven't been to in a while and see what's in it."
When her grandchildren were visiting at the beginning of the pandemic, she took them along on her walks as a family activity.
"They would always say, 'Let's go this way, let's go this way, there are little libraries here,'" Cameron added. "And occasionally someone would put a little toy in it too."
Weber reads the growth of little libraries as a sign of a need for activity during the pandemic. However, Ottawa residents have actually been building little libraries for years.
The first little libraries were built in Ottawa nearly a decade ago. Julieann Castell, a resident of Alta Vista, was one of the first to have one on her front lawn in 2014. Her son built it for a carpentry badge in cub scouts.
Castell had seen little libraries on The Oprah Winfrey Show and thought it was a clever idea. She now says it is a fixture of their neighbourhood.
"It really is a wonderful way of meeting people," she added.
She said she sits on her porch in the summer and enjoys chatting with neighbours who walk by and show interest in her library.
Castell added the libraries soon caught on in other neighbourhoods such as Old Ottawa East.
Weber said the expansion of little libraries across the city is promising.
"I think they're a great idea at a time when you know, books are probably valued less in some ways," he said.
He said he hopes to see little libraries expand to new areas.
"[It would] be great to see them all over the city, particularly in neighbourhoods where maybe people don't have as much disposable income and they could come and just access these book boxes," Weber said. "I think it'd be a great idea."