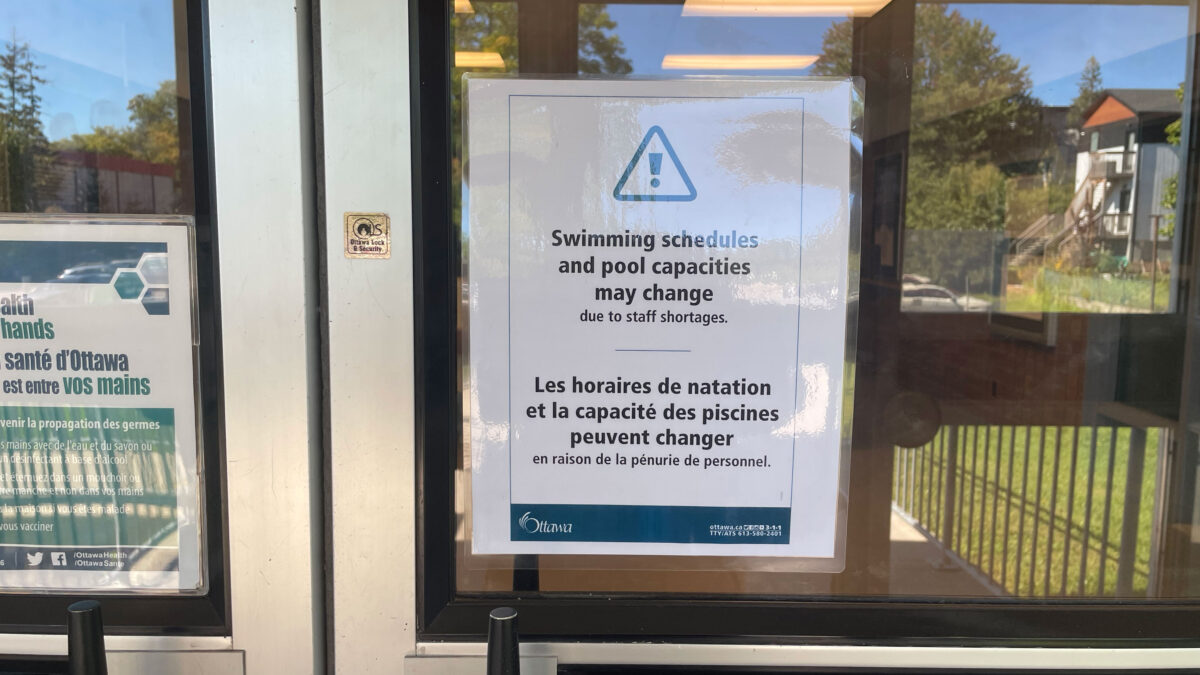 Lifeguard shortages that plagued City of Ottawa outdoor pools and beaches this summer have continued into back-to-school season, leading to cancellation of public swim times and learn-to-swim classes at indoor pools.
The staffing shortages are not unique to Ottawa, says Dan Chenier, the city's recreation manager, noting the importance of swim programs for communities. However, the union that represents lifeguards, CUPE 503, said the pay is too low given the qualifications lifeguards must have, leading to "significant retention issues."
The union and the city are in bargaining and will go to arbitration Oct. 24.
Ottawa has 20 indoor public pools and city pools saw 1.6 million visits in 2019, the city's media relations department says.
"The city continues to experience shortages of lifeguards and swim instructors. These staff shortages are impacting most city pools and are not unique to our municipality or the recreation field. Consequently, we have reduced service offerings by canceling some public swim times and learn-to-swim classes," Chenier said in an email to Capital Current.
The city has taken measures to continue operating pool services and is "committed to bolstering training and recruitment efforts," he said. These include holding lifesaving, lifeguarding and leadership courses. As well, "qualified supervisory staff" have assumed on-deck roles such as lifeguards and swim teachers. And aquatic clubs with staff with the correct certifications have been allowed to lifeguard during their rented pool times.
CUPE 503 secretary and treasurer Carrie Lynn Poole-Cotnam blamed the staffing shortage on poor pay. "What we're hearing from our members who work in the aquatics programs is that the compensation related to the work that they do is not adequate."
Lifeguards have been paid the same rate since 2019, ranging from $15.41 an hour to $16.63. Lifeguard instructors and head guards are also paid 2019 rates, from $20.79 to $22.48 an hour. Toronto increased its pay rate for lifeguards by 17 per cent earlier this year. (Waterfront lifeguards and swim instructors saw hourly wages increase to $21.19, according to their union.)
Poole-Cotnam said the shortage has affected public swim times and swim classes. One lifeguard spent an evening calling parents to tell them their children couldn't participate in summer swim lessons as a result of over-registration for classes, said Poole-Cotnam. While lifeguard and lifeguard instructors play different roles, many lifeguards obtain the extra certification to teach, then move between the positions.
Some residents are frustrated. Larry Wasslen, a regular at Ottawa pools, wrote in the Ottawa Citizen, "I now see signs posted at City of Ottawa pools warning the clientele that scheduled programming may change last-minute because of the staff shortage. … Parents now scramble just to get their kids on waitlists for any openings in this season's lessons.
"Simply put, there are not enough lifeguards and associated recreation staff available to consistently fulfil programming at public aquatics facilities."
Young people, the ideal recruits for lifeguard jobs, are finding other job opportunities "more attractive," said City of Ottawa lifeguard Evan Bury, shop steward with CUPE 503. Bury said he has seen the effects of these shortages at local pools, citing as an example a friend's husband who is a triathlete and is frustrated pool closures are affecting his training
Several Ontario cities have also said they're grappling with a lifeguard shortage, according to the Canadian Press. In part, the pandemic exacerbated the problem when lifeguard training programs were hit by COVID-19 lockdowns, CP reported.
---
More Stories