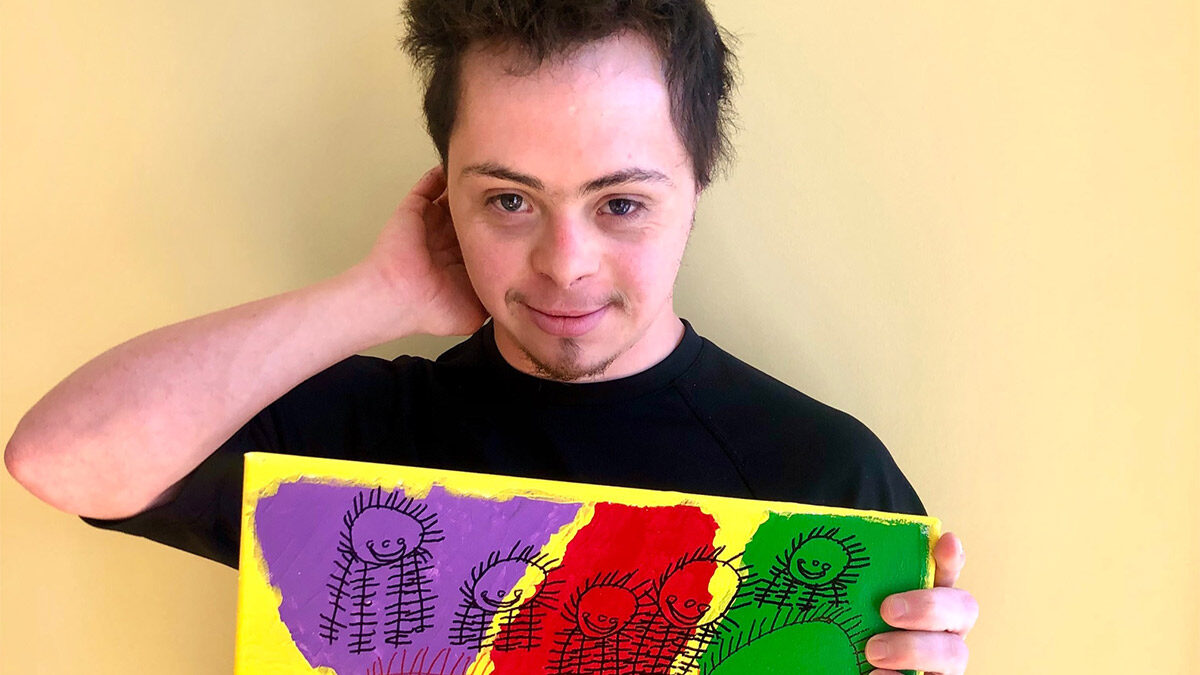 Joel Jamensky describes making art as "freefalling into another world," and he intends to use it to make this one a better place. The 26-year-old Ottawan is reflecting that optimism in his public persona "J Positive".
His creations are infectious and warm, radiating the energy of life's simple pleasures.
Working with a variety of mediums, each piece is focused on making a lasting message.
As an individual with Down syndrome, Jamensky invites others to see from his perspective, sketching scenes that demonstrate the joys of his lived experiences.
He favours themes that are relatable yet nuanced. Chief among them are friendship, nature and peace.
Though each piece is unique, a Jamensky original often includes figures with smiling faces — a reflection of his own relentless positivity.  
"I like to put myself and my friends in my art, everything about me and what I love."

Ottawa artist Joel Jamensky
"I like to put myself and my friends in my art, everything about me and what I love," he says.
As an artist, Jamensky says his main motivation is to make his audience "feel really good and positive about life."
He also says that he aims to dismantle misconceptions about his own condition in the process.
"I have Down syndrome, I'm 26 years old and I want to be treated like an adult," says Jamensky.
His works were featured in several exhibitions last year, including Toronto's Tangled Art and Disability showcase, an initiative promoting Canadian artists with disabilities.  
He sells prints and merchandise featuring his designs on his website, with 10 per cent of its proceeds to organizations supporting adults with intellectual disabilities, including BEING Studio, the Capital City Condors, and the DragonFly School of Dance.
Through his artwork, he encourages others to not only normalize but celebrate the Down Syndrome community, describing it as "being on a higher level."
"I am proud of my art and all I have done," says Jamensky. Next, he's focusing on ways to expand his passion, saying "doing art makes me feel good about what I see in the world."
---
More Stories