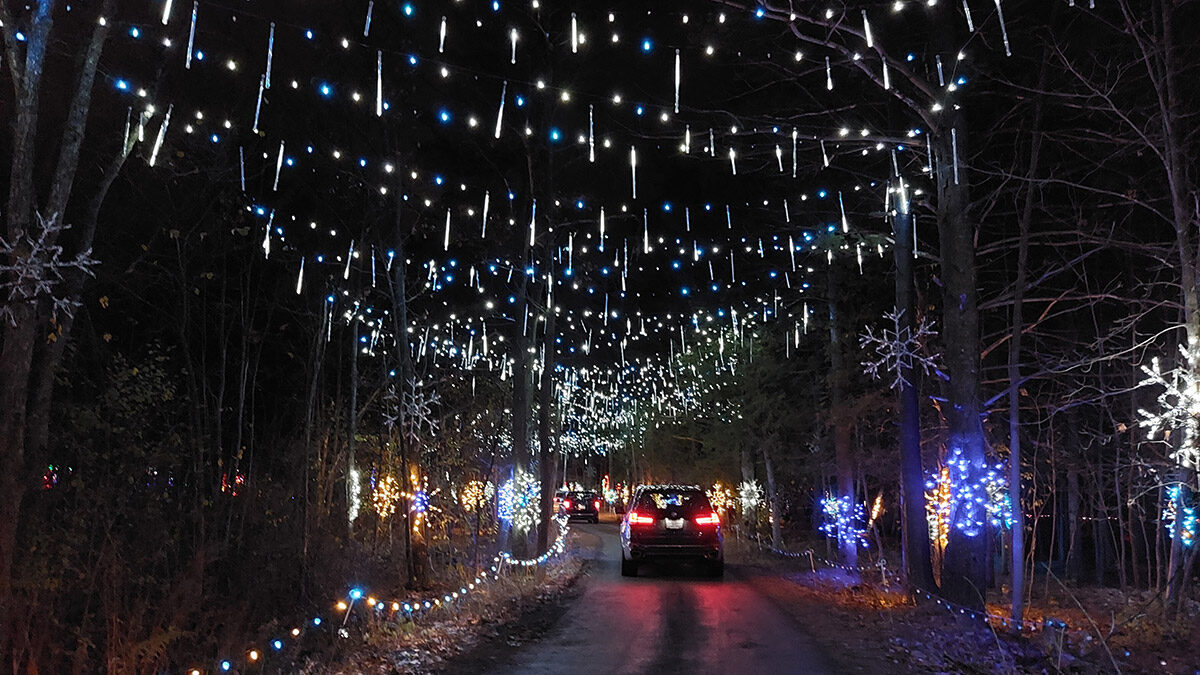 The Magic of Lights display in west-end Ottawa is once again attracting long lines of cars since it opened for the season on Nov. 19 and bringing some needed joy and pyschological relief to a community still beset by the pandemic.
The campground at Wesley Clover Parks just east of Kanata has been turned into a drive-through holiday attraction with nearly a million lights forming scenes and characters along a two-kilometre route, according to a press release from the park and FunGuys Events, the company running Magic of Lights events across Canada and the United States.
As in past years, event organizers plan to donate part of the proceeds from the admission tickets to the CHEO Foundation, says Robyn Cyr, the park's marketing co-ordinator. Magic of Lights also invited 500 families getting health services from CHEO and others to a free soft launch on Nov. 18.
Nepean MPP Lisa Macleod, the Ontario minister responsible for tourism, was also there to help turn on the lights for a sixth season.
From that point until Jan. 8, 2022, the dark forest bordering Highway 417 westbound between Bells Corners and Kanata will have a bright bouquet of red, green, blue, white — and many more colours — every evening.
"The lights really just make the darkness in the evenings feel so much cheerier and kind of warms it up quite a bit," said Cyr.
Visitors entering can tune into the park's radio station for holiday music while a towering elf waves at the passing cars. Two left hands in different positions and some programming create an animated effect.
Wesley Clover Parks staff work with FunGuys to decide what scenes and characters will be showcased each season, largely based on the feedback they get from visitors and colleagues.
The most popular scene, said Cyr, is the Enchanted Tunnel, where thousands of lights arch over each passing car. This year, there are two tunnels as a second attraction called Time Warp joins in. Cyr said organizers found people tend to enjoy the scenes when they are fully immersed in lights, which also include a section mimicking snowfall.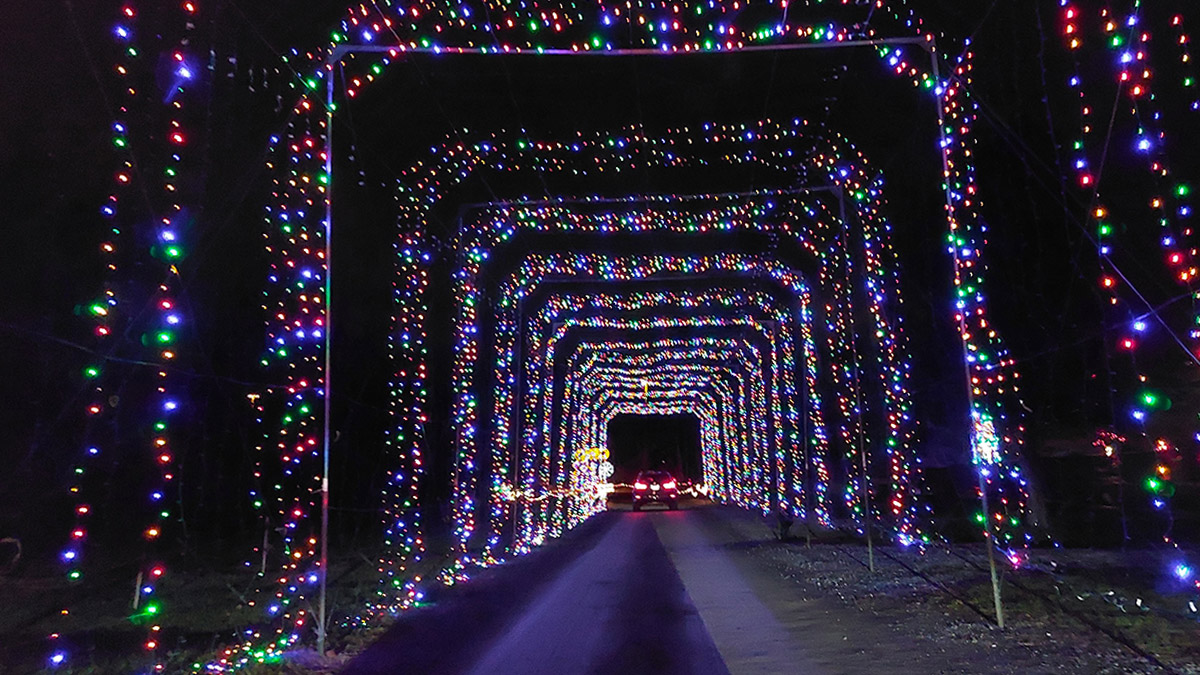 The psychology behind the popularity of holiday lights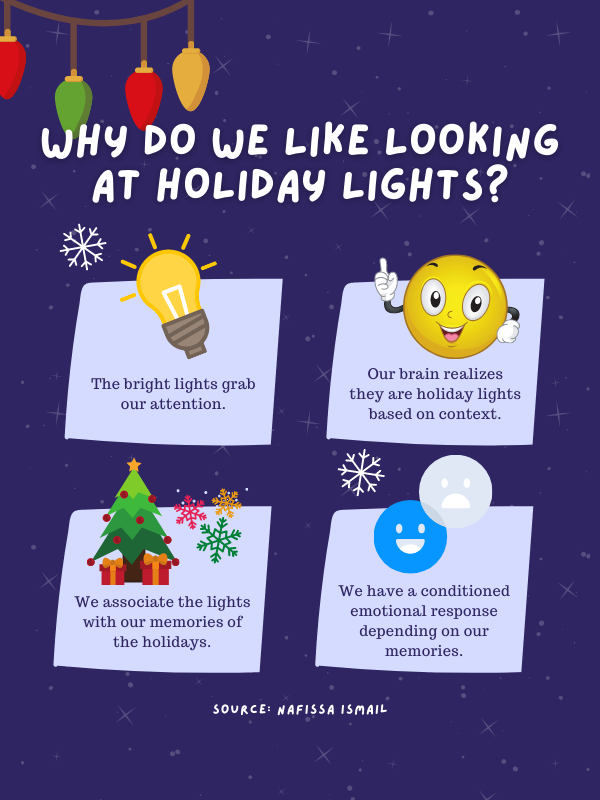 Holiday colours appear almost everywhere at any time of year, but the annual effects of traditional Christmas lights — whether people realize it or not — are different, according to Nafissa Ismail, an associate professor of psychology at the University of Ottawa.
Normally, such colourful lights as those seen at Wesley Clover Parks would be unusual to see in the Greenbelt, the wide swath of undeveloped land that rings the Ottawa's central urban area.
"That definitely catches our attention, because it's not what we're expecting," said Ismail. "All of a sudden, (people think) 'Oh my gosh, we're in the holiday season,' and then we start feeling festive and so on."
The emotions people elicit when seeing holiday lights come down to what Ismail calls the paradigm of classical conditioning. In other words, lived experiences and context shape feelings around the light displays.
"Our brain tends to work with that information that has come into our senses and tries to associate it with other things that we have in our long-term memory," said Ismail.
"Since our childhood, we have associated the holidays with feelings of happiness (and) joyfulness," she said. "It's a period where we eat good food, get together with family, play, and so on."
Since holiday lights are part of these memories, they induce a conditioned response of emotion, which can be happiness. That helps explain why so many Ottawa homeowners decorate their own houses — inside and out — with colourful lights during the holiday season, and why the Canadian government sponsors a major "Christmas Lights Across Canada" extravaganza every year.
This year's lighting displays, which include nightly illuminations of the Parliament Buildings and the Pathway of Lights throughout the downtown area of the national capital, run from Dec. 8 to Jan. 7.
Ismail also said to keep in mind that not everyone feels the same way about the holidays.
"For some, it reminds the passing of a loved one," she said. "For others, it reminds difficult childhood. Sometimes, it's also separation from someone we cared a lot, and so on."
"There is — for some people — negativity associated with that, so when they see Christmas lights, it's these negative emotions that are elicited," she said.
Cyr said she associates colourful lights with nostalgic feelings about the holidays when she was growing up.
"It brings me back to childhood and how magical the whole season feels," she said. "It's still magical as an adult, but I think there's something so different about seeing it as a child."
Those interested in the Magic of Lights can go to the attraction's website to buy tickets or learn more about the event. It costs $25 for a typical car to complete the Magic of Lights tour at Wesley Clover.
---
More Stories