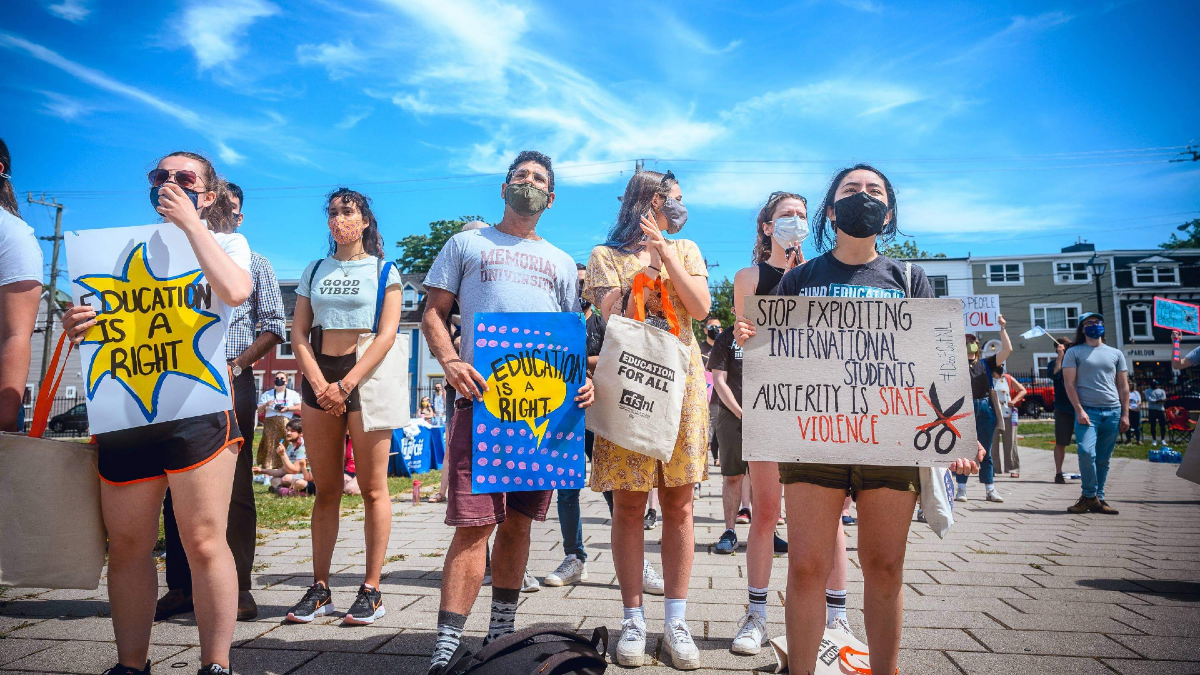 On Saturday, the Canadian Federation of Students Newfoundland and Labrador will march through downtown St. John's Newfoundland, protesting a tuition hike imposed by Memorial University and funding cuts by the cash-strapped province. 
Memorial University has raised tuition from $2,550 a year to $6,000 per year ending a 22-year freeze.
Effective fall 2022, Canadian undergrads at Memorial will pay $600 a course. International students will see tuition go from $11,000 to $20,000 a year. And to top that off, tuition will also start increasing by four per cent annually until 2026. 
"Adjusting tuition fees was not a decision that was made lightly," said Memorial University president, Vianne Timmons, in a statement.  
She says the change is "necessary"because the provincial government ended their support for the tuition freeze and announced $68.4 million in cuts to university grants over the next five years. 
"It's a situation where both the university, and government point to each other and say, 'It's not our fault'. They're kind of playing hot-potato with whose fault it is," Kat McLaughlin, chairperson at the Canadian Federation of Students NL, says
She says the cuts go against Memorial University's founding as the only public post-secondary institution in the province. It was named as a living memorial to those who died during the First World War and subsequently branded as a university which gave "an opportunity for everyone to get an education" says McLaughlin which was part of why the tuition freeze was so important to maintain the university's legacy.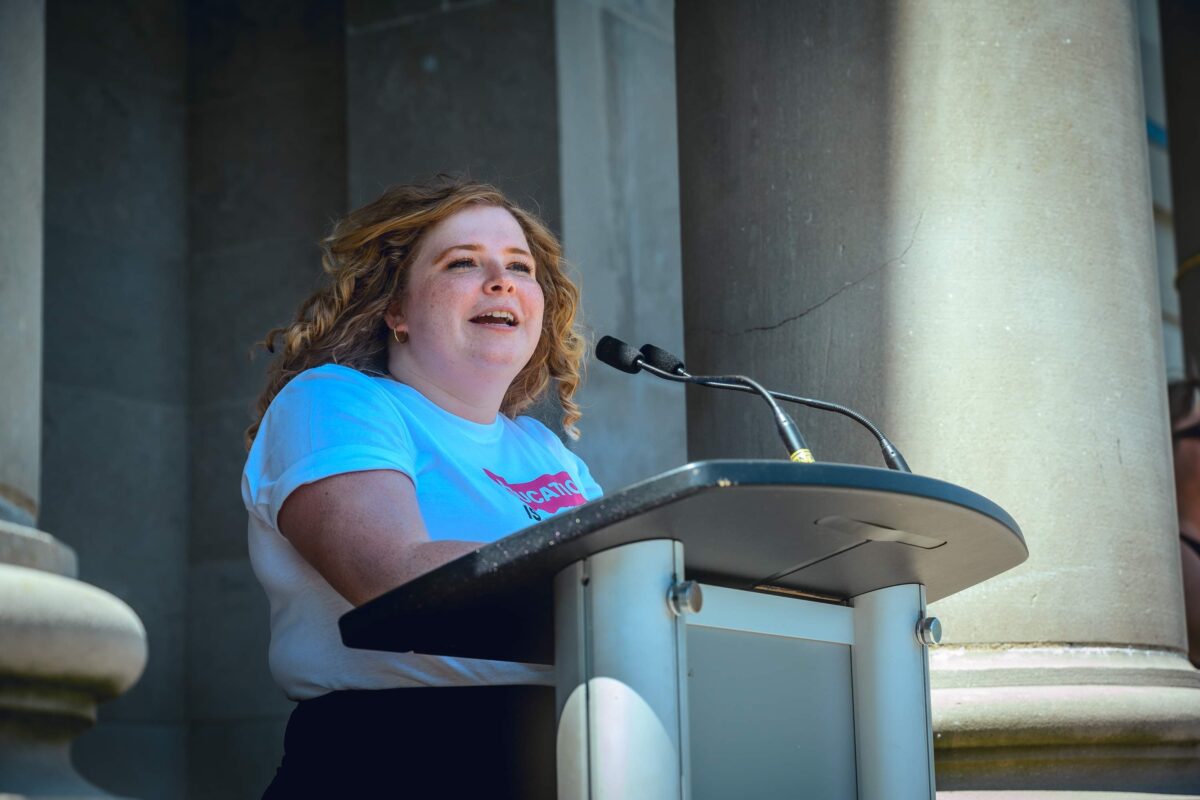 Students and activists are demanding that the government reinstate post-secondary funding for an education that they argue should be a public "good".    
It is important to consider that not everyone is on the same playing field, notes Chloe Fudge, a recent high school graduate and incoming student at Memorial University. She says the reduced funding and the tuition hike has made her reconsider her education choices, mostly because of the financial stress it could put on her single-income family. 
"Everything is going up four per cent annually. When I heard that, I was unsure if I should actually continue with university because over the course of five years that would add up to a lot in student debt. So, I was considering then, going to college for just a year or two so it wouldn't add up to be that much," says Fudge.
McLaughlin, who has worked in student advocacy and is from a low-income household, notes that Memorial University has been a choice for many students from low-income households and marginalized communities. 
"A lot of folks who just don't have that kind of family structure, and financial structure, or savings to be able to put towards their education opt to come to Memorial University because … the debt, and the associated costs were so much lower," says McLaughlin. "It definitely attracts a lot of students who just aren't going to have that opportunity to go to university otherwise."
How tuition compares to other universities
The tuition increase will also move Memorial out of their current status as the least expensive university in Canada. In 2022, Memorial's tuition will fall just under the average tuition for Canadian students enrolled in full-time undergraduate programs. The average cost was $6,580 in 2020/21, according to a Statistics Canada report on tuition fees.
Although Timmons said the tuition change leaves Memorial University among the most affordable options in Canada, Steward Pulinney, a fourth-year student in the Bachelor of Social Work program, says the university is not considering "external costs". 
Pulinney, who is from Manitoba, says he chose Memorial after considering his in-province options. He says he ultimately pursued out of province education for the experience and also because the "external costs" of travel, accommodation as well as tuition were equivalent to what he would pay attending university in Manitoba. 
"I think that Memorial is very unique that way because it really offered, an affordable accessible education in a way that we don't see in the rest of Canada. … It kind of all worked out to be the same as how much I'd be paying (in Manitoba)," says Pulinney. "But I guess if the tuition was any higher, like if the proposed tuition now had been in effect at the time (I applied to university), I would not have even considered it, because it's so much more."
Importance of students
It comes back to the importance of students and young people feeling valued and supported by the province, says McLaughlin, something that in recent weeks, months and years has not been the case. 
"Young people right now are feeling very rejected they're feeling non-supported; they're feeling as though they can't see a future in this province," says McLaughlin. "They really don't know how they're supposed to look forward and plan to live and stay in a province where they don't feel supported."
In response to Memorial University's tuition hike, Newfoundland and Labrador Education Minister Tom Osborne, announced a new enhanced needs-based grant program. 
Starting in August, 2022, the province will support low and middle-income Newfoundland and Labrador students by providing eligible students grants of up to $3,450 per year, an amount which would offset Memorial's tuition increase. 
While this program is important, McLaughlin notes that not everyone will qualify. 
"We have long been advocating for more grants, and this is a good thing … however, it's dangerous when the government takes the approach that we are replacing affordable and accessible education with need-based grant," says McLaughlin, adding that she thinks such announcements on grant programs is "incredibly vague."  
"So I'm feeling what a lot of students are feeling right now and that's a lot of anxiety, a lot of anger at this," she says," Folks are just very uneasy, very anxious, looking for more details."
---
More Stories