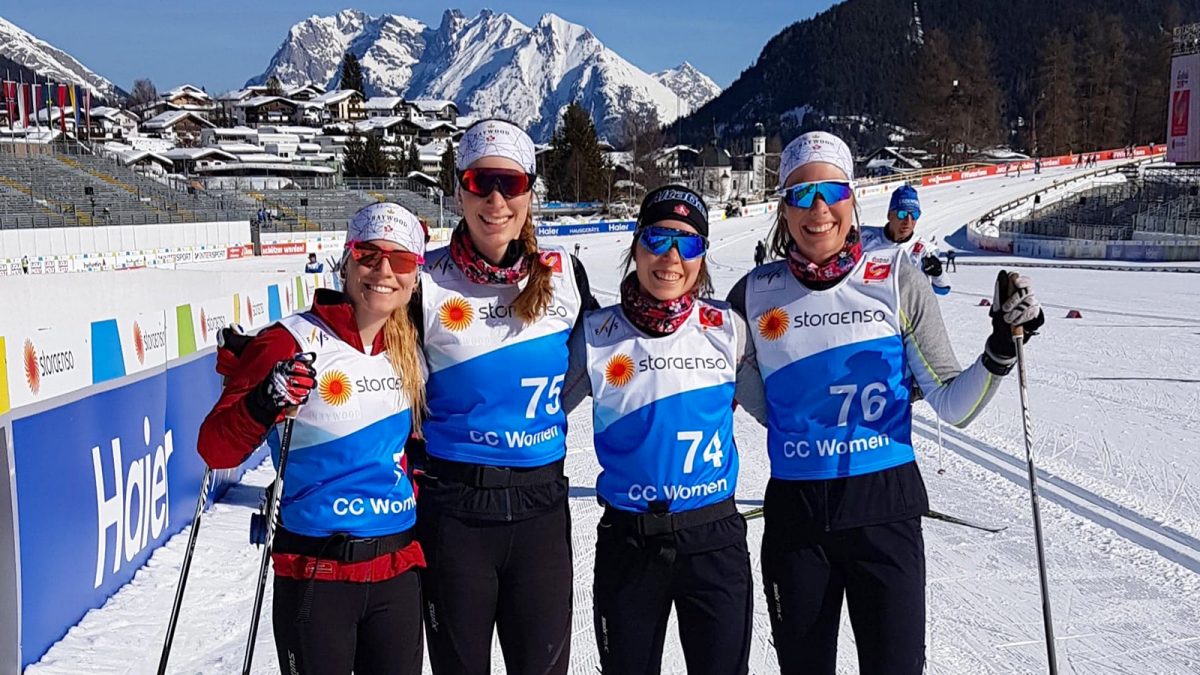 No matter what race Maya MacIsaac-Jones competes in, the end always seems to be the same. Breathing hard, she skis across the finish line and collapses in a heap of satisfaction, the crisp snow beneath her as she relishes in the feeling of pushing herself as hard as she can.
Sometimes crossing the finish line is a moment of victory such as her gold medal win in the women's sprint race at the 2019 Canadian Ski Championships in Gatineau. Other days, top spot is a little out of reach.
MacIsaac-Jones is no stranger to the big stage after competing in four World Championships.
"Sometimes it's a lot of fun, sometimes it is very painful. But it is always fun afterwards," MacIsaac-Jones said as she described the feeling of achievement of crossing the finish line no matter the result.
That feeling motivates her in every race and in every training session.
"There is not really any particular thought in my head. It's just this feeling of accomplishment," she said.
MacIsaac-Jones is one of five female members on the National Ski Team. She says she is excited by the growing number of young women competitors she meets at each championships.
The 2017 Canadian Ski Nationals included 126 female skiers under 17. That's compared to 60 junior women in a wider age range at the 2010 Ski Nationals. MacIsaac-Jones said the trend continued at this year's championships.
"It shows that being a female athlete is more of an option for young girls," MacIsaac-Jones said.
Katherine Stewart-Jones, of Chelsea, Quebec who grew up training at the Nakkertok Nordic Centre in Gatineau, is another member of the National Ski Team who has noticed this increase as well.
"If you compare the amount of girls to guys, it is way closer than it was back in the day. It just seems like there are a lot more girls participating in cross-country skiing, which is obviously really, really cool," Stewart-Jones said.
Stewart-Jones said she was motivated as a young skier by the successful female athletes who were already on the national team, such as Perianne Jones who she watched train at the Nakkertok Nordic Centre, because they showed her it was possible.
Now that she is a member of the team, she said it is her turn to pave the way for younger girls and demonstrate to them that this dream is possible.
"I just want to make sure they know how much fun it is." Stewart-Jones said as she discussed the responsibility of being that role model.
She said she wants to encourage young girls to continue skiing.
"I think to keep girls in sport you need to show the fun and the social aspect of it," Stewart-Jones said.
A common refrain Stewart-Jones said she heard throughout her career was "Are you still having fun?"
"Obviously it gets pretty serious and intense but it's hard to go anywhere if you aren't enjoying it."
Kate Hill MacEachern, a PhD student at Carleton University who focuses on the positive effects of sport on youth, said that when young athletes are competing at this age it is important that they enjoy it.
Hill MacEachern added that means having time for other things such as socializing with friends and seeing family.
For MacIsaac-Jones, she said that her passion for skiing had a rival in her love of Harry Potter and sometimes those two passions come together.
"I would read the chapters about Quidditch the night before races to calm me down." MacIsaac-Jones said. The books taught her to be courageous and try even when it seems impossible.
As for Stewart-Jones, she believes her love of skiing will extend far beyond racing to the rest of her life.
"Skiing is the kind of sport that people do for life," Stewart-Jones said, as she recalled favourite days with a couple of friends gliding over a bed of snow in a quiet forest.
---
More Stories