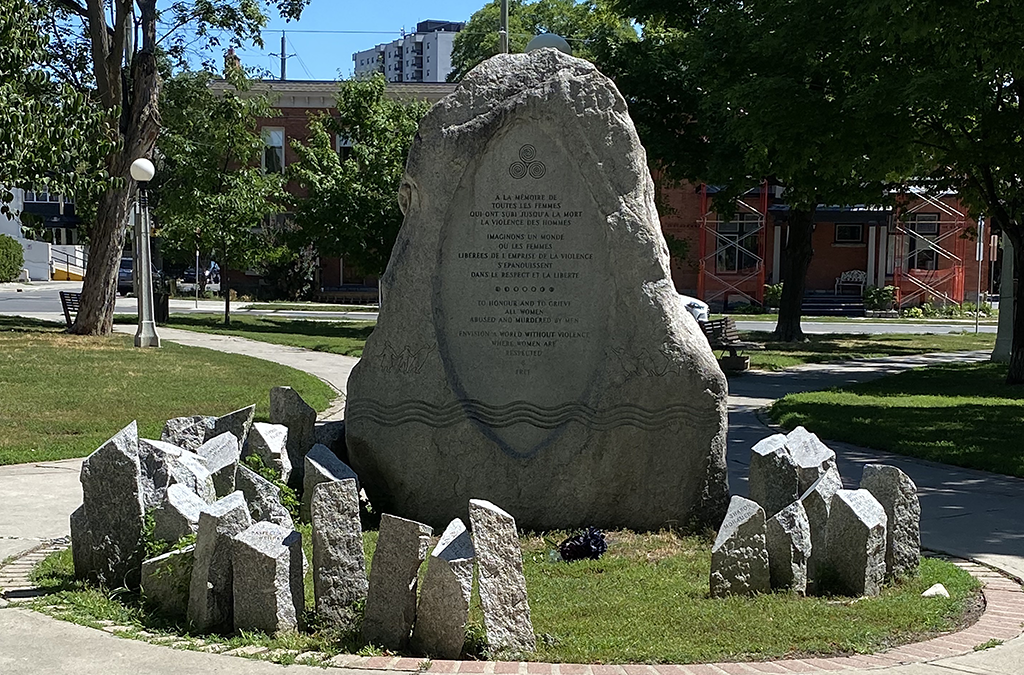 "Enclave Ottawa Women's Monument - circle of stones" by Cbuske46 is licensed under CC BY-SA 4.0. To view a copy of this license, visit https://creativecommons.org/licenses/by-sa/4.0/?
Canada's capital city has taken a symbolic step — and backed it with concrete measures — to combat partner-perpetrated violence against women.
On March 8, International Women's Day, Ottawa council passed a motion to declare intimate partner violence an epidemic in the city.
The motion aimed to activate key recommendations from last year's Renfrew County inquest into the murders of three women in the Ottawa Valley by their former partner. The first of those recommendations was to formally declare intimate partner violence an epidemic. Others include integrating measures aimed at preventing such violence in community safety plans.
Meanwhile, the Ottawa Police Service e has developed new risk-assessment tools and hired dedicated personnel to confront the crisis.
"The issues of gender-based violence and violence against women are inseparable from but not synonymous with (intimate partner violence)," the council motion said. It was forward by Somerset Coun. Ariel Troster — council's Liaison for Women, Gender Equity and 2SLGBTQ+ Affairs — and seconded by Bay Coun. Theresa Kavanagh, Troster's predecessor as liaison.
The motion, passed unanimously, also noted the city previously "acknowledged gender-based violence and violence against women as key areas of priority in its Community Safety and Well-Being Plan and its Women and Gender Equity Strategies."
Andrea Gunraj, vice-president of public engagement with the Toronto-based Canadian Women's Foundation, said rates of family violence, femicides and sexual assaults have risen in the past three years. She cites events such as the pandemic — which left many women and gender-diverse people more vulnerable — as a factor in the rising number of incidents.
"Those who use violence in their relationships may use it even more in times of crisis, and there may be less options for getting help. But it doesn't have to be this way," she said.
"Violence is not inevitable. We have to work on prevention efforts to stop violence before it starts in times of crisis."
"Violence is not inevitable. We have to work on prevention efforts to stop violence before it starts in times of crisis."

Andrea Gunraj, vice-president of public engagement, Canadian Women's Foundation
Municipal officials now say they plan to integrate measures to curb partner violence into Ottawa's community safety and well-being plan. Another recommendation directs Mayor Mark Sutcliffe to request that intimate partner violence be declared an epidemic across Ontario. 
Nearly half of Ottawa's homicide victims in 2022 were female, Ottawa police say.
In a recent statement, the OPS supports the city and other agencies involved in the symbolic declaration.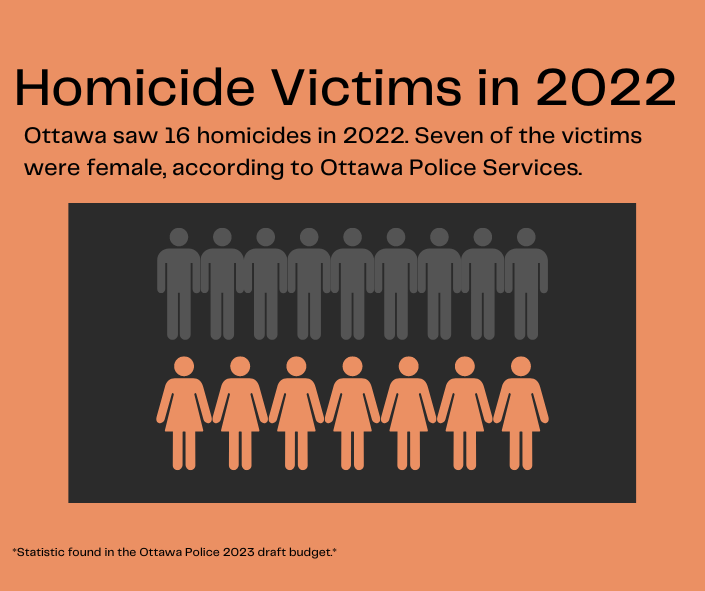 "We recognize that intimate partner violence is a key issue impacting women's lives and undermining public safety," the OPS said in a media release, adding that the service is working with frontline agencies, Indigenous community organizations and groups combatting violence against women to create a "sensitive and appropriate response to victims and survivors of violence and abuse." 
OPS said it would make training on the issue mandatory for all sworn members of the force and will allocate funds to support community social service agencies.
"In 2022, we committed to developing and implementing an IPV risk assessment tool and hiring civilian risk assessors, as well as continuing to support the (violence against women) sector as needed. We also began using the term femicide when discussing the murder of women by a male perpetrator," the OPS statement said. "Across Canada, a woman or girl is murdered every 36 hours. Police services, as well as all levels of government and civil society, must work together to address this crisis."
According to the Women Abuse Council of Toronto, Canada saw 160 female victims of violent homicide in 2020, an average of a woman or girl being killed every 2.5 days. More than 90 per cent of the perpetrators were men, and in almost half of the cases, the offender was a current or former partner.
Gunraj said it's essential to know which community resources, including shelters and crisis lines, are available for those experiencing abuse. Even if those individuals are not ready to leave the situation, they can ask questions and make plans for the future by reaching out.
"It's just as important for us around a person who's being abused to be helpful, responsive, and nonjudgmental," said Gunraj. "We can proactively let all of our friends and family know that if they need help, if anybody is ever hurting them, they can reach out to us and we will support them. We need to participate in the solutions, all of us."
---
More Stories