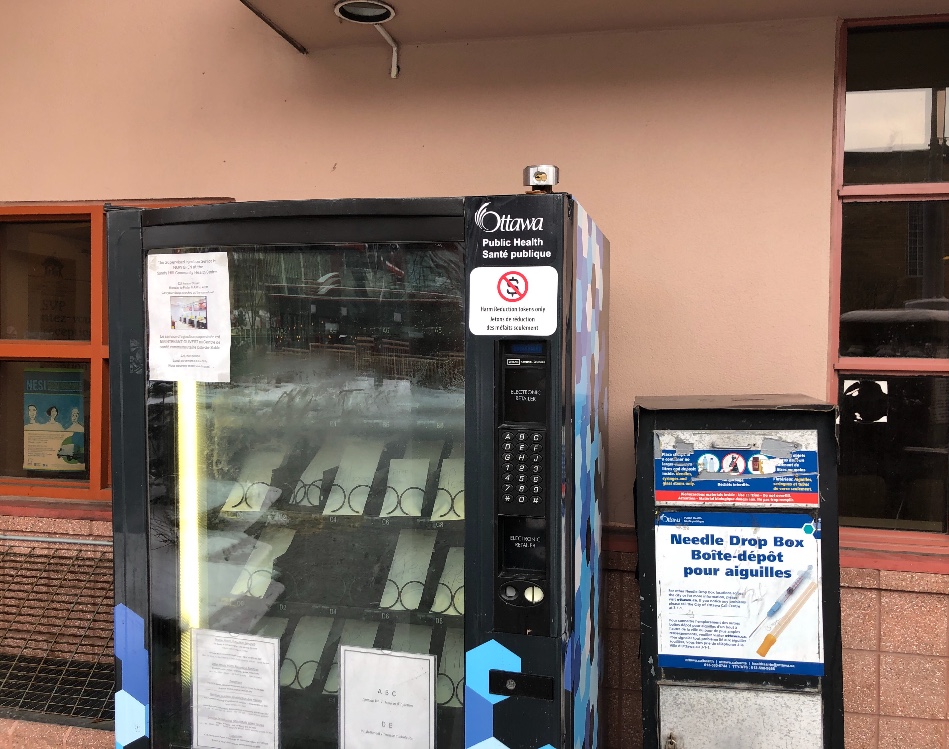 Ottawa Public Health says its vending machines that dispense clean needles and pipes are a success, a year after their installation.
Since their installation, citizens have used the units over 4,000 times. Between September, 2017 and October, 2018, approximately 6,000 needles and 5,900 stems were dispensed at the four units, based on data provided by Ottawa Public Health.
Four Harm Reduction Dispensing Units were installed in September 2017, making Ottawa the first and only Canadian city to launch such a project.
(Supervised Injection Sites are in blue, Harm Reduction Dispensers are in red).
The dispensing units are repurposed vending machines, meant to distribute safer drug-use materials, with the goal of limiting the spread of diseases transmitted through blood. They are funded by the Ministry of Health and Long Term Care and placed at four locations around the city.
"The client feedback has been positive," Donna Casey, program and project management officer with Ottawa Public Health said in an email statement. "Clients [are] reporting that the machine provides access to harm reduction supplies when other services are closed and that the machines are easy to use."
The initial costs of installation was $8,000 per unit (for a total of $32,000 for the four). Even though the units are outside and show signs of wear-and-tear due to harsh Ottawa weather, Casey says maintenance costs are minimal.
The Harm Reduction Dispensing Units were installed at the same time as the introduction of Supervised Injection Sites in Ottawa, which have averaged over 200 visits a month.
Ottawa may be the first city in Canada to install needle vending machines, but it is not a new concept.
The Salvation Army of the Australia Southern Territory was the first organization to use needle vending machines in 1992, according to a report. Since then, several European countries have followed suit. A similar program was implemented in Las Vegas in April, 2017.
A 2010 study by the Centre for Disease Control and Prevention deemed syringe exchange programs "highly effective" at limiting diseases that are transferred through blood.
---
More Stories