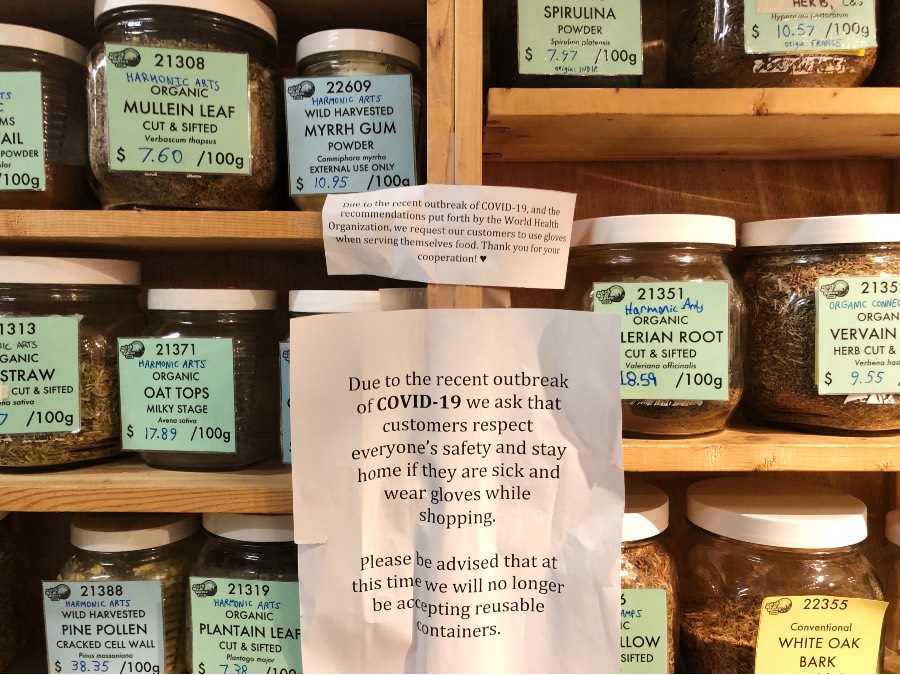 Some Ottawa grocery stores that aim to minimize waste have been torn between saving the environment and protecting the public during the pandemic.
While they would normally let customers bring in reusable containers, or offer open food bins, they've had to compromise their green-friendly policies.
And it's not clear when they'll be able to return to their pre-pandemic practices.
Both Farm Boy and Herb and Spice Shop provide fresh ingredients. Herb and Spice also offers items in bulk, natural vitamins and supplements and other natural products in its wellness shop. Nu Grocery features fresh ingredients but focuses mainly on bulk packaging where customers fill reusable containers with most of the store's products, while some, such as nut butters and honey, are in jars for cleanliness, accompanied by a small deposit for the jar that can be returned to the store or kept by the customers to reuse it.
Changing practices
Herb and Spice and Farm Boy normally encourage customers to bring reusable containers for many of these items, but at the beginning of the pandemic, they banned the practice to avoid spreading the virus.
Nu Grocery continues to encourage customers to bring their own containers, because it provides clean funnels for customers to use when filling containers.
But because of these varied practices, single-use plastic and paper bags are being increasingly used by some customers instead.
"Since the pandemic, we aren't allowed to have any open food, so everything that we sold in our deli cooler that was relatively open 'pack yourself' was then packaged in plastic, and everything in our bulk section was shut down for the longest time so we just had people using our own plastic bags," says Hannah Hazelwood, a supervisor at Herb and Spice Shop on Bank Street.
The contents of the deli cooler remain pre-packaged for extra safety during the pandemic, says Hazelwood.
Hazelwood says at the beginning of the pandemic, the store was not accepting customer containers because of the number of people without masks, which raised the chances of COVID-19 contamination.
But with mandatory masking in Ottawa, with low-waste grocery stores limiting the number of people in stores at any one time and providing hand sanitizer upon arrival, customers at Herb and Spice can now bring their containers.
That's not yet the case at Farm Boy.
Ensuring safety
Jeffery York, Farm Boy CEO, says the store must ensure the utmost safety. "Our salad bars are closed, and most customers are more concerned about personal and food safety and cleanliness right now," he says.
Jamie Wotton, a regular customer at Herb and Spice Shop and Farm Boy, thinks Farm Boy isn't as focused on waste reduction as it is on organic, naturally produced products.
But both companies are doing a good job of keeping waste to a minimum by offering new ways of self-service packaging, so Wotton continues to shop at both stores.
For instance, "since the pandemic, it has become more of a challenge to buy groceries without waste as most items are prepackaged now. But Farm Boy has taken their hot and ready meals and provided eco-friendly containers for customers to use instead of single-use plastic or their own containers," says Wotton, who initially started to transition to the low-waste grocers because she wanted to help fight climate change.
"Herb and Spice also provides brown paper bags and containers that can be repurposed if the customer is not able to bring their own container," she adds.
Regularly sanitizing surfaces, physical distancing while shopping and monitoring the number of people in stores all remain basic protocols at Herb and Spice, Farm Boy and Nu Grocery.
"Bottom line: we aim to provide the safest environment for our customers," says York.
---
More Stories