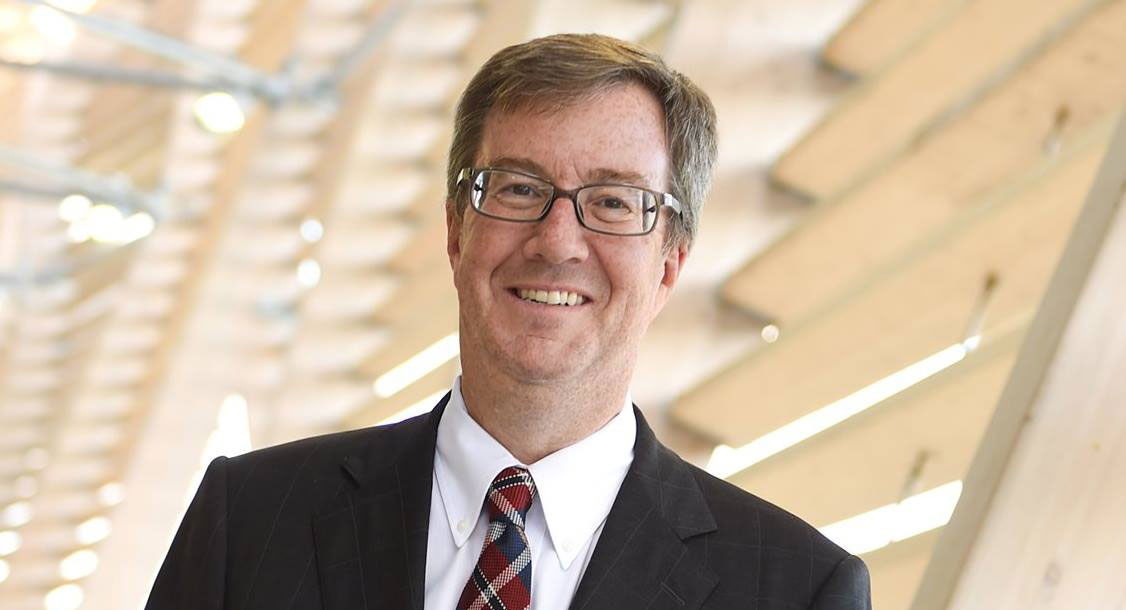 Capital Current Staff
Files from David Monk, Christian Paas-Lang, Haneen Al-Hassoun, Jenna Cocullo, Lisa Johnson
Jim Watson clinched a third consecutive term as mayor Monday with a landslide victory in Ottawa's municipal election.
Watson quickly roared ahead of his rivals as soon as results began rolling in, and in the end secured 71 per cent of the vote. His main opponent, former Ottawa councillor Clive Doucet, was a distant second at just more than 22 per cent of the votes cast.
RELATED: Live coverage of results for Ottawa Votes 2018
The victory means Watson is set to lead Ottawa in a fourth mandate (he was mayor of pre-amalgamation Ottawa from 1997-2000) with roughly the same margin of victory as in 2014.
In an interview during his victory celebration, Watson struck a conciliatory tone and focused on moving forward on big-ticket agenda items started during his previous mandates.
"We have to recognize we are a team; there's not party politics in city hall … it is important we work well with ourselves, or staff, and our constituents, and other levels of government to move big projects forward."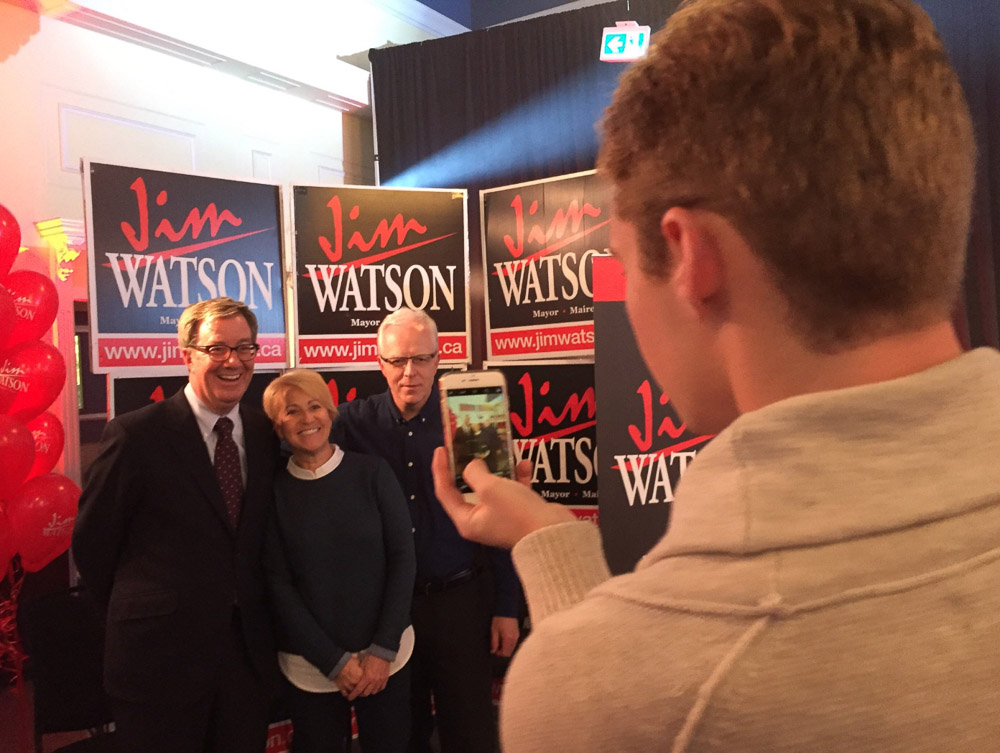 Watson identified the new central library, the LeBreton Flats development and of course the LRT construction as key issues for the next council. The question of private marijuana sales in the city will also need to be addressed in a hurry once council reconvenes, he said.
"I think it's going to be difficult to turn down the option (of allowing cannabis stores) because we're a big city," Watson said. "Gatineau is going to have shops and we want to at least have some semblance of order."
Watson's defeated challenger, Clive Doucet, urged the leadership in the city to remember the vision he said thousands of Ottawans endorsed Monday.
"I would advise those folks who are elected to pay a little attention to that, because that's the vision that's going to carry us forward."
"We've given voice to all those communities across this fine city, they've felt oppressed by the developers who simply ignore community design plans," Doucet said in his speech. "This could've never happened without you, I am just the voice of a campaign."
While Watson cruised to victory, some of his former council colleagues lost their seats Monday.
RELATED: Seven notable results from Ottawa's municipal elections
David Chernushenko, the two-time Capital Ward councillor, placed third in a race won by Shawn Menard, a school board trustee and community activist. Menard eked out a victory in a tight three-way race, beating Christine McAllister by just a few hundred votes.
Am announcement: @ShawnMenard1 is projected to win the councillorship for #CapitalWard. The crowd erupts, including Ottawa Centre MPP @JoelHardenONDP #ottvotes pic.twitter.com/PBUOYRz7xV

— Jennifer J. Liu (@liujenniferj) October 23, 2018
"I don't think I could have done anything differently," Chernushenko told reporters after conceding defeat and thanking his supporters.
"I worked my butt off for eight years, gave Capital Ward everything I could, and now it's someone else's turn," he said.
Chernushenko said he wasn't surprised Shawn Menard's support turned out to be as strong as it was. His campaign relied on his record, and Chernushenko avoided making big promises. "When you hear a candidate that's promising you things that a city councillor cannot do, then be wary of those promises. Sometimes when we hear what we'd like to hear, we go with it," he said.
His advice to Menard: "Reach out to everyone, listen to all opinions – and especially, reach across the aisle."
In Gloucester-South Nepean, meanwhile, Michael Qaqish was defeated by media personality Carol Anne Meehan. He trailed her by around 500 votes when the full results were in.
And out in Stittsville, Glen Gower defeated three-time councillor Shad Qadri by about 1,600 votes. At least 150 of Gower's supporters gathered at the Stittsville Legion on election night, and Gower arrived with his family to cheers of "Gower! Gower!" as his win was announced.
The three defeated incumbents, along with new councillors from four open races, means the new council will have many more fresh faces than after the 2014 vote.
The open race in Orléans race was anybody's game. With no incumbent running, no endorsement from outgoing councillor Bob Monette, and 17 candidates — more than any other ward — it was unclear who would win.
Eventually, Matt Luloff snuck out a victory with just 24 per cent of the vote, only a few hundred ballots ahead of Catherine Kitts.
At the Stray Dog Brewing Company, where Kitts was hosting her election night gathering, the mood fluctuated between hope for victory and pride in a strong showing.
"A lot of the other candidates spent a lot more money than I did, had previous political experience," Kitts said. "I had an incredible group of volunteers. We knocked on almost 10,000 doors. I'm extremely proud of what we accomplished tonight."
When it became clear that Matt Luloff would retain his lead of 264 votes, Kitts was gracious. "All congratulations to Matt Luloff," she said.
Next door in Innes, Laura Dudas had more than just her husband's birthday to celebrate as the results for Ward 2 city councillor were confirmed. Dudas claimed victory with 41 per cent of the vote over three other candidates: Donna Leith-Gudbranson, Tammy Lynch and François Trépanier.
A cheerful crowd of about 80 supporters, family members and campaign volunteers gathered to celebrate Dudas's victory at Cumberland Arms in Blackburn Hamlet.
"I can not wait to get to work for you!" she said to the cheering crowd. Dudas was overwhelmed at the win, expressing gratitude to her supporters: "For them to put their trust in me by casting a ballot in my name, I can't even explain how amazing that feels."
"I can not wait to get to work for you!"

-Laura Dudas, elected in Innes Ward.
In the remaining open races, Theresa Kavanagh replaces Mark Taylor in Bay Ward and Jenna Sudds fills the seat held by Marianne Wilkinson in Kanata North.
Otherwise, incumbents were re-elected, most with comfortable margins.
Jeff Leiper lived up to his name in the election as he vaulted over his only challenger, Daniel Stringer, winning re-election to his second term as Kitchissippi Ward councillor.
In what turned out to be a landslide, Leiper won with 85 per cent of the vote. Leiper's position was never in jeopardy due to the popularity and success of his first term. However, he was not any less grateful for the victory.
"I am extremely proud of the strong mandate shown to me by the people of the Kitchissippi Ward throughout my campaign," Leiper said, adding that he wants to continue making the ward safer and more inclusive.
Catherine McKenney, the left-leaning, bike-riding incumbent in Somerset Ward, rode to an easy victory Monday night with 77 per cent of the votes cast.
She said her victory felt "amazing … a bit like receiving a report card." While her fiercest competitor, Jerry Kovacs, mounted a lively campaign, he ultimately fell short with less than 15 per cent of voters' support.
In Rideau-Rockliffe, Tobi Nussbaum emerged victorious with 81 per cent of the vote. He was challenged by only one opponent, Peter Heyck, who secured just 19 per cent of the vote.
"I am very grateful for the support and the trust that the voters of Rideau-Rockcliffe have placed in me," said Nussbaum. "To continue to get that kind of strong mandate is very gratifying.
When the dust settles, the new council will have several big files on its plate, from expansion of the LRT, to making tangible progress on LeBreton Flats, to rewriting the official plan.
Plenty of other issues, including regulating cannabis locally, fixing the city's crumbling roads, addressing the shortage of affordable housing – and how high to set property tax rates – will fill up a jam-packed agenda.
New school board trustees, many of whom were acclaimed Monday night, meanwhile, will face a provincial government that has signalled it plans to make major changes in the curriculum provincewide.
Voters trooped to the polls Monday starting at 10 a.m. to cast their ballots. The overall election turnout of more than 41 per cent reflected more enthusiasm than voters showed in 2014.
In Somerset Ward, Liz Maclean was out for a stroll with her baby daughter in the early afternoon and took the opportunity to cast her ballot. She stressed the importance of voting in a municipal election.
"It gets less attention than a federal election but I found the last few years when there is something that I needed, city councillors are way more responsive than anybody at the provincial or federal levels," said Maclean. "So I want to have somebody I trust," she added.
Bruce Cameron said, after voting, that he anticipated change.
"Governments and politicians will come in with a lot of ideas. Sometimes they can get them through, sometimes they can't but sometimes they become a little more arrogant the longer they're in."
"When that starts to happen, that's when you need some change and I think there will be changes coming," he added.
Shirley Beaupre was accompanied to the polls by her friend, Anne Zanetti.
Zanetti, who lives in Sudbury Ont., took part in Sudbury's first ever electronic-only election this past week.
She said the move to electronic-only caused issues for seniors in Sudbury, including extended wait-times and a lack of election workers available.
This was a problem Beaupre was happy not to face.
"Everything went very smoothly today. I didn't even have to line up, I just walked right in," said Beaupre.
Beaupre said she makes an effort to come and vote in every election that she can. She said that if you don't vote, you don't have the right to complain.
"It's important to get somebody in that represents you properly in a nice way, not ill-mannered and totally rude," said Beaupre.
"You want your voice to be heard, I think that's for sure. We don't want someone like (Donald) Trump getting in our area, that's for sure," she added.

Even before official election day, municipal voters had cast 56,866 ballots at advance and special polls, almost 10,000 more than in 2014. Overall turnout for municipal elections is often low; four years ago the final tally showed under 40 per cent of eligible voters cast ballots.
---
More Stories