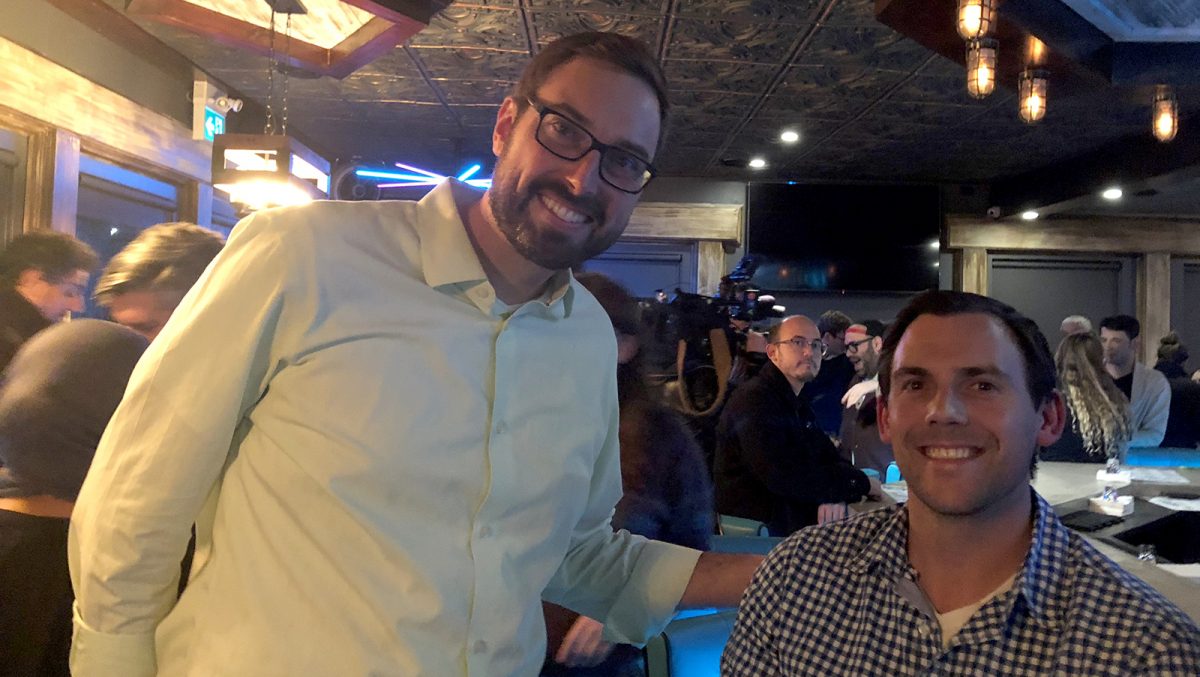 Capital Current Staff
Jim Watson was re-elected for a third consecutive term Monday night, holding off challenger Clive Doucet.
But there were some upsets in council races. In Capital Ward, incumbent David Chernushenko lost a close race to Shawn Menard. Crime was on the minds of some residents in that race. (See video of Menard speaking to supporters.)
In Gloucester-South Nepean, challenger Carol Anne Meehan beat incumbent Michael Qaqish. This was one of seven wards where women won seats on council.
And in Stittsville, incumbent Shad Qadri lost to Glen Gower.
Here are some of the other notable results from the election.
(See below for preliminary results. Detailed results from the city can be found here. Winners are shown in bold. Candidates with asterisks are incumbents.)
Mayor
| | | |
| --- | --- | --- |
| Hamid Alakozai | | |
| Ahmed Bouragba | | |
| Bernard Couchman | | |
| Clive Doucet | | |
| Joey Drouin | | |
| Ryan Lythall | | |
| Craig MacAulay | | |
| Bruce McConville | | |
| Michael Pastien | | |
| Moises Schachtler | | |
| James T. Sheahan | | |
| Jim Watson* | Re-elected | |
| | | |
Ward 1: Orleans
| | | |
| --- | --- | --- |
| Rick Bédard | | |
| Toby Bossert | | |
| Mireille Brownhill | | |
| Guy Desroches | | |
| Diego Elizondo | | |
| Dina Epale | | |
| Doug Feltmate | | |
| Jarrod Goldsmith | | |
| Miranda Gray | | |
| Geoffrey Nicholas Griplas | | |
| Catherine Kitts | | |
| Shannon Kramer | | |
| Matthew Luloff | Elected | |
| Qamar Masood | | |
| Louise Soyez | | |
| Kevin Tetreault | | |
| Don Yetman | | |
Ward 2: Innes
| | | |
| --- | --- | --- |
| Laura Dudas | Elected | |
| Donna Leith-Gudbranson | | |
| Tammy Lynch | | |
| François Trépanier | | |
Ward 3: Barrhaven
| | | |
| --- | --- | --- |
| Franklin Epape | | |
| Jan Harder* | Re-elected | |
| Ahmad Malgarai | | |
| Atiq Qureshi | | |
| Hadi Wess | | |
Ward 4: Kanata North
| | | |
| --- | --- | --- |
| Philip Bloedow | | |
| David Gourlay | | |
| Matt Muirhead | | |
| Lorne Neufeldt | | |
| Jenna Sudds | Elected | |
Ward 5: West Carleton-March
| | | |
| --- | --- | --- |
| Eli El-Chantiry* | Re-elected | |
| James Parsons | | |
| Judi Varga-Toth | | |
Ward 6: Stittsville

| | | |
| --- | --- | --- |
| Glen Gower | Elected | |
| Shad Qadri* | | |
Ward 7: Bay

| | | |
| --- | --- | --- |
| Erica Dath | | |
| Don Dransfield | | |
| Theresa Kavanagh | Elected | |
| Marc Lugert | | |
| Trevor Robinson | | |
Ward 8: College
| | | |
| --- | --- | --- |
| Rick Chiarelli* | Re-elected | |
| Emilie Coyle | | |
| Ryan Kennery | | |
Ward 9: Knoxdale-Merivale
| | | |
| --- | --- | --- |
| Warren Arshinoff | | |
| James Dean | | |
| Keith Egli* | Re-elected | |
| Luigi Mangone | | |
| Peter Anthony Weber | | |
Ward 10: Gloucester-Southgate
| | | |
| --- | --- | --- |
| Diane Deans* | Re-elected | |
| Alek Golijanin | | |
| Perry Sabourin | | |
| Sam Soucy | | |
| Robert Swaita | | |
Ward 11: Beacon Hill-Cyrville
| | | |
| --- | --- | --- |
| Michael Schurter | | |
| Tim Tierney* | Re-elected | |
Ward 12: Rideau-Vanier
| | | |
| --- | --- | --- |
| Salar Changiz | | |
| Mathieu Fleury* | Re-elected | |
| Thierry Harris | | |
| Matt Lowe | | |
Ward 13 – Rideau-Rockcliffe
| | | |
| --- | --- | --- |
| Peter Heyck | | |
| Tobi Nussbaum* | Re-elected | |
Ward 14: Somerset
| | | |
| --- | --- | --- |
| Arthur David | | |
| Jerry Kovacs | | |
| Catherine McKenney* | Re-elected | |
| Merdod Zopyrus | | |
Ward 15: Kitchissippi
| | | |
| --- | --- | --- |
| Jeff Leiper* | Re-elected | |
| Daniel Stringer | | |
Ward 16: River
| | | |
| --- | --- | --- |
| Riley Brockington* | Re-elected | |
| Fabien Kalala Cimankinda | | |
| Kerri Keith | | |
| Hassib Reda | | |
Ward 17: Capital
| | | |
| --- | --- | --- |
| Jide Afolabi | | |
| Anthony Carricato | | |
| David Chernushenko* | | |
| Christine McAllister | | |
| Shawn Menard | Elected | |
Ward 18: Alta Vista
| | | |
| --- | --- | --- |
| Jean Cloutier* | Re-elected | |
| Clinton Cowan | | |
| Kevin Kit | | |
| Raylene Lang-Dion | | |
| Mike McHarg | | |
| John Redins | | |
Ward 19: Cumberland
| | | |
| --- | --- | --- |
| Stephen Blais* | Re-elected | |
| Jensen Boire | | |
| Cameron Rose Jette | | |
Ward 20: Osgoode
| | | |
| --- | --- | --- |
| Auguste Banfalvi | | |
| George Darouze* | Re-elected | |
| Mark Scharfe | | |
| Kim Sheldrick | | |
| Jay Tysick | | |
Ward 21: Rideau-Goulbourn
| | | |
| --- | --- | --- |
| David Brown | | |
| Scott Moffatt* | Re-elected | |
Ward 22: Gloucester-South Nepean
| | | |
| --- | --- | --- |
| Zaff Ansari | | |
| Carol Anne Meehan | Elected | |
| Irene Mei | | |
| Michael Qaqish* | | |
| Harpreet Singh | | |
Ward 23: Kanata South
| | | |
| --- | --- | --- |
| Steve Anderson | | |
| Mike Brown | | |
| Allan Hubley* | Re-elected | |
| Doug Large | | |
---
More Stories