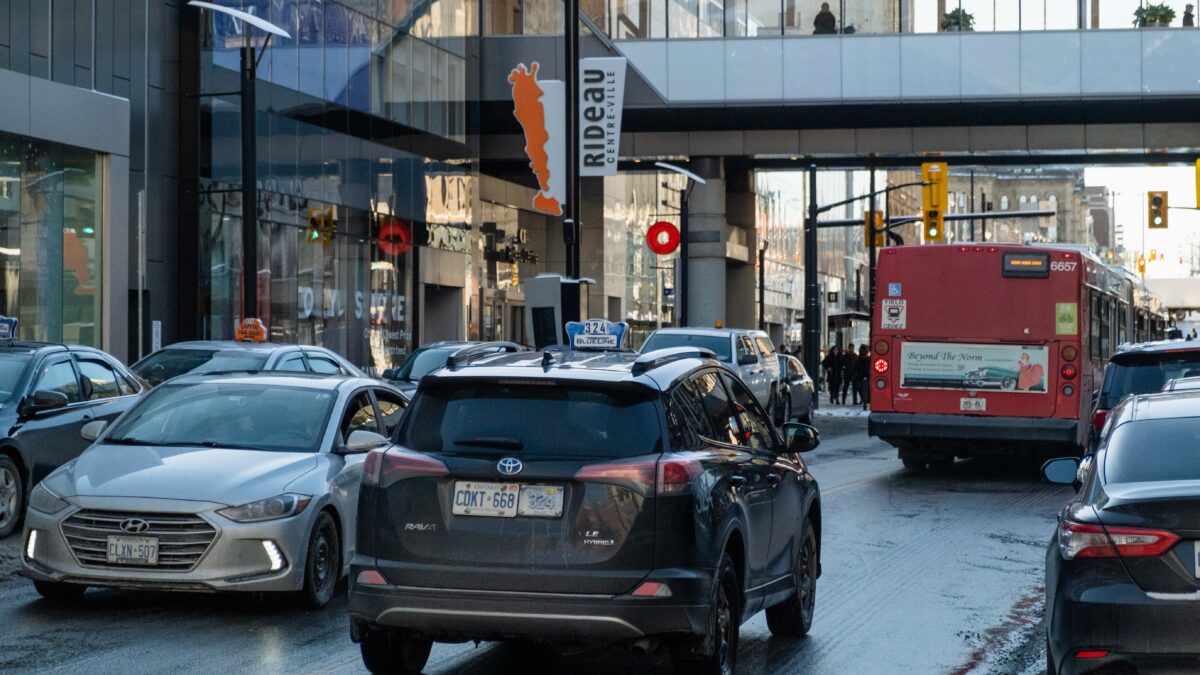 Low-income areas suffer from some of the poorest air quality in the capital, a new report from Ecology Ottawa reveals.
With the help of more than 100 volunteers, the environmental group tested the air quality of 46 locations in 2021, cross-referencing their findings with the median household income of neighbourhoods. 
Cheryl Randall, the climate change campaign organizer for Ecology Ottawa, said the areas that suffered from the worst air quality — South Vanier/Heron, Lowertown and the Byward Market — were also those with the lowest median income.  "That analysis was very surprising," she said. 
Randall said the findings indicate two other factors were also significant determinants of air quality across the city: population density and proximity to traffic. Areas with high population densities also experience more traffic. 
Matthew Adams, a professor from the University of Toronto who studies the effects of air contaminants on individuals in urban environments, said transportation is now the biggest source of air pollution in Ontario.
"We've really moved away from a lot of the traditional sources of air pollution, which were heavy industry manufacturing," said Adams. "So now what we see is actually a lot of our air pollution coming from transportation."
'We need to make sure that we have more affordable housing spread across the city, not just concentrated in lower-income neighbourhoods where you have the highest levels of pollution.'

— Cheryl Randall, climate change campaign organizer, Ecology Ottawa
Moving from smoke-stack driven air pollution to vehicle-driven pollution comes with its own set of challenges, said Adams. "You have all of these dispersed sources of transportation related air pollution," he noted. "That can be compounded in urban areas with congestion, as well as when truck routes pass through a city."
Adams said the Breathe Easy 2021 report represents a relatively small sample size, but does a good job of identifying potential hotspots for air pollution and highlights a common pattern of segregated air quality.
"The variation within a Canadian city is getting to be greater than the variation between cities," he said, noting that sources of air pollution are similar across most localities.
Factors determined by municipal governments — such as proximity to trucking routes and access to public transportation — can influence the air quality of certain communities, he said.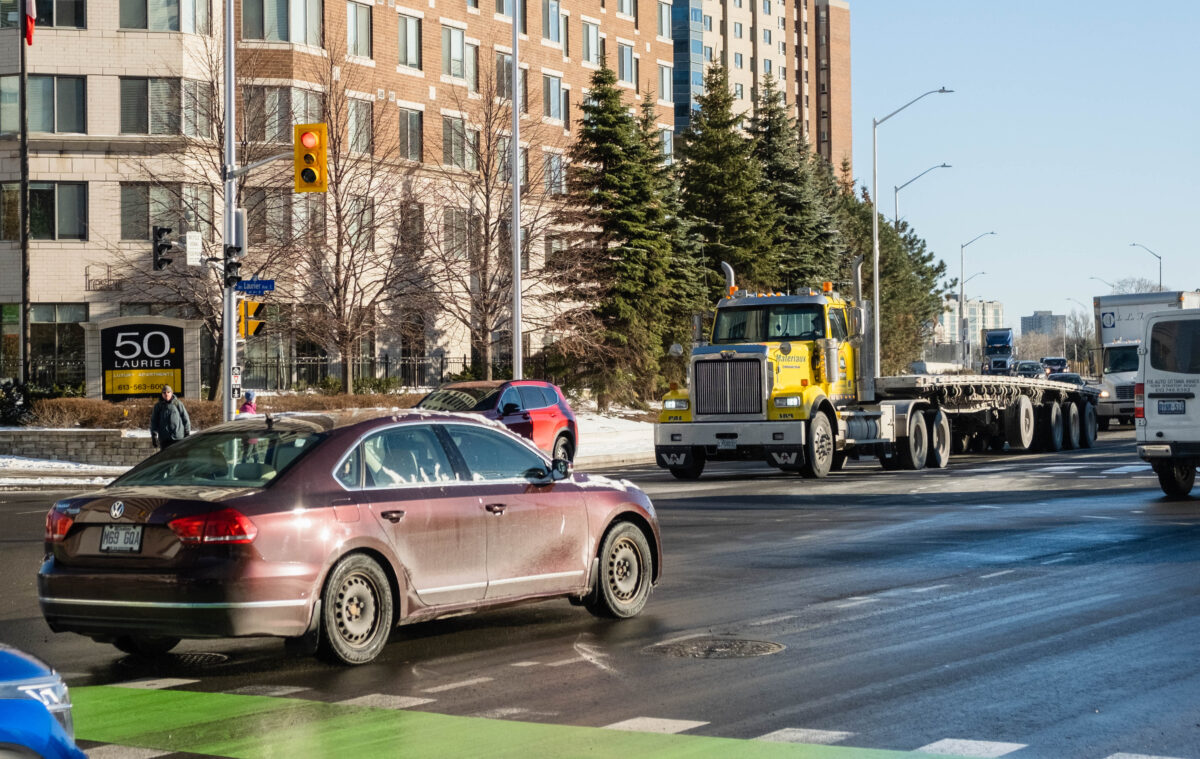 Adams also said market factors contribute to the concentration of air pollution in low-income areas.
"What we see in the literature is people tend to pay more for houses that are further away from air pollution or noise pollution," he said, adding that people with lower incomes are typically driven to areas which are low in cost but high in air pollution.
Randall said one solution to solving poor air quality in the low-income neighbourhoods is to invest in greater and more dispersed affordable housing. "We need to make sure that we have more affordable housing spread across the city, not just concentrated in lower-income neighbourhoods where you have the highest levels of pollution," she said.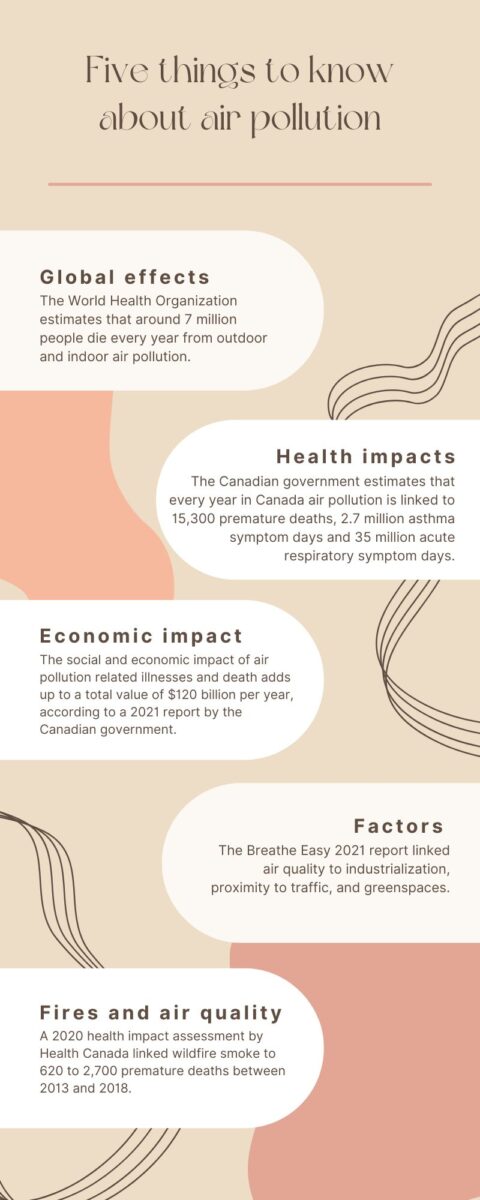 Environmental factors were also important determinants of air quality, says Randall.
The areas with the best quality of air were those in and around green spaces like the Arboretum, says Randall. "We saw a correlation: where you have an environmentally protected area, air quality was better," she says.
The Breathe Easy report also included data on 2021's wildfire event which burned nearly 800,000 hectares of land in Ontario. Despite Ottawa's distance from the fires, Randall says the city experienced a sharp dip in air quality. "You can see the air pollution is just through the roof and those wildfires were going on in Northern Ontario hundreds of kilometres away," she says.
Adams says he was struck by the wildfire data captured in the Breathe Easy report. "I think all the evidence suggests with climate change, we're going to see more intense forest fires across Canada and in Ontario," he says. "And so I think that impact is something we need to pay attention to."
While Ecology Ottawa didn't measure air quality data in 2022, Randall says she hopes the Breathe Easy Project will continue in 2023. Their goal is to collect more data on air quality in school zones and playgrounds. "One thing we already know is that it is not a healthy environment for our children, so that's one area we would really like to look into more," she says.
---
More Stories