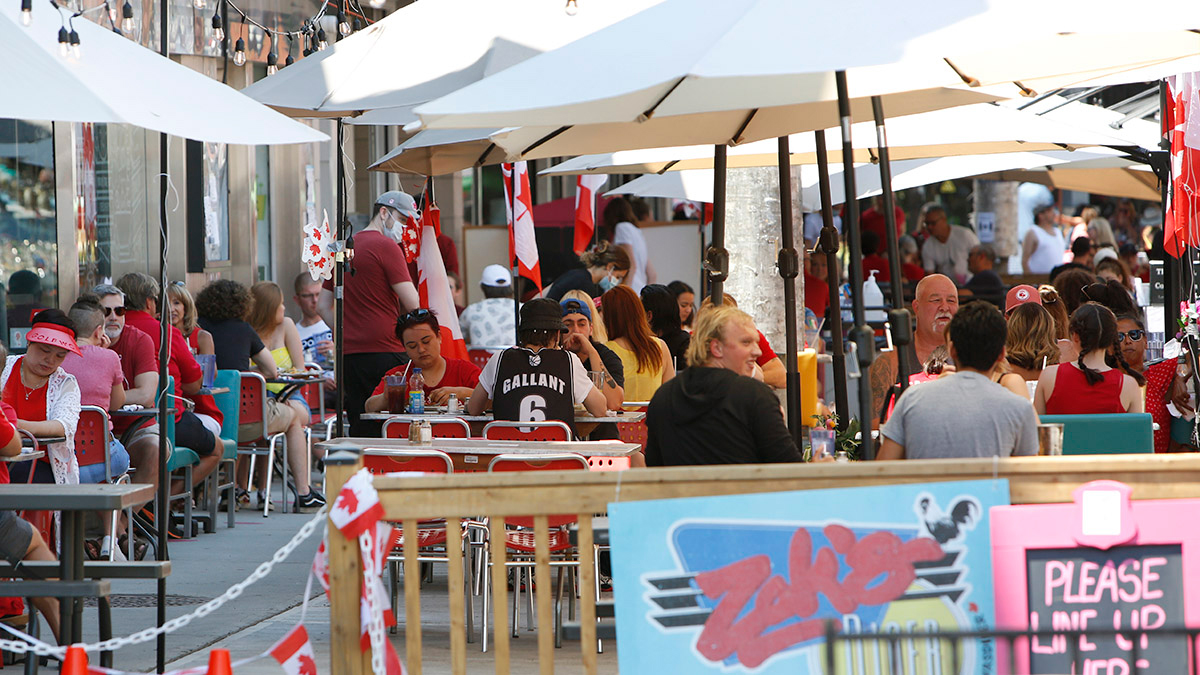 Hintonburg Community Association Director Cheryl Parrot made an impassioned plea Wednesday to the City of Ottawa to support people with disabilities, arguing the proposed right-of-way patio design guidelines require a more equity-oriented approach.
Parrot, speaking to city councillors at a Planning and Housing Committee meeting in Ottawa, says the city has a responsibility to ensure safety and accessibility for all residents.
"Putting pedestrians at risk to accommodate patios that really don't fit a location is an issue," she said.
Design options for commercial patios located on public property
A café seating patio is located on the sidewalk and is one table deep:

A wall-side patio is located directly next to the establishment's wall:

A curb-side patio is located on the curb's border next to the roadway:

A street-side patio is located in a parking space on the street/roadway:

A combined patio is located within two areas in the right-of-way:

The above example is a combined wall-side and street-side patio.
---
Images courtesy the City of Ottawa. Please refer to the Urban Design Guidelines for Commercial Patios report for details.
The new commercial patio design guidelines outline different options for café seating, wall-side, curb-side, street-side and combined patios. If approved by Ottawa City Council, both private and public property right-of-way patio owners must provide an unobstructed pedestrian walkway at least two meters wide, among other requirements.
Parrot says the Hintonburg Community Association supports the suggested two-metre pedestrian pathway, but is concerned with the city's ability to enforce the requirement.
"When you get those [patio structures] creeping out into the pedestrian path, and bikes and dogs and everything attached to the street furniture, it really does narrow that pathway," she said.
Parrot presented a slideshow to the Planning and Housing Committee that she said highlights a right-of-way patio in Hintonburg that obstructed pedestrian walkways during previous patio seasons, "an example of ableism and it's an accessibility and safety issue for those with impaired vision and some mobility issues," she said.
"Finding solutions after [a patio is open] is a lot more work and much more difficult."
Parrot concluded her presentation with a plea to the city to conduct in-person site visits before authorizing right-of-way patio permits to ensure problematic infrastructure such as slanted streets, utility poles or fire hydrants aren't present, as they are not always indicated on permit applications.
"Please bring an equity lens to these guidelines and yearly approvals," she said. "[The Hintonburg Community Association] is happy to continue to work with right-of-way staff to ensure that the patios enhance the community, but that they also work for everyone for safety and accessibility."
Mark Young, the City of Ottawa's Public Realm and Urban Design program manager, says the city plans to conduct patio inspections with the CNIB Foundation to address Parrot's concerns.
"It is a challenge given the volume. [The city issues] approximately 170 [patio] permits annually," he said. "A lot of them are returning permit holders, so we are aware of the locations where we have issues and we work with those sites specifically."
"If there's a new patio proposed we certainly can look at various options if there is missing information related to utilities," said Young.
The new Urban Design Guidelines for Commercial Patios are intended to support the accompanying Right-Of-Way Patio By-law amendments recommended in the Patio Innovation Program 2022 report, which was prepared by city staff. The patio innovation program was carried out from 2020 to 2022, following the mandatory closure of all non-essential workplaces and businesses during the COVID-19 pandemic.
The proposed right-of-way patio by-law updates build off the temporary amendments implemented under the three-year patio innovation program to include measures such as a consistent 2 a.m. closing time; unlimited café seating permits; and winter maintenance provisions. The Right of Way Patio By-law Update and New Urban Design Guidelines for Commercial Patios report also features a phased-in approach to reinstating patio fees with a 50 per cent reduction to certain fees for 2023.
The new urban design guidelines for commercial patios were approved by the Transportation Committee on March 23, the Planning and Housing Committee on April 5 and the Agriculture and Rural Affairs Committee on April 6. Both the proposed patio by-law amendments and new commercial patio design guidelines are on the Ottawa City Council's agenda for April 12.
---
More Stories