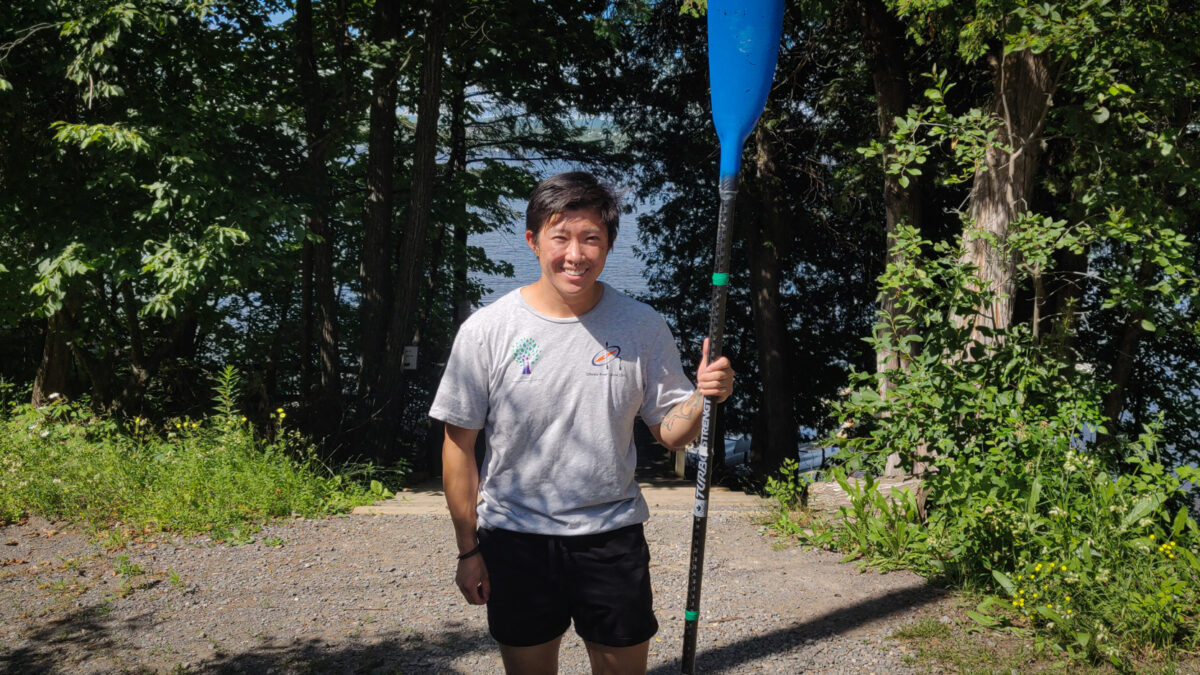 Algonquin student Sev Swafford is hoping other queer youth will join them to paddle with pride.
That's a program that they have launched at the Ottawa River Canoe Club for local 2SLGBTQ+ youth and young adults who want to explore the Ottawa River by canoe.
Paddling with Pride runs every Sunday afternoon. It is intended to be a safe space that will help improve "people's mental health and their amount of social connection," said Swafford. 
Running until the beginning of August, Paddling with Pride brings together queer, BIPOC youth, between 15 and 25, with various physical and cognitive abilities for an afternoon in the sun.
Swafford, who identifies as Chinese and non-binary, started the program as part of their placement requirement for the therapeutic recreation program at Algonquin College. The main reason to start the program was because Swafford wanted a program they would have benefitted from when they were younger.
"I just want to create a space where people can come out and hang out and not feel judged for being themselves," said Swafford. 
"I just felt like [queer youth are] an underserved population when it comes to therapeutic recreation in general. We don't learn about [the queer] population very much in school, mostly older adults and people with disabilities." 
Emma Young was looking for water sports during the summer when she came across the flyer for Paddling with Pride.  As a 22 year old, gay, East Asian woman, Young was looking to stay active and meet new queer people close to home.
"[Paddling with Pride's] queer community was an added bonus as there's not that many out people in mechanical engineering," said Young, who is studying mechanical engineering at the University of Western Ontario.
Swafford says their favourite part of the program is seeing the connections being made on the water.
"A lot of [the participants'] goals were to meet other people, other queer people because the population of queer people in Ottawa is very small," Swafford said.
Swafford said most of the participants, who are in their early to mid-20s, say that making friends, especially because of the pandemic has been tough because they often only meet people in a work or school setting. 
Swafford believes queer youth can really benefit from therapeutic recreation, which is, "the purposeful use of recreation and leisure activities as therapy."
Coming from a Human Kinetics background and previously working at the Ottawa River Canoe Club with Bloom Therapeutic recreation and fitness, Swafford decided they wanted to dive into therapeutic recreation with a focus on queer youth.
On a recent Sunday, after a couple of hours in the sun, a group slowly disperses, drenched from tipping over but with big smiles on their faces. 
The one year Algonquin College Therapeutic Recreation post-graduate program helps students meet all the requirements to become a registered recreational therapist in Ontario. 
---
More Stories