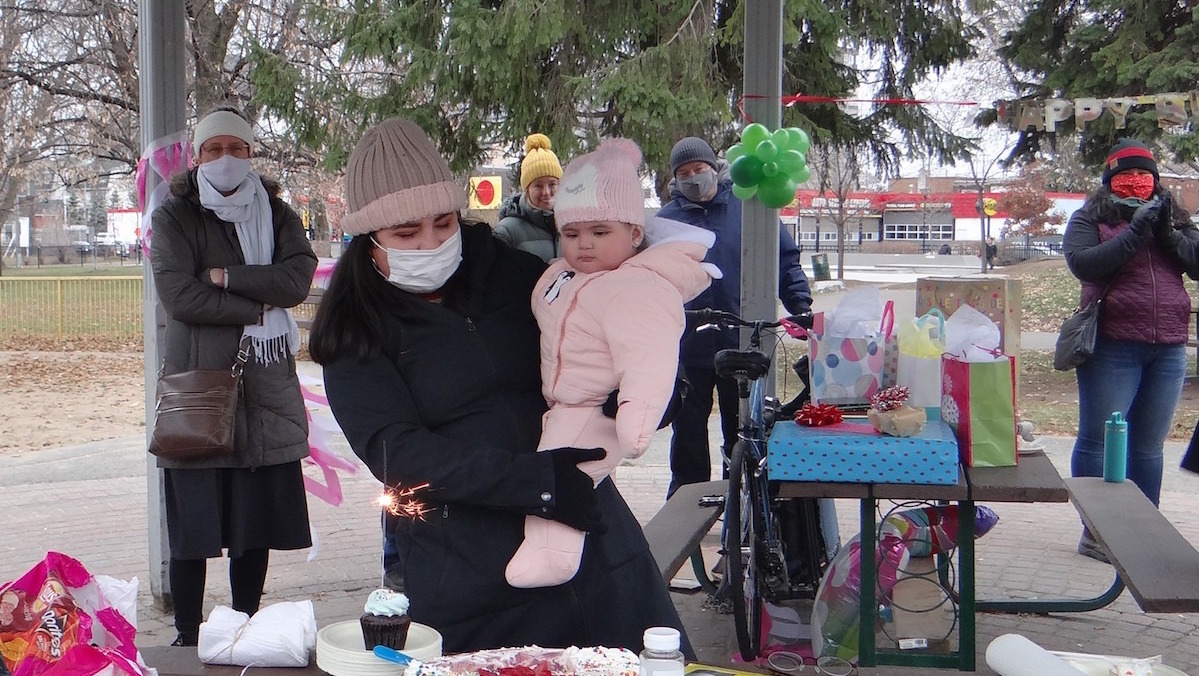 While Ontario grapples with COVID-19, data from Ottawa Public Health shows that immigrant and refugee communities in the city have been hit harder than others.
According to a November 2020 report, racialized populations (particularly those who identify as Black) are over-represented among people diagnosed with COVID-19 in Ottawa. Most people of colour were not born in Canada. People who are Middle Eastern, Black and South Asian are often more recent immigrants (within five years).
Lama Chami, the digital training co-ordinator at Refugee613 in Ottawa, said newcomers in Canada may be more likely to be infected because language barriers can make it difficult to understand the rules.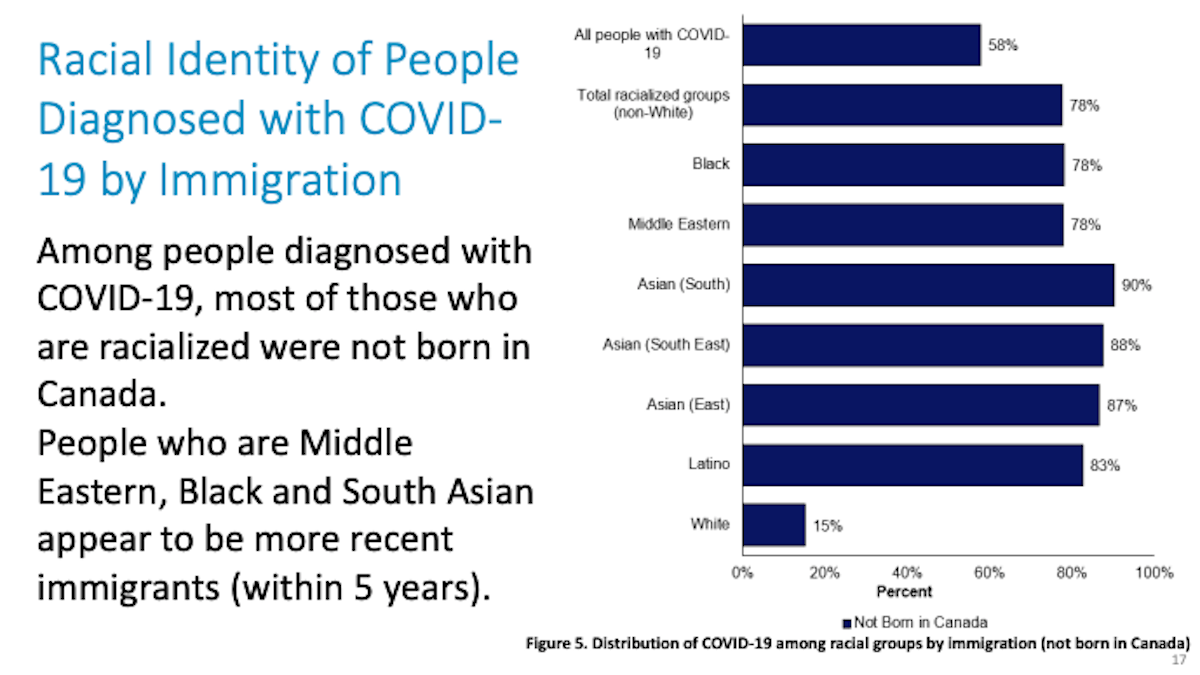 "The language barrier is a huge [one] for newcomers and refugees in Ottawa, and not all the resources are in their mother tongue, so accessing information was a huge challenge for them," she said.
Anna Banerji, a professor at the University of Toronto's Dalla Lana School of Public Health who works with refugees, agrees, adding that clinics that work specifically with refugees and newcomers to help them navigate the health-care system have been closed and the switch to doctor consultations by Zoom and phone calls raises another set of issues.
"A lot of these people may not be able to access the health-care system, they don't speak the language, or they don't know how to access the internet … the barriers are much greater," she said.
Banerji also explained that some refugees coming into the country may have never seen a doctor, so they may have other health issues as well as limited medical literacy.
"Those things also put them at risk."
A September 2020 report by ICES, a not-for-profit research institute focusing on health-related data in Ontario, found that while immigrants and refugees accounted for only about a quarter of those tested for COVID-19 between January and June, they represented 43.5 per cent of positive cases.
From those tested, the report also found that refugees had the highest percent positivity among those tested — 10.4 per cent versus 7.6 per cent in other immigrants and 2.9 per cent in Canadian-born and long-term residents.
More complicated
Maria Rigby, the president of OMRA, a refugee sponsorship program and charity that provides housing and support for newcomers and refugees, has seen the effects of the pandemic. In addition to not being able to provide connections for the refugees with volunteers, something as simple as moving has now become more complicated.
The health effects are also evident.
Rigby recalls an instance where one woman that OMRA assisted was sent around Ottawa from hospital to hospital to get tested for COVID-19 after a suspected case in her son's class.
"It's not easy, it's really not easy," she said.
Rigby believes the solution to the higher case numbers amongst Ottawa's refugee and newcomer communities lies in better housing, saying "people have to live … in very small apartments, because their budgets are so low and because of that, they're crowded."
Additionally, as Banerji explained, some refugees came to Canada from refugee camps where they have been in crowded living conditions for months or years on end, therefore it can be hard for them to understand the concept of social distancing and why it is necessary.
Banerji believes the best way to help refugees and newcomers during the pandemic is providing information to them in their languages, as well as a phone number to call for interpreter services to help them navigate the healthcare system.
Along with language barriers and difficult living conditions, a Statistics Canada study from May, 2020 found that many refugees and newcomers are also experiencing the economic and social impacts of the pandemic. Forty-four per cent of immigrants reported having high levels of concern about the maintenance of social ties and their ability to support one another during or after the pandemic; 30 per cent of Canadian-born individuals reported the same.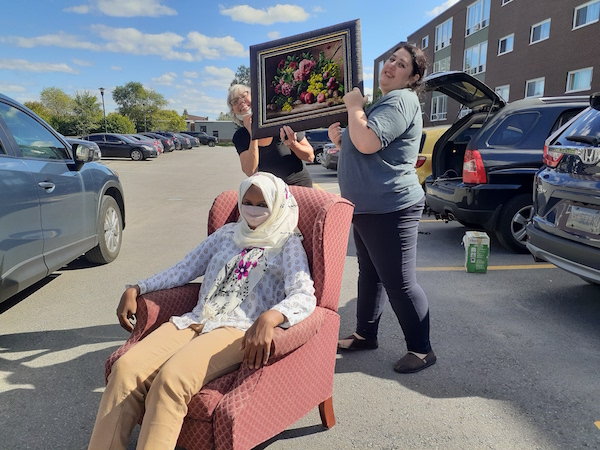 Some residents of Ottawa are finding ways to help address the economic hardships newcomers are experiencing.
Mosad Sharaby is a refugee from Egypt currently enrolled at Algonquin College. When the pandemic began in the beginning of last year, he stopped working as an Uber driver and decided to stay home to stay safe. At the same time, he began to volunteer with local organizations to provide food for those in need.
For Sharaby, volunteering was his way of helping out at a time when the Ottawa community really needed it.
"Some people couldn't go outside, some people may have [contracted] COVID-19. And I could help," he said.
Abdulwahab Al-Haimi is the co-founder of Your Youth, an initiative supporting youth affected by the pandemic, some of whom are newcomers to Canada as well. Al-Haimi says the initiative provided more than 1,600 student and family meal packages in April and May last year.
He said helping out in the community has been important to him as a young person, especially since youth are likelier to recover from COVID-19 than older Canadians.
"If we get affected, we would be in a better situation than our seniors," Al-Haimi said. "Just giving back to the community, and having youth volunteering for the community tells us how we should all work together."
---
More Stories