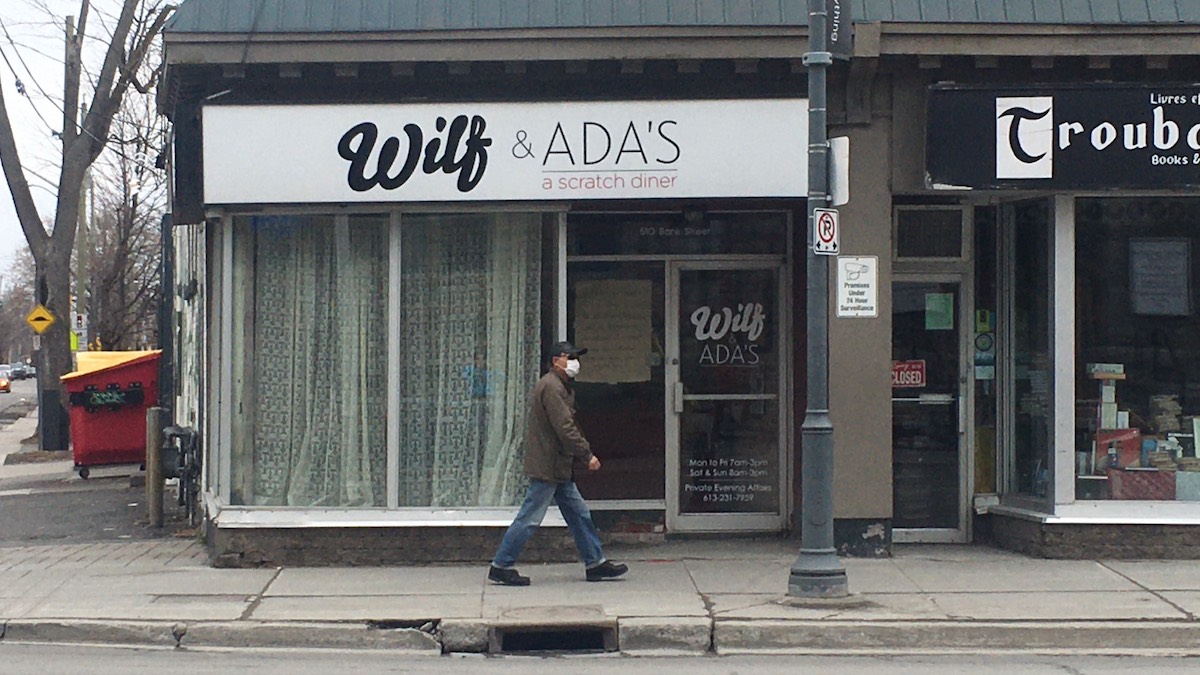 A section of Bank Street in Centretown has joined the growing list of Ottawa streets closing to motor vehicles to ensure social distancing this summer.
Pedestrians and cyclists will have the stretch between Catherine and Queen Streets to themselves between 9 a.m. and 11:59 p.m. every Saturday until Aug. 8, at which time the program will be re-evaluated "to ensure that our businesses and community are well served," according to a press release by the Bank Street Business Improvement Area.
"Given the provincial guidelines around physical distancing, maintaining a safe distance from one another on sidewalks can be challenging on Bank Street, especially at intersections or where the sidewalk is less than two metres wide. This challenge becomes especially apparent around high-traffic zones such a grocery stores, pharmacies, and other essential services," the release says.
"We believe businesses, customers and the community will benefit from this plan. By opening Bank Street to the greatest number of people, we hope that foot traffic into businesses will increase, and at the same time, give more space to customers and clients to safely wander Bank Street."
Busy Bank Street joins other parts of Ottawa closed to vehicles during the pandemic, such as a stretch of Somerset Street West between Bank and O'Connor streets, which close on weekends to provide local restaurants and bars more patio space during Stage 2 of Ontario's reopening plan.
Similarly, portions of four National Capital Commission roadways close on weekends until Labour Day to allow residents to enjoy the outdoors, including part of the Queen Elizabeth Driveway along the Rideau Canal and parkways along the Ottawa River and Gatineau Park.
The closures, however, have proven to be contentious.
When Kitchissippi ward Coun. Jeff Leiper proposed a motion for councillors to receive additional funding for street closures in their wards, something he said had been coming out of his traffic calming budget, Mayor Jim Watson proposed a replacement motion which would allow street-side businesses the power to veto proposed closures.
"The reality is, this is going to hurt businesses when many of them are just holding on by their fingernails," Watson said at the May 13 city council meeting.
Watson's motion was approved, but later amended to require the support of at least two-thirds of affected businesses on the street in order to impose a veto.
Watson has since announced several street closures in the ByWard Market "from July 4 for the rest of the patio season.
Capital Coun. Shawn Menard got into a dispute with the Glebe BIA over his advocacy of removing some street parking on Bank Street to allow more space for pedestrians and cyclists. Some Glebe business owners took offence to the proposals, arguing the parking spaces provide areas where struggling businesses can provide curbside pickup services to customers.
The BIA initially voted to remove Menard from its board during the conflict. The two sides have since "agreed to enter a new process of understanding and collaboration," according to a joint statement released July 3.
Liz Mok, founder of Moo Shu Ice Cream located at Bank Street and Flora Street, is a fan of the upcoming Saturday closures as a business owner and a community member.
"Because I'm in a customer facing job … I feel a greater responsibility to keep myself healthy and safe, so I've avoided walking down Bank Street as much as possible," said Mok.
"As a resident, it's really great to have that walking space."
Moo Shu Ice Cream hasn't fully reopened yet due to safety concerns, one of which being that the sidewalks on Bank provide little space for social distancing, especially as more lines begin to flow out of store fronts.
Businesses adapting
Instead, the shop is offering a scheduled curbside pick-up, where customers can purchase tubs of ice cream online and choose a time to pick them up. This way, Mok has control over the volume of customers she and her employees serve at one time.
On July 11, Moo Shu will be testing a four-hour long walk-up scoop service in celebration of its fourth-anniversary between 6 p.m. and 10 p.m.
"In the summer people want that sense of normalcy of going out for an ice cream cone, and I think that would help us, too," she said.
"With Bank Street closing and just more room in general, it's just less responsibility and less stress on us to make sure customers are adhering to those rules."
The Bank Street BIA has worked with the City of Ottawa to create dedicated loading zone parking spaces on side-streets to allow for continued food pickup and curbside services.
"This way, businesses that rely on these services can continue to fulfil their orders with minimal disruption," the press release says.
---
More Stories