Live theatre will be back on in Ottawa July 29. There have been logistical challenges and creative solutions, but The Gladstone in Little Italy is ready to stage a pandemic-adapted, "socially-distanced live-in-person" production of Midsummer [A play with songs] for a 12-day run on its outdoor patio.
Midsummer is an acclaimed 2008 play by Scottish dramatist David Greig, punctuated with songs by Scottish indie musician Gordon McIntyre.
This version will be "a play with (pre-recorded) songs," according to The Gladstone. That's because singing to an audience is prohibited under COVID-19 public health guidelines, which forbid the playing of wind instruments and otherwise forcefully projecting one's breath in the vicinity of others.
But everything else will be live. An audience of no more than 20 spaced two metres apart, with two live performers and some string instruments accompanying the soundtrack.
The play — a romantic comedy about the unlikely meeting of two people in Edinburgh — had been scheduled to run at The Gladstone before the pandemic lockdown.
When the COVID-19 crisis arose, it wasn't obvious to anyone involved in the production how they could proceed — until the province announced that patios could reopen. The Gladstone had the perfect space.
A fairly expansive red-brick patio is situated between the Gladstone Avenue sidewalk and the theatre entrance. And cast member David Whiteley says the space actually serves the story really well.
"Part of the story is about how (his character, Bob) always wanted to busk his way around Europe, so presenting in the form of people busking on the sidewalk always seemed an ideal way to present the story," says Whiteley.
Whiteley's Bob is described as a "petty conman." Actor Vivian Burns will play his counterpart, Helena, an upscale lawyer.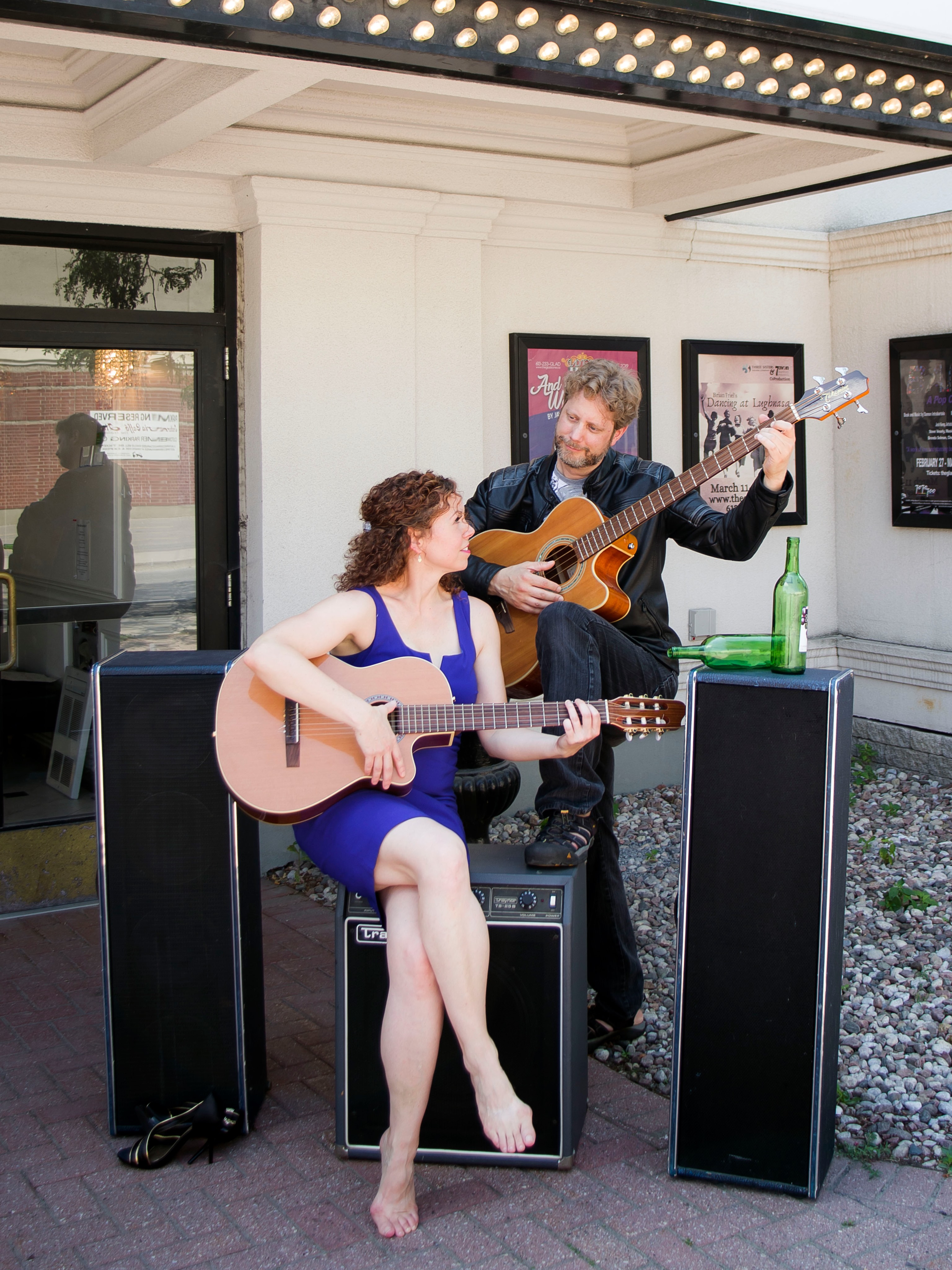 Whiteley said the pre-recording of the play's music is an innovative trick that pays off.
He explained the play isn't like a traditional musical, but instead features "the kind of songs that play through a transition in a film" rather than at pivotal moments.
The show, he said, is "benefiting from a dose of forced creativity."
"It was all done backwards," added Bronwyn Steinberg, the play's director.
Normally, the songs are rehearsed as they come up within the play. Instead, they had to record all the songs before starting rehearsals to give enough time to mix the music and test how the songs would sound with the ambient sounds of the street in the outdoor space.
For example, the tone of some songs was changed so it could better cut through traffic noise.
Steinberg explained they are "really challenged by traffic noise" and other building sounds.
A new space
"The play is kind of a love letter to Edinburgh," said Steinberg. Her vision was originally to use video projection to carry the audience through different locations across the Scottish capital.
But now the cast will be performing in daylight, so they don't have to use lighting and can avoid the evening bugs.
Whiteley said the show will go on in light rain, but heavier rain will require rescheduling.
The maximum of 20 audience members is less than 10 per cent of the The Gladstone's normal 220-person capacity. They've increased the number of shows to compensate somewhat, but the production will still not be bringing in as much money.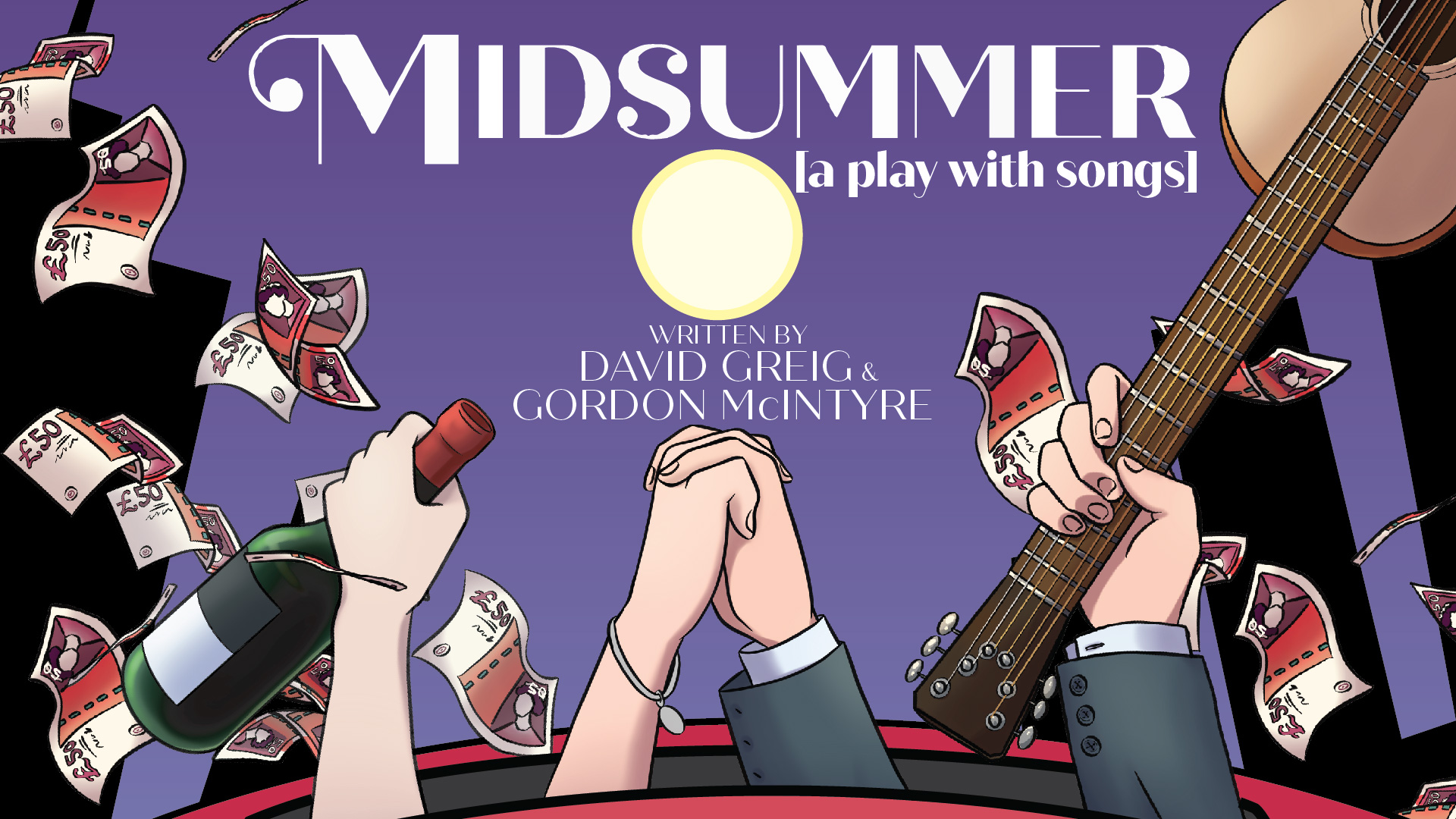 The arts community has been adapting in various ways to the pandemic.
Ottawa's Fringe Festival — normally a week-long opportunity for artists to showcase their work at venues in downtown Ottawa, everything from drag shows to storytellers — hosted its 2020 events online.
Odyssey Theatre's annual summer production of commedia dell'arte normally takes place under the stars in Strathcona Park. This year it's virtual. The National Arts Centre and RBC Ottawa Bluesfest will be hosting a drive-in concert series on the last weekend in July and the first in August.
The annual Music and Beyond festival has turned to video to this year with 100 films, 50 in French and 50 in English, featuring performers from Ottawa and beyond.
Canadian-made films will also be given a chance to reach their audiences in a modified in-person fashion: MADE in Canada: the Summer Blockbuster Series will be hosting drive-in movies across Canada until September.
Some friends of Steinberg's are doing an adaptation of Romeo and Juliet in a parking garage in Stratford, Ont. The audiences will be in cars.
She said as far as she knows, Midsummer is Ottawa's first play for live audiences since the pandemic began.
The show must go on
Through all the changes, uncertainty and adaptations, Whiteley said it's always been about one fundamental thing: the passion to perform.
"For theatre, for this show, for what theatre does," he said.
"Being in an industry that is the first to close down, and the last to come back, and continually hearing the word 'essential' is hard. It's hard on your heart to go, 'Oh we are the least essential'," said Steinberg.
"And yet in a way we are the most essential — storytellers. Whatever kind of artist you are, humans are storytellers, and stories are what get us through this hard time, but we just can't do our work now."
Whiteley thinks the pandemic has reaffirmed "the acute sense of how important it is to be physically around other people and have common experiences."
"It feels like we are having this moment to connect on this tiny island of live theatre in the great sea of pandemic."

Bronwyn Steinberg, director of Midsummer
Steinberg added: "We know we don't have the same box-office potential," but "we are all still in it because we love it."
It's a different experience to gather for theatre, said Steinberg — an experience that's lost with pre-recorded shows. "You sort of walk a tightrope in live performance, and you know things can go differently every night, and something could go wrong, and that's part of the experience."
It appears that audiences love the idea, too. About three-quarters of the tickets have been purchased, and several shows are already sold out.
"There's something that happens among the audience members, and between them, and between the performers," said Steinberg. "Even if it's just this one off during the summer, and then we all go back to waiting, it will be worth it."
There's a moment in the play — which echoes themes in William Shakespeare's A Midsummer Night's Dream — when the characters realize it's the shortest night of the year, said Steinberg. In that moment of realization, they describe it as "this tiny island of night in the great sea of day."
She said: "It feels like we are having this moment to connect on this tiny island of live theatre in the great sea of pandemic."
---
More Stories