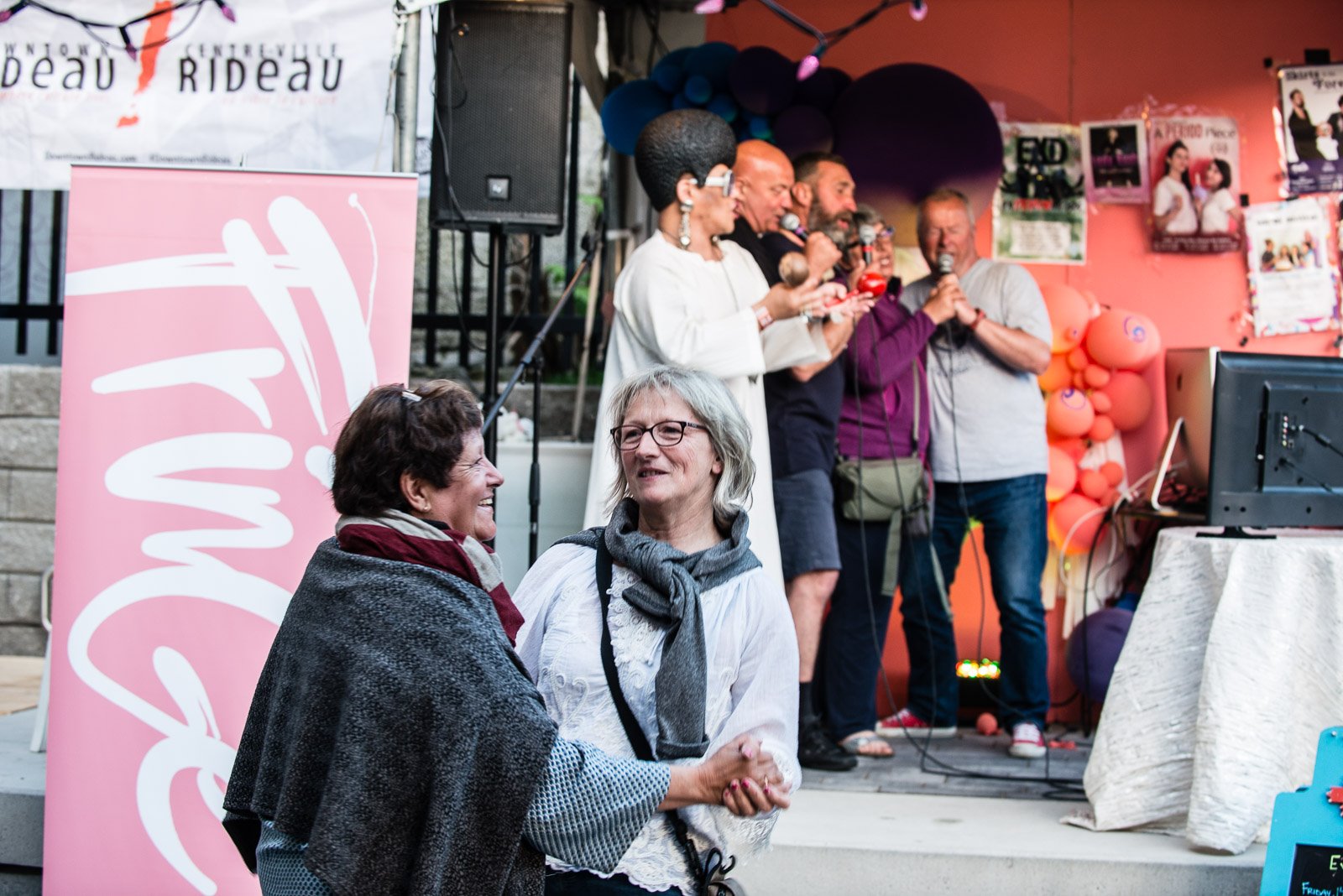 The annual Ottawa Fringe normally runs in June, holding everything from dance parties to drag shows around downtown Ottawa. It's a chance for established and upcoming artists to showcase their work.
But this year organizers are doing something different. They have announced a virtual Fringe with free digital events from today to July 4.
"Despite not being able to gather in person this year, the thought of a June without Fringe was too much to bear!" Ottawa Fringe organizers said on Twitter.
"This is a way to keep our local artists engaged. A lot of artists are contract workers, so they're hit so hard by this pandemic."

Brit Johnston, associate director of the Ottawa Fringe festival
"It's nice to be doing something," said Brit Johnston, associate director of the festival. For Johnston, holding events online is better than nothing, when many summer gatherings have been cancelled because of COVID-19.
"I knew it was coming, but it was sad," she said. "This is a way to keep our local artists engaged. A lot of artists are contract workers, so they're hit so hard by this pandemic."
In May, the Canadian Council for the Arts commissioned a study on the impacts of COVID-19 on the professional arts sector. The study showed that all artistic endeavours supported by the Council — including dance, music and live theatre — will be hurt by the pandemic.
Johnston said that Ottawa Fringe is still figuring out how to adapt to the age of COVID-19, which may spawn longer-term changes. This includes making a portion of their smaller winter festival — "undercurrents" — permanently virtual.
Johnston explained that this might help make the festival more accessible.
"Some people can't get up to the theatre," she said. "But they shouldn't miss out on the art."
This year's festival has partnered with Capital Pride, Ottawa Storytellers, TACTICS Theatre Artists' Co-operative and a number of local artists.
"I think it's important to recognize our partners on this, and that this is very much a community-produced festival," said Johnston.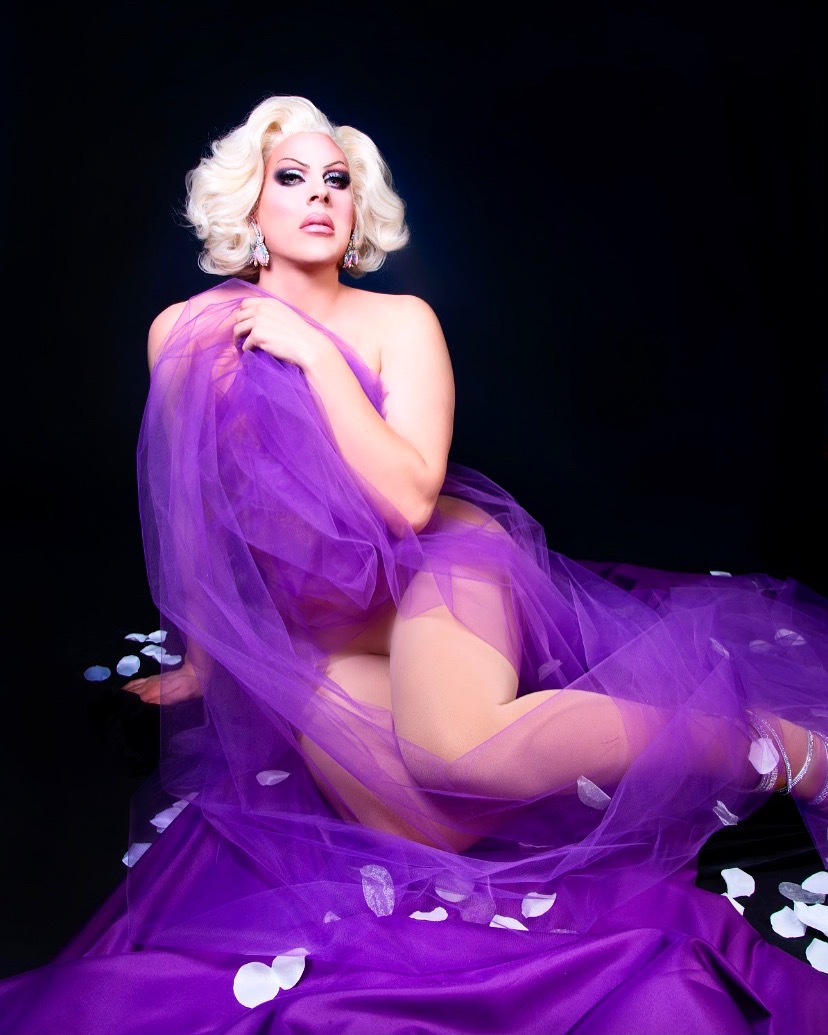 An event virtual festival-goers can look forward to is #TGIF, a lip-syncing show featuring local drag queens. It airs Friday on the streaming platform Twitch.
Adrianna Exposée, an Ottawa-based drag queen and Miss Capital Pride 2019-2020, will host.
Having performed remotely early in the lockdown, Exposée said that while the experience is certainly different without a live audience, some things haven't changed.
"I remember getting the same rush of adrenaline doing an online show," she said, adding that "thinking on your feet without an audience there is a little different."
Aside from entertaining audiences from a distance, Exposée said that the festival's move online provides performers a much-needed sense of normalcy.
"A lot of us do drag for friends, and [getting ready for the Fringe performance] was such an incredible experience because it felt like our regular dressing room," Exposée said.
The event was pre-recorded in an empty bar with performers following public health guidelines. "It just goes to show you that you don't need anybody there to have a good time," she said.
She said that she is grateful for the continued support of queer artists throughout the pandemic — a time when entertainment is welcome.
"The fact that everyone's coming together to ask for this entertainment and show love and show support, it's been really humbling," said Exposée. "It just makes me want to want to go back to the stage even more."
While her shows are quite different these days, Exposée said that she is no stranger to adapting her performances to changing circumstances.
"I like the unusual gigs," she said. "I think they're the most fun."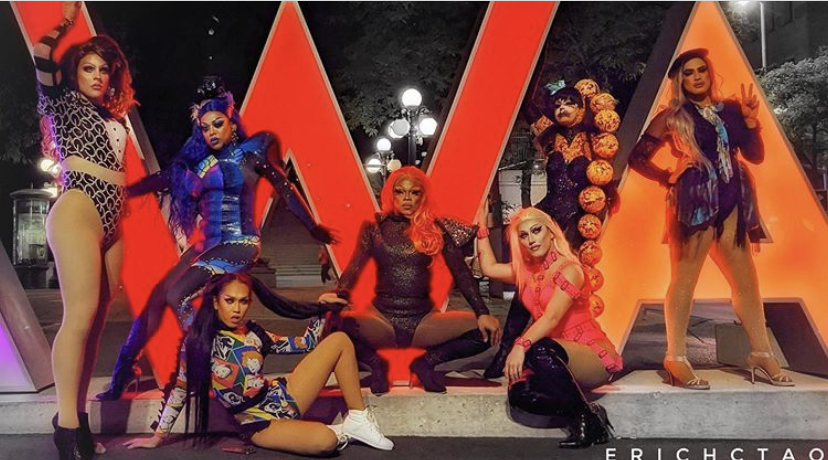 The drag queens who will be performing in the Ottawa Fringe at Home #TGIF lipsync showcase pose in front of the Ottawa sign. From the left: Adrianna Exposée, Aimee Yonce Shennel, Kiki Coe, Kimmy Corangie, Devona Coe, Icesis Couture, Savannah Couture and Fifi Hoo-Kers. [Photo courtesy of Erich Ctao]
Jacqui du Toit — an Ottawa-based storyteller, actor and co-owner of The Origin Arts and Community Centre —is another performer listed on the Fringe's online marquee.
Along with Anishiinabekwe artist Emily Marie Séguin, she is set to perform "Journey: A South African & Anishinabeg Collaboration," an amalgam of stories concerning death and the spirit world from two different cultures.
"We thought, 'What a beautiful way to cross-pollinate two nations,'" du Toit said. "That for me has always been a dream to collaborate and to create specifically in oral traditional storytelling."
Both du Toit and Séguin felt that the performance needed to address the journey of transition, a pertinent theme during a global pandemic, du Toit added.
"Before this whole COVID … it was different, and COVID kicked in. And it was like, 'Whoa! All these changes.'"
For du Toit, art offers an opportunity to examine these changes, some lasting longer than others.
"We wanted to explore the journey of death and transition," she said. "There are many different forms of death: A death of living a certain way, and we don't know if we'll ever be able to go back to the way things were before."
Both performers lost loved ones during the pandemic, a shared experience that du Toit said informed their creative process. "We reminded each other about these journeys, the stories we're told, acceptance, and the transition from one life to another."
"The first few weeks I couldn't do anything," she said. "It was just not the same."

Jacqui du Toit is an Ottawa-based storyteller, actor and co-owner of The Origin Arts and Community Centre.
It took some time for du Toit to incorporate the changes prompted by COVID-19 into her work as storyteller.
"The first few weeks I couldn't do anything," she said. "It was just not the same."
But when presented the opportunity to create a show for the Fringe Festival, she gradually eased herself back into the creative process.
"And then it just started flowing," she said.
Du Toit and Séguin are performing at 8 p.m. on June 30.
For the full Virtual Fringe lineup with times and links please see https://ottawafringe.com/
---
More Stories