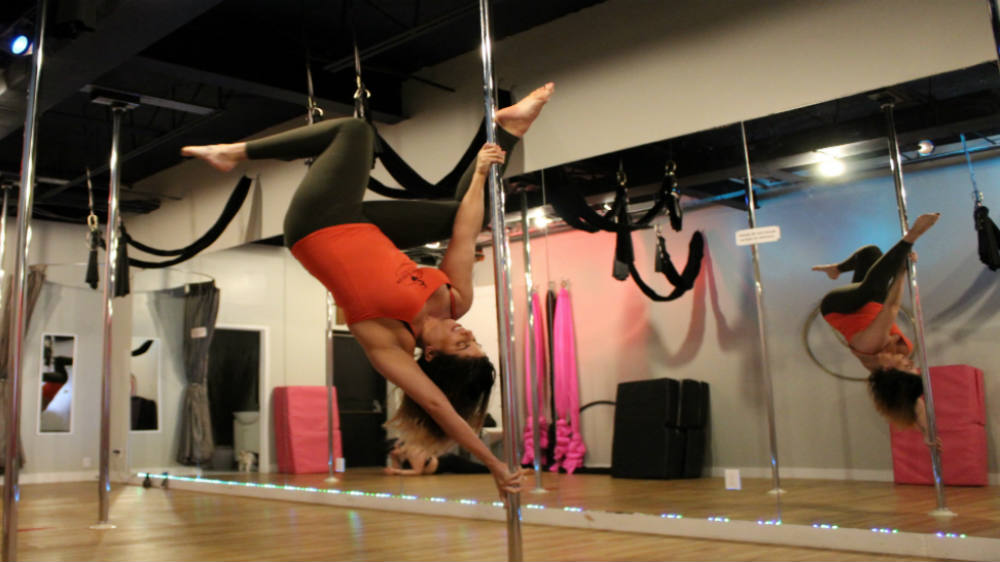 The words 'pole dancer' used to be met with certain assumptions and judgement about a person's character. Yet over the last decade pole dancing has begun to be recognized as a sport and those who practice it as athletes. Pole dancing itself, however, offers so much more than a workout.
Andrea Harper became involved in pole dancing while working coat check at a strip club in New York, "because I just wanted to be around it."
She began to teach herself, eventually becoming a trainer and leading pole dancing boot camps. When she arrived in Ottawa, Harper noticed that there seemed to be a lack of pole fitness available in the area.
"No one was really teaching it when I started, so I felt like Ottawa needed something different," said Harper. She opened Cherry Blossom Studios in 2009.
Her love of pole dancing stems from what it offers to those who practice it.
"The strength that it involves, the way that it makes you feel. It helps with body confidence and getting in tune with your own body as a woman."
The reaction of people to the studio, and pole dancing, has changed drastically in the last few years, said Harper.
"When I started it was kind of taboo, people would be like, 'Wow you're a stripper," said Harper.
Now, people from all walks of life take classes, "Stay at home moms, strippers, we're very open and welcoming to everyone whatever it is they chose to do with their life." Said Harper.
The popularity of artists like Cardi B, who was once a pole dancer, made pole dancing more acceptable.
"Everyone just wanted to be a hoe, it's gotten really popular and it's like hoe-kay," said Harper.
The appeal of pole dancing goes beyond simply wanting to copy somebody famous. One of Harper's priorities is ensuring all her clients feel comfortable and supported in the studio, regardless of skill level.
"I feel like everyone should just try it, step out of their closed little box and get in tune with themselves," said Harper.
Laurie Lormil, who has been coming to Cherry Blossom Studios for seven years said she decided to try pole dancing because she was having trouble committing to the gym, which she found intimidating.
"I like how it's for everybody, different shapes, different sizes you don't have to be super good at it, you just have your own personal goals," said Lormil.
Since she started training at Cherry Blossom Lormil said she's become comfortable being upside down on the pole, something other clients are still nervous about.
She's also improved her flexibility, and plans to continue practicing to improve the appearance of certain moves. She said, "you want it to look nice, you want straight lines, I'm not flexible at all, so that's still challenging".
Classes are created based on skill level and safety standards, said Harper. Clients start off with spins, which are primarily about proper hand grip and co-ordination as well as 'learning to be one with the pole.'
From there, clients begin to progressively try more difficult moves that exercise their core, upper, and lower body. The most difficult involve the upper body doing most of the work, and anything that throws your body off regular alignment, said Harper.
Most clients stay at lower levels, "it's all about just feeling comfortable and not hurting yourself." Said Harper.
Occasionally clients will progress to the point where they can become qualified to teach at the studio, like Corinne Sauvé who has been teaching at Cherry Blossom since February 2018.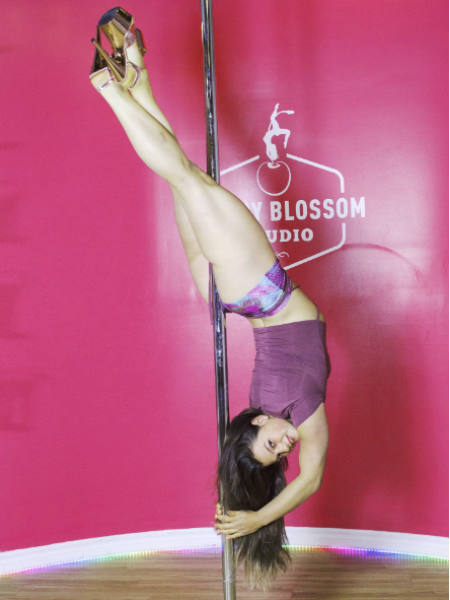 Sauvé began taking classes at Cherry Blossom in 2016. While she had taken pole dancing classes at other studios before, it wasn't until Cherry Blossom that she became committed to the sport.
"I fell in love with the place, with the vibe, with the instructors and I stayed there," said Sauvé.
The studio offered so much more than a place to work out and train, said Sauvé. The other clients and instructors became a close family of women.
"Something that I didn't have in my life, some kind of sisterhood, that I was lacking and I wasn't even aware of," said Sauvé.
After taking classes, and progressing through the levels, she was asked by Harper if she would consider becoming an instructor. Sauvé became certified with the Pole and Aerial Fitness Instruction Commission of Canada. The certification process requires instructors to attend two days of training and complete 34 hours of practical training.
Besides various choreography and equipment maintenance, the course also teaches participants about safety and risk management. This includes modifying certain techniques, spotting, and legal liability.
As pole fitness has grown in popularity, so have the standards around it. The Canadian Pole Fitness Association seeks to improve the requirements to teach pole dancing. This includes creating certifications that ensure client safety.
Elisabeth Magalhaes, director of the association, said having instructors who are properly trained is just as important to the industry as it is to clients.
"If someone gets hurt in pole it makes everybody in pole look bad," said Magalhaes.
Besides certifications, the association hosts various competitions, including regional and national championships.
Competitions hosted by the association provide the opportunity for participants to showcase a wider range of styles, according to Tina Stone, owner of 3sixtydance studio.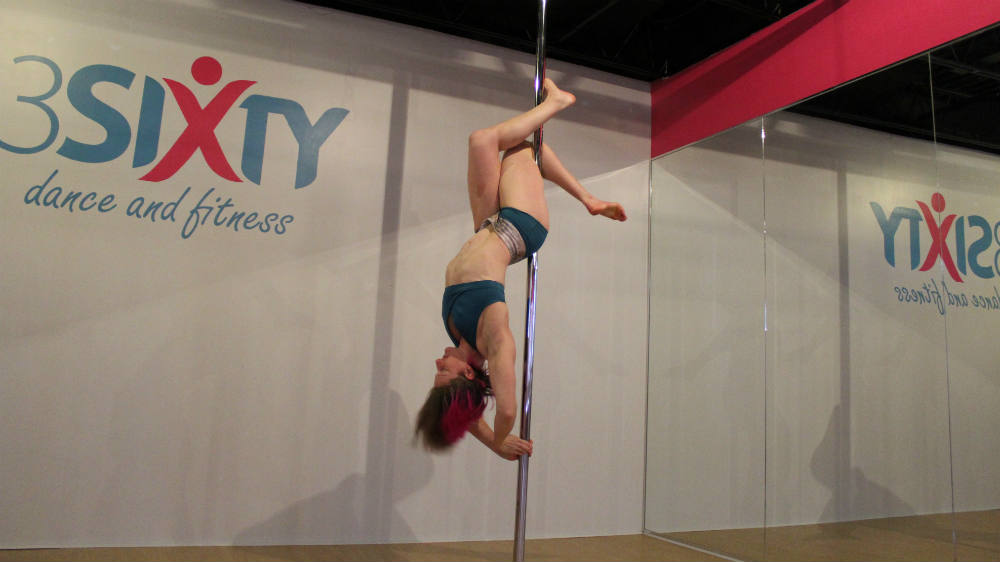 Stone took over the studio last year and is a certified aerobics arts instructor. She started pole dancing in 2008 when she decided to book a pole dancing class as part of her bachelorette party.
"Both of us being naturally competitive people decided that we should take lessons prior to the bachelorette party so that we could be really good," Stone said, explaining how she and one of the bridesmaids attended classes before the actual party. It built from there.
Stone grew up doing gymnastics and dance and says she enjoys pole dancing because it combines elements of both.
""It's hard to do gymnastics and dance as an adult so this is kind of the next step," said Stone.
Most of the studio's marketing is through social media and word of mouth, said Stone. This includes engaging with current clients as well as new ones and making sure that everyone feels supported and encouraged from the start.
"The scariest part for everyone isn't getting on the pole … it's walking in the door," said Stone.
While the general attitude toward pole dancing has shifted over the last few years, Stone said there still needs to be a better understanding of all the different types of pole dancing.
"There's still kind of a mindset in people's heads like either you're a sexy pole dancer or you're doing crazy impossible things that no normal person could achieve," said Stone.
This is true for Caitlin Oleson, who has been pole dancing at various studios in Ottawa since 2010. It wasn't until 3SIXTY, said Oleson, that she discovered what pole dancing could be as a form of self-expression.
"You can really use it to tell a story, you can really use it to heal yourself and to get over trauma and get over things in your life that are destructive."
---
More Stories