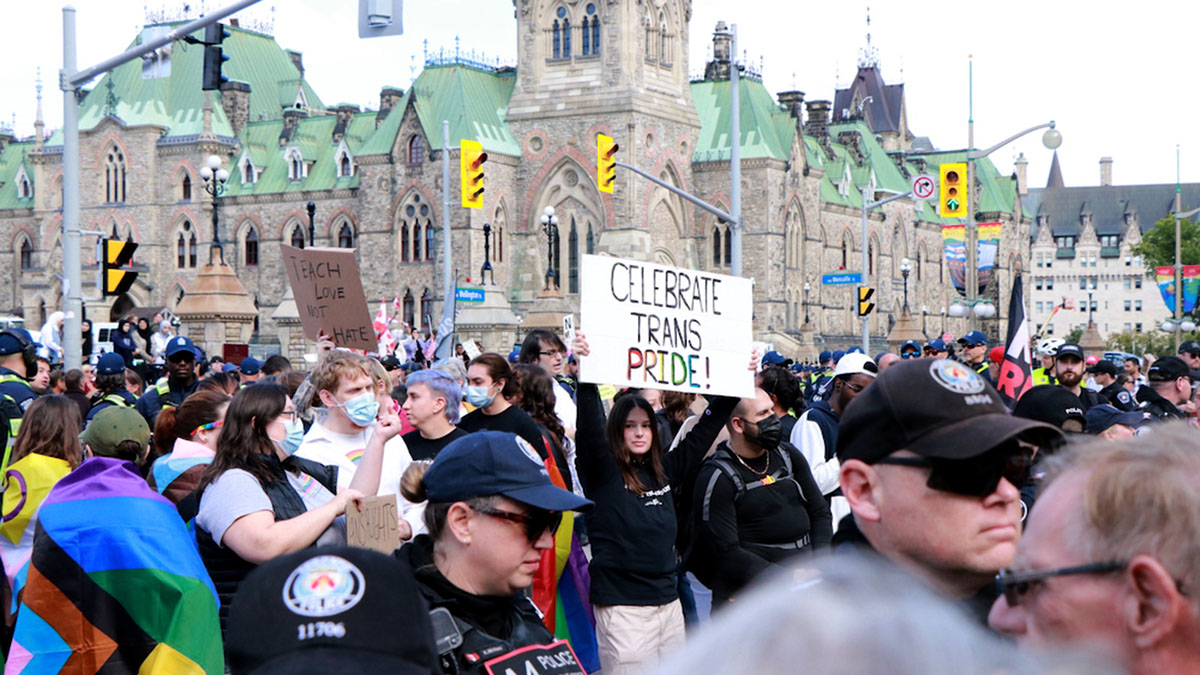 Protesters who oppose school curricula that include teaching young people about sexual orientation and gender identity converged on Parliament Hill in Ottawa Sept 20, where they were met with counter-protesters with signs that read "trans rights are human rights" and "no space for hate."
Protestors arrived with music blaring, megaphones in hand and banners with "save our children" painted across them.
Police formed a barrier between both sides on Wellington Street and blocked off the road to vehicles until the afternoon during the "1 Million March 4 Children" event. Traffic was diverted away from the downtown core as protestors began to march down Elgin Street.
Prominent social groups such as Capital Pride, Horizon Ottawa and CUPE Ontario were part of the counter-protest.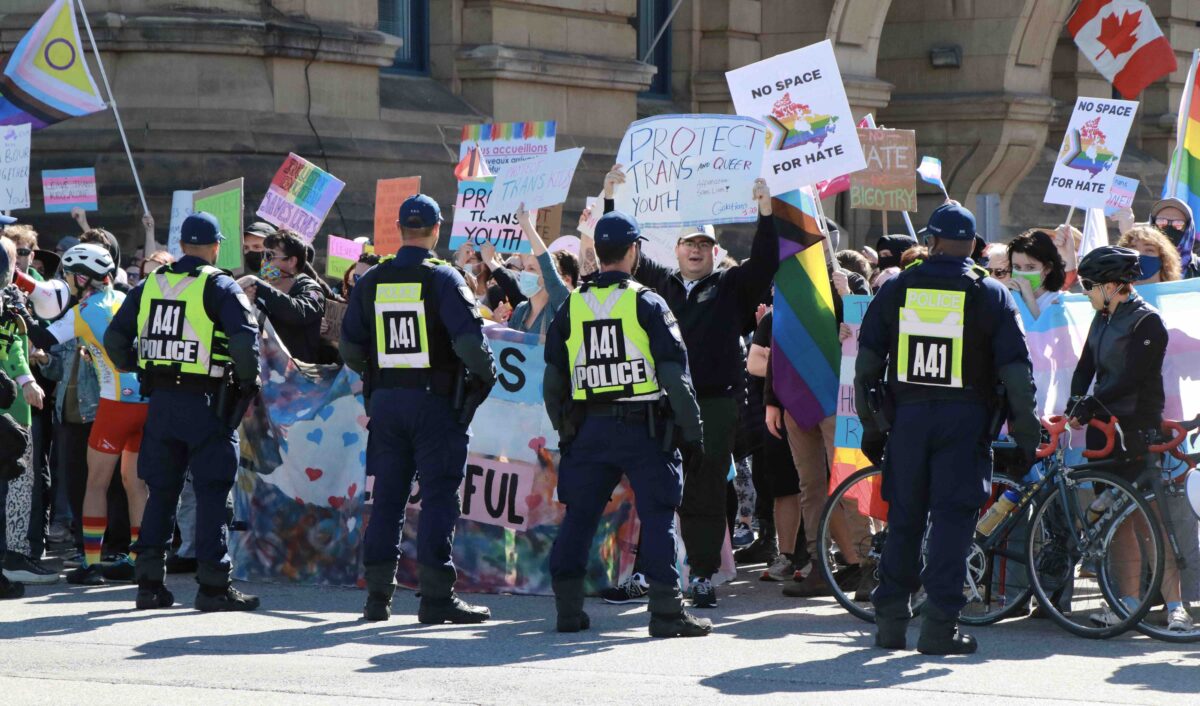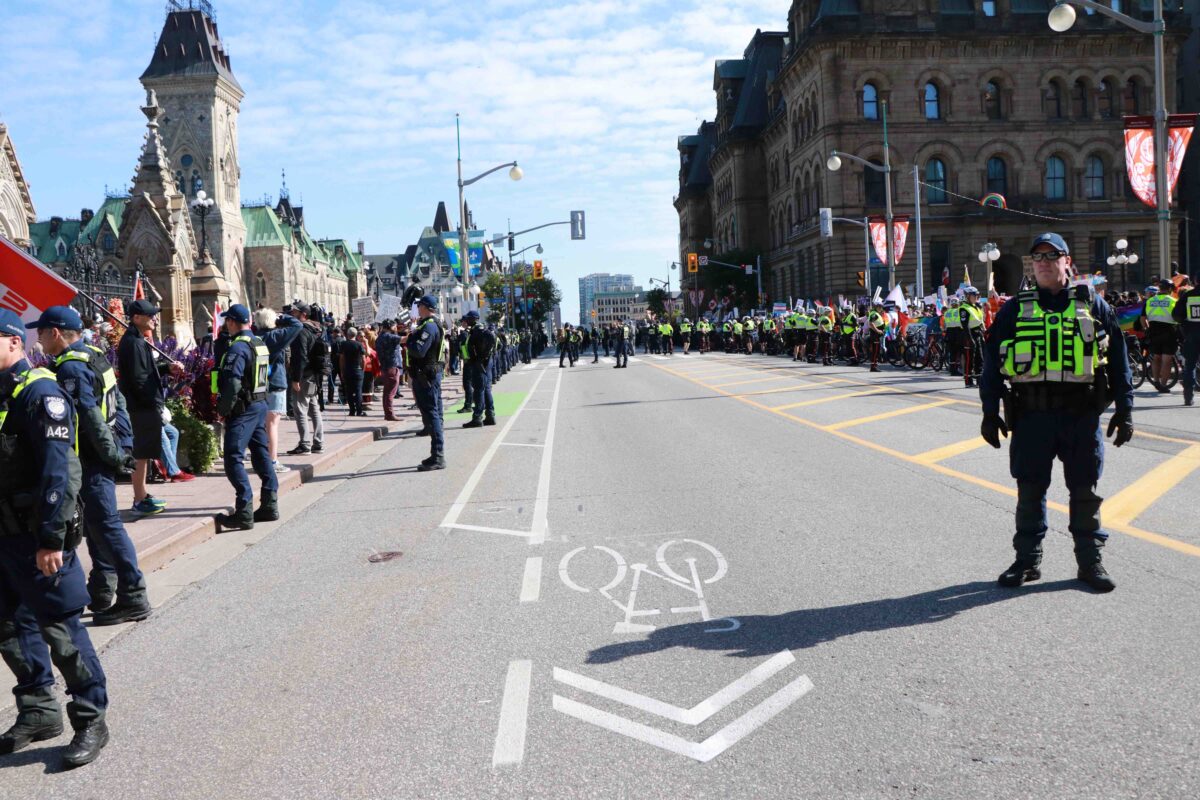 Protesters marched across Parliament Hill waving Canadian flags and holding signs that read "leave the kids alone." Protestors of all ages and ethnicities were in attendance and many children marched alongside their parents.
Along with the planned protests across Canada, the organizers of the march encouraged students to walk out of school to show their support. The march's official website even designed excused absence forms for parents to sign to allow their children to stay home.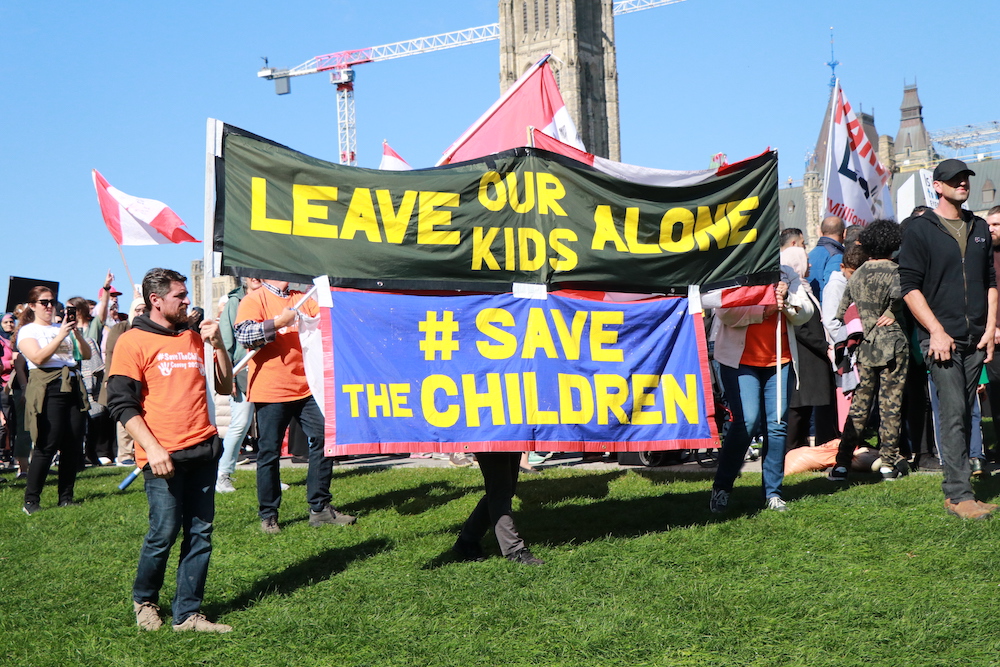 Bozena Lis, a Polish immigrant, spent the march passing out flyers to fellow protestors. She said her opposition to including sexual orientation and gender identity in school has nothing to do with hate.
"I don't hate them," Lis said in relation to LGBT2Q+ people. "I have nothing against them … they can do whatever they want."
But Lis, wearing a badge reading "Trudeau 4 Treason," added that she wanted children to be taught skills such as gardening and economics instead of being "indoctrinated" about views of sexuality and gender.
Ottawa Mayor Mark Sutcliffe condemned the protest on X, formerly known as Twitter. "I respect the right to protest, however the specific targeting of 2SLGBTQIA+ children for being who they are, has no place in our city. The protests taking place today will only cause harm to youth who are looking for our support and acceptance," Sutcliffe wrote.
Other politicians including Prime Minister Justin Trudeau posted in support of the counter-protest.
NDP leader Jagmeet Singh marched in Ottawa alongside counter-protestors while People's Party of Canada leader Maxime Bernier gave an impassioned speech in support of the 'March 4 Children' protesters. Both politicians were met with applause and cheers from their respective crowds.
Beatrice Smythe said she wanted to attend the counter-protest ever since the march was announced. Her biggest concern was children's access to sex education.
"Sex education keeps kids safe," Smythe said. "The other folks that were here today keep talking about indoctrination and ideologies that are going on in schools when in reality they're just trying to teach children what's going on in the world."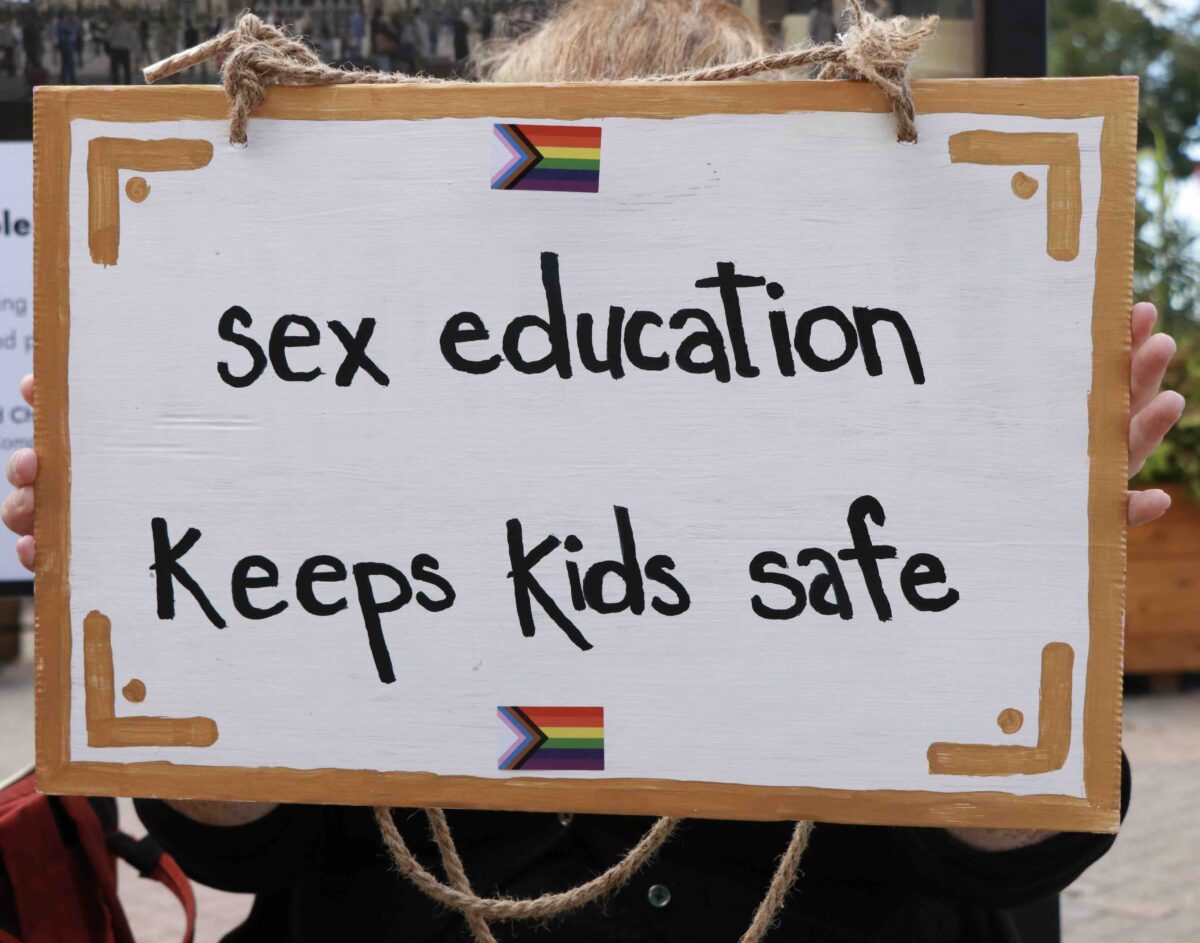 "[Sex education] teaches kids to be comfortable talking about [their bodies] so if something bad should happen to them they can go to a teacher or trusted guardian or parent," Smythe said. "If we don't teach them these things at a young age it just keeps happening."
On the opposite side of Wellington protestors chanted "leave our kids alone" and took selfies with one another. Due to the heavy police presence, interactions between the two sides were kept to a minimum.
Catherine Dellerba drove from the Toronto area to be in Ottawa to protest. She has four children currently enrolled in the Ontario education system. She said her history in activism led her to starting a group called Mumma Bears in 2018.
"I immigrated from South Africa, I fought against the apartheid system there so I've been an activist for a long time," she said. "I moved to Canada 22 years ago to find freedom but that's not what I found."
She expressed her disappointment at the Ontario education system for introducing LGBT2Q+ curriculum into schools and said it's up to parents to protect their children.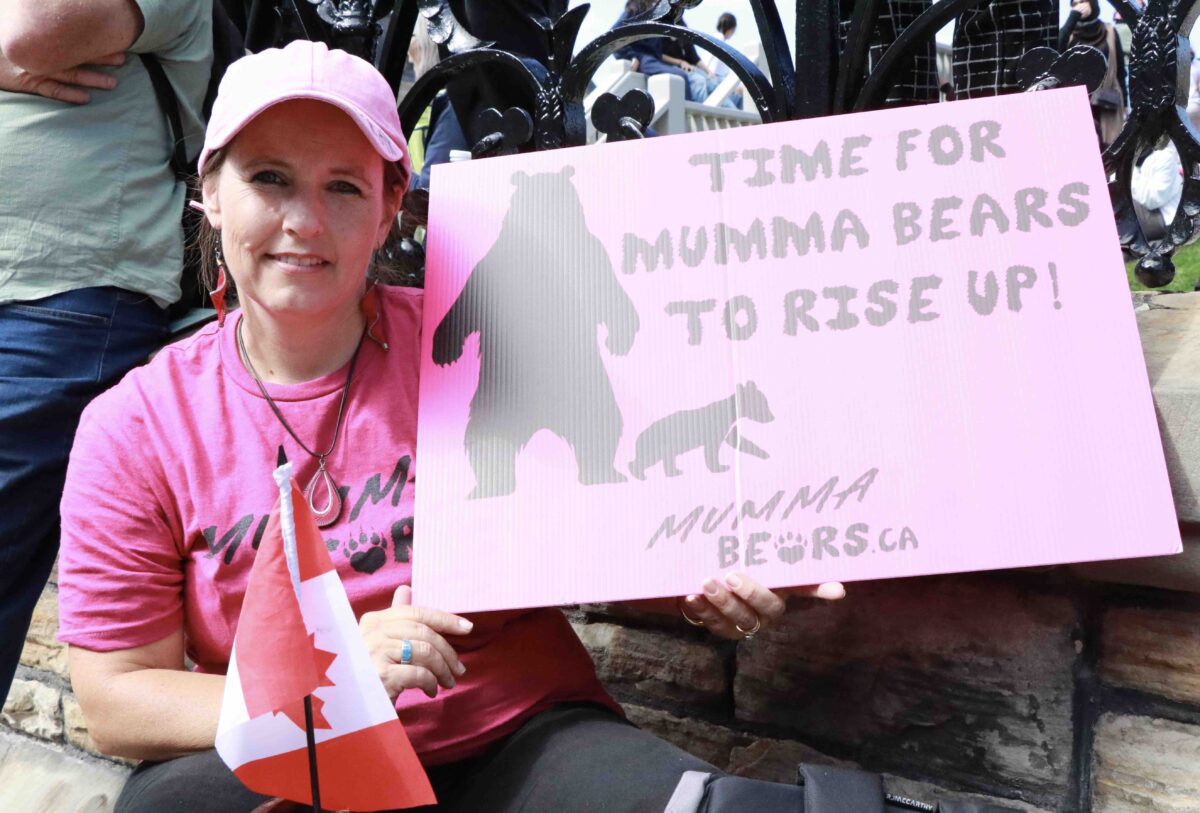 Protesters and counter-protesters squared off in difference cities across the country.
The current sexual education curriculum in Ontario was put in place by Premier Doug Ford in 2019. This decision was controversial as it gave parents the ability to opt their children out of sexual education and increased the age children were taught about gender identity.
Although the protest only lasted a day, the debate around the inclusion LGBTQ curriculum is not leaving public eye anytime soon.
---
More Stories