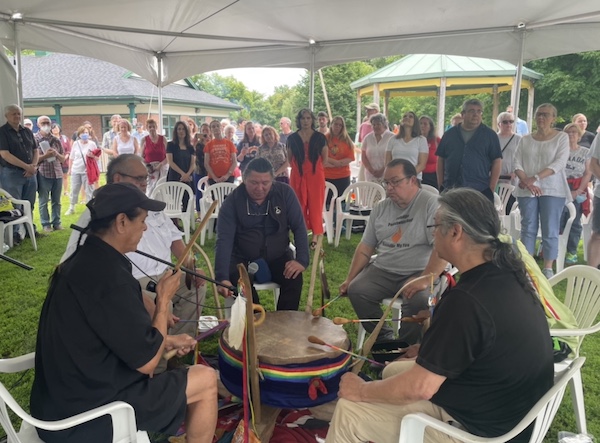 While many were marking Canada's 150th birthday this past weekend, the Algonquins of Pikwàkanagàn First Nation were also remembering a hero of the War of 1812 and a leader of their people.
Chief Wendy-Anne Jocko said she was full of pride on Friday as she walked in the steps of her ancestor, the Algonquin Grand Chief Constant Pinesi, along his historic portage route, which stretches through the heart of the Ottawa Valley.
For the first time in 200 years, Jocko was joined by other descendants of the grand chief to celebrate the first Chief Pinesi Day held at the New Edinburgh Fieldhouse on historic traditional Algonquin hunting lands in Ottawa. 
Pinesi was an ally of the British during the War of 1812 and lost sons in battle. He fought in battles in the Niagara region helping keep what is now Canada out of American hands. By 1830, he was the Grand Chief of the Algonquins in this area leading a group of 264 families. He died on Aug. 13, 1834, during a cholera outbreak after being pushed off his land by encroaching settlers.
He was the last Algonquin Grand Chief to live on this land.
"I had a real sense of pride. I often wondered why I was always drawn to the military because I knew I wanted to join and become a soldier when I was only four years old … when I found out I was a direct descendant of Chief Pinesi five or six years ago, I thought to myself well it's because it's in my blood," said Jocko, who served for 23 years in the Canadian Armed Forces.
The event featured a drum circle led by Barry Sarazin of Kitchisippirini Tewehigan, a traditional pipe song, dances and other activities.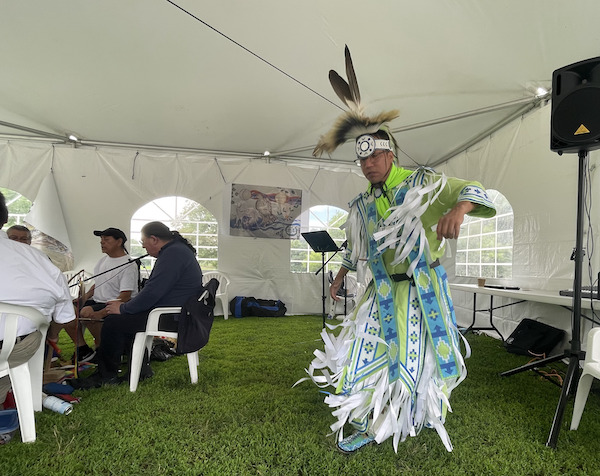 Cindy Parkanyi said her understanding of her neighbourhood's history has been changed by the event.
"This being the hunting grounds for Chief Pinesi … was relatively new, and for me, it's really been a learning experience," said the president of the New Edinburgh Community Alliance.
Parkanyi said she had never participated in any kind of Indigenous ceremony and found the day to be an emotional experience.
"(In) the New Edinburgh community, we focus a lot of our attention on the heritage of our community, and when we talk about that, we tend to think along the lines of the more recent heritage … but what's really interesting is to stretch our historical perspective," Parkanyi said.
The day also included guided walks of the territory to mark the opening of the Chief Pinesi Portage Trail, which follows an 8,000-year-old Indigenous pathway that has been revitalized by Kichi Sibi Trails, a group raising awareness about Indigenous routes in Eastern Ontario and Western Quebec.
The trail markers on the nearly four-kilometre pathway through the Rockcliffe and New Edingburgh neighbourhoods was completed in partnership with the Greenspace Alliance of Canada's Capital and support from Pikwàkanagàn First Nation.
The restoration and protection of Indigenous trails is an act of reconciliation, Peter Stockdale, founder of Kichi Sibi Trails, said.
"It's part of that shift from ownership to sharing because when the European settlers came, it was all about ownership, control and buying. On the other hand, Indigenous folks lived in distinct areas but did not own the Earth, and so it was much more about sharing," Stockdale said.
It is essential that Indigenous history is brought to the forefront of local history, Stockdale says, because "it's the truth, and there is a need for justice."
Jocko told the gathering that she believed the spirit of the grand chief was with them, recounting how she and Elder Jane Chartrand saw a crane flying overhead as they arrived at the festivities by canoe on the Ottawa River. The crane is a symbol of the Ajijaak/Zhaake dodemag or Crane clan, who are responsible for leadership in traditional Anishinabek governance.
The gathering of Pinesi's descendants is to become an annual event, Jocko said.
"I hope the community takes away that there is more to the history of Ottawa than Bytown and the colonial history."
---
More Stories