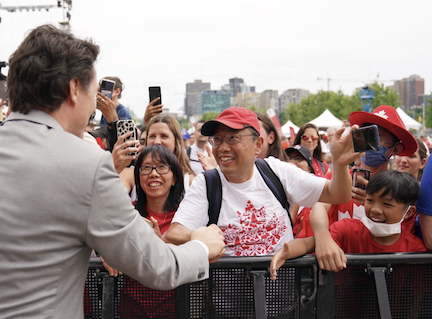 Canadians gathered in Ottawa in their thousands on Friday to celebrate and to protest as the country marked 155 years of Confederation with the first in-person national party in three years.
Crowds celebrated on LeBreton Flats in front of the Canadian War Museum with performances by musicians and speeches by politicians. Many residents were present wearing red and white amid a large presence of police and security checks. The party was to continue into the evening, with more musical performances beginning and fireworks.
Meanwhile, at another location, anti-vaccination mandate protesters were once again marching near Parliament Hill.
At about 3 p.m., hundreds of protesters waving Canadian flags gathered and then marched near Parliament Hill chanting "freedom" and calling for the resignation of Prime Minister Justin Trudeau, among others.
Nearby, some anti-convoy demonstrators assembled on Elgin Street just south of the National War Memorial.
"We've organized this [counter-protest] to stand against our Centretown being desecrated for a third time," said Clayton Goodwin, the CEO of the Veterans Accountability Commission. "We're basically here to message that we don't do this. We do not use the tomb of an unknown peer to create propaganda."
For his part, the prime minister made an appeal for unity amid a potentially divisive national in his official Canada Day address.
Trudeau said Canada's 155th anniversary offered an opportunity to embrace Canadian values.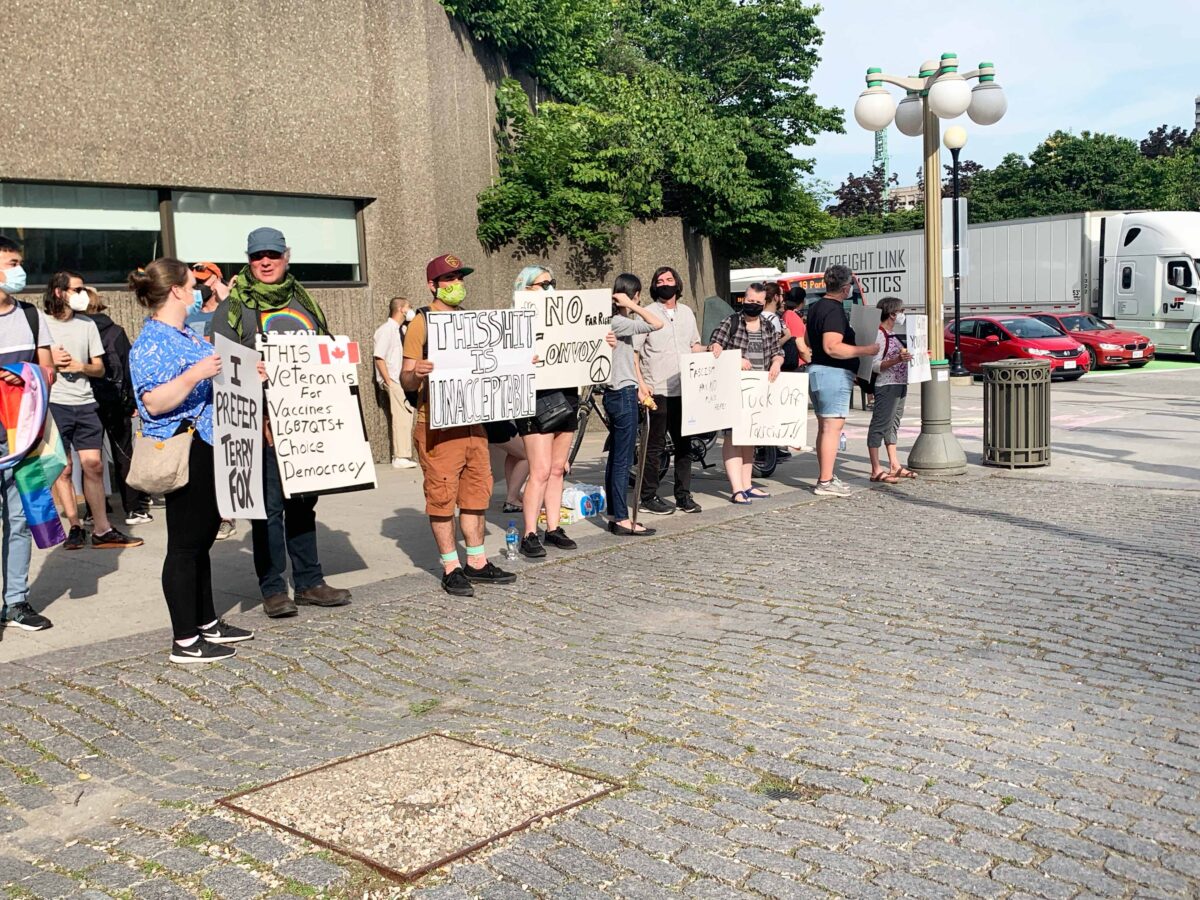 "It's also a promise — a promise of opportunity, a promise of safety for those fleeing violence and war and a promise of a better life," he said.
On Thursday, James Topp, a Canadian soldier charged in February for speaking out against COVID-19 vaccine requirements while in uniform, ended his cross-country walk at the Tomb of the Unknown Soldier in front of the National War Memorial. Topp was briefly joined Thursday on his march by Conservative Party leadership frontrunner Pierre Poilievre and by People's Party leader Maxime Bernier.
So far, city bylaw officers have handed out more than 275 parking tickets. As well, some 72 vehicles have been towed for violation the vehicle exclusion zone downtown. As well, four people were arrested Thursday night after an interaction with police near the war memorial.
In a tweet, bylaw officials said the towing occurred inside the downtown vehicle exclusion zone.
All the protesters had some concerns.
"I'm quite worried," said Chantal Sundaram, of Ottawa, who is a member of Community Solidarity Ottawa, a coalition of advocacy organizations that oppose the convoy protesers' message.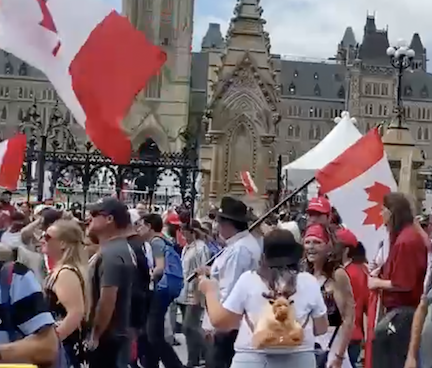 The group has been counter-protesting and has encouraged community members to get involved.
Sundaram fears protesters wishes to stay near Ottawa for the summer and for potential anti-LGBTQ2+ hate during Capital Pride in August.
Despite not seeing the same kind of severe disruption to the downtown core seen in February, she says the rhetoric of these groups is concerning.
"They're touching on real issues, but they have no solutions," Sundaram said. "These groups are trying to prey on people's concern and despair and push it in a direction that goes nowhere except hate."
She does not believe more police is necessarily the answer and said that many in the community have lost trust in the Ottawa Police for their lack of action in February's occupation.
"The city really isn't taking this threat seriously," said Sam Hersh, a spokesperson for the advocacy group Horizon Ottawa.
"The police have essentially left the entire residential neighbourhood open to being harassed by far-right organizers and their supporters – their presence is quite harmful to many."
Ottawa Police Service's Acting Chief Steve Bell says thousands of people are expected downtown to celebrate Friday while some events took place on Thursday.
Mayor Jim Watson has urged people to head downtown to celebrate Canada Day and to celebrate as they normally would.
"People in the community have greatly suffered – very much so," said Ken Rubin, a long-time community activist and researcher who started and co-chairs the Ottawa People's Commission, which is holding a public inquiry into the effects of February's convoy on residents.
"The community hasn't been asked to take the lead on this. I don't think at this point that we feel the authorities are doing enough and the inquiries have been very limited"
Rubin said he greatly supports greater freedom of expression but "not freedom of disinformation or bigotry" and wishes there could be more dialogue.
He said many in the community have lost trust in leaders, such as the police who he said, "greatly disrespected" the community during February's protests.
"What we really need is better preventative community safety, which hasn't happened yet."
With files from Capital Current staff
---
More Stories