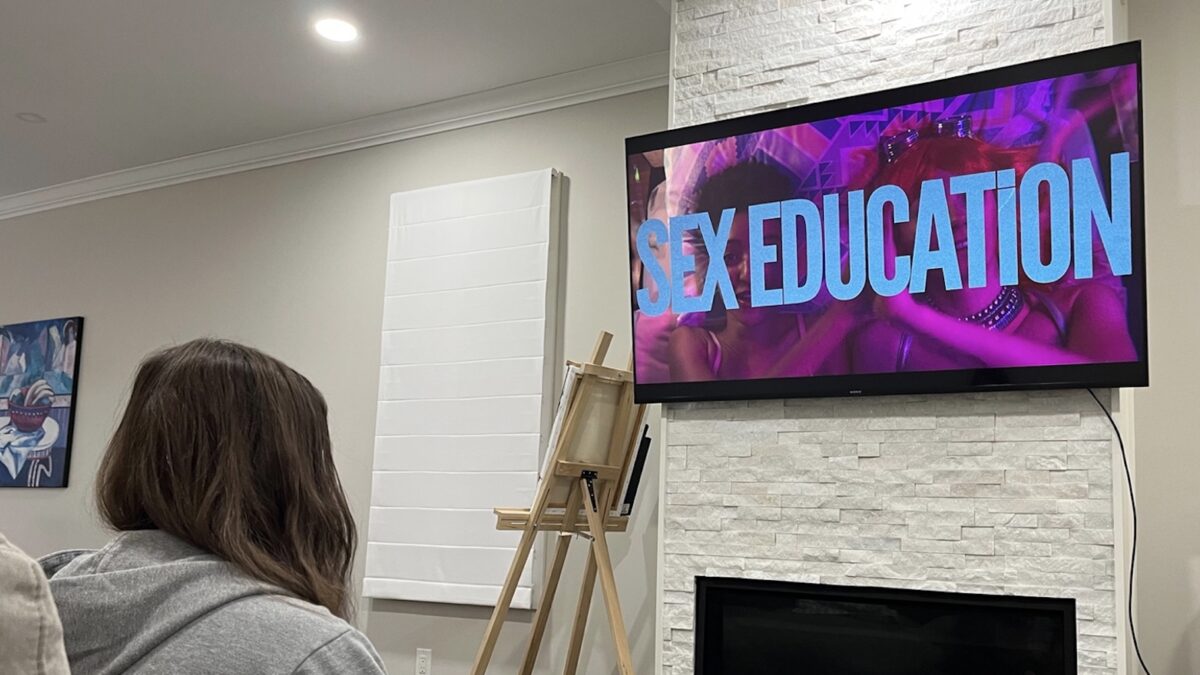 The year is 1991, and Beverly Hills, 90210 is a huge hit. On May 2, the cable network Fox airs an episode in which the main character, Brenda, loses her virginity to Dylan. No nudity is shown, the screen fades to black, and still, parents around America demanded a public apology from the network and the show's creators.
Fast forward to 2019: in the first episode of the HBO show Euphoria, teenager Jules meets up in a motel room with a man in his 40s she met on a dating site. Without her knowledge, he films them having graphic anal sex — footage that is also aired on the show. There is no public outrage and no apology from HBO. In fact, the show receives a 90-per-cent approval rating from Rotten Tomatoes critics.
In the age of streaming services, steamy content, often involving minors, is more accessible than ever. Subscription-based services such as Netflix and HBO have led to a proliferation of explicit content, available day and night – and easily accessible to children. Much of this explicit content — from discussions about sex to full frontal nudity, to masturbation and other sex acts — features minors, and many of these shows are aimed at teens and even pre-teens.
And while cable content is regulated by the Canadian Radio-Television and Telecommunications Commission, services that broadcast over the Internet don't need a licence from the federal agency, so streaming companies are largely self-regulating when it comes to explicit content.
"I like to follow the recommended age. If a show has (an age) guideline, I figure they probably researched it and found it appropriate for that age," said Paula Morris Haras, the mother of two, aged 14 and 20, from Thornhill, Ont.
Streaming services set age ratings. For example, shows such as Sex Education and Euphoria, which often air graphic sex scenes within the first five minutes, are labelled "TV-MA" for mature content, or not suitable for children 17 and under. According to the TV Parental Guidelines Monitoring Board, a U.S agency that handles complaints about ratings, the criteria for the "mature content" rating include at least one of the following: crude language, explicit sexual activity or graphic violence.
"I like to follow the recommended age. If a show has (an age) guideline, I figure they probably researched it and found it appropriate for that age."

— Paula Morris Haras, mother of two, Thornhill, Ont.
And most streaming services allow parents to create passwords to restrict content to make inappropriate content inaccessible on their children's accounts.
Parental controls and supervision work in some families: "I've seen Sex Education, but my parents didn't let me watch … other shows," such as Bridgerton, Euphoria and Big Mouth, said Dalia Cohen, a 15-year-old from Richmond Hill.
 But many teens find it easy to circumvent controls. Hannah Jacobson, 15, also from Thornhill, said she had watched these shows without asking her parents: "If I had asked … I probably wouldn't have been allowed," she said. She enjoyed the shows and did not find that they led her to act differently in any way, she added.
Tech companies have come under fire in recent years for not making parental controls more robust. For example, critics say even tweens can dodge the parental controls on Apple devices: "These are not rocket-science, dark Web sort of hacks . . . A persistent middle-school boy or girl can bang around and find them," Chris MacKenna, founder of the U.S.-based group Protect Young Eyes, told the Washington Post in 2019.
The ineffectiveness of parental controls for streamed content has drawn fire from the U.S.-based Parents Television and Media Council, which provides resources to help parents make decisions about what content their children view.
"We have been trying to hold the streaming services accountable for the lack of parental controls or inadequate parental controls," said Melissa Henson, programming director of the organization, in a phone interview. The organization often posts breakdowns of the content in a show, flagging segments that some might find inappropriate for children.
For example, the group recently posted a breakdown of scenes with graphic violence in the Netflix show, Squid Games. However, Henson stressed that the organization only provides this information as a service for concerned parents, who must make their own decisions about what content is suitable for their kids.
As streaming services continue to push the limits with racy content, much of it aimed at teens, what impact will this trend have on impressionable teens and tweens?
Girls and women model their sense of identity and sexual behaviours on those of older girls and young women — including those of female media characters, according to a 2013 report by the PTMC, which based its findings on information from medical journals and other sources.
The study pointed to "Script Theory," an idea in psychology that suggests teens use what they see on television as a script for what they should be doing and how they should be acting in their own lives. Other research supports this as well: 80 per cent of teens and young adults surveyed said they had learned about sex through TV and other media outlets, according to a 2018 study published in the journal, Health Communication. The study also found that teens learn "scripts" on how to interact socially from the media they consume.
But experts say explicit material aimed at teens is not harmful in itself: it's the context — the way sexual content is portrayed — that makes all the difference.
Laurie Betito, a Montreal-based clinical psychologist who specializes in sexual wellness and hosts the podcast Passion with Dr. Laurie Betito, says some explicit shows, such as Sex Education, can be helpful for teens because they teach them to think critically about what they want and how they will handle decisions when it comes to intimacy.
The show follows Otis, the son of a sex therapist, as he sets up a makeshift sex clinic for his peers at school. The teachers in the show simply preach abstinence, so when teens run into sexual problems, such as erectile dysfunction or understanding why sex might be painful, they go to Otis for help.
"So the nudity, or the (sex) acts are being shown within a context in the show," she said. Sex Education shows teens grappling with questions that real-life teens also face, she added: "They explore the different aspects of sexuality."
On the other hand, shows such as Euphoria show explicit content, including drug usage and non-consensual sex acts, that some fear would be harmful to teen viewers. For example, one episode shows teens McKay and Cassie having sex for the first time after McKay and his friends had seen a recording of Cassie having sex with someone else — a recording filmed without her knowledge.
Based on the video, McKay assumes that Cassie enjoys being choked, and tries it, but she immediately begins yelling and crying, and demands that he stop, ending the intercourse altogether. In another episode, one character lies about being a virgin to placate her jealous boyfriend, who later assaults her.
Emma Haras, Paula Morris Haras' 14-year-old daughter, said she watched the show against her parents' wishes. The show made her "more mature-thinking," she said, explaining that seeing it made her more aware of both good and bad sexual experiences.
"Kids who are on their own for big portions of their day, if their parents are not active, involved, if their parents are very permissive in other areas — you know, like alcohol or drugs — those kids are going to be in a higher-risk group."

— Melissa Henson, programming director, Parents Television and Media Council
However, she said it didn't make her feel any more or less inclined to seek out those experiences herself. She noted that she watched the show because her friends did, and she wanted to be able to partake in their conversations about it.
Morris Haras said she only wants her daughter to watch shows that are age-appropriate. Accessing shows with explicit or disturbing material at a young age "may open up ideas to them that they don't understand yet, because they may have not learned about (them) from their parents or in school. And maybe that will make them curious and then they may try to figure out more about it in the wrong way."
Rae Szereszewski, a sex educator based in Toronto and host of the podcast Sex with Rae, said she is concerned about the impact of explicit shows on teens. She points to the show Riverdale, which shows teens having sex, but the characters are played by adult actors, which "create(s) false perceptions of what teenagers are supposed to look like and be doing . . . . Because you have 30-year-old actors playing 15-year-olds, you have a generation of people thinking, 'This is what I'm supposed to look like; this (is how) I'm supposed to behave.' "
But researchers are divided on whether explicit content on TV and streaming shows really affect teenagers' sense of identity and behaviour. Christopher Ferguson, a professor of psychology at Stetson University, in Florida, said script theory is not supported by any evidence.
"If people are trying to figure out how to ask somebody to have sex, (and) people on television look like they're swag, they may try to use the same lines," he said. "(But) is a 15-year-old boy sitting around at home thinking about Jesus and doing chores and homework until they turn on the television? (And asking), 'Should I do that instead?' No, the motivation to have sex is a hard-wired biological motivation. You don't really need TV to tell you that sex is a fun thing to do."
The quality of sex education that teenagers get through school and parental guidance at home is more important than the influence of TV, he added. But for many teens, that is not enough to prepare them for the real world, he noted.
Henson agreed: "Kids who are on their own for big portions of their day, if their parents are not active, involved, if their parents are very permissive in other areas — you know, like alcohol or drugs — those kids are going to be in a higher-risk group."
In those circumstances, Betitio said, explicit shows can provide a much-needed source of answers about intimacy, if the shows present sexual material in a thoughtful and healthy way. "So where are you supposed to learn how to have the conversation about safe sex? How to have the conversation about consent? How to … (ask), 'Hey, tell me what you like; tell me how I could pleasure you?' "
"Every teenager should watch Sex Education, in my opinion, because they do talk about a wide variety of topics that you're not going to learn anywhere else, and every episode ends with a healthy solution. And it shows the messiness of real life. It's the most nuanced look."

— Rae Szereszewski, Toronto-based sex educator and host of the Sex with Rae podcast
While some shows portray sex in a way that is exploitive and potentially harmful to teens, those that portray explicit material in a healthy way can help teens develop a strong sense of who they are and what they want, research suggests. A 2021 study conducted for a Master's thesis at the University of Delaware found that, after viewing sex-positive shows where the characters used condoms, teens said they were more likely to use them themselves. But the opposite was true for teens who viewed shows where the characters refused to use protection.
Many experts point to Sex Education as a model for sex-positive content and a supplement to sex-ed at school and from parents. It is also realistic, Betito noted: "You have teenagers that are engaging in casual sex, you have others that are within relationships, you have gay relationships, (you see) how they navigate their sexuality."
Szereszewski agreed: "Every teenager should watch Sex Education, in my opinion, because they do talk about a wide variety of topics that you're not going to learn anywhere else, and every episode ends with a healthy solution. And it shows the messiness of real life. It's the most nuanced look."
From a parent's point of view, Paula Morris Haras said that education is the most important consideration, adding that if her daughter "has a lot of questions, I hope that she will ask me or her older sister, and not just try to figure them out."