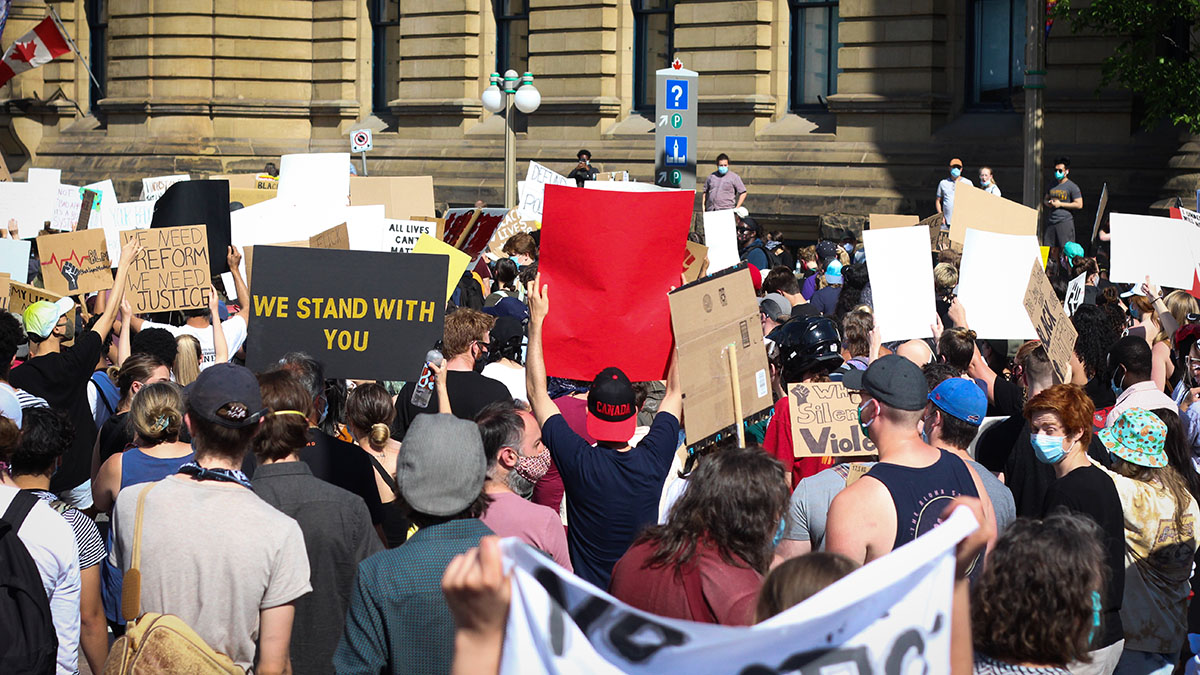 On a hot Friday afternoon in Ottawa in the midst of a pandemic, thousands of demonstrators gathered on Parliament Hill before marching along downtown streets to protest the death of a Black American, to decry police brutality, systemic racism and to push for the protection of Black lives everywhere.
Ottawa's June 5 demonstration was held after waves of protests against police brutality across the United States over the past week. The U.S. protests, which have led to solidarity marches worldwide, were sparked by the death of George Floyd, a 46-year-old Black man from Minneapolis whose violent arrest and death on May 25 was captured on video that has shocked and angered people around the globe.
About 7,000 people gathered for the Ottawa protest in spite of concerns about the COVID-19 pandemic. They heard several speakers from the local Black community condemn Floyd's death and call for an end to police violence targeting people of colour. Chants of "no justice" were answered by responses of "no peace" while portable speakers blasted music for the crowd.
The noise from the demonstration was only interrupted by a poignant, eight-minute and 46-second silence — the length of time that former Minneapolis police officer Derek Chauvin knelt on Floyd's neck as the increasingly distressed man repeatedly cried out: "I can't breathe."
Chauvin now faces a second-degree murder charge. Three other officers involved in the arrest have been charged with aiding and abetting murder.
The protesters in Ottawa were peaceful and co-operative, allowing medics to move through the crowd to reach those overcome by heat on what proved to be a scorching Friday afternoon. Volunteers handed out bottles of water, hand sanitizer and face masks.
While the event went ahead without serious incidents, it had faced criticism from some community organizations that the rally organizers had not done enough to ensure protesters' health and safety amid the coronavirus pandemic.
#Ottawa Concerns about March taking place tomorrow June 5th. pic.twitter.com/Sgp5IgmiE5

— Ottawa Black Diaspora Coalition (@DiasporaOttawa) June 4, 2020
But the main organization representing the city's Black community, the African Canadian Association of Ottawa, strongly endorsed the "No Peace Until Justice March," issuing a statement the day before calling for a strong turnout and urging participants to observe "all recommended protocols" to prevent the spread of the virus.
"We support this youth-led initiative and strongly believe in empowering our young people to be the catalyst for positive change," the ACAO stated. "We are tired of seeing our brothers and sisters murdered in the streets, and in their homes, and watching their killers walk free."
Rallies were held in several other Canadian cities on Friday, including Halifax, Winnipeg, Toronto and Edmonton.
Canada's capital has its own fraught history of race relations between Black communities and the police. Ottawa's police department released its second report on traffic stop data by race in November 2019, showing that the police disproportionately stop Black and Middle Eastern men compared to other racial groups.
But for many, the death four years ago of a Black man in Ottawa police custody is viewed as this city's George Floyd incident. Somali-Canadian man Abdirahman Abdi died after a violent altercation with police outside of his Hintonburg home in July 2016. He was being pursued by police after an incident at a nearby coffee shop, and was described by his family as having mental health issues.
Abdi's death — which sparked a series of public rallies and repeated calls for improved relations between Ottawa police, the city's Black community and all of Ottawa's visible minorities — led to a manslaughter charge against the main arresting officer in a court case that was interrupted by the public health crisis this spring.
Earlier this week, ACAO representative Sahada Alolo — who is also co-chair of the Ottawa Police Community Equity Council — told the CBC she was "disappointed" when Ottawa Police Chief Peter Sloly, the city's first Black chief, did not reference the Abdi case when he issued a statement about George Floyd's death.
"We also lost a life here, and I would have liked him to mention it, not to be afraid to mention that we've had that happen here and mention the person's name," Alolo said. "It has happened here before and it's likely to happen here again. We are not immune to it."
At Friday's protest, Capital Current reporter Eden Suh spoke with a man standing near the intersection of Wellington and Metcalfe, close to the gathering on Parliament Hill.
Richard, a Black man who asked not to provide his full name for personal safety reasons, said it was a necessary to join in the rally despite the health concerns raised by physically gathering during a pandemic.
"It shows where the people's hearts are," he said, "because we're willing to risk our lives for a cause."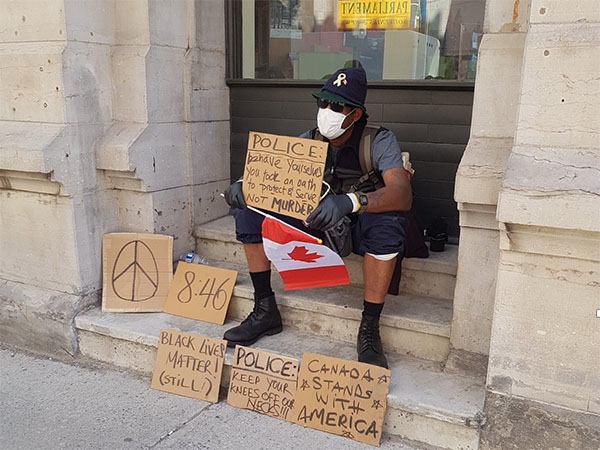 Another protester, who also requested that her name not be published, said there has never been a movement as strong as this in Ottawa before. The Black woman said she has lived with racism in Canada for many years, including being stopped by police regularly when she drove her car while living in Gatineau.
Prime Minister Justin Trudeau attended the protest on Parliament Hill and knelt during the eight minutes and 46 seconds of silence. Ahmed Hussen, the minister of families, children and social development, and Defence Minister Harjit Sajjan were also in the crowd.
The prime minister's appearance at the demonstration followed international attention over his awkward, 21-second pause during a media briefing this past week when asked his views about U.S. President Donald Trump's condemnation of protestors in the U.S. Trudeau did not answer directly, but spoke generally about the problem of racism in the U.S., Canada and beyond.
In the past, Trudeau has admitted to acts of anti-Black racism, including wearing blackface and brownface on multiple occasions.
After the rally on Parliament Hill, protestors moved en masse east along Wellington Street and south along Elgin Street before reassembling for further demonstrations near the Human Rights Monument and Ottawa City Hall.
With files from Eden Suh