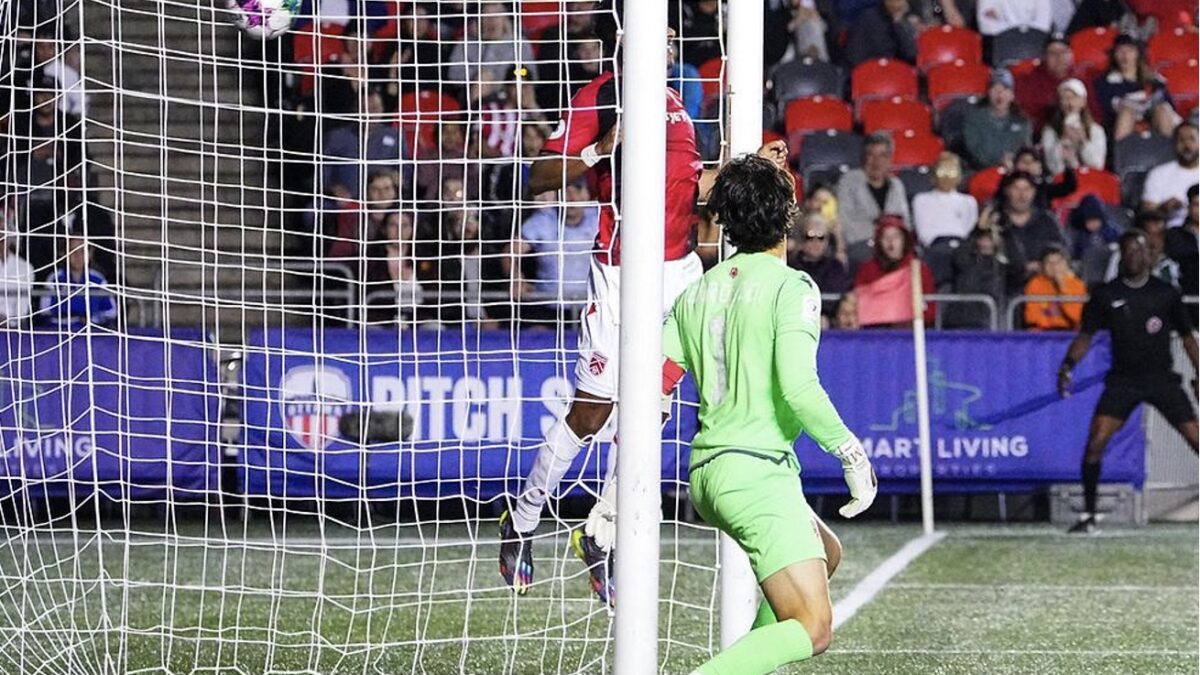 Atlético Ottawa's undefeated streak at home is over. The team lost to Cavalry FC in devastating fashion at TD Place Stadium on Sept. 2, conceding in the dying minutes of the match to the visitors.
It was only Cavalry's third win in 12 meetings against Ottawa in the short history of the Canadian Premier League. Calgary's head coach Tommy Wheeldon Jr. was exuberant about it.
"I think the adrenaline's still coursing through my veins," Wheeldon told reporters after the emotional victory, which strengthened Cavalry's hold on first place. "That was a hell of a match — both sides. They've scored an incredible equalizer that you think has got them a point, and we knew that we had a moment when Maël Henry came in, we knew Willy Akio has been on form, we knew something could happen."
In the eighth minute of stoppage time, a free kick into the box fell to Henry. He passed it into traffic, where it found Akio, who turned in a tight area to open up space before slotting the ball into the bottom corner of Ottawa's net.
The home crowd fell silent as they witnessed the loss of three points.
The late win extended Cavalry's lead atop the CPL table to four points. Meanwhile, Atlético Ottawa fell to fourth place behind Cavalry, Pacific and Forge, with the fifth-place Halifax Wanderers nipping at Atlético's heels. (Editor's note: Halifax plays York United this afternoon at 2 p.m. ET.)
Ottawa seemed to be walking away with another draw on Saturday thanks to Luke Singh's brilliant, acrobatic volley — off a Carl Haworth corner kick — to tie Cavalry in the 88th minute. But Atlético, who are normally very cohesive and strong at the back, couldn't hang on to secure the crucial point in a tight playoff race.
Possession was even at 50 per cent each, but Cavalry was on the front-foot for the majority of the match. They outshot Ottawa 13-5 and had three shots on target to Ottawa's one.
Cavalry opened the scoring less than a minute before halftime, never a good time to give up a goal. Calgary defender Jesse Daley intercepted a pass by Malcom Shaw, dishing it off to Sergio Camargo who ran around Ottawa goalkeeper Nathan Ingham, sending a quick strike inside the near post.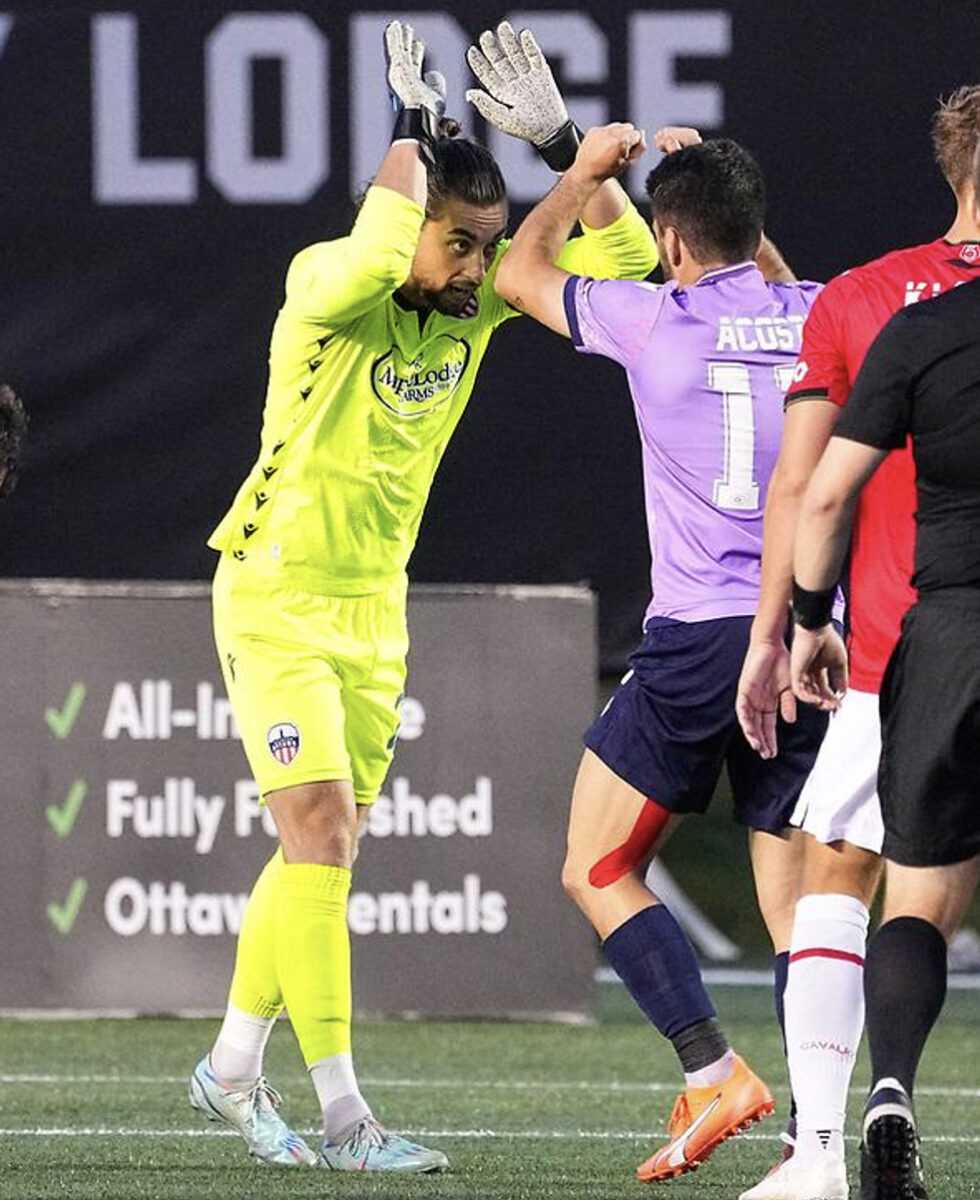 In a post-match interview, Camargo credited the win to doing things "the Cavalry way," which Wheeldon described as his side becoming a "new Cavalry, with old values."
"I can't give you all our trade secrets, but a big one for us is unity, belief, competitiveness," Camargo elaborated. "We trust in our coaching staff and our scouting system to bring in the talent. It's up to us to bring it all together and keep that effort and desire high every game."
Early in the second half, Cavalry defended well to protect their 1-0 lead. Their physicality and aggression made it difficult for Atlético.
Atlético's transition attack was nullified, allowing Cavalry to control the game for large periods of time.
Still, Atlético demonstrated resilience. The team was able to turn things around in the later stages of the second half and fight back into the match. For the final 25 minutes, Atlético controlled possession and created the better scoring chances, including the attack that won Ottawa a corner in the 88th minute and led to the tying goal.
'They surprised us. The way they pressed, the way they were defending, it was an unexpected way. This creates a little bit of uncertainty in how we play, how to break them down, how to get into the correct areas.'

— Carlos González, head coach, Atlético Ottawa
After the match, Ottawa head coach Carlos González admitted that Cavalry's tactics, especially their strong press, caught his players off guard and thwarted their game plan.
"They surprised us," González said. "The way they pressed, the way they were defending, it was an unexpected way. This creates a little bit of uncertainty in how we play, how to break them down, how to get into the correct areas."
He added that Cavalry was hungrier from the jump, pressuring him to adapt.
"Their plan was a little bit different to what I was expecting," he said. "I felt that at halftime we did two subs and changed small details, and we equalized everything again. We started to see a better plan, a better map of what was going on in the field."
The halftime substitutions paid off, helping Ottawa control the ball more. And the slight formation change allowed Ottawa to be more resistant to Cavalry's press and more effectively advance the ball up the field.
González said executing all the small details are critical in order to close out a match to get a good result, and he said he was disappointed not to come away with a point.
Defender Karl Ouimette, who led Ottawa with four clearances and finished with three tackles — the second most on the team — said conceding a late winner stings.
The defeat "hurts, but that's the most spirit, heart and fight I've seen from the guys," Ouimette said after the game.
González credited the raucous crowd of more than 5,200 people at TD Place as one reason why Ottawa were the better team for most of the second half.
Atlético visit British Columbia on Saturday, Sept. 9 for their next match against Vancouver FC, currently sitting last in the eight-team CPL. Ottawa's next home match is on Wednesday, Sept. 13 against second-place Pacific FC.
With six matches remaining, Atlético enter a crucial part of their 2023 campaign. They'll need a full team effort every week and some huge wins to lock down a top-five playoff spot and compete for the league title when post-season competition begins in October.
---
More Stories