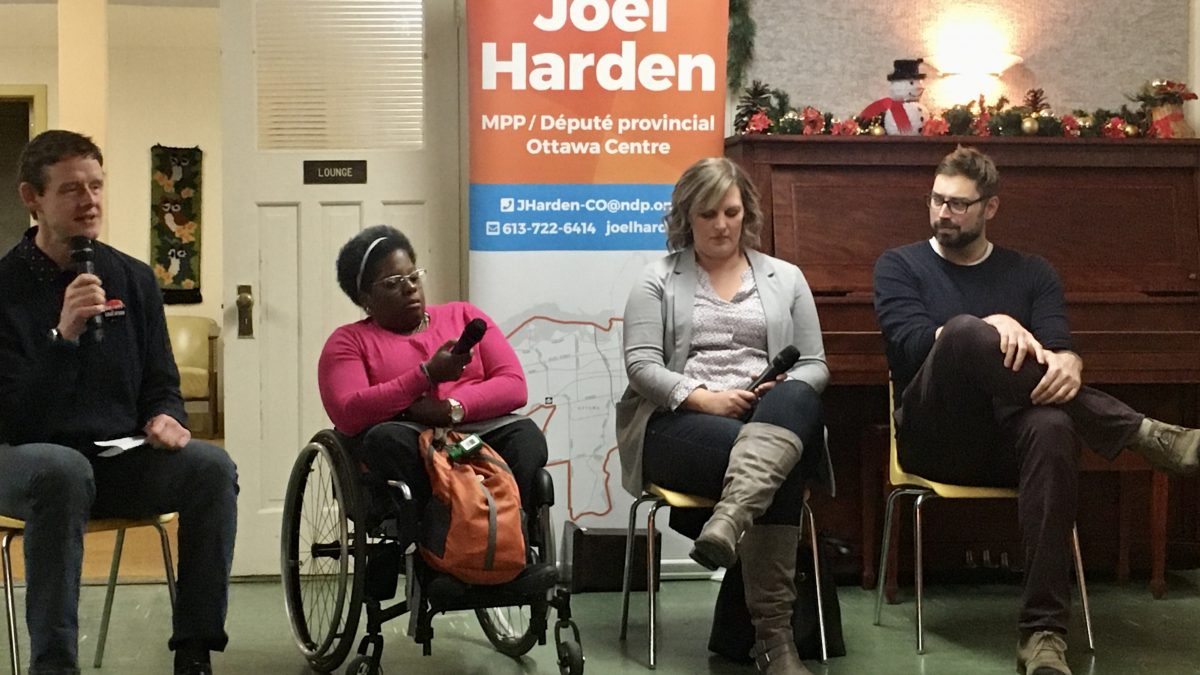 Ottawa Centre MPP Joel Harden raised the idea of a no-fare public transportation model and citizen transit commissioner Sarah Wright-Gilbert decried the lack of bus service to support the new LRT network as more than 120 people gathered for town hall session on the capital's problem-plagued transit system.
The event late last month was organized by Harden — Ottawa Centre's NDP member of the Ontario legislature — and held at Centretown United Church on Bank Street.
Capital Coun. Shawn Menard and Para Transpo activist Sally Thomas were the other panelists at the meeting, the first in a series of planned NDP-sponsored public discussions about environmental issues.
Wright-Gilbert has angered city officials with her public criticism of the botched LRT rollout and OC Transpo's decision to scrap so many bus routes before the light-rail system was running efficiently.
She has expressed concerns with the over-crowding at stations and on buses and trains. She told the audience that she was recently shoved violently while on public transportation.
"Until we address the fact," she said, "that there are less buses running to these terminus (LRT) stations — resulting in it being less convenient for people to actually get to the train — I think that we are going to continue to see a declining ridership."
Harden said public confidence in the transit system has plummeted after a series of LRT shutdowns and delays that followed the opening of the Confederation Line in September.
"What I know is that moms and dads are being stranded from getting their kids at the end of the day. People feel unsafe," said Harden. "A lot of people, like my friend Sally (Thomas), don't feel like they can actually even utilize the systems that we have. These are things we should fix right now.
"And then, aspirationally, we need a better-funded public transit system — and if we get a better-funded public transit system, we can reduce or eliminate fares," said Harden. "We can put more buses on the road. We can encourage people to get out of their cars and get onto the bus or train."
Thomas graded the LRT system a "C" for accessibility — prompting some members of the audience to suggest even that was too generous.
Thomas added she wants better overall service for those with disabilities and more co-operative seating for those using walkers, strollers or service animals.
Justin Kelly, who runs the Twitter account Occasional Transport, countered that suggestion, saying it would be counterintuitive to have more seats for those with disabilities when they fall in the minority of the general population.
"I think the only thing they can really fix immediately is communication," said Kelly, adding that meetings like the town hall was a great place to start.
At one point during the discussion, an audience member shouted:
"Transit isn't a business. It is a service!" The whole room cheered upon hearing this.
Angus Wright, an OC Transpo bus driver, said he hopes people will still be kind to their drivers despite the lack of bus service.
"This mayor and this union, literally everybody who has accountability, they're speaking to the suburbs — and so these are people who are only a little minorly aggravated and they hop in their car," said Wright.
Wright said the parallel bus service, with routes running alongside the LRT system, should have remained in place longer after the light-rail launch because it would have created fewer problems and provided better backup service.
Menard said he heard from the meeting that many small fixes to the transit system that would make a significant difference for riders.
"I want to see a highly efficient, reliable and climate-resilient transit system," he added.
Clive Doucet, a former city councillor and mayoral candidate, attended the meeting and repeated sharp criticisms he's been making of the transit system.
"If we go around the world," Doucet stated, "it would be very difficult to find a worse example than Ottawa."
---
More Stories