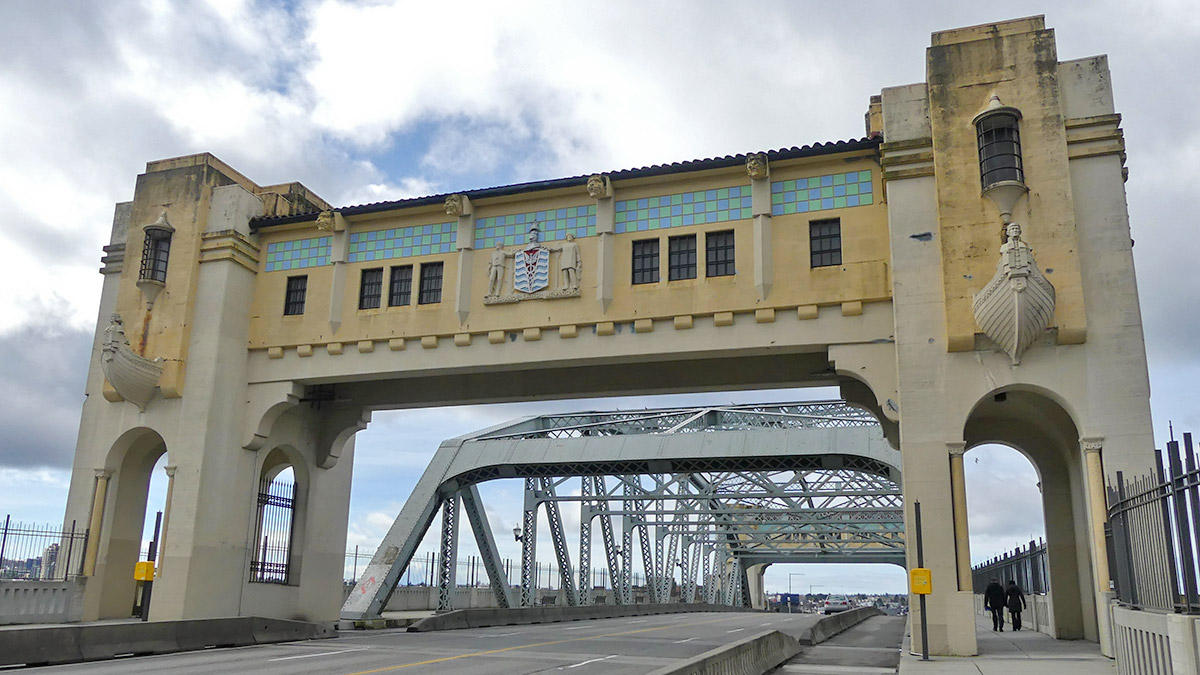 Completed in 1932, the Burrard Street Bridge stretches across False Creek to connect downtown Vancouver with the Kitsilano neighbourhood. The structure was built during a period of urban growth in the 1920s and 1930s, to link the urban core to the budding University of British Columbia and burgeoning suburbs in the south end of Vancouver.
The landmark presents a double gateway, joining two areas of Vancouver while creating a grand entrance into the inlet at the heart of the city.
Featuring grand piers and galleries to hide its central steel truss, the Burrard Street Bridge is best known for its art-deco construction. Sculpted ship figureheads of Capt. George Vancouver and British Admiral Harry Burrard Neale extend from each pier, while the City of Vancouver's crest marks the centre of the archway.
While these adornments serve as glaring reminders of Canada's colonial legacy, the Burrard Street Bridge will soon mark the creation of a new history.
Construction of a new, 12-tower housing development is to begin soon at the south end of the bridge. The Indigenous-led project, known as Senakw, will be built on a 4.7-hectare stretch of the Squamish Nation's land.
While Senakw will see the creation of 6,000 new homes, the buildings will only cover 10 per cent of the site. Large expanses of public green space will surround the compact towers, reflecting an innovative urban design that departs from the glassy uniformity of Vancouver's cityscape.
Senakw's architects also envision the construction of a rapid transit terminal on the Burrard Street Bridge, to be accompanied by a bike and e-bike garage to encourage sustainable transportation.
The Senakw project isn't without controversy. According to CBC News, there are concerns about the development's reliance on public transit, since parking will only be allotted for about 10 per cent of the units. Others fear that Senakw's high-density buildings will overshadow the historic bridge's iconic design. Regardless, the project will mark a major milestone for Indigenous urban planning in North America.
---
More Stories