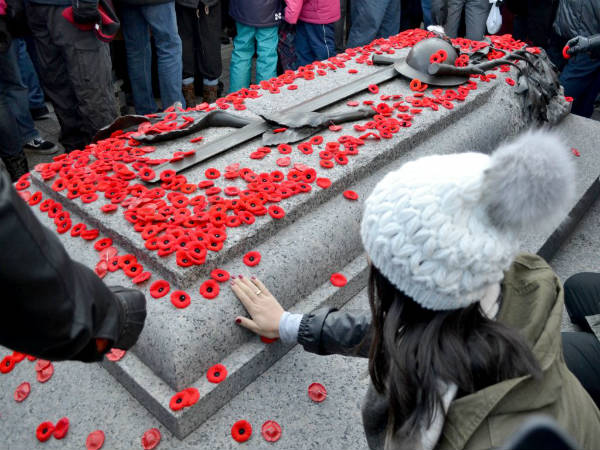 By Kira Locken
A very special Veterans Week began Tuesday night with a candlelight ceremony at the Canadian War Museum.
The ceremony, from 7 to 9 p.m. was led by Mayer Jim Watson, federal Veterans Affairs Minister Seamus O'Regan and Mark O'Neill, the CEO of the Crown corporation that oversees the Canadian War Museum and the Canadian Museum of History.
This year marks the 100th anniversary of the end of the First World War, a conflict that many scholars believe helped forged Canada's independent identity.
Here are some events happening in Ottawa during Veterans Week:
• To Nov. 11. The interactive multi-media installation The Edge of Peace takes place in Confederation Park from dusk to 10:30 p.m.
• To Nov. 11: The World Remembers: Names of soldiers killed during the last year of the First World War are projected on the Government Conference Centre daily. The National Arts Centre's Kipnes Lantern will broadcast pictures of soldiers, mothers, nurses and civilians. A free concert by the National Youth Orchestra of Germany will be presented in Southam Hall on Sunday at 12:30 p.m. This performance will featuring a song cycle that honours the people who were in the First World War.
• Nov. 10. A Matter of Spirit: 100 Years After the Great War, 7:30 p.m. – 9:15 p.m. Parkdale United Church. Featuring a composition by Canadian composer Christine Donkin, sung by Hypatia's Voice.
• Nov. 10. In Remembrance Concert 7 p.m. to 8:15 p.m. Glebe St. James Church
• Nov. 11. The Remembrance Day ceremony at the National War Memorial begins at 10:15 a.m. and ends at noon. At 11 a.m. there will be two minutes of silence. Large crowds are expected at this year's event.
• Nov. 11. Ottawa West New Apostolic Church Remembrance Day Service, 10 a.m. to noon.
• Nov. 11. Navan Remembrance Day Ceremony at the Navan Memorial Centre & Arena. From 10:45 a.m. to noon.
• Nov. 11. Bells of Peace at St. Stephen's Anglican Church, 4:30 p.m.
• Until March 31, 2019: At the Canadian War Museum, Victory 1918 – The Last 100 Days is an exhibition about five final battles of the First World War fought and won by the Canadian Corps.
Veterans who wear their medals and/or uniforms can ride free on OC Transpo, Para Transpo and STO (Société de transport de l'Outaouais) services during National Veterans' Week, to Nov. 11. Companions accompanying veterans during National Veterans' Week also ride free of charge. At O-Train Line 2 stations with fare gates, veterans and their companions can use the video-chat function at ticket machines to get through the fare gates.
---
More Stories