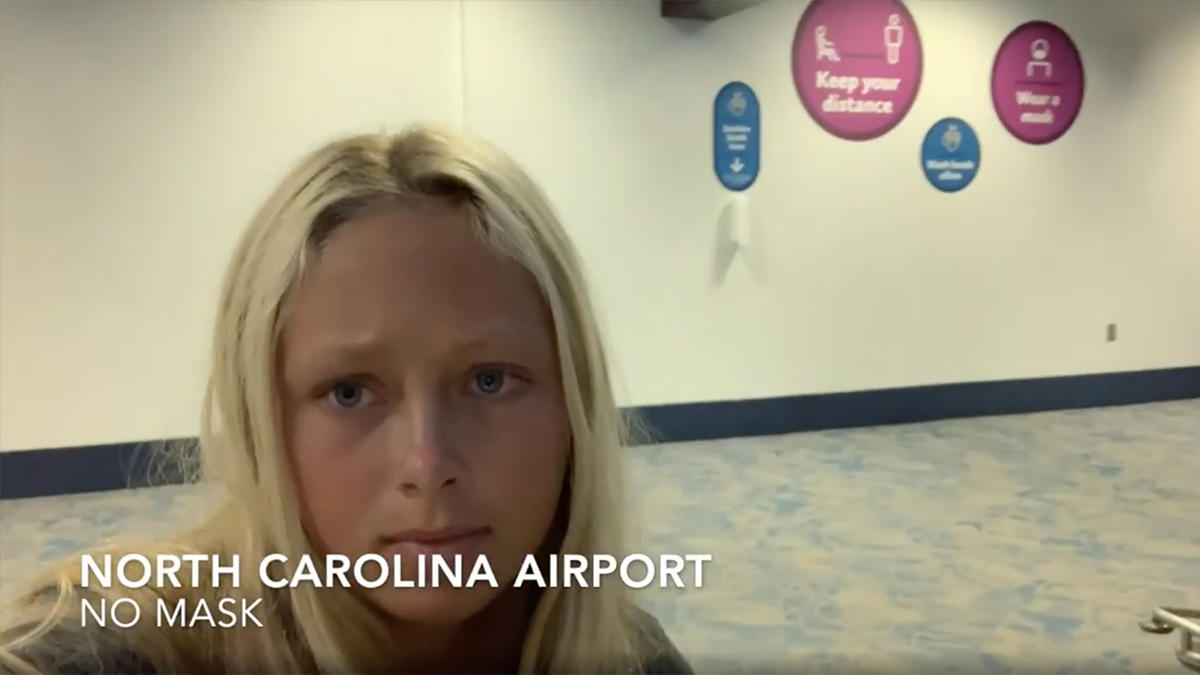 Some have called Tori Evans an inspiration, others have condemned her actions defying COVID-19 travel restrictions as ignorant and irresponsible.
The Queen's University student posted what became a viral Instagram video on March 28, showing her family returning to Toronto from the Dominican Republic. In the video, the family members are shown defying all COVID-19 travel restrictions in an effort to encourage people to "start living their lives again." This included refusing masks, COVID-19 tests and declining the mandatory quarantine imposed by the Canadian government.
The video has sparked a debate, with many viewers calling on Queen's to expel Evans from the university. While the majority of comments have labelled Evans as "ignorant" and "embarrassing," others are following her footsteps and publicly defying COVID-19 restrictions.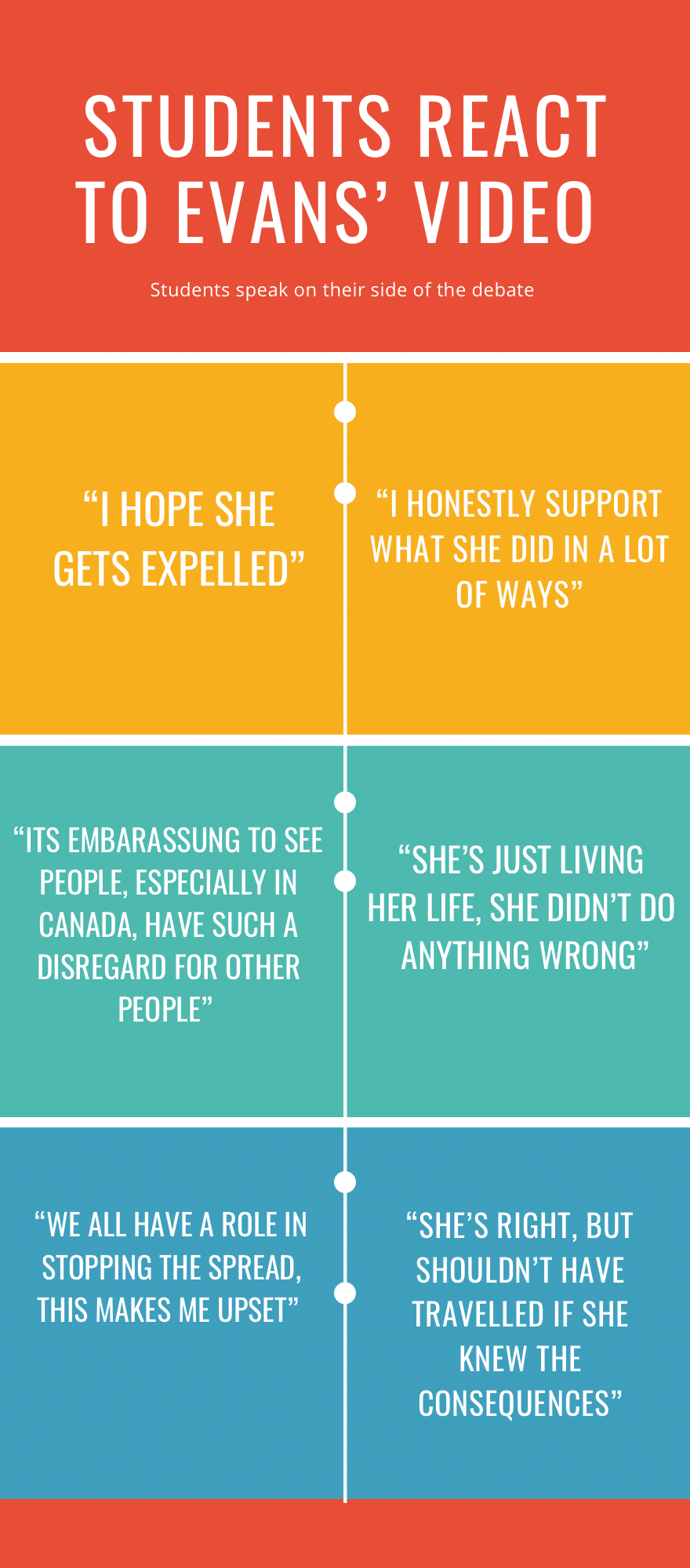 A sampling of the reaction to Evans' video indicates that one viewer supported her messaging for every 15 people who condemned it.
Evans spent more than 100 days in the Dominican Republic at the beginning of 2021 despite the Canadian government's COVID-19 restrictions on non-essential travel.
Her video — which had almost 100,000 views by early April — features Evans in three airports (in Canada, the U.S. and the Dominican Republic) showing that she is not wearing a mask. The video also shows Evans and her mother, Jolene Cheverie-Evans, arguing with Canadian border officials. A map of where she travelled is featured here.
"The purpose of this video is to encourage choice for people," Evans states in the video. The Evans family members were fined for their refusal to abide by mask-wearing rules, but they were able to return to their home in Burlington shortly after their return to Canada.
"Just because they tell you not to travel and they tell you to wear a mask and they tell you to get the test and they tell you to go into a quarantine facility, doesn't mean you have to do it," Evans stated firmly in the video.
This video gained widespread attention just as Prime Minister Justin Trudeau posted on Twitter on March 29 discouraging people from travelling and outlining the travel restrictions.
"Now is not the time to travel," Trudeau tweeted. "If you have plans to head somewhere for the long weekend, cancel them. There are other, safer ways for you to connect with your family and friends. For those who need to travel, take note of the measures that are in place when you return to Canada."
Like many Ontario students, 20-year-old Jordyn Negri was outraged by Evans' video. Negri reposted the video on her Instagram story with the caption: "Here's hoping she gets expelled," and tagged the Queen's University Instagram account.
"I felt angry when I saw the video," said Negri. "Posting something like that, blatantly violating the regulations that are in place to protect the safety of others, shows privilege and a disregard for other people."
The Wilfrid Laurier University student said she feels she is being robbed of her university experience because of people disregarding regulations.
"My third and probably fourth year has been ruined because of the pandemic," said Negri. "It's very frustrating because people like her are making this so much worse."
Another source, who has chosen to remain anonymous, said she received multiple online threats for posting that she reported the video to the Queen's administration.
"I took the step to email the Dean of Queen's because I think that this is a way to make her and her family understand the consequences of their actions. Not only did she put lives at risk, but she spread her harmful message to the rest of the world."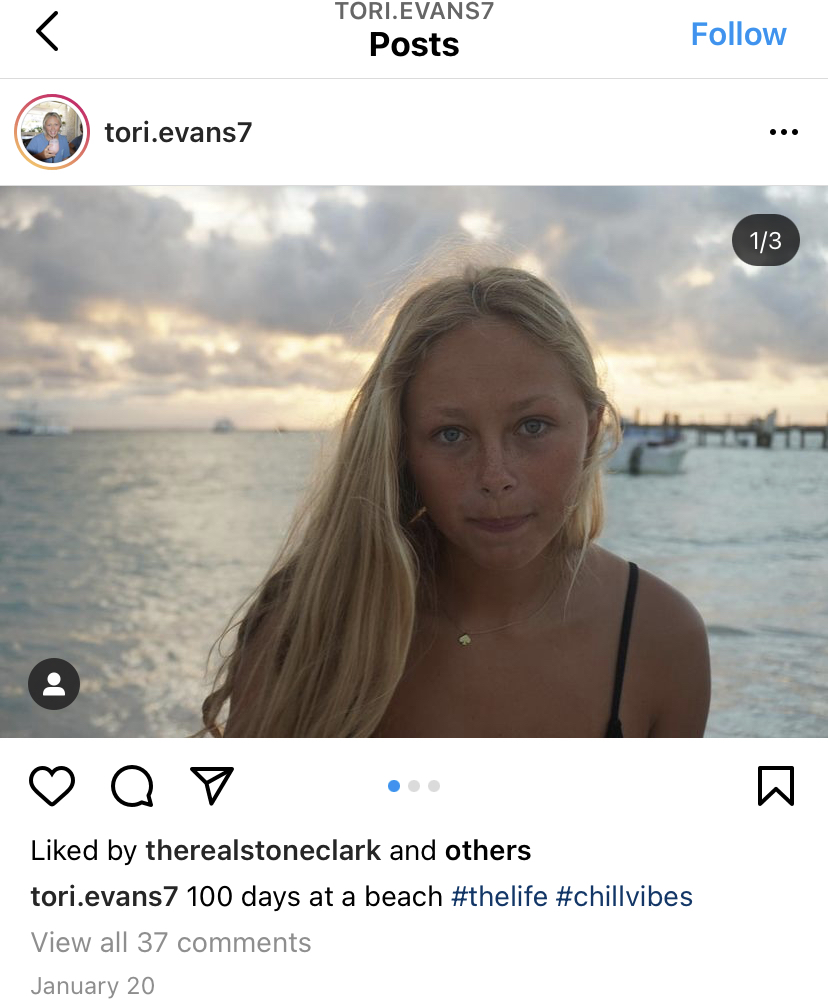 A spokesperson from Queen's University replied to the email saying: "Queen's takes its responsibility to help protect the health and safety of our community very seriously. Behaviour that puts our students and community at risk is deeply troubling and we are currently looking into this matter."
Vince Del Monte, a Canadian fitness coach on Instagram with more than 80,000 followers, commented on Evans' video in support of her message. Del Monte calls himself an "advocate for pro-medical freedom" and claims he has not worn a mask in 12 months.
Del Monte said that people like Evans are an inspiration to him and that he will be following in her footsteps by refusing all public health measures on a trip to Miami later this month.
"It was a breath of fresh air. I'm a 41-year-old, pretty built guy and I'm scared to go through the airport like that. I was so inspired to see a young girl like her doing that," said Del Monte.
Del Monte said he planned to invite Evans onto his podcast to discuss her experience. Del Monte claimed that the COVID-19 pandemic is not affecting people as much as portrayed by the media.
"Masks are a tool for control. … The media has politicized this virus and people are living in fear," said Del Monte.
Around the world, public health agencies have determined that wearing face masks is a vital measure for limiting the spread of COVID-19.
Another social media influencer, 33-year-old comedian Rob Gill from Toronto, is using his platform to spread a message much different than Del Monte's. Gill posted Evans' video to his Twitter stream with more than 30,000 followers, captioned "Meet @queensu student Tori Evans. This narcissist travelled while refusing to wear masks, take a COVID test, or quarantine. Queen's must expel her." Gill's followers reported that Evans has been seen at non-mask parties in Kingston since her return to Canada.
Outbreak at Queen's
Kingston health authorities are now working to try to manage a major outbreak among Queen's students living off-campus. About 80 students have tested positive for COVID-19, the worst outbreak the city has since since the pandemic began.
"It was disappointing to watch a young woman act so ignorantly towards health officials," said Gill. "It was upsetting that she was behaving as if she was above the law."
Gill said such behaviour places people at risk and encourages young people on social media to follow in her footsteps.
"Evans intentionally violated COVID-19 laws in Canada for the sole purpose of creating a highly edited Instagram video for clout," said Gill.
Gill is just one of thousands on social media who are calling for Evans to change her actions before the pandemic gets worse.
Since posting the video, Evans' views and followers have increased and are still climbing.
After a number of exchanges with Evans seeking comment for this story, she declined to make a statement.
---
More Stories