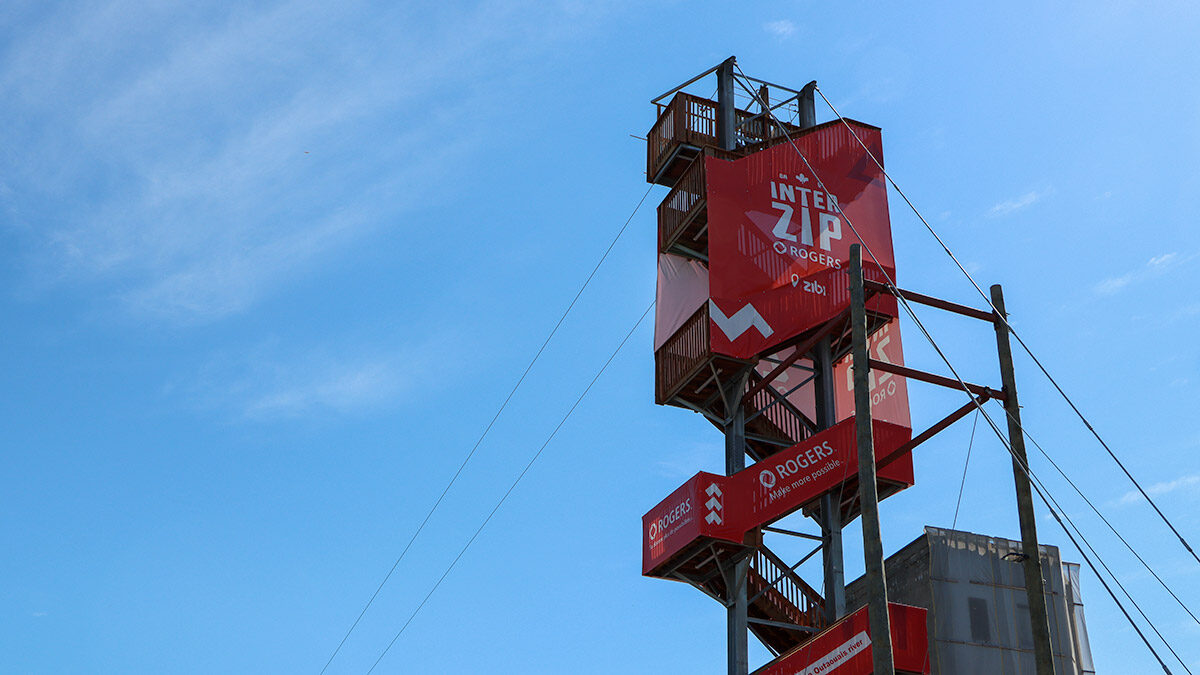 This summer, Valérie and Charles-Armand Turpin will fly across the Ottawa River 120 feet in the air.
The pair, representing their company Verval, won an auction for the first official rides on the Interzip Rogers zip line over the river.
Bidding closed June 4, with a final bid of $27,000, which will be divided between nine local charities: BGC Ottawa, Service animation jeunesse de l'Outaouais, Banque Alimentaire Service Entraide (BASE), Centre de Pédiatrie Sociale de Gatineau, Maison de la famille de Gatineau, Ottawa Riverkeeper, OrKidstra, Ottawa Senators Community Foundation and The Algonquin Way Cultural Centre.
"It was an obvious partnership and a great fit from the beginning," said Chloe Hillier, the director of philanthropy for Ottawa Riverkeeper.
"Our work is all about the river," said Hillier, "and the zip line goes directly across this beautiful waterway that we have connecting the National Capital Region."
Hillier hopes the zip line reminds people the river running through Ottawa and Gatineau, connecting two provinces, is part of one watershed.
The Turpins' winning bid was far higher than Hillier was expecting.
"I have a feeling it was partly because they knew that there were charities that were going to be benefiting," said Hillier.
It was exciting to watch the bids climb higher, said Jonelle Istead, the chief advancement officer of BGC Ottawa. She's grateful for the community support from the Turpins.
"I want to say thank you to them very much," said Istead. "I think it means even more now during COVID. So many people are struggling, and so what we've been amazed by is how — even as people struggle — they're still thinking of the BCG Ottawa."
The idea to auction off tickets came after media interest about who would be the zip line's first official riders, and a desire to benefit organizations in Quebec and Ontario.
"I think it was a good decision," said Alex Van Dieren, one of the zip line's cofounders – especially considering how much money was raised.
The first official rides will kick off with an opening ceremony and press conference, champagne and souvenirs.
"The day after the press conference, whenever that day will be, will be the first day of operation for the public," said Van Dieren.
Zip line riders will cross the Ottawa River, travelling 40 kilometres per hour.
"It's a thrill ride," said Van Dieren.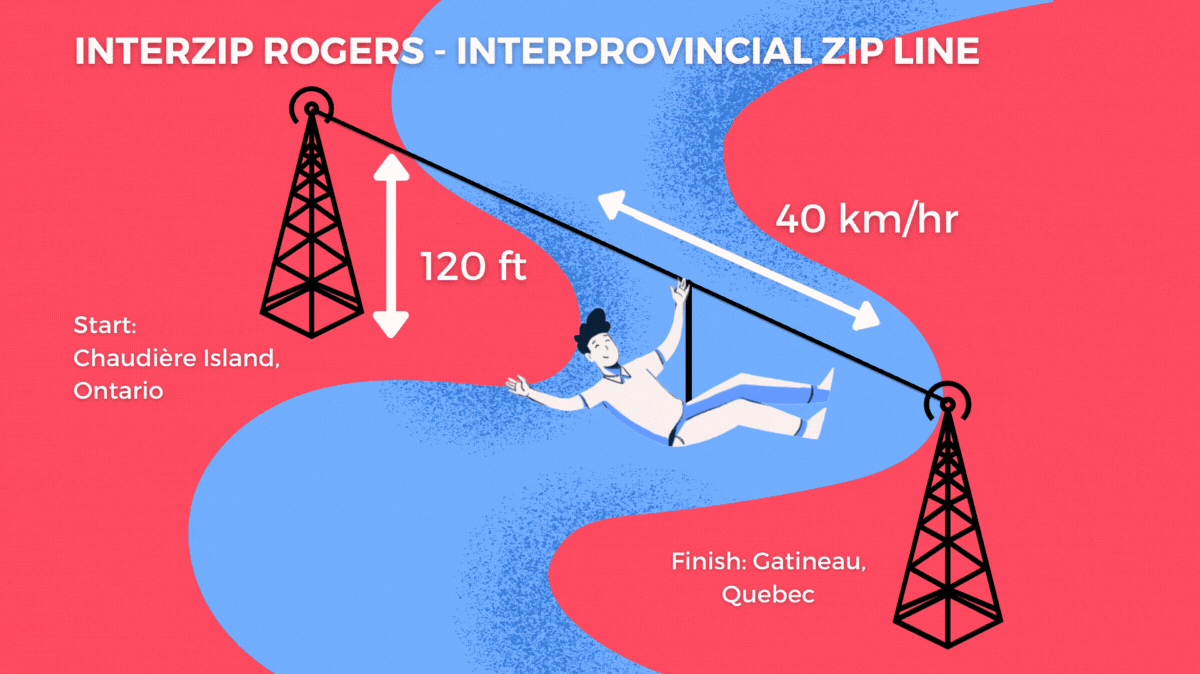 The zip line fits under phase one of Ontario's reopening plan, said Van Dieren, but the border crossing poses another challenge.
The zip line can't operate until both provinces allow their residents to cross to the other province, Van Dieren said. The border between Ottawa and Gatineau remains closed until at least June 16.
"We'll be following all the most strict rules on either side," said Van Dieren.
That will include wearing a mask at all times, aside from the ride itself.
"I feel pretty comfortable because it's not like we're going to be all scrunched together," said Patrice Chen, who won a pair of free tickets through a Facebook giveaway.
She's zip lined before and likes the adrenaline but says she's most excited to cross the river and see it from a different perspective.
"I'll have to see how it is once I do it, but it sounds like something I'd like to try with my friends and family again," said Chen.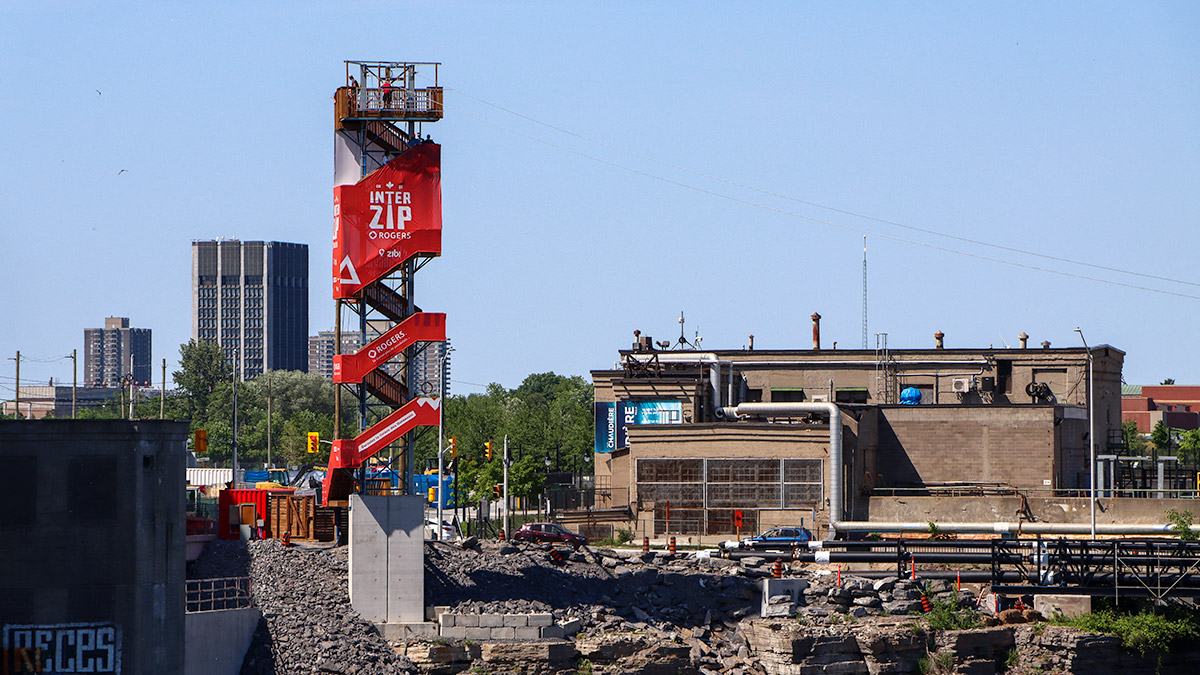 Each of the zip line's two cables will carry one rider at a time, meaning riders won't be in contact with anyone.
"Because we have a two-cable system, people can ride together as child and parent, they can ride as a couple, as friends," said Van Dieren.
The zip line is probably one of the nicest ways to see Chaudière Falls, Portage Bridge, Parliament, and the river, said Van Dieren: "The view from the launch tower on the Ontario side is just amazing."
---
More Stories