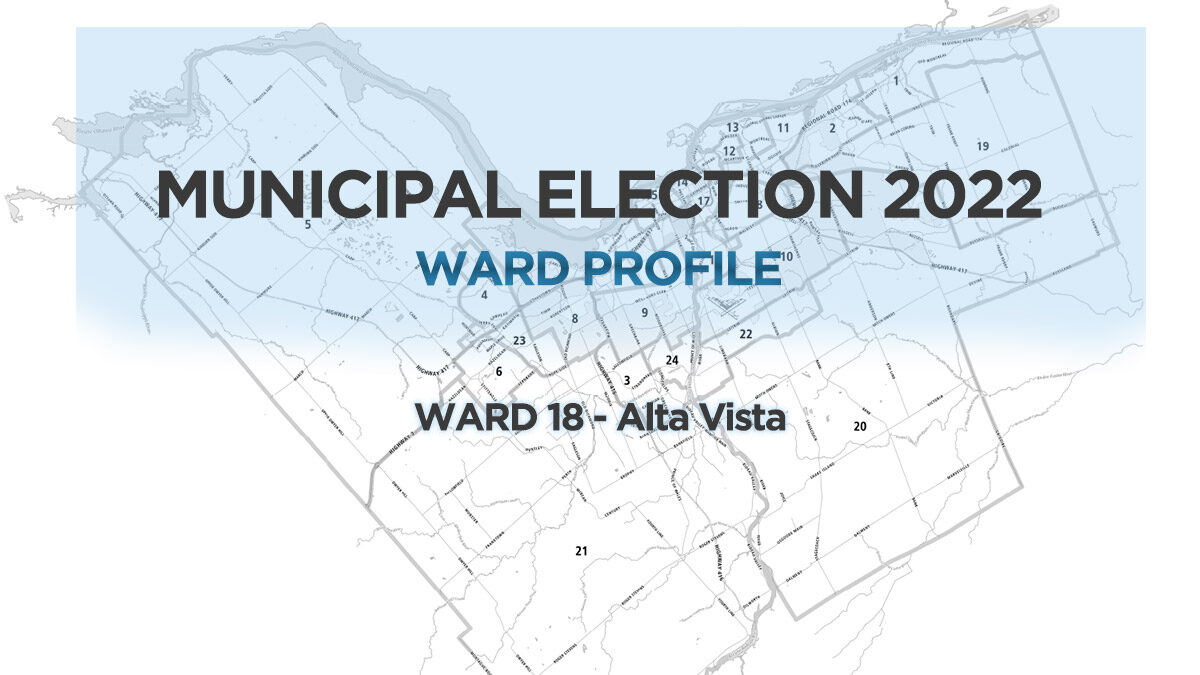 Where is it?
The broad boundaries of this ward are Tremblay Road and Highway 417 to the north, Walkley Road to the south, Bank Street and the Rideau River to the west and part of Highway 417 again in the East.
Who's running?
Incumbent Jean Cloutier is not seeking re-election. The four candidates who want to replace him are Marty Carr, Carolyn Kropp, Bob Perkins and Angelo Gino Scaffidi. For information on how to vote, go to the City of Ottawa website. The election takes place on Oct 24.
Demographics at a glance:
According to the 2016 census, the population of the Alta Vista ward is 42,410. The largest age group in the ward is 20 to 24 (8.5 per cent of the population). Those aged 15 to 64 make up 67.3 per cent of the population; just 1.7 per cent of the population is 65 and over.
About 57 per cent of the population is of European origin. Seventy-eight per cent of residents speak English at home; 16.5 per cent speak French while 3.1 per cent identify as bilingual. Arabic is the most common language after English and French, spoken by 6.4 per cent of the population.
One key issue:
Access to affordable housing, and specifically the maintenance of housing units, has stirred controversy. Timbercreek, now known as Hazelview Investments, has faced criticism over the evictions of many residents from 2016 to 2018 to tear down units and make room for other forms of housing. Cloutier, the outgoing councillor, says 1,000 of the new units must be affordable.
Some local landmarks:
The ward is home to the Billings Bridge mall, the Ottawa train station, the Children's Hospital of Eastern Ontario, (CHEO) and The Ottawa Hospital General Campus.
---
More Stories