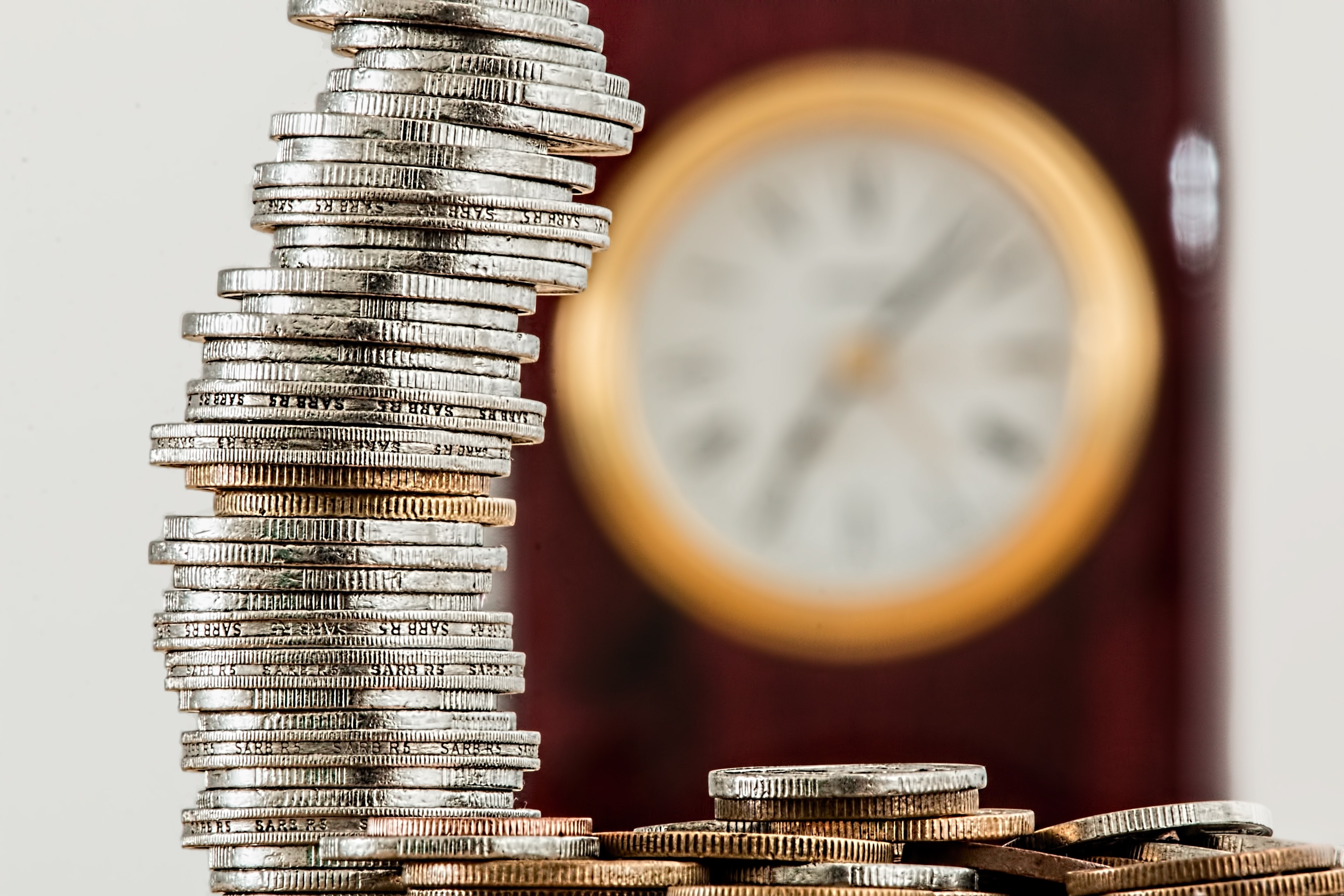 Last week, a Capital Current Instagram story featured a three-part piece explaining the main financial assistance benefits available to Canadians struggling as a result of COVID-19. This article breaks down that information.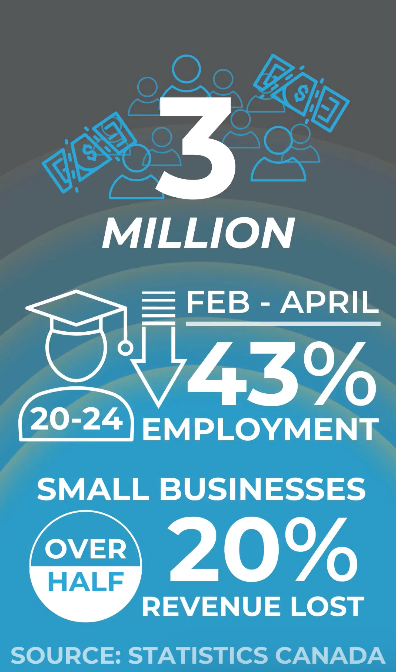 First, a little background about the economic strain placed on Canadians because of the COVID-19 pandemic. Since March, more than three million Canadians have lost their jobs or had their hours reduced, according to Statistics Canada. Students and small businesses have been hit particularly hard.
The federal government has set up several benefit programs to assist people struggling during the COVID-19 pandemic. Let's break them down.
First are the benefits designated for individuals and families. This brings up the question: What's the difference between Employment Insurance and the Canada Emergency Response Benefit? They're both designed to help Canadians who've lost jobs, are unable to find work or can't work because they're sick.
EI is a pre-existing benefit that provides temporary support to Canadians who are unemployed.
For Canadians who lost work because of measures to slow the spread of COVID-19, the government has created the Canada Emergency Response Benefit.
This CERB is designed for Canadians whose income was specifically affected by COVID-19. It helps people who lost hours, lost their job, or were looking for a job before the pandemic.
To be eligible for the benefit, the applicant must be at least 15 years of age and residing in Canada. As well, they must have stopped working either because of COVID-19, or they are qualified for EI benefits. Additionally, if their EI benefits ran out or will run out at any time between Dec. 29, 2019 and Oct. 23, 2020, they can apply for the CERB. The third qualification is that they earned at least $5,000 in the 12 months before the application period. Finally, to qualify, you can't have chosen to leave your last job voluntarily.
Application for the CERB can be done through Service Canada or the CRA website. Just make sure to only apply through one of these options!
The CERB pays out $2,000 during each four-week period of eligibility. As long as the applicant meets the qualifications, they won't need to pay the benefit back. Applications can be submitted for the current period, as well as for any previous periods when the individual met the qualifications but didn't apply. Applicants need to reapply for each four-week block.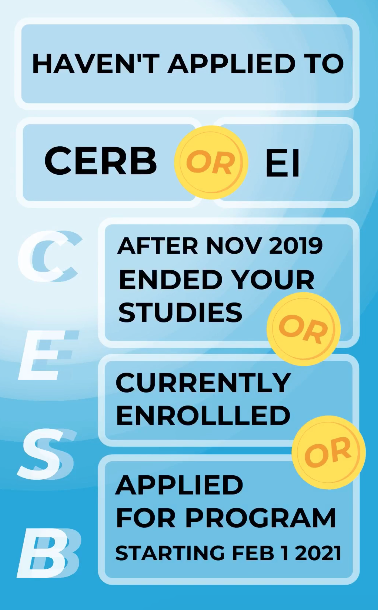 The next benefit is designed for university and colleges student who have been hit particularly hard by the economic effects of COVID-19.
The Canada Emergency Student Benefit is for post-secondary students who were not eligible for CERB. This means that the student must only be applying to CESB and cannot have previously applied for the CERB or for EI.
The CESB is for recent graduates, enrolled students, and people entering university or college by January 2021. As well, the student must be a Canadian citizen, a status Indigenous person, a permanent resident or a protected person (for example, a recent refugee).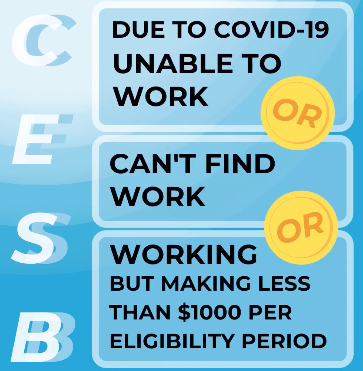 Finally, those applying for the CESB must have had their ability to work affected by COVID-19 either: they're unable to work, unable to find a job or unable to earn more than $1,000 per month due to COVID-19. Those who qualify can receive $1,250 per four-week period; those who also have disabilities or dependents can get $2,000.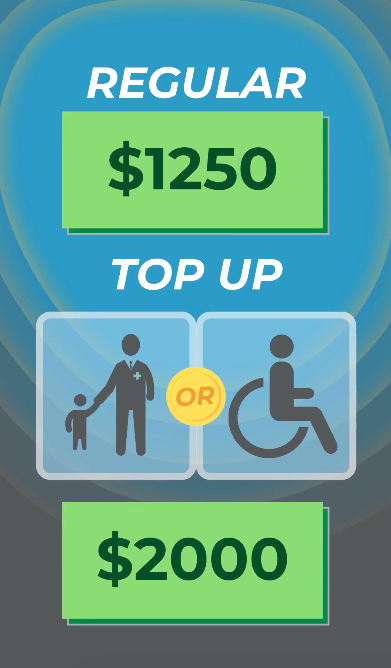 The federal government has defined dependents as children under 12 or people with disabilities who are dependent on the student or student's spouse. They've defined disabilities for this benefit as any permanent or episodic impairment which interferes with the student's full and equal participation in society.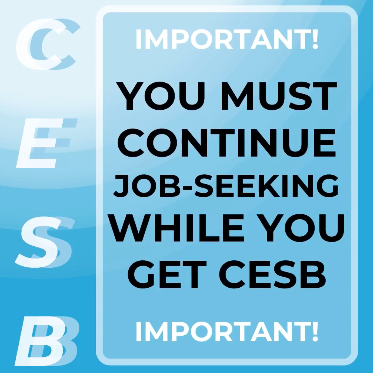 As well, it is important to remember that the benefit requires the student to continue job-seeking while receiving the benefit.
The application process for CESB can be completed through the CRA. Just remember that the application process requires the student to have completed taxes in the past year.
The last two programs are aimed at helping businesses.
The Canada Emergency Wage Subsidy is designed for businesses that are looking to rehire employees who were laid off or are trying desperately to avoid laying off employees. Eligible employers may receive up to 75 per cent of employee wages for 24 weeks.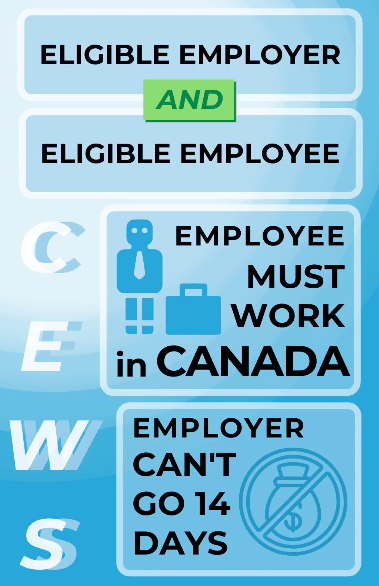 This subsidy requires the employer and the employee to be eligible. There is a list of eligible businesses on the canada.ca website dedicated to CEWS.
For employees, eligibility is determined by their employment in Canada by an eligible employer. This means that it is based on employment in Canada and does not rely on the employee living in Canada. That being said, eligibility is void if for 14 or more consecutive days in the claim period, the employer did not pay the employee for their work or services. As well, employees can be rehired and then paid retroactively. They must be rehired before they can be included in the calculations for the subsidy.
The amount employers can receive is based on the number of eligible employees they have and those workers' previous and current salary. The section of canada.ca dedicated to the CEWS can help calculate this amount.
The Canada Emergency Wage Subsidy is not a one-stop shop and does not address all the needs of struggling businesses. If CEWS is not applicable, there is also a new loan program directed towards small businesses and not-for-profits that may help in such circumstances. It is called the Canada Emergency Business Account or CEBA. Through this, a single business can receive up to $40,000 to help maintain its operations.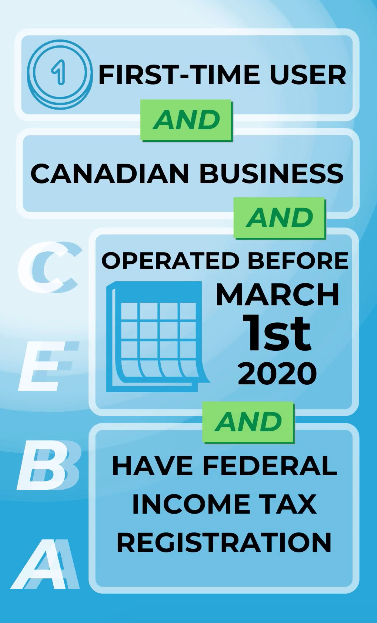 There are many components to be eligible for CEBA. Here are some of the key elements: the business will be a first-time user of CEBA with the objective of continuing or resuming operations; it must be a Canadian operating business prior to March 1, 2020 and have federal tax registration; as well, there are requirements based on the income paid in 2019 and the status of its business chequing account.
If the Canada Emergency Business Account seems like a good fit, there are 233 banks and credit unions participating in the program. The loan can be applied for through these financial institutions.
For any more information on any of these benefits, check out the canada.ca page.
---
More Stories